Canon F93-0202-531 Datasheet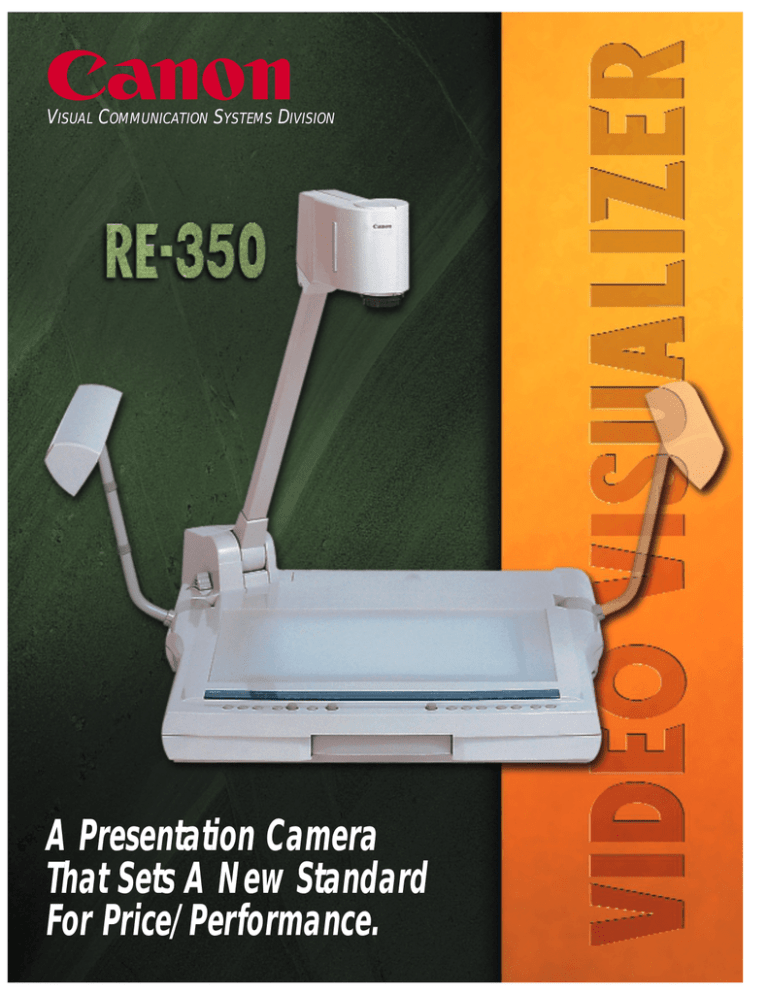 VISUAL COMMUNICATION SYSTEMS DIVISION
A Presentation Camera
That Sets A New Standard
For Price/Performance.
Canon's Video Visualizer RE-350: The New Stan
Canon's Video Visualizer RE-350 takes presentation cameras
to the next level, providing users with important
new advantages never before available in its class.
Smart design and technology advances including
an unobstructed base for oversized documents,
easy-to reach front panel controls,
focus follow zoom for seamless
presentations, and exceptional
image quality, enhance
usage while maximizing
value. Backed by one of
the most experienced,
nationwide service and
support networks, and
built by the world leader in
quality optics, the Video Visualizer
RE-350 has more of what users want:
Superior Color:
When compared to the typical competition, the RE-350
provides superior color reproduction, with color adjustment
controls located conveniently on the front panel that are
easy to access. Picture color is truer and more vibrant,
rather than flat; white balance is perfect, and can be
automatically or manually adjusted.
Custom Software:
Canon's RE-350 is available with a unique Software
Developer Kit, which allows a programmer to create
custom software for a particular application, thereby
improving the functionality and integration of the camera.
This notable advantage enhances compatibility with
specific user requirements.
Outstanding Images:
The Video Visualizer RE-350 features a horizontal
resolution of 450 TVL (comparable to professional
video cameras) for sharp, detailed image
reproduction critical to achieving a more attentive
audience. A 12X zoom, compared to the typical
competition's 8X, improves viewing interest,
while the zoom speed of the RE-350 is twice
as fast as the typical competition even though
their zoom magnification is 50% less.
Presentation Enhancements:
Users of the Video Visualizer RE-350 enjoy enhanced
message impact with Focus Follow Zoom Technology,
a Canon exclusive that automatically focuses the image
as the zoom position is changed. Unlike the typical
competition, which requires that a focus button be
pressed every time the zoom position is changed, the
RE-350 makes it easy to use the zoom function, thereby
heightening viewer interest without interruption, or the
risk of losing audience attention. The competitor's focusing
speed is also slow and inaccurate and may take two to
three times longer than the RE-350.
Front Panel Controls:
Unlike typical competition, RE-350 users don't have to
search for a wide range of available controls. The
The Video Visualizer RE-350 Total Access Base Maximizes Productivity
Oversized
Unobstructed
Viewing Base
The Video Visualizer RE-350 features a completely
flat, oversized base with no obstructions, for maximum
utilization. Unlike competitive products with "backboards", raised edges, or camera mounts that get in
the way, the RE-350 makes it easy to view oversized
documents, books, chromes, negatives or 3-D
objects. Its unique base, (a Canon exclusive feature),
enhances overall user value without placing restrictive
limits on subject matter size or image detail. There's
even a built-in color corrected light box for viewing
images from film, slides and negatives.
ard For Intelligent, Quality Presentation Cameras.
dard
sophisticated design of the unit means that all critical controls are in reach
and easily identified on the front panel. Whether it's the backlight button
which activates the built-in light box, the one-touch zoom or focus controls,
or a Canon exclusive detail switch for enhanced text recognition, it's all there
when you need it.
Exclusive Advantages:
In addition to the many superior features available on the
Visual Visualizer RE-350, there are several important exclusive
features not found on any other product in its class.
These include:
• A corner-mounted camera and unobstructed base;
• A front panel detail switch for enhancing text;
• RGB output (the typical competition offers only composite
or S-Video out);
• Focus Follow Zoom Technology for automatic focusing as zoom
position changes;
• A pneumatic shock attenuator for the camera mounting arm;
• An overall ergonomic design.
Three-Way Control System:
The Canon Video Visualizer RE-350 provides (1) a wide range of easy-to-use
automatic and manual controls that can be accessed from the front panel.
In addition, (2) an optional infrared remote control kit is available and
(3) an RS-232C control interface allows operation from a PC or a room
control system. These flexible control operations maximize usage and
enhance the overall value of the product.
Total Portability
To enhance portability and maximize
usage, Canon's Video Visualizer RE-350
folds to a compact, easy-to-carry size.
In the fold-down, transportable position,
the unit cradles key components,
while making movement from one
presentation area or conference room
to the next less cumbersome.
Customer Support:
Easy Access Base,
Front Panel Controls,
Exceptional Color and
Maximum Value For:
• Presentations
• Distance Learning
• 3-D Imaging
• Telemedicine
• Corporate Training
Canon's direct dial nationwide technical and customer support network is
one of the most experienced in our industry. This means that you'll get the
answers you want fast and complete, without wasting time waiting on hold,
or leaving voice mail messages that get returned too late. Not surprisingly,
the RE-350 also has the best advertised warranty in the industry and
complete factory service.
• Webcasting
Canon's RE-350 is the Video Visualizer with the best price/performance
in its class. For more information, contact your authorized Canon Visual
Communication Systems Dealer or call Canon for the dealer nearest you.
• Videoconferencing
• Education
• Desktop Publishing
• Neg/Pos Viewing
SPECIFICATIONS
VIDEO & AUDIO
Video Signal
Pick-Up Element
Picture Element
Total Number of Pixels
Horizontal Resolution
Vertical Resolution
S/N Ratio
Electronic Shutter
White Balance
Nega/Posi Conversion
Color/B&W Selection
Detail Compensation
Input Sources
INPUT TERMINALS
C-Video Input
S-Video Input
Ext. sync. Input
Mic. Input
Audio Input
Output Terminals
C-Video Output
S-Video Output
RGB Output
Audio Output
Synchronization
RS-232C Terminal
Communication Speed
LENS
Focal Length
f-Stop
Shooting Area
Zoom
Focusing
Iris Adjustment
5.4~64.8mm
f/1.8~f/2.8
12 3/4" x 9 8/16" to 1 5/16" x 31/32"
12X Power zoom, 2-step speed
One-push auto/manual
Auto/Manual (fine-adjustable ±2 EV)
LIGHTING
Upper Lighting Unit
Backlight
6 W fluorescent x 2
Built in light box
DIMENSIONS
In-use
Stored
Light box
28 2/5"(W) x 20 3/5"(D) x 21 4/5"(H)
19 1/8"(W) x 20 3/5"(D) x 7 1/5"(H)
8 1/4" x 11 3/4"
POWER
Power Source
Power Consumption
AC Outlet
120 VAC ±10%, 60Hz
Approx. 33W
120 VAC, 5A max., 60Hz
WEIGHT
Weight
Approx. 22 lbs.
OPERATING ENVIRONMENT
Temperature
Relative humidity
41°F-95°F
20%-85% (no condensation)
NTSC
1/3" CCD
811(H) x 508(V)
410,000
450 TV Lines
350 TV Lines
46 dB
DIP Switch, 1/60 and 1/100 sec.
Auto/one-push-auto/manual
Built-in (C-video, S-Video)
Built-in (C-video, S-Video)
Built-in
Camera head, external input
BNC connector x 1
4 pin mini DIN x 1
BNC connector x 1
mini jack x 1
RCA jack x 2 (stereo)
BNC connector x 1
4 pin mini DIN x 1
BNC connectors x 1 (R,G,B,Sync)
RCA pin jack x 2 (stereo)
Internal/External sync.
8 pin mini DIN
2400 and 9600 bps
Specifications are subject to change without notice.
RE-350'S FRONT PANEL FUNCTIONS:
1
2
3
4
5
6
7
8
9 10 11 12 13 14 15
1 RS-232 Control
2 Input Select (Between Camera
Head and External Video)
3 Negative Conversion
4 Auto White Balance
5 Manual White Balance
Control (Red to Blue)
6 B/W Conversion
7 Detail Enhancement Control
(Sharpness Control)
8
9
10
11
12
13
14
Exposure Control Knob
Auto Focus Control
Manual Focus Control - Near
Manual Focus Control - Far
Zoom Control - Wide
Zoom Control - Tele
Side Light Arm Control
- On/Off
15 Built In Backlight Control
- On/Off
RE-350 SYSTEM CHART
OUTPUT
INPUT
RS-232
RGB
Room Control System
Monitor
S-Video
S-Video
LCD Projector
VCR
C-Video
Microphone
LCD Projector
Computer With Video Capture Device
For purchase and technical assistance call 516-328-5960.
For literature and the dealer nearest you, call 1-800-OK CANON.
E-mail us at: [email protected]
Visual Communication Systems Division
All specifications subject to change without notice. Canon is a registered trademark of Canon, Inc. ©1997 Canon USA, Inc.

* Your assessment is very important for improving the work of artificial intelligence, which forms the content of this project