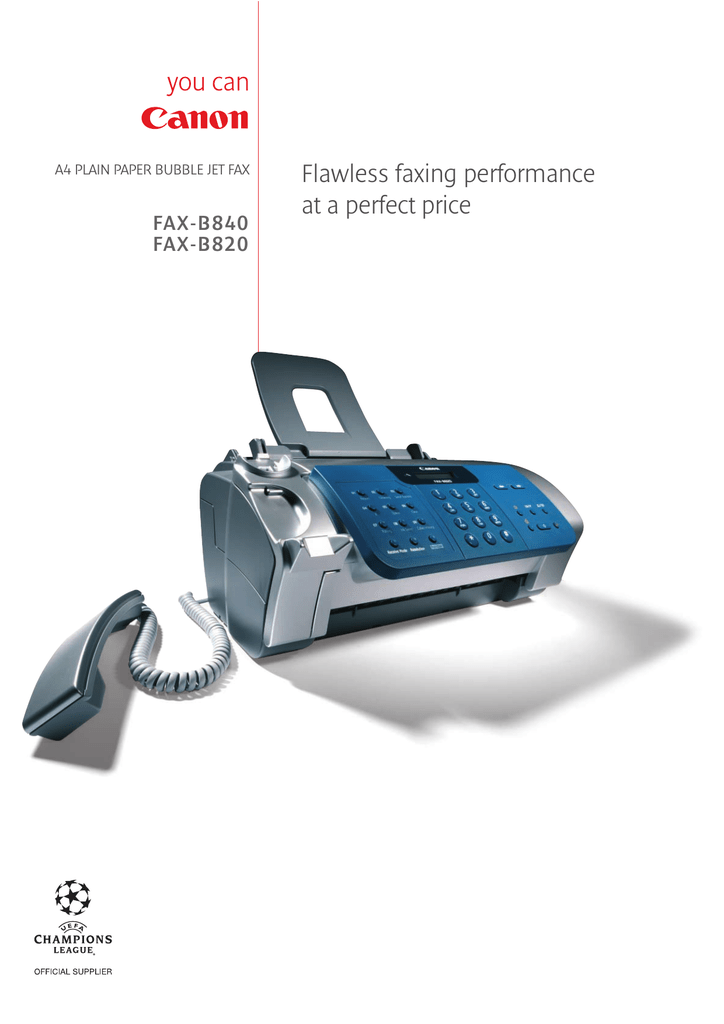 A4 PLAIN PAPER BUBBLE JET FAX
FAX-B840
FAX-B820
Flawless faxing performance
at a perfect price
Adding style and
efficiency to high
faxing quality.
Profit from affordable and efficient faxing, with the FAX-B820 or FAX-B840.
High capacity fax memory, unique voice recognition dailling and ease of use
are complemented by Canon's renowned Bubble Jet printing quality. The
difference between the two models is a convenient telephone answering
machine on the FAX-B840. The similarity is high faxing quality at all times.
MORE MEMORY FOR
WORRY–FREE FAXING
THE SMART SOLUTION:
COMPLETE COMMUNICATION
With a high capacity 120-page1 fax memory for
worry-free faxing, the FAX-B820 and FAX-B840
offer great performance. All your incoming
faxes are stored safely in memory should paper
or ink run out during the evening or weekend for printing out later. Also your outgoing faxes
can be scanned in advance, enabling laboursaving sending from memory.
Thanks to a total fax, telephone and answering
machine solution, you'll never miss another
message. With the FAX-B840 you benefit from
a built-in digital Telephone Answering Machine,
to take all your messages when out of the
office. Or, for the FAX-B820, an external
answering machine can be easily connected.
Both models have a built-in handset allowing
convenient telephone use.
1
Based on ITU-T Standard Chart No.1
SIMPLY TALK TO SEND A FAX
Both the FAX-B820 and FAX-B840 offer
voice recognition dialling, to increase
ease and efficiency. With Canon's
unique UCanTalk® technology, simply
pre–programme the names of people
you fax most often - and then sending
out a fax is as simple as pushing one
button and saying their name.
HIGH QUALITY FOR FLAWLESS FAXING
OFF
Make sure your customers or clients benefit from the best quality.
When you're transmitting diagrams, fine text and even photos, Canon's
exclusive UHQ (Ultra High Quality) image processing technology, with
64 grey scale levels, ensures great depth and clarity. You can even use
your fax as a copier, capturing details accurately.
ON
Canon's unique UHQ
technology ensures
exceptional quality
when sending photos,
fine text or illustrations
COSTS SAVING FEATURES
QUICK AND EASY OPERATION
STYLISH AND COMPACT
Transmission time is a fast 6 seconds per
page1, to help cut down your phone
costs. Furthermore, a special Ink Saver
mode allows you to almost double the
amount of pages you can receive2 –
reducing ink costs. So you save all-round.
A capable 15-page ADF (Automatic
Document Feeder) allows you to send
large faxes more easily, without the need
to split them. 9 one-touch and 70 coded
keys accelerate operation for all the
numbers you call most often. A clear
control panel ensures easy faxing - and
phone numbers for incoming calls are
clearly shown on the LCD display and
stored in memory for quick redialling3.
Attractive in any surroundings, these two
stylish and compact fax machines fit
neatly on the smallest desktop. You save
on installation space and - whichever
model you choose - you can be sure of
high quality faxing and sheer simplicity.
2
Normal mode: 850 pages.
Ink Saver mode: 1500 pages.
3
Dependent on telecom provider.
Stores the last 20 numbers.
Specifications FAX-B840 / FAX-B820
FAX UNIT TYPE
Type
Compatibility
Applicable line
Print technology
Scanner type
FAX SCANNING
FEATURES
Automatic document feeder
Document size
Effective scanning width
Fax resolution
Image processing system
Halftone
FAX PRINTING FEATURES
Printing method
Print resolution
Paper capacity
Print cartridge
Printing width
Ink save mode
Auto image reduction
on reception
TRANSMISSION AND
RECEPTION FEATURES
Transmission speed
Modem speed
Compression method
Direct transmission
FAX memory
Dual access
Error correction mode (ECM)
Delayed transmission
Sequential broadcast
Polling transmission
Reception
Direct Mail prevention
MANAGEMENT FEATURES
Reports and Lists
Transmission header
One touch dials
Coded dials
Redial
FAX/TEL auto switch
FAX-B820 - Standard facsimile with handset
FAX-B840 - Standard facsimile with Telephone Answering Machine
and handset
Group 3
PSTN
Bubble Jet printing
Sheet fed
15 sheets
Width: 216 mm (Max) - 148 mm (Min)
Length: 700 mm (Max) - 105 mm (Min)
208 mm
Fine: 8 dots x 7.7 lines / mm
Standard: 8 dots x 3.85 lines / mm
UHQ (Ultra High Quality)
64 shades of grey scale
Bubble Jet Printing
360 x 360 dpi
50 sheets Auto Sheet Feeder
BX-3 Black Cartridge
203 mm
Yes
Yes (Fixed)
Approx. 6 seconds per page
(based on ITU-T No.1 chart)
14.4K bps (Transmission) 9.6K bps (Reception)
MH, MR, MMR
Yes
120 pages (based on ITU-T Standard Chart No. 1)
Yes (Semi Dual)
Yes
Yes
Yes (80 locations)
No
Yes
Yes
Activity report, Transmission report, Reception report, Multi TX/RX
reports, One-touch/Coded speed dialing list, User's data list,
Doc. memory list
Yes
9 locations
70 locations
Yes (Automatic and Manual)
Yes
Canon Inc
www.canon.com
Canon Europa N.V.
www.canon-europe.com
0045W316 © Canon Europa NV 2004
Built in answering machine
Total recording time
Number of messages
Out Going Message
Remote operation
Time stamp
Call screening
Toll Saver
Yes (FAX-B840 only)
Approx. 10 minutes
55
1 (max 20 secs)
Yes
Yes (LCD only)
Yes
Yes
Answering machine hook up
Extension hook up
Remote reception
Caller ID
Telephone handset
Cradle
Voice Dialling (U Can Talk)
Yes (FAX-B820 only)
Yes
Yes
Yes1
Yes
Built in
Yes
COPIER FEATURES
Mono Copy
Direct copy
Copy resolution
Multiple copy
Display Type
Size
Languages
GENERAL FEATURES
Dimensions without
trays and handset
Dimensions with
trays and handset
Installation space
including trays & handset
Weight
Power source
consumption
Acoustic Noise Levels
Yes
Yes
360 x 360 dpi
Up to 99 copies
LCD
16 x 1
16 languages (English, German, French, Spanish, Italian, Swedish,
Norwegian, Dutch, Finnish, Danish, Portuguese, Slovenian, Czech,
Hungarian, Russian, Polish
366(W) x 261(D) x 161(H) mm
366(W) x 381(D) x 265(H) mm
366(W) x 389(D) x 281(H) mm
Approx. 3.7 kg
AC 200-240V 50-60Hz
3.2 W (standby), 33.14 W (Max)
Max. less than 50db (Copying)
1 Caller ID is only available in some countries. To use this feature, you will need to subscribe for a Caller ID service
(only available in some countries). The Caller ID feature uses the ETSI EN 300 778-1 protocol. Contact your local
telephone company for detailed information on this service.
Some images are simulated for clarity of reproduction. All data is based on Canon's standard testing
methods. Specifications are subject to change without notice. ™ and ®: All company and/or product
names are trademarks and/or registered trademarks of their respective manufacturers in their markets
and/or countries.