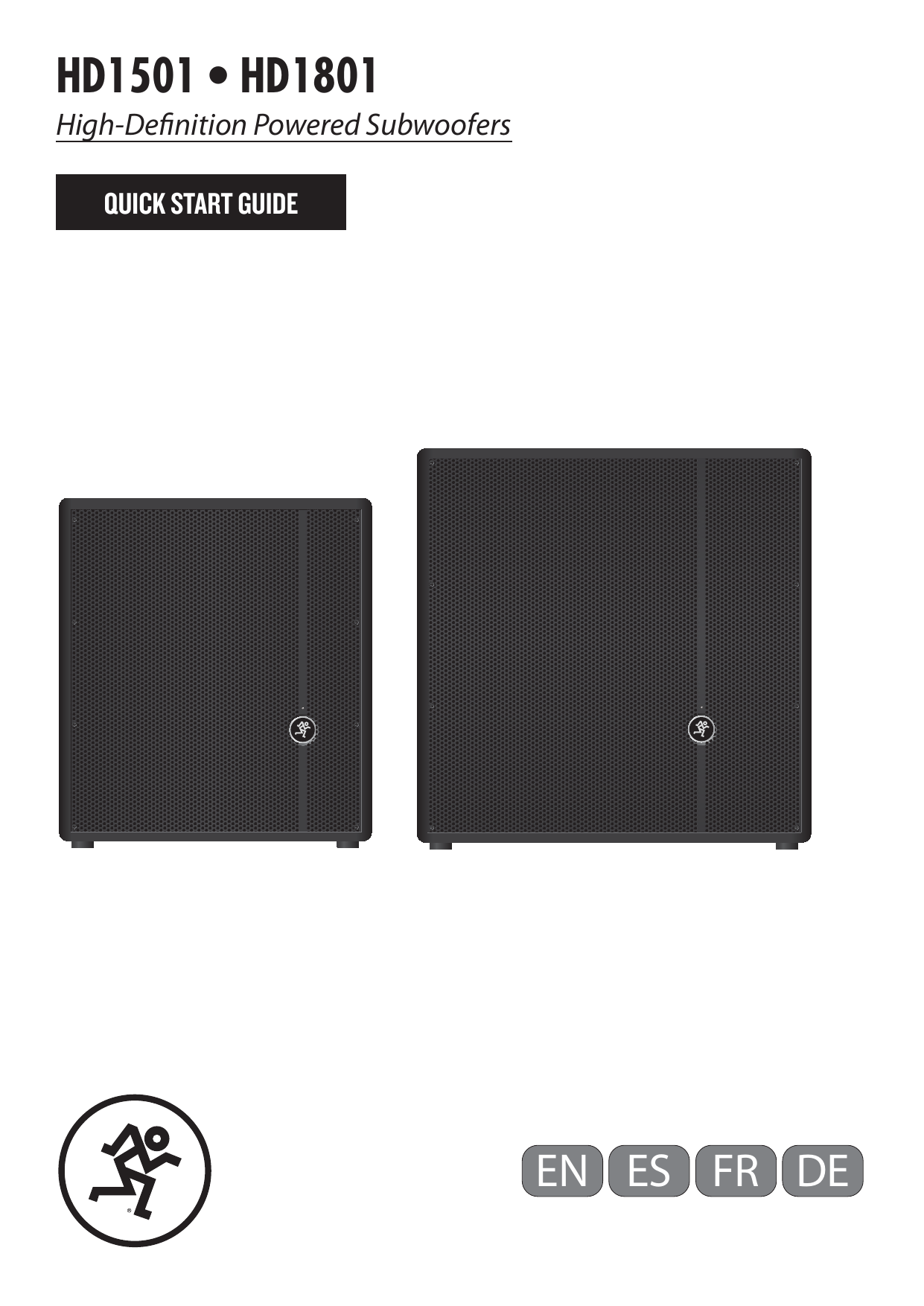 HD1501 • HD1801
High-Definition Powered Subwoofers
QUICK START GUIDE
EN ES FR DE
HD1501 and HD1801 High-Definition Powered Subwoofers
Important Safety Instructions – EN ES FR DE
1.
2.
3.
4.
5.
6.
7.
Read these instructions. Keep these instructions.
Heed all warnings.
Follow all instructions.
Do not use this apparatus near water.
Clean only with a dry cloth.
Do not block any ventilation openings. Install in accordance
with the manufacturer's instructions.
8. Do not install near any heat sources such as radiators, heat registers, stoves,
or other apparatus (including amplifiers) that produce heat.
9. Do not defeat the safety purpose of the polarized or grounding-type plug.
A polarized plug has two blades with one wider than the other. A grounding-type
plug has two blades and a third grounding prong. The wide blade or the third prong
are provided for your safety. If the provided plug does not fit into your outlet,
consult an electrician for replacement of the obsolete outlet.
10.Protect the power cord from being walked on or pinched particularly at plugs,
convenience receptacles, and the point where they exit from the apparatus.
11.Only use attachments/accessories specified by the manufacturer.
12.Use only with a cart, stand, tripod, bracket, or table specified PORTABLE CART
WARNING
by the manufacturer, or sold with the apparatus. When a
cart is used, use caution when moving the cart/apparatus
combination to avoid injury from tip-over.
13.Unplug this apparatus during lightning storms or when
unused for long periods of time.
14.Refer all servicing to qualified service personnel. Servicing is
required when the apparatus has been damaged in any way, such as power-supply
cord or plug is damaged, liquid has been spilled or objects have fallen into the
apparatus, the apparatus has been exposed to rain or moisture, does not operate
normally, or has been dropped.
15.This apparatus shall not be exposed to dripping or splashing, and no object filled
with liquids, such as vases or beer glasses, shall be placed on the apparatus.
16.Do not overload wall outlets and extension cords as this can result in a risk of fire
or electric shock.
17.This apparatus has been designed with Class-I construction and must be
connected to a mains socket outlet with a protective earthing connection
(the third grounding prong).
18.This apparatus has been equipped with a rocker-style AC mains power switch. This
switch is located on the rear panel and should remain readily accessible to the user.
19.The MAINS plug or an appliance coupler is used as the disconnect device,
so the disconnect device shall remain readily operable.
CAUTION
RISK OF ELECTRIC SHOCK! DO NOT OPEN!
CAUTION: TO REDUCE THE RISK OF ELECTRIC SHOCK DO NOT
REMOVE COVER (OR BACK). NO USER-SERVICEABLE PARTS INSIDE.
REFER SERVICING TO QUALIFIED PERSONNEL.
The lightning flash with arrowhead symbol within
an equilateral triangle is intended to alert the user
to the prescence of uninsulated "dangerous voltage"
within the product's enclosure, that may be of significant
magnitude to constitute a risk of electric shock to persons.
The exclamation point within an equilateral triangle is
intended to alert the user of the prescence of important
operating and maintaining (servicing) instructions in the
literature accompanying the appliance.
WARNING — To reduce the risk of fire or electric
shock, do not expose this apparatus to rain or moisture.
CAUTION — To prevent electric shock hazard, do not
connect to mains power supply while grille is removed.
20. NOTE: This equipment has been tested and found to comply with the limits
for a Class B digital device, pursuant to part 15 of the FCC Rules. These limits
are designed to provide reasonable protection against harmful interference
in a residential installation. This equipment generates, uses, and can radiate
radio frequency energy and, if not installed and used in accordance with the
instructions, may cause harmful interference to radio communications. However,
there is no guarantee that interference will not occur in a particular installation.
If this equipment does cause harmful interference to radio or television reception,
which can be determined by turning the equipment off and on, the user is
encouraged to try to correct the interference by one or more of the following
measures:
• Reorient or relocate the receiving antenna.
• Increase the separation between the equipment and the receiver.
• Connect the equipment into an outlet on a circuit different from that to
which the receiver is connected.
• Consult the dealer or an experienced radio/TV technician for help.
CAUTION: Changes or modifications to this device not expressly approved by
LOUD Technologies Inc. could void the user's authority to operate the equipment
under FCC rules.
21.This apparatus does not exceed the Class A/Class B (whichever is applicable)
limits for radio noise emissions from digital apparatus as set out in the radio
interference regulations of the Canadian Department of Communications.
ATTENTION — Le présent appareil numérique n'émet pas de bruits radioélectriques
dépassant las limites applicables aux appareils numériques de class A/de class B
(selon le cas) prescrites dans le réglement sur le brouillage radioélectrique édicté
par les ministere des communications du Canada.
22.Exposure to extremely high noise levels may cause permanent hearing loss.
Individuals vary considerably in susceptibility to noise-induced hearing loss, but
nearly everyone will lose some hearing if exposed to sufficiently intense noise
for a period of time. The U.S. Government's Occupational Safety and Health
Administration (OSHA) has specified the permissible noise level exposures shown
in the following chart.
According to OSHA, any exposure in excess of these permissible limits could result
in some hearing loss. To ensure against potentially dangerous exposure to high
sound pressure levels, it is recommended that all persons exposed to equipment
capable of producing high sound pressure levels use hearing protectors while the
equipment is in operation. Ear plugs or protectors in the ear canals or over the
ears must be worn when operating the equipment in order to prevent permanent
hearing loss if exposure is in excess of the limits set forth here:
Duration,
per day in
hours
8
6
4
3
2
1.5
1
0.5
0.25 or less
Sound Level dBA,
Slow Response
Typical Example
90
92
95
97
100
102
105
110
115
Duo in small club
Subway Train
Very loud classical music
Greg screaming at Troy about deadlines
Loudest parts at a rock concert
Laite on liitettävä suojakoskettimilla varustettuun pistorasiaan.
Apparatet må tilkoples jordet stikkontakt.
Apparaten skall anslutas till jordat uttag.
Correct disposal of this product: This symbol indicates that this product should not be disposed of with your household
waste, according to the WEEE directive (2012/19/EU) and your national law. This product should be handed over to
an authorized collection site for recycling waste electrical and electronic equipment (EEE). Improper handling of this type
of waste could have a possible negative impact on the environment and human health due to potentially hazardous substances
that are generally associated with EEE. At the same time, your cooperation in the correct disposal of this product will
contribute to the effective usage of natural resources. For more information about where you can drop off your waste
equipment for recycling, please contact your local city office, waste authority, or your household waste disposal service.
2
HD1501 and HD1801 High-Definition Powered Subwoofers
1.
2.
3.
4.
5.
6.
7.
Lea estas instrucciones. Conserve estas instrucciones.
Preste atención a todos los avisos.
Siga todo lo indicado en las instrucciones.
No utilice este aparato cerca de agua.
Limpie este aparato solo con un trapo seco.
No bloquee ninguna de las aberturas de ventilación.
Instale este aparato deacuerdo con las instrucciones del fabricante.
8. No instale este aparato cerca de fuente de calor como radiadores, calentadores,
hornos o cualquier otro aparato (incluyendo amplificadores) que produzcan calor.
9. No anule el sistema de seguridad que supone un enchufe de corriente polarizado
o con toma de tierra. Un enchufe polarizado tiene dos bornes de distinta anchura.
Uno con toma de tierra tiene dos bornes iguales y una lámina para la conexión a
tierra. El borne ancho del primer tipo de enchufe y la lámina del otro se incluyen
para su seguridad. Si el enchufe que se incluye con la unidad no encaja en su salida
de corriente, haga que un electricista cambie su salida anticuada.
10.Coloque el cable de corriente de forma que no pueda quedar aplastado
o retorcido, especialmente allí donde estén los conectores, receptáculos
y en el punto en que el cable sale del aparato.
11.Utilice solo accesorios/complementos que hayan sido especificados
por el fabricante.
12.Utilice este aparato solo con un bastidor, soporte, trípode
CARRETILLA PORTÁTIL
ADVERTENCIA
o superficie especificado por el fabricante o que se venda con
el propio aparato. Cuando utilice un bastidor con ruedas, tenga
cuidado al mover la combinación bastidor/aparato
para evitar posibles daños en caso de que vuelquen.
13.Desconecte de la corriente este aparato durante las
tormentas eléctricas o cuando no lo vaya a usar durante
un periodo de tiempo largo.
14.Consulte cualquier posible avería al servicio técnico oficial. Este aparato deberá ser
revisado cuando se haya dañado de alguna forma, como por ejemplo si el cable
de corriente o el enchufe se ha roto, si se ha derramado cualquier líquido o se ha
introducido un objeto dentro de la unidad, si el aparato ha quedado expuesto a la
lluvia o la humedad, si no funciona normalmente o si se ha caído al suelo.
15.No permita que este aparato quede expuesto a salpicaduras de ningún tipo. No
coloque objetos que contengan líquidos, como jarrones, encima de este aparato.
16.No sobrecargue las salidas de corriente o regletas dado que esto puede dar
lugar a un riesgo de incendio o descarga eléctrica.
17.Este aparato ha sido diseñado como una unidad de clase 1 y debe
ser conectado a una salida de corriente con toma de tierra de seguridad
(el tercer borne o lámina exterior).
18.Este aparato está equipado con un interruptor de encendido de dos posiciones. Este
interruptor se encuentra en el panel trasero y debe colocar el aparato de forma que
siempre pueda acceder a él.
19.El enchufe de alimentación o adaptador sirve como dispositivo de desconexión, por
lo que colóquelo de forma que siempre pueda acceder a él fácilmente.
CUIDADO
RIESGO DE CHOQUE ELÉCTRICO! NO ABRIR!
CUIDADO: PARA REDUCIR EL RIESGO DE CHOQUE ELÉCTRICO NO REMOVER LA
COBERTURA (O PARTE TRASERA). NO HAY PARTES PARA QUE EL USUARIO REALICE
MANTENIMIENTO. PARA REALIZAR EL MANTENAMIENTO DIRÍJASE A PERSONAL CALIFICADO.
20.NOTA: Se ha verificado que esta unidad cumple con los límites de los aparatos
digitales de clase B, de acuerdo a la sección 15 de las normativas FCC. Estos
límites han sido diseñados para ofrecer una protección razonable contra las
interferencias molestas que se pueden producir cuando se usa este aparato en
un entorno no-profesional. Este aparato genera, utiliza y puede irradiar energía
de radiofrecuencia y, si no es instalado y usado de acuerdo al manual de
instrucciones, puede producir interferencias molestas en las comunicaciones de
radio. No obstante, no existen garantías de que no se produzca interferencias
en una instalación concreta. Si este aparato produce interferencias molestas en
la recepción de radio o TV (lo cual puede ser determinado fácilmente apagando
y encendiendo este aparato), el usuario será el responsable de tratar de corregir
dichas interferencias adoptando una o más de las medidas siguientes:
• Reorientar o reubicar la antena receptora.
• Aumentar la separación entre este aparato y el receptor.
• Conectar este aparato a una salida o circuito distinto al que esté
conectado el receptor.
• Solicitar ayuda adicional al distribuidor o a un técnico especialista en
radio/TV.
CUIDADO: Cambios o modificaciones a este dispositivo no aprobadas
expresamente por LOUD Technologies Inc. pueden anular la autoridad
del usuario para operar este equipo bajo las reglas de la FCC.
21.CUIDADO — Este aparato no sobrepasa los límites de clase A/clase B
(la que corresponda) relativas a emisiones sonoras de radio de aparatos
digitales de acuerdo a las normas de interferencia de radio del Departamento de
Comunicaciones Canadiense.
22.La exposición a niveles de ruido extremadamente altos puede causar problemas
de sordera crónica. La susceptibilidad a esta pérdida de audición inducida por
el ruido varía considerablemente de una persona a otra, pero casi cualquier
persona tendrá una cierta pérdida de audición al quedar expuestos a un ruido
intenso durante un determinado periodo de tiempo. El Departamento de Salud y
Seguridad en el Trabajo de Estados Unidos (OSHA, por sus siglas en inglés) ha
establecido unos niveles de ruido permisibles que aparecen en la siguiente tabla.
De acuerdo a la OSHA, cualquier exposición que sobrepase estos límites
permisibles puede dar lugar a un problema de sordera. Para garantizar su
audición cuando quede expuesto a niveles de presión sonora potencialmente
peligrosos, es recomendable que toda persona expuesta a equipos capaces de
producir altos niveles de presión sonora utilice sistemas de protección auditiva
mientras el equipo esté en funcionamiento. Con el fin de prevenir un problema de
sordera crónico si su exposición sobrepasa los límites establecidos a continuación,
lleve siempre tapones o protectores de oído dentro de los canales auditivos u
orejeras mientras el equipo esté en funcionamiento:
Duración,
diaria en
horas
8
6
4
3
2
1,5
1
0,5
0,25 o menos
Nivel sonoro
en decibelios,
respuesta lenta
90
92
95
97
100
102
105
110
115
Quick Start Guide
Instrucciones Importantes De SeguridadEN
– ES FR DE
Ejemplo típico
Un dúo cantando
Subterráneo
Música clásica muy fuerte
Greg gritándoles a Troy para saber cuándo acabarán
Partes más fuertes de un concierto de rock
El símbolo de relámpago con punta de flecha dentro
de un triángulo equilátero tiene como fin alertar al usuario
de la presencia de "voltaje peligroso" no aislado dentro
del producto, lo cual puede ser de magnitud suficiente como
para constituir un riesgo de choque eléctrico a una persona.
CUIDADO — Para evitar el riesgo de incendios o descargas
electricas, no exponga este aparato a la lluvia o la humedad.
El signo de exclamación dentro de un triángulo equilátero
tiene como fin alertar al usuario de la presencia de
instrucciones importantes de funcionamiento y mantenimiento
en la literatura que acompaña al electrodoméstico.
PRECAUCIÓN — Para prevenir el riesgo de descarga
eléctrica no conecte la fuente de alimentación principal
al retirar la rejilla.
Forma correcta de eliminar este aparato: Este símbolo indica que este producto no puede ser eliminado junto con la
basura orgánica, de acuerdo a lo indicado en la Directiva de Residuos de Aparatos Eléctricos y Electrónicos (2012/19/EU)
y a la legislación vigente de su país. Este producto debe ser entregado en uno de los "puntos limpios" autorizados para
su reciclaje. La eliminación inadecuada de este tipo de residuos puede tener un impacto negativo en el medio ambiente
y la salud humana debido a las sustancias potencialmente peligrosas asociadas generalmente con este tipo de aparatos.
Al mismo tiempo, su cooperación a la hora de eliminar adecuadamente este producto contribuirá a un uso más eficaz de
los recursos naturales. Para más información acerca la correcta eliminación de este tipo de aparatos, póngase en contacto
con el Ayuntamiento de su ciudad, empresa local de recogida de basuras o con uno de los "puntos limpios" autorizados.
Quick Start Guide
3
HD1501 and HD1801 High-Definition Powered Subwoofers
EN ES– FR DE
Instructions Importantes Sur La Sécurité
1.
2.
3.
4.
5.
6.
7.
Lisez ces instructions. Conservez ces instructions.
Respectez toutes les mises en garde.
Suivez toutes les instructions.
N'utilisez pas cet appareil à proximité d'une source liquide.
Nettoyez-le uniquement avec un chiffon sec.
Ne bloquez aucune des ventilations de l'appareil. Installez-le en accord
avec les instructions du fabricant.
8. Ne l'installez pas près d'une source de chaleur, comme un radiateur
ou tout autre appareil (amplificateur inclus) produisant de la chaleur.
9. Ne modifiez pas la sécurité de la fiche polarisée (Canada) ou la mise à la terre.
Une fiche polarisée possède deux broches dont l'une plus large que l'autre.
Une fiche avec terre possède deux broches et une troisième pour la mise à la terre.
Si la fiche fournie ne convient pas à votre prise, consultez un électricien afin de
remplacer la prise obsolète.
10.Évitez de marcher ou de tirer sur le câble d'alimentation, en particulier au niveau
des prises et de l'appareil.
11.N'utilisez que des fixations/accessoires spécifiés par le fabricant.
12.N'utilisez qu'avec un chariot, un support, un trépied,
ATTENTION !
CHARIOT PORTABLE
une étagère ou une table spécifiés par le fabricant
ou vendus avec l'appareil. Lorsqu'un chariot est utilisé,
prenez les précautions nécessaires lors du déplacement
du chariot afin d'éviter tout accident.
13.Déconnectez l'appareil du secteur lors des orages
ou des longues périodes d'inutilisation.
14.Confiez toutes les réparations à un personnel qualifié. Vous devez faire contrôler ce
produit s'il a été endommagé de quelque façon que ce soit, comme lorsque le câble
d'alimentation ou la prise ont été endommagés, qu'un liquide a été renversé ou que
des objets sont tombés sur ou dans l'appareil, que l'appareil a été exposé à la pluie
ou à l'humidité, qu'il ne fonctionne pas normalement, ou qu'il a subi une chute.
15.Veillez à ce que l'appareil ne soit pas exposé aux projections liquides et qu'aucun
liquide ne soit renversé sur celui-ci. Ne déposez pas de récipient rempli de liquide
sur l'appareil (verre, vase, etc.).
16.Ne surchargez pas les prises secteur et les rallonges : ceci constitue un risque
d'incendie ou d'électrocution.
17.Cet appareil est un équipement électronique de Classe I et doit être connecté à une
prise secteur avec terre.
18.Cet appareil est équipé d'un interruteur secteur à bascule. Il se trouve sur la face
arrière et doit demeurer accessible à tout moment.
19.La fiche SECTEUR fait office de découplage total du secteur — veillez à ce
qu'elle soit accessible à tout moment et fonctionnelle.
20.REMARQUE : Cet appareil répond aux normes sur les équipements numériques
de Classe B, alinéa 15 des lois fédérales. Ces normes présentent une protection
raisonnable contre les interférences en environnement résidentiel. Cet appareil
génère, utilise, et peut émettre des fréquences radio et, s'il n'est pas installé
correctement selon les instructions, peut causer des interférences nuisibles aux
communications radio. Ceci dit, il n'y a aucune garantie que les interférences
n'apparaîtront jamais dans une installation particulière. Si cet équipement cause
des interférences aux réceptions radio ou télévisuelles, ce qui peut être déterminé
en plaçant l'appareil sous/hors tension, essayez d'éviter les interférences en
suivant l'une de ces mesures :
• Réorientez ou déplacez l'antenne de réception.
• Éloignez l'appareil du récepteur perturbé.
• Connectez l'appareil à une ligne secteur différente de celle du récepteur.
• Consultez un revendeur ou un technicien radio/TV.
MISE EN GARDE : Les modifications apportées à cet appareil sans l'accord
de LOUD Technologies Inc. annulent votre droit à utiliser cet appareil (selon
les législations fédérales).
21.ATTENTION — Cet appareil numérique n'émet pas d'interférences
radioélectriques dépassant les limites applicables aux appareils numériques
de Classe A/de Classe B (selon le cas) prescrites dans le règlement
sur les interférences radioélectriques, édicté par le ministère des
communications du Canada.
22.L'exposition à des niveaux de bruit très élevés peut entraîner une perte
permanente de l'ouïe. La sensibilité à ces dommages varie d'un individu
à l'autre, mais tout le monde est appelé à des dommages auditifs extrêmes
en présence de niveaux sonores élevés. L'Administration de la Sécurité et de
la Santé (OSHA) du Gouvernement des États-Unis a publié les niveaux de bruit
indiqués dans le tableau ci-dessous.
Selon l'OSHA, toute exposition au-delà de ces limites entraîne des dommages
auditifs. Pour éviter toute exposition dangereuse aux niveaux sonores élevés,
il est conseillé d'utiliser des protections auditives. Ces protections placées dans
l'oreille doivent être portées lors de l'utilisation d'appareils produisant des
niveaux sonores élevés pour éviter toute perte irréversible de l'ouïe:
MISE EN GARDE
RISQUE D'ÉLECTROCUTION! NE PAS OUVRIR!
ATTENTION: POUR EVITER LES RISQUES D'ÉLECTROCUTION, NE PAS ENLEVER LE COUVERCLE. LE PRODUIT NE CONTIENT AUCUNE PIECE RÉPÉRABLE
PAR L'UTILISATEUR. CONFIER L'ENTRETIEN À UN PERSONNEL QUALIFIÉ.
ATTENTION: POUR EVITER TOUT RISQUE D'INCENDIE OU D'ÉLECTROCUTION,
NE PAS EXPOSER CET APPAREIL À LA PLUIE OU À L'HUMIDITÉ.
Le symbole de l'éclair à l'intérieur d'un triangle équilatéral
est utilisé pour alerter l'utilisateur de la présence "tensions
dangereuses" non isolées à l'intérieur du produit, et
de potentiel suffisant pour consituer un risque sérieux
d'éléctrocution.
Le point d'exclamation à l'intérieur d'un triangle équilatéral
est employé pour alerter les utilisateurs de la présence
dans le mode d'emploi d'instructions importantes relatives
au fonctionnement et à l'entretien du produit.
Heures par jour Niveau sonore
Exemple type
8
6
4
3
2
1,5
1
0,5
0,25 ou moins
Duo dans un piano-bar
en dBA, réponse
lente
90
92
95
97
100
102
105
110
115
Métro
Musique classique très forte
Greg hurlant sur Troy
Moments les plus forts d'un concert de Rock
ATTENTION — Pour réduire les risques d'incendie
et d'électrocution, ne pas exposer ce produit à la
pluie ou à l'humidité.
ATTENTION — Pour éviter tout risque de choc
électrique, ne connectez pas l'appareil au secteur
lorsque la grille est retirée.
Mise au rebut appropriée de ce produit: Ce symbole indique qu'en accord avec la directive WEEE (2012/19/EU) et les lois
en vigueur dans votre pays, ce produit ne doit pas être jeté avec les déchets ménagers. Ce produit doit être déposé dans un point
de collecte agréé pour le recyclage des déchets d'équipements électriques et électroniques (EEE). Une mauvaise manipulation
de ce type de déchets pourrait avoir un impact négatif sur l'environnement et la santé à cause des substances potentiellement
dangereuses généralement associées à ces équipements. En même temps, votre coopération dans la mise au rebut de ce
produit contribuera à l'utilisation efficace des ressources naturelles. Pour plus d'informations sur l'endroit où vous pouvez déposer
vos déchets d'équipements pour le recyclage, veuillez contacter votre mairie ou votre centre local de collecte des déchets.
4
HD1501 and HD1801 High-Definition Powered Subwoofers
1.
2.
3.
4.
5.
6.
7.
Lesen Sie diese Anleitungen. Bewahren Sie diese Anleitungen auf.
Beachten Sie alle Warnungen.
Befolgen Sie alle Anleitungen.
Betreiben Sie dieses Gerät nicht in der Nähe von Wasser.
Verwenden Sie zur Reinigung nur ein trockenes Tuch.
Blockieren Sie keine Belüftungsöffnungen. Installieren Sie das Gerät
entsprechend den Anleitungen des Herstellers.
8. Installieren Sie das Gerät nicht in der Nähe von Wärmequellen,
wie Heiz--körpern, Wärmeklappen, Öfen oder anderen wärmeerzeugenden
Geräten (inklu-sive Verstärkern).
9. Setzen Sie die Sicherheitsfunktion des polarisierten oder geerdeten Steckers nicht
außer Kraft. Ein polarisierter Stecker hat zwei flache, unterschiedlich breite Pole.
Ein geerdeter Stecker hat zwei flache Pole und einen dritten Erdungsstift.
Der breitere Pol oder der dritte Stift dienen Ihrer Sicherheit. Wenn der vorhandene
Stecker nicht in Ihre Steckdose passt, lassen Sie die veraltete Steckdose von einem
Elektriker ersetzen.
10.Verlegen Sie das Stromkabel so, dass niemand darüber laufen und es nicht geknickt
werden kann. Achten Sie speziell auf Netz--stecker, Mehrfachsteckdosen und den
Kabelan-schluss am Gerät.
11.Benutzen Sie nur die vom Hersteller empfohlenen Halterungen/Zubehörteile.
12.Benutzen Sie das Gerät nur mit dem vom Hersteller
VORSICHT BEIM
WAGENTRANSPORT
empfohlenen oder mit dem Gerät verkauften Wagen,
Ständer, Stativ, Winkel oder Tisch. Gehen Sie beim
Bewegen einer Wagen/Geräte-Kombination vorsichtig
vor, um Verletzungen durch Umkippen zu vermeiden.
13.Ziehen Sie bei Gewittern oder läng-erem Nicht--gebrauch
des Geräts den Stecker aus der Steckdose.
14.Überlassen Sie die Wartung qualifiziertem Fachpersonal. Eine Wartung
ist notwendig, wenn das Gerät auf irgendeine Weise beschädigt wurde,
z. B. Netzkabel oder Netzstecker beschädigt sind, Flüssigkeit oder Objekte
ins Gerät gelangt sind, das Gerät Feuchtigkeit oder Regen ausgesetzt war,
es nicht normal funktioniert oder fallen gelassen wurde.
15.Setzen Sie das Gerät keinen tropfenden oder spritzenden Flüssigkeiten
aus und stellen Sie keine mit Flüssigkeit gefüllten Objekte, z. B. Vasen
oder Biergläser; auf das Gerät.
16.Netzsteckdosen und Mehrfachstecker dürfen nicht überlastet werden,
da dies zu Bränden und Stromschlägen führen könnte.
17.Dieses Gerät wurde unter Class-I Konstruktionsbedingungen entwickelt und muss an
eine Netzsteckdose mit Schutzerde (der dritte Erdungsstift) ange-schlossen werden.
18.Dieses Gerät ist mit einem ganzpoligen Wipp-Netzschalter ausgerüstet. Der Schalter
befindet sich auf der Rückseite und sollte stets erreichbar sein.
19.Der NETZ-Stecker oder eine Gerätesteckvorrichtung dient als Abschalteinrichtung
und sollte jederzeit bedienbar sein.
ACHTUNG
GEFAHR EINES STROMSCHLAGS! NICHT FEN!
VORSICHT: UM DIE GEFAHR EINES STROMSCHLAGS ZU VERRINGERN,
ENTFERNEN SIE NICHT DIE VORDERSEITE (ODER RÜCKSEITE)
DES GERÄTS. IM INNERN BEFINDEN SICH KEINE TEILE, DIE VOM
ANWENDER GEWARTET WERDEN KÖNNEN. ÜBERLASSEN SIE
DIE WARTUNG QUALIFIZIERTEM FACHPERSONAL.
20.HINWEIS: Dieses Gerät wurde getestet und entspricht den
Einschränk-ungen für Class B Digitalgeräte, gemäß Part 15 der FCC Vorschriften.
Diese Einschränkungen sollen angemessenen Schutz vor schädlichen
Inter-ferenzen bei der Installation in Wohngebieten bieten. Dieses Gerät erzeugt,
verwendet und kann Rundfunkfrequenz-Energie ausstrahlen und kann, wenn
es nicht gemäß den Anleitungen installiert und betrieben wird, schädliche
Interferenzen bei der Rundfunkkommunikation erzeugen. Es gibt allerdings keine
Garantien, dass bei einer bestimmten Instal-la-tion keine Interferenzen auftreten.
Wenn dieses Gerät schädliche Inter-ferenzen beim Radio- oder TV-Empfang
verursacht, was sich durch Aus- und Einschalten des Geräts feststellen lässt,
sollte der Anwender versuchen, die Interferenzen durch eine oder mehrere
der folgenden Maßnahmen zu beseitigen:
• Die Empfangsantenne neu ausrichten oder neu positionieren.
• Die Entfernung zwischen Gerät und Empfänger erhöhen.
• Das Gerät an die Steckdose eines anderen Stromkreises als den des
Empfängers anschließen.
• Einen Fachhändler oder erfahrenen Radio-/TV-Techniker um Hilfe bitten.
VORSICHT: Änderungen oder Modifikationen an diesem Gerät, die von LOUD
Technologies Inc. nicht ausdrücklich genehmigt sind, können zum Verlust der
Betriebserlaubnis gemäß den FCC Vorschriften führen.
21.VORSICHT — Dieses Gerät überschreitet nicht die Class A/Class B (je nach
An-wend-barkeit) Grenzen für Rundfunkgeräusch-Emissionen von Digitalgeräten,
wie sie in den Rund-funkinterferenz-Vorschriften des Canadian Department of
Communications festgelegt wurden.
22.Extrem hohe Geräuschpegel können zu dauerhaftem Gehörverlust führen.
Lärm-be-dingter Gehörverlust tritt von Person zu Person unterschiedlich schnell
ein, aber fast jeder wird einen Teil seines Gehörs verlieren, wenn er über einen
Zeitraum ausrei-chend hohen Lärmpegeln ausgesetzt ist. Die Occupational Safety
and Health Admi--nis--tration (OSHA) der US-Regierung hat den zulässigen
Geräuschpegel in der folgen-den Tabelle festgelegt.
Nach Meinung der OSHA können alle Lärmpegel, die diese zulässigen Gren-zen
überschreiten, zu Gehörverlust führen. Um sich vor potentiell ge--fähr-lichen,
hohen Schalldruckpegeln zu schützen, sollten alle Personen, die hohe
Schall-druck-pegel erzeu-genden Geräten ausgesetzt sind, einen Gehörschutz
tra-gen, solange die Ge-räte betrieben werden. Wenn beim Be-trei-ben der
Geräte die hier beschriebenen Lärmpegelgrenzen überschritten werden, müssen
Ohren-stöpsel oder andere Schutz-vorrichtungen im Gehörkanal oder über den
Ohren ange-bracht werden, um einen dauerhaften Gehörverlust zu vermeiden:
Dauer pro Tag in
Stunden
8
6
4
3
2
1,5
1
0,5
0,25 oder weniger
Quick Start Guide
EN ES FR
Wichtige Sicherheitsanweisungen
– DE
Schallpegel
dBA, langsame Typisches Beispiel
Ansprache
90
92
95
97
100
102
105
110
115
Duo in kleinem Club
Untergrundbahn
Sehr laute klassische Musik
Greg schreit Troy wegen Deadlines an
Lauteste Phasen eines Rock-Konzerts
Der Blitz mit Pfeilspitze im gleichseitigen Dreieck soll
den Anwender vor Nichtisolierter "gefährlicher Spannung"
im Geräteinnern warnen. Diese kann so hoch sein, dass
die Gefahr eines Stromschlags besteht.
ACHTUNG — Um die Gefahr eines Brandes
oder Stromschlags zu verringern, setzen Sie das
Gerät weder Regen noch Feuchtigkeit aus.
Das Ausrufezeichen im gleichseitigen Dreieck soll den
Anwender auf wichtige Bedienungs- und Wartungsanleitungen
aufmerksam machen, die im mitgelieferten
Informationsmaterial näher beschrieben werden.
VORSICHT — Um Stromschläge zu verhindern,
schließen Sie das Gerät nicht ans Stromnetz an,
während das Schutzgitter entfernt ist.
Korrekte Entsorgung dieses Produkts: Diese Symbol weist darauf hin, dass das Produkt entsprechend den WEEE
Richtlinien (2012/19/EU) und den Landesgesetzen nicht im Hausmüll entsorgt werden darf. Dieses Produkt sollte einer
autorisierten Sammelstelle zum Recyceln von unbrauchbaren elektrischen und elektronischen Geräten (EEE) übergeben
werden. Unsachgemäßer Umgang mit dieser Abfallart könnte aufgrund der in EEE enthaltenen gefährlichen Substanzen negative
Auswirkungen auf die Umwelt und menschliche Gesundheit haben. Gleichzeitig tragen Sie durch Ihre Teilnahme an der korrekten
Entsorgung dieses Produkts zu einer effektiven Nutzung natürlicher Ressourcen bei. Weitere Informationen zu Annahmestellen,
die unbrauchbare Geräte recyceln, erhalten Sie bei der örtlichen Stadtverwaltung, dem Entsorgungsträger oder der Müllabfuhr.
Quick Start Guide
5
HD1501 and HD1801 High-Definition Powered Subwoofers
6
Hookup Diagrams / Diagramas de conexión
Schémas de câblage / Anschlussdiagramme
PA System with one powered subwoofer
Sistema PA con un subwoofer autoamplificado
Système de sonorisation avec un Subwoofer actif
PA-System mit einem aktiven Subwoofer
HD1501 / HD1801
OUTPUTS
A
FULL RANGE
B
SETTINGS
THERMAL
A
INPUTS
POWER
LIGHT ON
B
A
HIGH PASS
SIG/ LIMIT
B
POLARITY
INVERT
- 6dB
+6dB
LEVEL
HD1221
THERMAL
PARALLEL
MAIN
INPUT
SIG/ LIMIT
LOOP
OUT
VOICING MODE
CONTOUR
POWER
LIGHT ON
NORMAL
MONITOR
- 6dB
+6dB
LEVEL
HD1221
THERMAL
PARALLEL
MAIN
INPUT
SIG/ LIMIT
LOOP
OUT
VOICING MODE
CONTOUR
POWER
LIGHT ON
NORMAL
MONITOR
- 6dB
HD1501 and HD1801 High-Definition Powered Subwoofers
+6dB
LEVEL
HD1521 / HD1531
–6dB
HD1521 / HD1531
–6dB
+6dB
HD1501 / HD1801
FULL RANGE
OUTPUTS
B
A
FULL RANGE
B
SETTINGS
SETTINGS
THERMAL
A
INPUTS
POWER
LIGHT ON
B
A
HIGH PASS
+6dB
HD1501 / HD1801
OUTPUTS
A
Quick Start Guide
PA System with two powered subwoofers
Sistema PA con dos subwoofers autoamplificados
Système de sonorisation avec deux Subwoofers actifs
PA-System mit zwei aktiven Subwoofern
THERMAL
SIG/ LIMIT
A
B
POLARITY
INVERT
INPUTS
POWER
LIGHT ON
B
A
HIGH PASS
SIG/ LIMIT
B
POLARITY
INVERT
- 6dB
+6dB
LEVEL
- 6dB
+6dB
LEVEL
Quick Start Guide
7
HD1501 and HD1801 High-Definition Powered Subwoofers
OUTPUTS
A
FULL RANGE
B
4
INPUTS
A
B
A
HIGH PASS
3
9
SETTINGS
THERMAL
B
5
8
6
POWER
LIGHT ON
SIG/ LIMIT
POLARITY
INVERT
- 6dB
7
+6dB
LEVEL
POWER
2
1
FR DE
del panel traseroEN– ES F
Rear Panel Descriptions – EN ES Descripción
1. Power Connector
Connect the supplied AC power cord
1. Toma de corriente
Conecte en esta toma IEC el cable de
to this IEC jack.
alimentación incluido.
2. Power Switch Turns the subwoofer on and off. The Power LED
will illuminate when powered.
2. Interruptor de encendido
3. Inputs A/B
Connect mono or stereo line-level signal(s)
from a mixer.
Connect to additional subwoofers.
5. High Pass Outputs
Connect to full range loudspeakers.
6. Polarity Switch
Inverts the polarity of the subwoofer.
Adjusts the input sensitivity. Turn it down if the
accompanying LED illuminates solid yellow.
7. Level
8. Main LED Switch
is activated.
Le permite encender y apagar este
subwoofer. El piloto Power se iluminará cuando la unidad esté
encendida.
Conecte señales de nivel de línea mono o stereo
procedentes de una mesa de mezclas.
3. Inputs A/B
4. Full Range Outputs
9. Thermal LED
Illuminates the front panel LED.
Illuminates when the thermal protection circuit
4. Salidas Full Range
5. Salidas High Pass
Conéctelas a subwoofers adicionales.
Conéctelas a unos altavoces de rango
completo.
6. Interruptor Polarity
Invierte la polaridad del subwoofer.
7. Level Ajusta la sensibilidad de entrada. Reduzca su ajuste
si el piloto que está al lado se queda iluminado fijo en amarillo.
8. Interruptor Main LED
Hace que se ilumine el piloto
del panel frontal.
Se ilumina cuando se activa el circuito
de protección térmica o contra el recalentamiento.
9. Piloto Thermal
8
ON
HD1501 and HD1801 High-Definition Powered Subwoofers
A
B
4
A
INPUTS
B
A
HIGH PASS
3
9
SETTINGS
THERMAL
POWER
LIGHT ON
8
6
B
5
SIG/ LIMIT
POLARITY
INVERT
- 6dB
7
+6dB
LEVEL
Quick Start Guide
OUTPUTS
FULL RANGE
POWER
2
ON
1
EN ES
Face arrière
– FR DE
fourni à cette embase CEI.
Verbinden Sie das mitgelieferte Netzkabel
mit diesem IEC-Anschluss.
2. Bouton marche/arrêt Permet de placer le Subwoofer
sous/hors tension. La Led Power s'illumine.
2. Power-Schalter Schaltet den Subwoofer ein/aus.
Bei eingeschaltetem Gerät leuchtet die Power LED.
3. Entrées A/B
Permet de connecter un(des) signal(aux)
niveau ligne mono ou stéréo depuis une console de mixage.
3. Inputs A/B
4. Sorties High Pass Permettent la connexion à des
enceintes large bande.
4. Full Range-Ausgänge
1. Embase d'alimentation
Connectez le cordon secteur
EN ES FR
Rückseite
– DE
Permettent la connexion à des
Subwoofers supplémentaires.
5. Sorties Full Range
6. Sélecteur de polarité
Permet d'inverser la polarité
du Subwoofer.
7. Level Réglage de sensibilité de l'entrée. Diminuez-le
si la Led OL s'allume en jaune.
8. Interrupteur LED
Permet d'allumer la Led de la face avant.
1. Netzanschluss
Zum Anschließen der mono oder stereo Line-PegelSignale eines Mischers.
Zum Anschließen weiterer Subwoofer.
Zum Anschließen von
Breitband-Laut­sprechern.
5. High Pass-Ausgänge
6. Poläritats-Schalter
Kehrt die Polarität des Subwoofers um.
Regelt die Eingangsempfindlichkeit. Drehen Sie
den Regler zurück, wenn die zugehörige OL LED gelb leuchtet.
7. Level
8. Main LED-Schalter Lässt die vorderseitiger LED leuchten.
9. Thermal LED
Leuchtet auf, wenn der Überhitzungsschutz
einsetzt.
S'allume lorsque le circuit de protection contre
la surchauffe est activé.
9. Led Thermal
Quick Start Guide
9
HD1501 and HD1801 High-Definition Powered Subwoofers
EN ES
– FR DE
Getting Started – EN ES FR DE Mise en œuvre
1. Read and understand the Important Safety Instructions
on page 2.
1. Lisez les instructions importantes sur la sécurité page 4
et assurez-vous de les avoir bien comprises.
2. Make all initial connections with the power switches OFF on all
equipment. Make sure the master volume, level and gain controls
are all the way down.
2. Avant d'effectuer toute connexion, assurez-vous que tous
les appareils soient hors tension. Vérifiez que le volume général,
le niveau et le gain soient réglés au minimum.
3. Connect the outputs from the mixing console (or other signal
source) to the inputs on the rear panel of the subwoofer, then
connect the high pass outputs from the subwoofer to the inputs
of the loudspeakers. Make sure the subwoofer's gain knob is set
to "U" (unity gain).
3. Connectez les sorties de la console de mixage (ou d'une autre
source) aux entrées situées sur la face arrière du Subwoofer,
puis connectez les sortie High Pass du Subwoofer aux entrées des
enceintes. Vérifiez que le réglage de gain du Subwoofer soit placé
sur "U" (gain unitaire).
4. Make sure the loudspeaker's level knob is set to "U"
(unity gain).
4. Vérifiez que le réglage de niveau de l'enceinte soit placé
sur "U" (gain unitaire).
5. Push the line cord securely into the subwoofer's/loudspeaker's
IEC connectors and plug the other ends into grounded AC outlets.
The subwoofer/loudspeaker may accept the appropriate voltage
as indicated near the IEC connector.
5. Poussez complètement le cordon secteur dans l'embase CEI
de l'enceinte/du Subwoofer et connectez l'autre extrémité à
une prise de courant reliée à la terre. La tension acceptée par
l'enceinte/le Subwoofer est indiquée à côté de l'embase CEI.
6. Turn the mixer (or other signal source) on.
6. Mettez la console de mixage (ou autre source) sous tension.
7. Turn the subwoofer on.
7. Mettez le Subwoofer sous tension.
8. Turn the loudspeakers on.
8. Mettez l'enceinte sous tension.
9. Start the signal source and raise the mixer's main L/R fader
up to a comfortably loud listening level.
9. Activez la source du signal et montez les Faders
L/R de la console jusqu'à un niveau d'écoute confortable.
Puesta en marchaEN
– ES FR DE
ES FR
ErsteENSchritte
– DE
1. Lea y tenga en cuenta las Instrucciones importantes
de seguridad de la página 3.
1. Lesen und beachten Sie die "Wichtigen Sicherheitshinweise"
auf Seite 5.
2. Realice todas las conexiones iniciales con todos los aparatos
APAGADOS. Asegúrese de que los controles de volumen máster,
nivel y ganancia estén al mínimo.
2. Schalten Sie alle Geräte AUS, bevor Sie die notwendigen
Anschlüsse herstellen. Achten Sie darauf, dass die Master
Volume-, Pegel- und Gain-Regler ganz zurückgedreht sind.
3. Conecte las salidas de la mesa de mezclas (u otra fuente de
señal) a las entradas del panel trasero de los subwoofer y conecte
después las salidas pasa-altos del subwoofer a las entradas de los
altavoces. Asegúrese de que el mando Gain del subwoofer esté
ajustado a "U" (ganancia unitaria).
3. Verbinden Sie die Ausgänge des Mischpults (bzw. andere
Signalquellen) mit den rückseitigen Eingängen der Subwoofer
und dann die Hochpass-Ausgänge der Subwoofer mit den
Eingängen der Lautsprecher. Achten Sie darauf, dass die GainRegler der Subwoofer auf "U" (Unity Gain) eingestellt sind.
4. Asegúrese de que el mando Level del altavoz esté ajustado
a "U" (ganancia unitaria).
4. Achten Sie darauf, dass die Level-Regler der Lautsprecher
auf "U" (Unity Gain) eingestellt sind.
5. Introduzca completamente el cable de alimentación en las
tomas IEC del subwoofer/altavoz y el otro extremo a una salida de
corriente alterna con toma de tierra. El subwoofer/altavoz acepta
el voltaje/amperaje indicados al lado de su conector IEC.
5. Stecken Sie das Netzkabel fest in den IEC-Anschluss des
Subwoofers/Lautsprechers und schließen Sie das andere Ende
an eine geerdete Netzsteckdose an. Der Subwoofer/Lautsprecher
akzeptiert die entsprechende Spannung, die neben dem
IEC-Anschluss angegeben ist.
6. Encienda el mezclador (u otra fuente de señal).
7. Encienda los subwoofer.
8. Encienda los altavoces.
9. Ponga en marcha la fuente de señal y suba el fader L/R principal
de la mesa hasta llegar a un nivel de escucha adecuado.
10
6. Schalten Sie den Mischer (bzw. andere Signalquelle) ein.
7. Schalten Sie die Subwoofer ein.
8. Schalten Sie die Lautsprecher ein.
9. Aktivieren Sie die Signalquelle und schieben Sie
den L/R-Hauptfader des Mischers auf eine angenehme
Abhörlautstärke hoch.
HD1501 and HD1801 High-Definition Powered Subwoofers
HD1501
HD1801
Frequency Range
Rango de frecuencias
Plage de fréquence
Frequenzbereich
(–10 dB)
36 Hz – 145 Hz
35 Hz – 145 Hz
Maximum SPL Peak
SPL máximo en picos
Niveau de pression sonore max (peak)
Maximaler Schalldruck
131 dB
133 dB
Low Frequency
Graves
Basses fréquences
Bässe
Crossover Frequency
Frecuencia de corte del crossover
Fréquence de coupure
Trennfrequenz
Quick Start Guide
Technical Specifications / Especificaciones técnicas
Caractéristiques techniques / Technische Daten
18 in / 457 mm woofer
15 in / 381 mm woofer
1600 watts peak Class D power amplifier
1200 watts peak Class D power amplifier
Woofer de 18 in / 457 mm
Woofer de 15 in / 381 mm
Etapa de potencia clase D y 1200 watios en picos Etapa de potencia clase D y 1600 watios en picos
Woofer de 18" / 457 mm
Woofer de 15" / 381 mm
Ampli de puissance Classe D 1600 watts crête
Ampli de puissance Classe D 1200 watts crête
18" / 457 mm Woofer
15" / 381 mm Woofer
1600 Watt Spitze Class D Endstufe
1200 Watt Spitze Class D Endstufe
100 Hz
100 Hz
Input Type
Tipo de entrada
Type d'entrée
Eingangstyp
Female XLR balanced
XLR hembra balanceado
XLR femelle symétrique
XLR-Buchse symmetrisch
Output
Salida
Sortie
Ausgang
Male XLR balanced [Full Range, High Pass]
XLR macho balanceado [Full Range, High Pass]
XLR mâle symétrique [Full Range, High Pass]
XLR-Stecker symmetrisch [Full Range, High Pass]
Power Requirements
Alimentación
Alimentation
Spannungsbedarf
100V – 120V, 50 – 60 Hz, 300 W
or / ou / oder
220V – 240V, 50 – 60 Hz, 300 W
Protection Features
Funciones de protección
Protections
Schutzfunktionen
Peak and RMS limiting, power supply and amplifier thermal protection
Limitación de picos y RMS, protección contra recalentamiento
de fuente de alimentación y amplificador
Limitation crête et efficace, protection contre la surchauffe
de l'alimentation et de l'amplificateur
Peak- und RMS-Limiting, Überhitzungsschutz für Netzteil und Verstärker
Size (H x W x D)
Tamaño (A x L x P)
Dimensions (H x L x P)
Abmessungen (H x B x T)
20.0 x 18.3 x 25.0 in
508 x 465 x 635 mm
23.0 x 23.0 x 25.8 in
584 x 584 x 655 mm
Weight
Peso
Poids
Gewicht
80 lb
36.3 kg
106 lb
48.1 kg
All specifications subject to change
Todas estas especificaciones están sujetas a cambios sin previo aviso
Les caractéristiques peuvent être modifiées
Technische Änderungen und Ergänzungen vorbehalten
Quick Start Guide
11
AND SUPPORT
EN WARRANTY
ES FR
DE
Visit WWW.720TREES.COM to:
• Identify WARRANTY coverage provided in your local market.
Please keep your sales receipt in a safe place.
• Retrieve a full-version, printable OWNER'S MANUAL for your product.
• DOWNLOAD software, firmware and drivers for your product (if applicable).
• REGISTER your product.
• CONTACT Technical Support.
Y SOPORTE TÉCNICO
EN ES GARANTÍA
FR DE
Visite la página web WWW.720TREES.COM para:
• Conocer la cobertura en periodo de GARANTÍA correspondiente a su país. Le recomendamos
que conserve su recibo de compra o factura en un lugar seguro.
• Conseguir una versión completa e imprimible del MANUAL DE INSTRUCCIONES de este aparato.
• DESCÁRGUESE lo último en software, firmware y drivers para este producto (cuando sea aplicable).
• REGISTRAR este aparato.
• PONERSE EN CONTACTO con el departamento de soporte técnico.
ES FR GARANTIE
DE ET ASSISTANCE TECHNIQUE
Consultez WWW.720TREES.COM pour:
• Connaître la couverture de la GARANTIE dans votre région. Merci de conserver vos factures
dans un lieu sûr.
• Récupérer une version complète imprimable du MODE D'EMPLOI de votre appareil.
• TÉLÉCHARGER le logiciel, le firmware et les pilotes de votre produit (le cas échéant).
• ENREGISTRER votre produit.
• CONTACTER le département d'assistance technique.
FR DE
GARANTIE UND SUPPORT
Besuchen Sie WWW.720TREES.COM, um:
•
•
•
•
•
Die GARANTIE-Bedingungen für Ihr Land zu finden. Bitte bewahren Sie Ihren Kaufbeleg gut auf.
Ein ausführliches druckbares BEDIENUNGSHANDBUCH für Ihr Produkt zu finden.
Software, Firmware und Treiber für Ihr Produkt (falls anwendbar) HERUNTERZULADEN.
Ihr Produkt zu REGISTRIEREN.
Den Technischen Support zu KONTAKTIEREN.
16220 Wood-Red Road NE • Woodinville, WA 98072 • USA
Phone: 425.487.4333 • Toll-free: 800.898.3211
Fax: 425.487.4337 • www.720trees.com
Part No. SW1032 Rev. A 02/14 ©2014 LOUD Technologies Inc. All Rights Reserved.