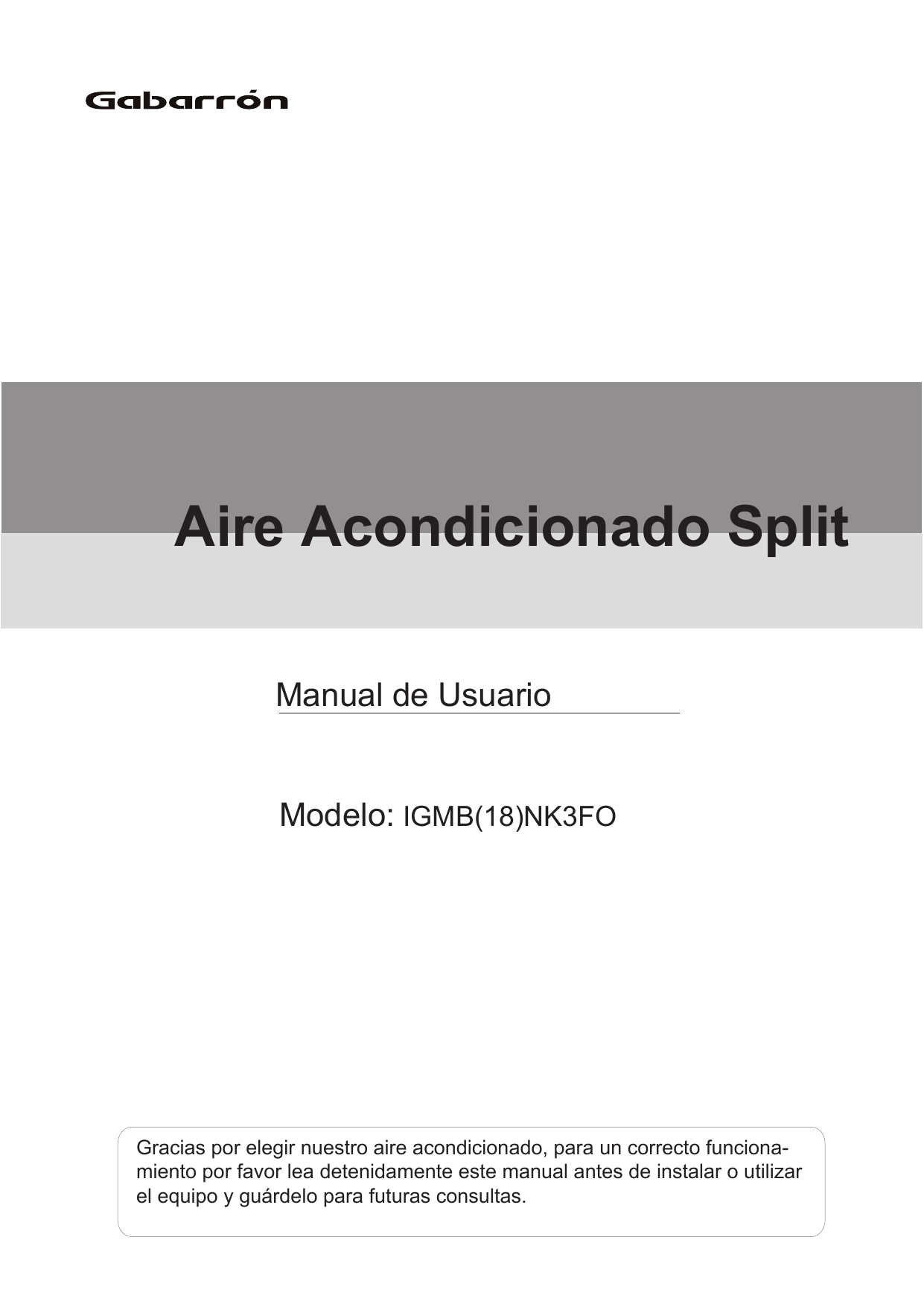 Aire Acondicionado Split
Manual de Usuario
Modelo: IGMB(18)NK3FO
Gracias por elegir nuestro aire acondicionado, para un correcto funcionamiento por favor lea detenidamente este manual antes de instalar o utilizar
el equipo y guárdelo para futuras consultas.
De acuerdo con la política de empresa de una mejora contínua del producto, las características estéticas y dimensiones,
especificaciones técnicas y accesorios de este equipo pueden cambiar sin previo aviso.
INFORMACIÓN GENERAL
INFORMACION
GENERAL
INDICE
Conformidad y alcance
1
Instrucciones antes del uso
2
Nombre de los componentes
3
Información técnica
3
Alcance de la temperatura de la unidad exterior
3
Los productos de este manual pueden ser diferentes a los adquiridos, de acuerdo a
diferentes modelos, algunos modelos disponen de pantalla y otros no, con referencia
a la posición y forma de la pantalla fíjese en el aparato adquirido.
CONFORMIDAD Y ALCANCE
INFORMACIÓN GENERAL
El aire acondicionado que ha adquirido funciona de conformidad con las siguientes Directivas
Europeas:
Por favor lea este manual detenidamente antes de
utilizar la unidad y guárdelo para futuras consultas.
Utilice sólo el aire acondicionado tal como se indica en
este manual. Estas instrucciones no pretenden cubrir
todas las situaciones y condiciones posibles. Como en cualquier
otro equipo doméstico, s i e m p r e s e r e c o m i e n d a
ser cautos y tener sentido común a la hora de instalar,
utilizar y mantener la unidad.
1
INSTRUCCIONES ANTES DE USO
INFORMACIÓN GENERAL
ADVERTENCIA
Si huele a humo o a quemado,
por favor apague la fuente de
alimentación y contacte con el
servicio técnico.
Si la irregularidad persiste, la unidad
puede haberse dañado y podría provocar un cortocircuito o incendio.
La electricidad debe seguir un
circuito especial para prevenir un
incendio.
.
De lo contrario podria provocar un
cortocircuito o incendio.
Cuando limpie, es necesario
apagar el aparato y la corriente
eléctrica.
Apague la fuente de
alimentación
La fuente de alimentación debe
seguir un circuito especial el cual
tenga un conmutador de protección y debe asegurase que tiene
la suficiente capacidad. La unidad
se encenderá o apagará de
acuerdo con sus especificaciones,
por favor no apague ni encienda
la unidad frecuentemente, o
podría causar un efecto contrario
en la unidad.
Desconecte la unidad de la fuente
de alimentación si no va a usar
el equipo durante un largo periodo.
Nunca corte o deteriore el cable de
electricidad o de control. Si el
cable eléctrico o el de señal de
control se dañaran, deben ser sustituídos por un profesional.
Nuna dañe el cable eléctrico o
use lo use para usos no contraindicados.
De lo contrario el polvo acumulado poDe lo contrario podría provocar sobredría causa sobrecalentamiento o incendio. calentamiento o un incendio.
El voltaje de este aire acondicionado es
220-240V∼50Hz, El compresor vibrará ligeramente si el voltaje es demasiado
bajo, provocando daños en el sistema de
refrigeración. Los componentes eléctricos
son fáciles de dañar si el voltaje es dema-
No intente reparar el aire acondicionado
usted mismo.
siado alto.
La mala reparación podrían provocar un
cortocircuito eléctrico o un incendio, así
debería contactar al servicio técnico para
repararlo.
De lo contrario podría causar un cortocircuito o un incendio.
Por favor, compruebe si el soporte
es lo suficientemente resistente o no.
Si está dañado, la unidad podría caerse
y provocar daños.
2
No se suba encima de la unidad
exterior o ponga objetos encima.
Caerse de la unidad exterior podría resultar
peligroso.
Toma de tierra: La unidad debe estar
correctamente conectada. La
toma de tierra debería conectarse
a un accesorio especial de tierra
en la construcción.
INFORMACIÓN GENERAL
NOMBRE DE LOS COMPONENTES
IGMB(18)NK3FO:
Precaución
Asegúrese de desconectar la unidad de la fuente de alimentación antes de limpiar el aire acondicionado; de lo
contrario podría producirse un cortocircuito.
La humedad en el aire acondicionado podría provocar riesgo de cortocircuito. Asegúrese de no mojar
su aire acondicionado bajo ninguna circunstancia.
Líquidos inflamables como gasolina o disolventes podrían dañar la superfície del aire acondicionado.
(Utilice solamente trapos secos y suaves para limpiar la carcasa del aire acondicionado).
Este producto no puede ponerse junto al resto de residuos domésticos.
Este producto debe dipositarse en un lugar autorizado para el reciclaje de equipos
eléctricos y electrónicos.
La temperatura del circuito refrigerante será alta, por favor mantenga el cable de interconexión
lejos del cable de cobre.
1
UNIDAD EXTERIOR
N o. Descripción
1
Regilla de salida de aire
2
Válvulas
Nota: Las figuras anteriores sólo pretenden ser un simple
diagrama del equipo y puede que no corresponda a la
apariencia de las unidades que ha adquirido.
2
INFORMACIÓN GENERAL
INFORMACIÓN TÉCNICA
MODELO
Datos eléctricos
Suministro eléctrico
Fusible o interruptor del aire
Sección mínima del cable de potencia
IGMB(18)NK3FO
220-240V~,50Hz
25
2.5
mm2
L
890
mm
P
362
mm
H
700
mm
Dimensiones
L
P
H
ALCANCE DE LA TEMPERATURA DE LA UNIDAD EXTERIOR
Refrigeración máxima
Refrigeración mínima
Calefacción máxima
Calefacción mínima
INFORMACIÓN GENERAL
Lado exterior DB/WB(ºC)
48/27/-
3
Split Air Conditioner
Owner's Manual
Residential Air Conditioners
Model: IGMB(18)NK3FO
Thank you for choosing Residential Air Conditioners,please read this owner's
manual carefully before operation and retain it for future reference.
In line with the company's policy of continual product improvement, the aesthetic and dimensional
characteristics, technical data and accessories of this appliance may be changed without notice.
GENERAL INFORMATION
INSTALLER
GENERAL
INFORMATION
CONTENTS
Conformity And Range
1
The Instructions Before Use
2
Name of Parts
3
Technical Data
4
Outdoor Unit Working Temperature Range
4
Electrical Connections
5
Installing The Outdoor Unit
6
Bleeding
6
Maintenance
7
Installation Dimension Diagram
7
Check After Installation
8
The products in this manual may be different lwith the rea one, according to different models,
some models have displayer and some models without displayer, the position and shape of
the displayer please refer to the real one.
This appliance is not intended for use by persons (including children) with reduced physical,
sensory or mental capabilities, or lack of experience and knowledge, unless they have been
given supervision or instruction concerning use of the appliance by a person responsible for
their safety.
Children should be supervised to ensure that they do not play with the appliance.
This marking indicates that this product should not be disposed with other
household wastes throughout the EU. To prevent possible harm to the
environment or human health from uncontrolled waste disposal, recycle
it responsibly to promote the sustainable reuse of material resources. To
return your used device, please use the return and collection systems or
contact the retailer where the product was purchased. They can take this
product for environmental safe recycling.
GENERAL INFORMATION
CONFORMITY AND RANGE
Please read this owner's manual carefully before operating the unit and keep it carefully for consultation.
Only use the air conditioner as instructed in this booklet. These instructions are not intended to
cover every possible condition and situation. As with any electrical household appliance, common sense
and caution are therefore always recommended for installation, operation and maintenance.
1
THE INSTRUCTIONS BEFORE USE
GENERAL INFORMATION
WARNING
★ When having a burning smell or ★ The power supply must adopt the
smoke,please turn off the power
supply and contact with the service center.
special circuit that with air switch
protection and assure it has enough capacity.The unit will be turned
on or off according to your requirement automatically,please do not
turn on or turn off the unit frequently,otherwise disadvantage effect
may be caused to the unit.
★ Never cut off or damage power
cables and control wires. If the
power cable and signal control
wire were damaged, change
them by professional.
If the abnormity still exists,the unit
may be damaged,and may cause
electric shock or fire.
★ Power must adopts the special
★ Disconnect the power supply if
★ Never damage the electric wire
Otherwise, it can cause electric
shock or fire.
Otherwise,the accumulated dusts
may cause overheating or fire.
Otherwise,it will cause overheating
or fire.
★ When cleaning,it is necessary
★ Rated voltage of this air conditi-
★ Don't attempt to repair the air
circuit to prevent fire.
to stop driving and turn off the
power supply.
Cut off power supply
long putting the air conditioner
out of use.
oner 220-240V, 50Hz, The compressor will vibrate sharply if the
voltage is too low, resappointed.
amage to refrigerating system.
Electrical component are easy to
damage if the voltage is too high.
conditioner by yourself.
The wrong repair will lead to an
electric shock or fire,so you should
contact the service center to repair.
Otherwise,it may cause electric
shock or damage.
★ Please note whether the insta-
★ Don't step on the top of the
If it is damaged, it may lead to the
fall of the unit and cause the injury.
As falling off the outdoor unit can be
dangerous.
lled stand is firm enough or not.
or use the electric wire which is
not appointed.
outdoor unit or place something
on it.
2
★ Earthing: The unit must be reli-
ably earthed.The earthing cable
shall be connected to the special earthing device in the construction.
NAME OF PARTS
GENERAL INFORMATION
IGMB(18)NK3FO:
Warning
Be sure to cut off the power supply before cleaning the air conditioner; otherwise electric
shock might happen.
Wetting of air conditioner may cause the risk of electric shock. Make sure not to wash
your air conditioner in any case.
Volatile liquids such as thinner or gasoline will cause damage to the appearance of air
conditioner. (Only use soft dry cloth moist cloth clean the air conditioner cabinet).
This product must not be disposed together with the domestic waste.
This product has to be disposed at an authorized place for recycling of electrical and
electronic appliances.
The temperature of refrigerant circuit will be high,please keep the interconnection cable
away from the copper tube.
1
OUTDOOR UNIT
No.
Description
1
Air outlet grille
2
Valve
Note: The above figures are only intended to a simple
diagram of the appliance and may not correspond to the
appearance of the units that have been purchased.
3
2
TECHNICAL DATA
GENERAL INFORMATION
MODE
Electrical data
Electricity supply
Fuse or air switch
Minimum power cord section
IGMB(18)NK3FO
220-240V~,50Hz
20
2.5
mm 2
L
890
mm
P
362
mm
H
700
mm
Size and clearance
L
P
H
OUTDOOR UNIT WORKING TEMPERATURE RANGE
Maximum cooling
Maximum heating
Outdoorside DB/WB(
48/-
c)
27/-
4
GENERAL INFORMATION
ELECTRICAL CONNECTIONS
INSTALLER
IGMB(18)NK3FO
1. Remove the handle at the right side plate of the outdoor
unit (one screw).
IGMB(18)NK3FO
Handle
2. Remove the cable clamp, connect the power connection
cable with the terminal at the row of connection and fix
the connection. The fitting line distributing must be
consistent with the indoor unit. terminal of line bank.
Wiring should meet that of indoor unit.
3. Fix power connection wire by wire clamp.
To unit A
4. Ensure wire has been fixed well.
5. Install the handle.
L
Including an air switch with suitable capacity,
please note the following table. Air switch
should be included magnet buckle and heating
buckle function, it can protect the circuit-short
and overload. (Caution: please do not use the
fuse only for protect the circuit)
Air-conditioner
IGMB(18)NK3FO
To unit B
Power cord
connecting
cable
connecting
cable
To the power supply
L
Air switch capacity
N
L
20A
An all-pole disconnection switch having a contact
separation of at least 3mm in all pole should be
connected in fixed wiring.
Wrong wire connection may cause malfunction of
some electric components.After fixing cable, ensure
that leads between connection to fixed point have
some space.
The connection pipes and the connectiong wirings
of the unit A and unit B must be corresponding to
each other respective.
The appliance shall be installed in accordance with
national wiring regulations.
Note: the above figures are only intended to be a simple
diagram of the appliance and may not correspond to the
appearance of the units that have been purchased.
USER
HANDLING
Handling must be done by suitably equipped qualified
technical personnel using equipment that is for suitable
the weight of the appliance.
After having removed the packaging, check that the
contents are intact and complete.
The outdoor unit must always be kept upright.
5
INSTALLING THE OUTDOOR UNIT
INSTALLER
Location
Install the drain fitting and the drain hose
(for model with heat pump only)
Use bolts to secure the unit to a flat, solid floor.
When mounting the unit on a wall or the roof, make
sure the support is firmly secured so that it cannot
move in the event of intense vibrations or a strong
wind.
Do not install the outdoor unit in pits or air vents
Condensation is produced and flows from the outdoor unit when the appliance is operating in the
heating mode. In order not to disturb neighbours
and to respect the environment,install a drain fitting
and a drain hose to channel the condensate water.
Install the drain fitting and rubber washer on the
outdoor unit chassis and connect a drain hose to it
as shown in the figure.
●
Installing the pipes
Use suitable connecting pipes and equipment for
the refrigerant R410A.
Models(m)
18Kx2 24Kx2 24Kx3 28Kx4
20
60
70
Max. connection pipe length 20
Max. connection pipe length
20
10
10
20
(Simple one indoor unit)
The refrigerant pipes must not exceed the maximum
heights 5m(18K)or 10m(24K&28K).
Wrap all the refrigerant pipes and joints.
Tighten the connections using two wrenches working in opposite directions.
Caution: Installation Must be Performed in Accordance
with the NEC/CEC by Authorized Personnel Only.
BLEEDING
INSTALLER
Humid air left inside the refrigerant circuit can cause compressor malfunction. After having connected the indoor
and outdoor units, bleed the air and humidity from the
refrigerant circuit using a vacuum pump.
(1) Unscrew and remove the caps from the 2-way and 3way valves.
(2) Unscrew and remove the cap from the service valve.
(3) Connect the vacuum pump hose to the service valve.
(4) Operate the vacuum pump for 10-15 minutes until an
absolute vacuum of 10 mm Hg has been reached.
(5) With the vacuum pump still in operation, close the
low-pressure knob on the vacuum pump coupling.
Stop the vacuum pump.
(6) Open the 2-way valve by 1/4 turn and then close it
after 10 seconds. Check all the joints for leaks using
liquid soap or an electronic leak device.
(7) Turn the body of the 2-way and 3-way valves. Disconnect the vacuum pump hose.
(8) Replace and tighten all the caps on the valves.
Diameter (mm)
Twisting moment (N.m)
Φ6
15-20
Φ9.52
35-40
Φ16
60-65
Φ12
45-50
Φ19
70-75
Vacuum pump
Vacuum pump
Vacuum pump
(8) Secure
INDOOR
UNIT
Refrigerant fluid direction of fiow
18K unit need to be installed the indoor unit
2-way valve
3-way valve
(6) Open by 1/4 turn
18K MODE:
(7) Turn to open fully
Service
inlet
(2) Turn
(8) Secure
conversion joint
6
(7) Turn to open fully
Valve cap
(2) Turn
(2) Turn
Valve cap
(8) Secure
Connect to the
indoor unit
MAINTENANCE
INSTALLER
Use suitable instruments for the refrigerant R410A.
● Do not use any other refrigerant than R410A.
Do not use mineral oils to clean the unit.
INSTALLATION DIMENSION DIAGRAM
INSTALLER
The installation must be done by trained and qualified service personnel with reliability according to this
manual.
Contact service center before installation to avoid the malfunction due to unprofessional installation.
When picking up and moving the units, you must be guidedby trained and qualified person.
Ensure that the recommende dspace is left around the appliance.
50cm or more
Space to the cover
30cm or above
Space to the cover
30cm or above
(Air inlet side)
200cm or above
(Air outlet side)
50cm or above
Space to the wall
7
CHECK AFTER INSTALLATION
INSTALLER
Check Items
Problems Owing to Improper Installation
Is the installation reliable?
The unit may drop, vibrate or make noises
Has the gas leakage been checked?
May cause unsatisfactory cooling (heating)
effect
Is the thermal insulation of the unit
sufficient?
May cause condensation and water dropping
Is the drainage smooth?
May cause condensation and water dropping
Does the power supply voltage accord
with the rated voltage specified on the
nameplate?
The unit may bread down or the components
may be burned out
Are the lines and pipelines correctly
installed?
The unit may bread down or the components
may be burned out
Has the unit been safely grounded?
Risk of electrical leakage
Are the models of lines in conformity
with requirements?
The unit may bread down or the components
may be burned out
Are there any obstacles near the air
inlet and outlet of the indoor and outdoor units?
The unit may bread down or the components
may be burned out
Have the length of refrigerating pipe
and refrigerant charge amount been
recorded?
It is not easy to decide the charge amount
of refrigerant.
8
ELNUR S.A.
Travesía de Villa Esther, 11
28110 Algete - Madrid
Tfno. de Atención al Cliente:
+34 91 628 1440
www.elnur.es
www.elnur-global.com
www.elnur.co.uk
Como parte de la política de mejora continua Elnur s.a. se reserva el derecho a realizar modificaciones técnicas sin previo aviso.
As a part of the policy of continuous product improvement Elnur s.a. reserves the right to alter specifications without notice.