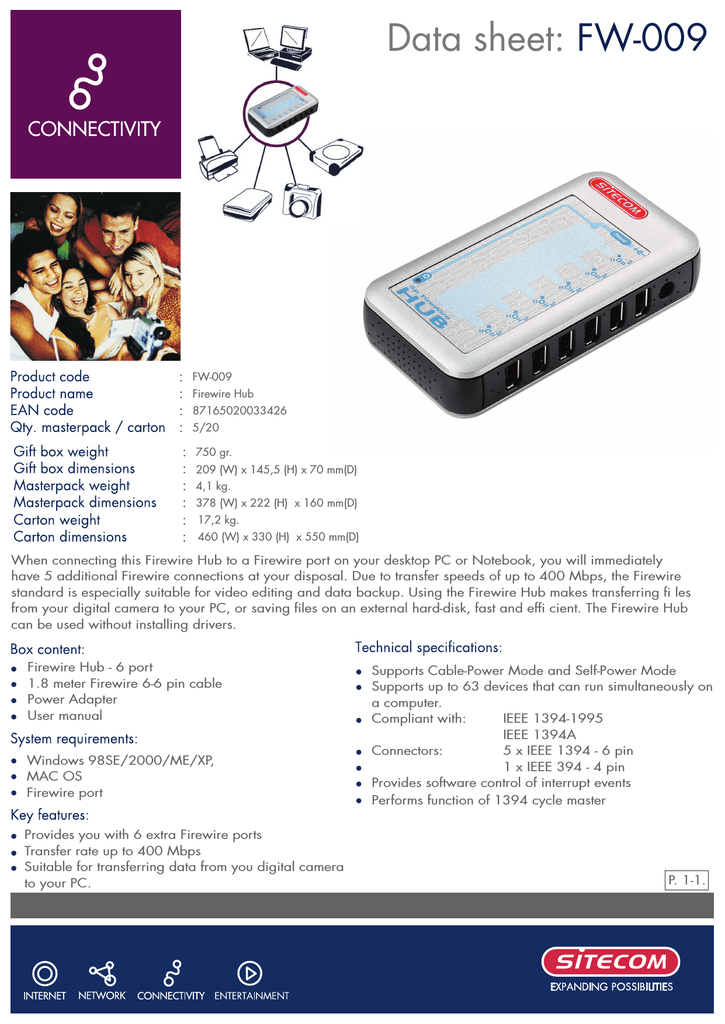 Data sheet: FW-009
FW-009
Firewire Hub
87165020033426
5/20
750 gr.
209 (W) x 145,5 (H) x 70 mm(D)
4,1 kg.
378 (W) x 222 (H) x 160 mm(D)
17,2 kg.
460 (W) x 330 (H) x 550 mm(D)
When connecting this Firewire Hub to a Firewire port on your desktop PC or Notebook, you will immediately
have 5 additional Firewire connections at your disposal. Due to transfer speeds of up to 400 Mbps, the Firewire
standard is especially suitable for video editing and data backup. Using the Firewire Hub makes transferring fi les
from your digital camera to your PC, or saving files on an external hard-disk, fast and effi cient. The Firewire Hub
can be used without installing drivers.
Firewire Hub - 6 port
1.8 meter Firewire 6-6 pin cable
Power Adapter
User manual
Windows 98SE/2000/ME/XP,
MAC OS
Firewire port
Provides you with 6 extra Firewire ports
Transfer rate up to 400 Mbps
Suitable for transferring data from you digital camera
to your PC.
Supports Cable-Power Mode and Self-Power Mode
Supports up to 63 devices that can run simultaneously on
a computer.
Compliant with:
IEEE 1394-1995
IEEE 1394A
Connectors:
5 x IEEE 1394 - 6 pin
1 x IEEE 394 - 4 pin
Provides software control of interrupt events
Performs function of 1394 cycle master
P. 1-1.

* Your assessment is very important for improving the work of artificial intelligence, which forms the content of this project