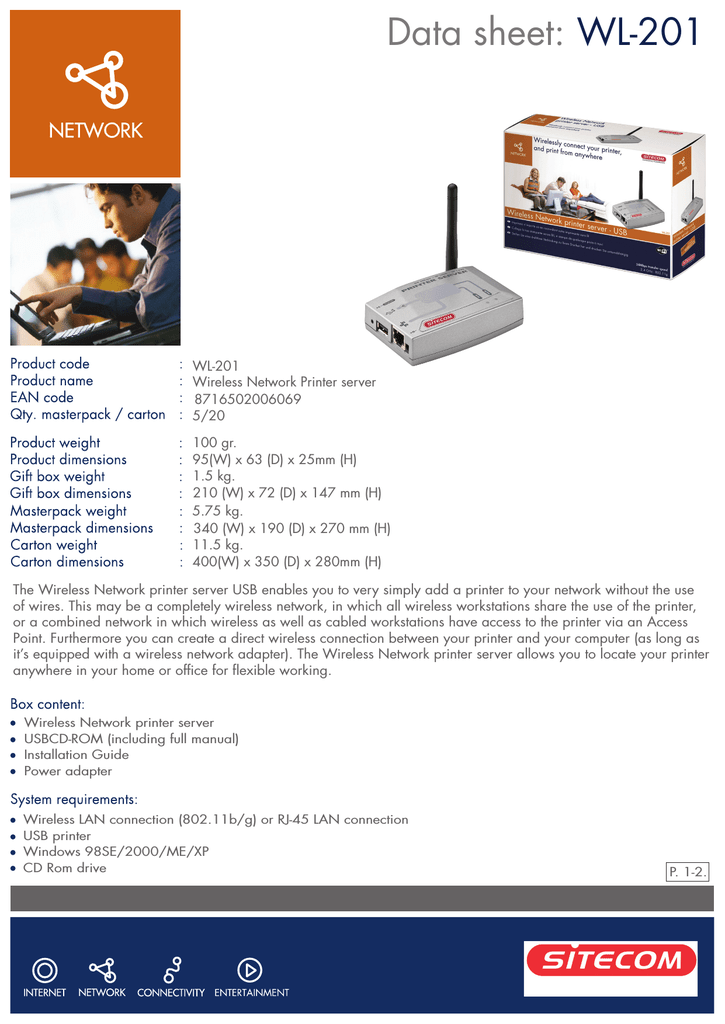 Data sheet: WL-201
WL-201
Wireless Network Printer server
8716502006069
5/20
100 gr.
95(W) x 63 (D) x 25mm (H)
1.5 kg.
210 (W) x 72 (D) x 147 mm (H)
5.75 kg.
340 (W) x 190 (D) x 270 mm (H)
11.5 kg.
400(W) x 350 (D) x 280mm (H)
The Wireless Network printer server USB enables you to very simply add a printer to your network without the use
of wires. This may be a completely wireless network, in which all wireless workstations share the use of the printer,
or a combined network in which wireless as well as cabled workstations have access to the printer via an Access
Point. Furthermore you can create a direct wireless connection between your printer and your computer (as long as
it's equipped with a wireless network adapter). The Wireless Network printer server allows you to locate your printer
anywhere in your home or office for flexible working.
Wireless Network printer server
USBCD-ROM (including full manual)
Installation Guide
Power adapter
Wireless LAN connection (802.11b/g) or RJ-45 LAN connection
USB printer
Windows 98SE/2000/ME/XP
CD Rom drive
P. 1-2.
Data sheet: WL-201
802.11g Wireless Station
Data Rate up to 54Mbps
Fully Compatible with 802.11b
1 x USB 2 Printer Port
Frequency : 2.4 to 2.4835 GHz (ISM Band)
Security : 40 bits & 128 bits WEP, ESSID, WPA-PSK, Open/Shared system authentication
11 Channels (US & Canada), Channel 1~11
13 Channels for Pan-Europe & Australia, Channel 1~13
4 Channels for French, Channel 10~13
2 Channels for Spain, Channel 10~11
Data Rate : 1~54Mbps
Network Interface : Wireless: IEEE 802.11b, IEEE 802.11g; Ethernet: 10BaseT/100BaseTx
Antenna - 2dBi Antenna
Range Coverage
IEEE802.11b (11Mbps): Indoor: 50m, Outdoor: 150M (depends on environment)
IEEE802.11g (54Mbps): Indoor: 30m, Outdoor: 60m (depends on environment)
Printer Connection : USB 2.0 (1.1 Compliant)
Protocol Support TCP/IP, NetBEUI, AppleTalk
Operating System Support : Windows 95/98/2000/NT/Me/XP, Macintosh (OS 9.x and higher), Unix
Printing Methods : PTP (Peer-to-Peer) over TCP/IP or NetBEUI protocol, LPD printing, SMB printing (via NetBEUI or
TCP/IP protocol), IPP (Internet Printing Protocol), AppleTalk (EtherTalk)
Management Tools : BiAdmin (Windows Application), Web-based management (HTTP), Setup Wizard
LEDs : 1xStatus, 1xError
Diagnostic Button: Print current settings or Reset to factory defaults.
Power Supply : DC 5V / 2A
Emission : FCC, CE
P. 2-2.

* Your assessment is very important for improving the work of artificial intelligence, which forms the content of this project