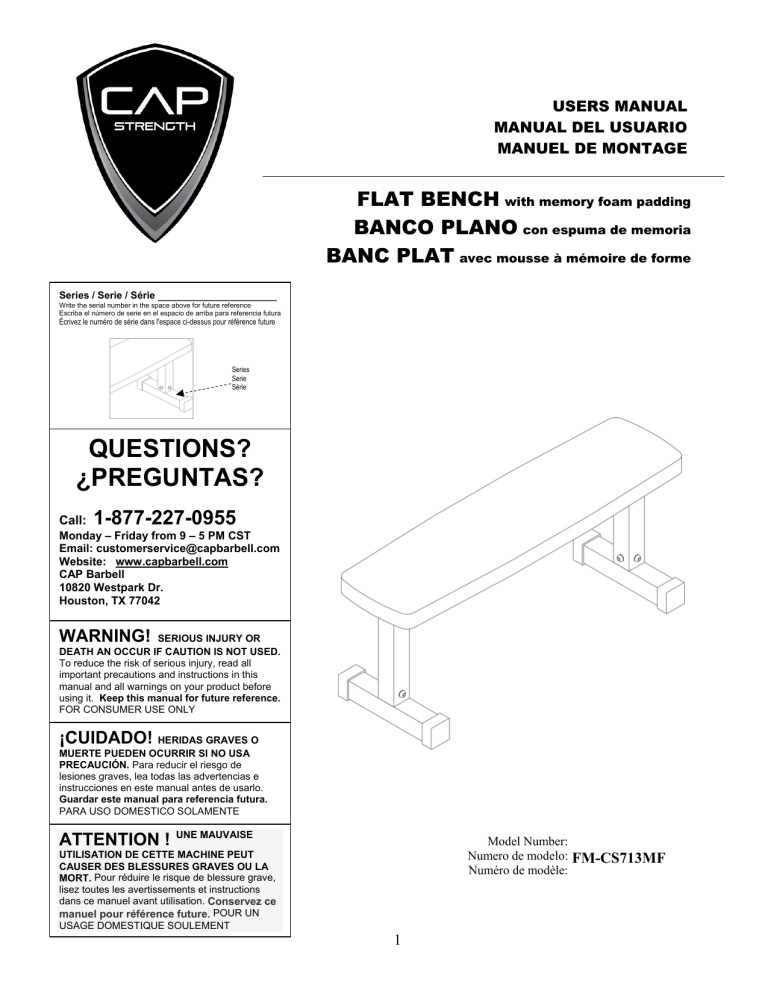 Series / Serie / Série
_________________
Write the serial number in the space above for future reference
Escriba el número de serie en el espacio de arriba para referencia futura
Écrivez le numéro de série dans l'espace ci-dessus pour référence future
Series
Serie
Série
QUESTIONS?
¿PREGUNTAS?
Call:
1-877-227-0955
Monday – Friday from 9 – 5 PM CST
Email: [email protected]
Website: www.capbarbell.com
CAP Barbell
10820 Westpark Dr.
Houston, TX 77042
WARNING!
SERIOUS INJURY OR
DEATH AN OCCUR IF CAUTION IS NOT USED.
To reduce the risk of serious injury, read all important precautions and instructions in this manual and all warnings on your product before using it. Keep this manual for future reference.
FOR CONSUMER USE ONLY
¡CUIDADO!
HERIDAS GRAVES O
MUERTE PUEDEN OCURRIR SI NO USA
PRECAUCIÓN. Para reducir el riesgo de lesiones graves, lea todas las advertencias e instrucciones en este manual antes de usarlo.
Guardar este manual para referencia futura.
PARA USO DOMESTICO SOLAMENTE
ATTENTION !
UTILISATION DE CETTE MACHINE PEUT
UNE MAUVAISE
CAUSER DES BLESSURES GRAVES OU LA
MORT. Pour réduire le risque de blessure grave, lisez toutes les avertissements et instructions dans ce manuel avant utilisation.
Conservez ce manuel pour référence future.
POUR UN
USAGE DOMESTIQUE SOULEMENT
USERS MANUAL
MANUAL DEL USUARIO
MANUEL DE MONTAGE
FLAT BENCH
with memory foam padding
BANCO PLANO
con espuma de memoria
BANC PLAT
avec mousse à mémoire de forme
1
Model Number:
Numero de modelo:
Numéro de modèle:
FM-CS713MF
TABLE OF CONTENTS - INDICE - LE CONTENU
SECTION
1............................................................................................................................... WARNING DECAL PLACEMENT
COLOCACION DE LAS ETIQUETAS DE CUIDADO
PLACEMENT DE VIGNETTES AVERTISSEMENT
2 ..................................................................................................................................................................WARNINGS
ADVERTENCIAS
AVERTISSEMENTS
3 ........................................................................................................MAIN PARTS AND ASSEMBLED DIMENSIONS
COMPONENTES PRINCIPALES Y DIMENSIONES DE ENSAMBLADO
PIECES PRINCIPALES ET DIMENSIONS ASSEMBLÉ
4 ................................................................................................................................PART IDENTIFICATION CHART
TABLA DE IDENTIFICACIÓN DE PARTES
TABLEAU D'IDENTIFICATION DES PIÈCES
5 ..................................................................................................................................................................PARTS LIST
LISTA DE PARTES
LA LISTE DU PIÉCES
6 ................................................................................................................................................EXPLODED DRAWING
DIBUJOP DE DESPIECE
VUE ÉCLATÉE
7 ...................................................................................................................................................................ASSEMBLY
ENSAMBLAJE
ASSEMBLAGE
8 ..............................................................................................................................................EXERCISE GUIDELINES
PAUTAS DE EJERCICIO
DIRECTIVES EXERCISE
9 .............................................................................................................................................................MAINTENANCE
MANTENIMIENTO
ENTRETIEN
10............................................................................................................................... OPERATIONAL INSTRUCTIONS
INSTRUCCIONES DE USO
INSTRUCTIONS D'UTILISATION
11 ……………..…................…………….....…………………………………………………………....LIMITED WARRANTY
GARANTIA LIMITADA
GARANTIE LIMITÉE
2
1. WARNING DECAL PLACEMENT
ETIQUETAS DE ADVERTENCIA
VIGNETTE D'AVERTISSEMENT
This drawing shows the location of the warning decal(s). If a decal is missing or
illegible, see the front cover of this manual and request a replacement decal. Apply the decal in the location
shown. Note: The decal(s) may not be shown at actual size.
Este dibujo muestra la ubicación de la calcomanía de advertencia (s). Si la
calcomanía no se encuentra o está ilegible, vea la portada de este manual y solicitar una calcomanía de reemplazo. Aplique la calcomanía en
el lugar indicado. Nota: Puede que las calcomanía(s) no sea mostrada en su tamaño real.
Ce dessin montre l'emplacement de l'autocollant d'avertissement (s). Si
l'autocollant est manquant ou est illisible, voir la couverture de ce manuel et de demander un adhésif de remplacement. Appliquez la
décalcomanie au bon endroit.
Remarque: l'étiquette (s) n'est pas montré à la taille réelle.
2. WARNINGS!
WARNING: SERIOUS INJURY OR DEATH CAN OCCUR IF CAUTION IS NOT USED. To reduce the risk of serious injury, read all important precautions and instructions in this manual and all warnings on your product before using it.
Before beginning any exercise program, consult your physician. This is especially important for persons over age 35 or persons with pre-existing health problems.
1. Read all instructions in this manual and all warnings on the product before using it. Use this product only as described in this manual and keep this manual handy for future reference.
2. Keep children and pets away from this product at all times. Keep hands and feet away from moving parts.
3. It is the responsibility of the owner to ensure that all users of this product are adequately informed of all precautions.
4. This product is intended for consumers use only and in an indoors environment. Do not use it in a commercial, rental, or institutional setting.
5. Place the product on a level surface, with at least 3 feet of clearance around it. To protect the floor or carpet from damage, place a mat under it.
6. Inspect and properly tighten all parts regularly. Replace any worn parts immediately. Make sure all locking mechanisms are properly secured before using the unit.
7. Wear appropriate clothes while exercising; do not wear loose clothes that could become caught. Always wear athletic shoes for foot protection.
8. Keep this product indoors, away from moisture and dust. Do not put it in a garage or covered patio, or near water.
9. Over exercising may result in serious injury or death. If you feel faint, dizzy, or experience pain while exercising, stop immediately and cool down.
10. Never exercise alone, always have someone present to ensure your safety when using this fitness product.
MAXIMUM WEIGHT CAPACITY INCLUDING USER =
300 lbs
3
2. ¡CUIDADO!
ADVERTENCIA: HERIDAS GRAVES O MUERTE PUEDEN OCURRIR SI NO USA PRECAUCIÓN. Para reducir el riesgo de lesiones graves, lea todas las precauciones e instrucciones importantes de este manual y todas las advertencias sobre el producto antes de usarlo. Antes de comenzar cualquier programa de ejercicios, consulte a su médico. Esto es especialmente importante para las personas mayores de 35 años de edad o personas con problemas de salud preexistentes.
1. Lea todas las instrucciones en este manual antes de usarlo. Usar este producto solo como se indica en el manual y guardar el manual para un uso futuro.
2. Mantenga a los niños y a las mascotas lejos de este producto en todo momento. Mantener las manos y los pies alejados de las piezas móviles.
3. Es la responsabilidad del propietario asegurarse de que todos los usuarios de este producto estén debidamente informados de todas las precauciones.
4. Este producto está diseñado para los consumidores únicamente y en un ambiente en el interior. No lo utilice en un entorno comercial, de alquiler o institucional.
5. Coloque el aparato sobre una superficie plana, con al menos 100 cm de espacio libre alrededor. Para proteger el piso o alfombra de algún daño, coloque un tapete debajo de el.
6. Inspeccione y apriete todas las piezas con regularidad. Remplace inmediatamente las piezas desgastadas. Asegúrese de que todos los mecanismos de cierre están enganchados seguramente antes de utilizar la unidad.
7. Use ropa apropiada durante el ejercicio, no use ropa suelta que pueda engancharse. Siempre use zapatos atléticos para protección de los pies.
8. Mantenga este producto en interiores, lejos de la humedad y el polvo. No en un garaje o patio cubierto, o cerca del agua.
9. Ejercitarse en exceso puede resultar en lesiones graves o la muerte. Si usted se siente débil, mareado, o siente dolor durante el ejercicio, deténgase inmediatamente y enfríe.
10. Nunca haga ejercicio solo, siempre tenga a alguien presente para su seguridad cuando use este producto.
CAPACIDAD MÁXIMA INCLUYENDO AL USUARIO =
136 Kg.
2. ATTENTION !
AVERTISSEMENT: UNE MAUVAISE UTILISATION DE CETTE MACHINE PEUT CAUSER DES BLESSURES
GRAVES OU LA MORT. Pour réduire le risque de blessure grave, lisez toutes les précautions importantes et des instructions dans ce manuel et tous les avertissements sur le produit avant utilisation. Avant de commencer tout programme d'exercice, consultez votre médecin. Ceci est particulièrement important pour les personnes âgées de plus de 35 ans ou des personnes ayant pré-existante de la santé.
1. Lisez toutes les instructions dans manuel et tous les avertissements sure le produit avant de l'utiliser. Utilisez ce produit seulement tel que décrit dans ce manuel et conservez ce manuel à portée de main pour référence future.
2. Gardez les enfants et les animaux domestiques loin de ce produit a tout moment. Garder les mains et les pieds
éloignés des pièces mobiles.
3. Il est de la responsabilité du propriétaire de s'assurer que tous les utilisateurs de ce produit soient dûment informés de toutes les précautions.
4. Ce produit est destiné aux consommateurs d'utiliser uniquement et dans un environnement intérieur. Ne pas l'utiliser dans une activité commerciale, locatif, ou institutionnel.
5. Placez l'appareil sur une surface plane d'au moins 100 CM d'espace libre autour. Afin de protéger le plancher ou le tapis de dégâts, placez un tapis sous lui.
6. Inspecter et serrer toutes les pièces régulièrement. Immédiatement remplacer les pièces usées. Veiller à ce que tous les mécanismes de verrouillage sont verrouillés en toute sécurité avant d'utiliser l'appareil.
7. Porter des vêtements appropriés pour l'exercice, Ne portez pas de vêtements amples qui pourraient se coincer.
Portez toujours des chaussures de sport pour la protection des pieds.
8. Garder ce produit à l'intérieur, loin de l'humidité et la poussière. Ne le placez pas dans un garage ou terrasse couverte, ou près de l'eau.
9. Exercice excessif peut entraîner des blessures graves ou la mort. Si vous ressentez une douleur faible, étourdi, ou se sentent tout exercice, arrêtez immédiatement et laisser refroidir.
10. Jamais exercer seul, toujours quelqu'un présent pour assurer votre sécurité lorsque vous utilisez ce produit de remise en forme
CAPACITÉ DE CHARGE MAXIMALE INCLUS DE L'UTILISATEUR =
136 Kg.
4
3. MAIN PARTS AND ASSEMBLED DIMENSIONS
COMPONENTES PRINCIPALES Y DIMENSIONES DE ENSAMBLADO
PIECES PRINCIPALES ET DIMENSIONS ASSEMBLÉ
If you have any questions after reading this manual, please see the front cover of this manual. To help us assist you, note the product model number before contacting us. Before reading further, please familiarize yourself with the parts that are labeled in the drawing below.
Si usted tiene alguna pregunta después de leer este manual, por favor vea la portada de este manual. Para ayudarnos a ayudarle, tenga en cuenta el número de modelo del producto antes de ponerse en contacto con nosotros. Antes de seguir leyendo, por favor, familiarizarse con las piezas y sus nombres en el dibujo de abajo.
Si vous avez des questions après la lecture de ce manuel, s'il vous plaît voir la couverture de ce manuel. Pour nous aider à vous aider, s'il vous plaît noter le numéro de modèle du produit avant de nous contacter. Avant de lire plus loin, s'il vous plaît de vous familiariser avec les parties et leurs noms dans l'image ci-dessous.
Backrest
Respaldo
Dossier
Front Leg
Apoyo Frontal
Support Avant
Rear Leg
Apoyo Trasero
Support Arrière
Width
Anchura
Largeur
DIMENSIONS
Depth
Profundidad
Profondeur
Height
Altura
Hauteur
Weight
Peso
Poids
IN
CM
Safe Distance in all directions:
Distancia Segura en todas direcciones:
Distance de Sécurité Dans Toutes les Directions :
3 Feet / 100 CM
5
4. PART IDENTIFICATION CHART
TABLA DE IDENTIFICACIÓN DE PARTES
TABLEAU D'IDENTIFICATION DES PIÈCES
Assembly could require two persons. Place all parts in a cleared area and remove the packing materials. Do not dispose of the packing materials until assembly is completed. See below a list of tools that are included with your product. See the drawings below to identify the small parts needed for assembly. The number in parentheses below each drawing is the key number of the part, from the PARTS LIST. The number following the key number is the quantity needed for assembly. Note: If a part is not in the hardware kit, check to see if it has been
preassembled. To avoid damaging parts, do not use power tools for assembly.
El montaje podría requerir de dos personas. Coloque todas las piezas en un área despejada y retire los materiales de empaquetamiento. No se deshaga de los materiales de empaque hasta que el montaje se haya completado. Vea a continuación las herramientas que se incluye con el producto. Ver los dibujos de abajo para identificar las piezas pequeñas necesarias para el montaje. El número entre paréntesis debajo de cada dibujo es el número clave de la pieza, de la LISTA DE PARTES. El número que sigue al número de clave es la cantidad necesaria para el montaje.
Nota: Si una parte no está en el juego de accesorios, comprobar para ver si ha sido preensamblado. Para evitar dañar las piezas, no utilice herramientas eléctricas para el montaje.
Le montage peut nécessiter deux personnes. Placez toutes les pièces dans une zone dégagée et enlever les matériaux d'emballage. Ne pas jeter les matériaux d'emballage jusqu'à l'assemblage est terminé. Voir ci-dessous quels sont les outils sont inclus avec votre produit. Voir les dessins ci-dessous pour identifier les petites pièces nécessaires pour l'assemblage. Le nombre entre parenthèses sous chaque dessin est le numéro de la clé de la partie, à partir de la nomenclature. Le nombre qui suit le numéro de clé est la quantité nécessaire pour l'assemblage.
Note: Si une pièce n'est pas dans le kit de matériel, vérifier pour voir si elle a été pré-assemblés. Pour éviter d'endommager les pièces, ne pas utiliser d'outils électriques pour l'assemblage.
Tools required, not included
Herramientas necesarias no incluidas
Outils necessaries non inclus
Included
Incluidas
Inclus
Allen
Wrench
Clé Allen
Rondelle
Boulon
6
5. PARTS LIST / GUIDE DE PIÈCES / LISTA DE PARTES
No.
1
2
Part/Pièce No.
PFMCS7003-01
PFMCS7003-02
Description/ Description/ Descripción
Frame/ Cadre/ Marco
Front Leg/ Support Avant/ Soporte Delantero
3 PFMCS7003-03 Rear Leg/ Support Arrière/ Soporte Trasero
4 PFMCS7003-04 Backrest/ Dossier/ Respaldo
Qty.
1
2
2
1
18
18
5 PFMCS7003-05 M10 x 15mm Bolt/ Boulon/ Tornillo
6 PRK1-06 M10 Washer/ Rondelle/ Arandela
7 PFM7006-14 60mm Square End Cap/ Embout Carré/ Tapa Cuadrada 4
Note: Specifications are subject to change without notice. For information about ordering replacement parts, see the front cover of this manual.
Nota: Especificaciones sujetas a cambios sin previo aviso. Ver la portada de este manual para pedido de piezas de repuesto.
Remarque: Les spécifications sont sujettes à changer. Voir la page couverture de ce manuel pour la commande de pièces de rechange,
6. EXPLODED VIEW / DESPIECE / VUE ÉCLATÉE
7
7. ASSEMBLY / ENSAMBLAJE / ASSEMBLER
1
3
2
4
8
8. EXERCISE GUIDELINES
Each workout should include 6 to 10 different exercises. Select exercises for every major muscle group, emphasizing areas that you want to develop most. To give balance and variety to your workouts, vary the exercises from session to session. Schedule your workouts for the time of day when your energy level is the highest. Each workout should be followed by at least one day of rest. Once you find the schedule that is right for you, stick with it.
EXERCISE FORM
Maintaining proper form is an essential part of an effective exercise program. This requires moving through the full range of motion for each exercise, and moving only the appropriate parts of the body. Exercising in an uncontrolled manner will leave you feeling exhausted.
The repetitions in each set should be performed smoothly and without pausing. The exertion stage of each repetition should last about half as long as the return stage. Proper breathing is important. Exhale during the exertion stage of each repetition and inhale during the return stroke. Never hold your breath.
Rest for a short period of time after each set. The ideal resting periods are:

Rest for three minutes after each set for a muscle-building workout.

Rest for one minute after each set for a toning workout.

Rest for 30 seconds after each set for a weight loss workout.
Plan to spend the first couple of weeks getting familiar with the equipment and learning the proper form for each exercise.
COOLING DOWN
End each workout with 5 to 10 minutes of stretching. Include stretches for both your arms and legs. Move slowly as you stretch and do not bounce. Ease into each stretch gradually and go only as far as you can without strain. Stretching at the end of each workout is an effective way to increase flexibility.
STAYING MOTIVATED
For motivation, keep a record of each workout. List the date, the exercises performed, the resistance used, and the numbers of sets and repetitions completed. Record your weight and key body measurements at the end of every month. Remember, the key to achieving the greatest results is to make exercise a regular and enjoyable part of your everyday life.
8. PAUTAS DE EJERCICIO
Cada sesión de ejercicios debe de incluir de 6 a 10 diferentes tipos de ejercicios. Seleccione ejercicios para cada uno de los grupos mayores de músculos, enfatizando las áreas que usted quiera desarrollar más. Para darle balance y variedad a sus sesiones de ejercicios, deberá variar sus ejercicios cada sesión. Planee hacer sus ejercicios a la hora del día cuando usted tiene más energía. Cada sesión de ejercicios deberá ser seguida por un merecido descanso. Cuando encuentre el horario que mas le favorece, planee mantenerlo.
FORMA CORRECTA DE HACER EJERCICIO
Mantener la forma correcta al hacer ejercicios es esencial en cualquier programa de hacer ejercicios. Esto requiere moverse completamente durante los ejercicios y a veces mover solamente las partes del cuerpo indicadas. El ejercitarse de una manera no controlada lo dejara sintiéndose exhausto.
Las repeticiones de cada grupo deben de ser realizadas suavemente y sin parar. La etapa de esfuerzo de cada repetición deberá de durar al menos la mitad de la etapa de regreso. La respiración apropiada es importante. Exhale durante el esfuerzo en cada repetición e inhale durante la el regreso. Nunca pare de respirar mediante se ejercita.
Descanse por un corto periodo después de cada set. El tiempo ideal de reposo es:

Descanse por 3 minutos después de cada grupo de ejercicios que ejercitan los músculos.

Descanse por 1 minuto después de cada grupo de ejercicios de tonificación.

Descanse por 30 segundos después de cada grupo de ejercicios para perder peso. Planee pasar las primeras semanas familiarizándose con el equipo de ejercicio y aprendiendo la forma correcta para cada ejercicio.

ENFRIAMIENTO
Termine cada sesión de ejercicios con 5-10 minutos de estiramiento. Incluya estiramientos de sus brazos y de sus piernas.
Muévase suavemente mientras se estira y no rebotar. Haga cada estiramiento gradualmente sin mucho esfuerzo. El estirarse al final de cada sesión de ejercicios es una manera efectiva de incrementar la flexibilidad.
MANTENIÉNDOSE MOTIVADO
Para motivarse, mantenga un diario de cada sesión de ejercicios. Escriba la fecha, los ejercicios que hizo, la resistencia usada y el número de grupos y repeticiones completadas. Registre su peso y sus medidas principales al final de cada mes. Recuerde que la llave del éxito para obtener los mejores resultados es el hacer del ejercicio una parte habitual y placentera de su vida.
9
8. DIRECTIVES EXERCICE
Chaque entraînement devrait inclure 6 à 10 exercices différents. Sélectionner des exercices pour tous les principaux groupes musculaires, en insistant sur les zones que vous souhaitez développer le plus. Pour donner l'équilibre et la variété à vos séances d'entraînement, les exercices varient de session en session. Horaire vos séances d'entraînement pour l'heure de la journée où votre niveau d'énergie est la plus élevée. Chaque séance d'entraînement devrait être suivi par au moins un jour de repos. Une fois que vous trouverez le calendrier qui est bon pour vous, respectez-le.
FORME D'EXERCICE
Maintenir la forme appropriée est un élément essentiel d'un programme d'exercice efficace. Cela nécessite le déplacement à travers la gamme complète de mouvement pour chaque exercice, et le déplacement uniquement les parties appropriées du corps.
Exercer de manière incontrôlée vous laissera épuiser.
Les répétitions dans chaque série doit être effectué en douceur et sans faire de pause. L'étape d'effort de chaque répétition devraient durer environ moitié moins long que l'étape de retour. Une bonne respiration est importante. Expirez pendant la phase de l'effort de chaque répétition et inspirez pendant la course de retour. Ne tenez jamais votre souffle.
Reposez-vous pendant un temps après chaque série. Les périodes de repos idéal sont:
* Reste de trois minutes après chaque série pour un entraînement de musculation.
* Reste une minute après chaque série pour un entraînement tonique.
* Reposez-vous 30 secondes après chaque série pour un entraînement perte de poids. Prévoyez de passer le premier couple de semaines vous familiariser avec le matériel et l'apprentissage de la forme appropriée pour chaque exercice.
REFROIDISSEMENT
Terminez chaque séance d'entraînement avec 5 à 10 minutes d'étirements. Inclure s'étend à la fois pour vos bras et vos jambes.
Déplacez-vous lentement comme vous étirer et ne rebondissent pas. Installez-vous dans chaque étirement graduellement et aller seulement aussi loin que vous pouvez sans effort. S'étendant à la fin de chaque séance d'entraînement est un moyen efficace pour augmenter la flexibilité.
RESTER MOTIVÉ
Pour la motivation, garder une trace de chaque séance d'entraînement. Liste de la date, les exercices effectués, la résistance utilisés et les numéros de séries et de répétitions exécutées. Enregistrez votre poids et mensurations clés à la fin de chaque mois.
Rappelez-vous, la clé pour atteindre les meilleurs résultats est de faire de l'exercice une partie régulière et agréable de votre vie quotidienne.
10
9. MAINTENANCE
The safety and integrity designed into the machine can only be maintained when the equipment is regularly examined for damage and repaired. It is the sole responsibility of the user/owner to ensure that regular maintenance is performed. Worn or damaged components shall be replaced immediately and stop using the equipment until the repair is made.
1. Wipe machine regularly to prevent accumulation of dust.
2. Use a damp cloth on plastic parts only, use dry cloth on metal frames.
3. Upholstery: Wipe down all upholstery with a damp cloth as needed.
4. Check regularly to ensure all parts are tight and in working condition.
5. If a part is damaged do not use until the part is replaced or repaired.
6. Inspect all nuts and bolts for looseness. Tighten as required.
7. Inspect all labeling for readability. This includes warning and caution decals. Replace them as needed.
8. Do not install any fitness product near a pool, hot tub or other damp locations. Corrosion caused by installation in these locations can lead to premature failure of components.
9. Place it on a level surface with a mat beneath it to protect your floor or carpet
10. Avoid acid chlorine based cleaners and also cleaners containing abrasives as these could scratch or damage the equipment
9. MANTENIMIENTO
La seguridad y la integridad diseñada en la máquina sólo pueden mantenerse cuando es examinada periódicamente por daños y reparada. Es responsabilidad exclusiva del usuario / propietario el asegurarse de que el mantenimiento regular se lleva a cabo.
Componentes desgastados o dañados deberán ser sustituidos inmediatamente y dejar de usar el equipo hasta que se efectúe la reparación.
1. Limpie la máquina con regularidad para evitar la acumulación de polvo.
2. Use un paño húmedo en las partes de plástico, sólo use un paño seco en los marcos de metal.
3. Tapicería: Limpiar la tapicería con un paño húmedo cuando sea necesario.
4. Compruebe con regularidad para asegurarse que todas las piezas estén ajustadas y en condiciones de trabajo.
5. Si una pieza está dañada, no lo utilice hasta que la pieza es reemplazado o reparado.
6. Inspeccione todas las tuercas y los pernos que estén bien apretados. Apretar según sea necesario.
7. Inspeccione que todas las etiquetas se puedan leer. Esto incluye las etiquetas de advertencia y precaución. Reemplace según sea necesario.
8. No instale este producto cerca de una piscina, bañera de hidromasaje o de otros lugares húmedos. La corrosión causada debido a la instalación en estos lugares puede llevar a un fallo prematuro de los componentes.
9. Colóquelo sobre una superficie nivelada con un tapete debajo para proteger su piso o alfombra
10. Evite los limpiadores ácidos a base de cloro, y también productos de limpieza que contengan abrasivos que puedan rayar o dañar el equipo
9. ENTRETIEN
L'innocuité et l'intégrité de la conception dans la machine peut être seulement maintenu quand on les examine régulièrement et réparé. Il est de la responsabilité de l'utilisateur / propriétaire de s'assurer que l'entretien régulier est effectué. Porté ou des composants endommagés doivent être remplacés immédiatement et cesser d'utiliser l'équipement jusqu'à ce que la réparation est effectuée.
1. Essuyez la machine régulièrement pour éviter l'accumulation de poussière.
2. Utilisez un chiffon humide sur les pièces en plastique uniquement, utilisez un chiffon sec sur des cadres métalliques.
3. Tapisserie d'ameublement: Essuyer tout rembourrage avec un chiffon humide si nécessaire.
4. Vérifiez régulièrement pour assurer toutes les pièces sont bien serrés et en bon état de fonctionnement.
5. Si une pièce est endommagé, ne pas utiliser jusqu'à ce que la partie est remplacé ou réparé.
6. Inspectez tous les écrous et boulons desserrés. Serrer au besoin.
7. Inspectez toutes les étiquettes pour plus de lisibilité. Cela inclut les autocollants d'avertissement et de prudence. Remplacezles au besoin.
8. Ne pas installer n'importe quel produit de remise en forme à proximité d'une piscine, un jacuzzi ou d'autres endroits humides.
La corrosion causée par l'installation dans ces endroits peut conduire à une défaillance prématurée des composants.
9. Placez-le sur une surface plane avec un tapis en dessous pour protéger votre sol ou votre moquette
10. Évitez les nettoyants acides avec du chlore, et des produits de nettoyage contenant des agents abrasifs qui peuvent rayer ou endommager l'équipement
11
10. OPERATIONAL INSTRUCTIONS
(Images are for reference only. Actual product may be different)
INSTRUCCIONES DE USO
(Las imágenes son sólo de referencia. El producto real puede ser diferente)
INSTRUCTIONS D'FONCTIONNEMENT
(Les images sont à titre indicatif. Modèle réel peut être différent)
12
10. LIMITED WARRANTY
This warranty applies to products purchased in the CONTIGUOUS UNITED STATES and covers your product against defects in
Materials, and workmanship when used for the intended purpose under normal use and conditions, provided that the product receives normal maintenance and care. The warranty is for the original owner only. This warranty covers defects in material or craftsmanship for 30 days from date of purchase. Sales receipt required. This warranty does not cover pads, rollers, rubber pieces, bolts or nuts unless missing or damaged in original box. It does not cover any damages due to misuse or exceeding the recommended weight capacity. This warranty is void in cases where the product is used in a commercial, rental, or other nonhome use setting. Manufacturer will provide a replacement part at no charge for any part found defective in materials or workmanship during the specified warranty period. Under no circumstances will the manufacturer be responsible for damages or failures that occur as a result of improper assembly or failure to operate the product correctly. This warranty does not cover misuse, neglect, accident, alterations, or repairs made by an unauthorized service representative. Warranty voided outside of
the United States. Proof of purchase is required for all warranty claims. Use of this product creates an agreement between the manufacturer and the user of this product to resolve all disputes, claims, or controversies whatsoever arising from or relating to this product, including the validity of this arbitration clause, by binding arbitration pursuant to Section 2 of the Federal Arbitration
Act. Maximum judgment for all causes of action shall be limited to $10,000. The parties agree and understand that by using this product they choose arbitration instead of litigation to resolve disputes. If buyer(s) choose not to enter into this agreement, they may return unused product to the place or purchase. IMPORTANT: To help us assist you, be prepared to provide the model no., name of the product and key number for replacement parts found on this manual.
9. GARANTÍA LIMITADA
Esta garantía cubre productos comprados en LOS ESTADOS UNIDOS en contra de defectos de material y la elaboración del producto cuando el producto es usado con el propósito para el cual fue fabricado y bajo una forma y circunstancias normales y a condición de que el producto reciba mantenimiento y cuidados normales. Esta garantía aplica solo al dueño original. Esta garantía cubre defectos en materiales y mano de obra durante 30 días a partir de la fecha de compra. Recibo de venta necesario.
Esta garantía no cubre los cojines, rodillos, piezas de goma, tornillos o tuercas a menos que falten o hayan sido dañados en su caja original. No cubre los daños debidos al mal uso o por exceder la capacidad de peso recomendado. La garantía no es válida en casos donde el producto sea utilizado de forma comercial. CAP proveerá, sin ningún costo, reemplazos de partes que sean encontrados defectuosas en cuestión de materiales o de construcción durante los términos de esta garantía. Bajo ninguna circunstancia el fabricante será responsable por daños o perjuicios que resulten del uso o de ensamblaje inapropiado del producto. Esta garantía no cubre el mal uso, descuido, abandono, accidente, alteraciones o reparaciones hechas por un representante no autorizado. Garantía no válida fuera de los Estados Unidos. La prueba de compra es necesaria para todos los reclamos. El uso de este producto crea un contrato entre el fabricante y el usuario de resolver cualquier disputa reclamación o controversia que resulte en relación a este producto, incluyendo la validez de esta cláusula de arbitraje, a través de arbitraje obligatorio. El juicio máximo de todas las causas de acción será limitada a $10,000. Ambas partes entienden y están de acuerdo en que al usar este producto, ellos eligen arbitraje en lugar de pelear en corte para resolver cualquier disputa. Si el comprador elige no ser parte de este contrato, puede regresar este producto antes de usarlo. IMPORTANTE: Para servirle mejor, esté preparado para proporcionar, el número y nombre de este y el número de piezas en este manual.
9. GARANTIE LIMITÉE
Cette garantie couvre les produits achetés aux ÉTATS-UNIS contre les défauts de matériaux et de fabrication du produit lorsque le produit est utilisé aux fins pour lesquelles ils ont été fabriqués et sous une forme et dans des circonstances normales et à condition que le produit est mis à jour et les soins normale. Cette garantie s'applique uniquement au propriétaire original. Cette garantie couvre les défauts de matériaux et de fabrication pendant 30 jours à compter de la date d'achat. Reçu de vente requis.
Cette garantie ne couvre pas les coussinets, rouleaux, pièces en caoutchouc, vis ou écrous, sauf s'ils sont manquants ou endommagés dans sa boîte d'origine. Les dommages dus à une mauvaise utilisation ou de dépasser le poids recommandé. La garantie ne s'applique pas dans les cas où le produit est utilisé commercialement. Fabricant fournira sans frais, les pièces de rechange sont défectueuses en termes de matériaux ou de fabrication pendant la durée de la garantie. En aucun cas, le fabricant peut être tenu responsable des dommages résultant d'une mauvaise utilisation ou l'assemblage du produit. Cette garantie ne couvre pas les abus, négligence, abandon, accident, modification ou réparation effectuée par un revendeur non agréé. Garantie
non valable en dehors des États-Unis. L'utilisation de ce produit crée un contrat entre le fabricant et l'utilisateur de régler toute réclamation ou controverse découlant des différends dans le cadre de ce produit, y compris la validité de cette clause d'arbitrage, par arbitrage contraignant. Le procès complet de toutes les causes d'action sera limité à $10.000. Les deux parties comprennent et conviennent que l'utilisation de ce produit, ils choisissent l'arbitrage au lieu de battre en cour pour régler tout différend. Si l'acheteur choisit de ne pas faire partie de ce contrat, vous pouvez retourner le produit avant utilisation. IMPORTANT : Pour mieux vous servir, être prêt à fournir le numéro et le nom du produit el la description des pièces dans ce manuel.
STOP!
Missing a part or need assembly assistance? Do not
RETURN to store! Call CAP Barbell's service line at 1-877-227-0955 Monday through Friday from
9:00 AM to 5:00 PM (CST).
¡ALTO!
¿Necesita partes o ayuda con el ensamblaje?
¡No REGRESE el producto a la tienda! Llame al servicio al cliente de CAP Barbell al: 1-877-
227-0955 de lunes a viernes de 9:00 AM a
5:00 PM (Tiempo Centro)
ARRÊTER!
Manque une piéce u besoin d'aide pour l'assemblage?
Ne pas RETOURNER le produit au magasin! Appel service á la clientéle de CAP
Barbell: 1-877-227-0955 du lundi au vendredi
9 :00 AM – 5 :00 PM (heure du Centre)
13
* Your assessment is very important for improving the work of artificial intelligence, which forms the content of this project