No category
universal serial bus upgrading akron brass products using a usb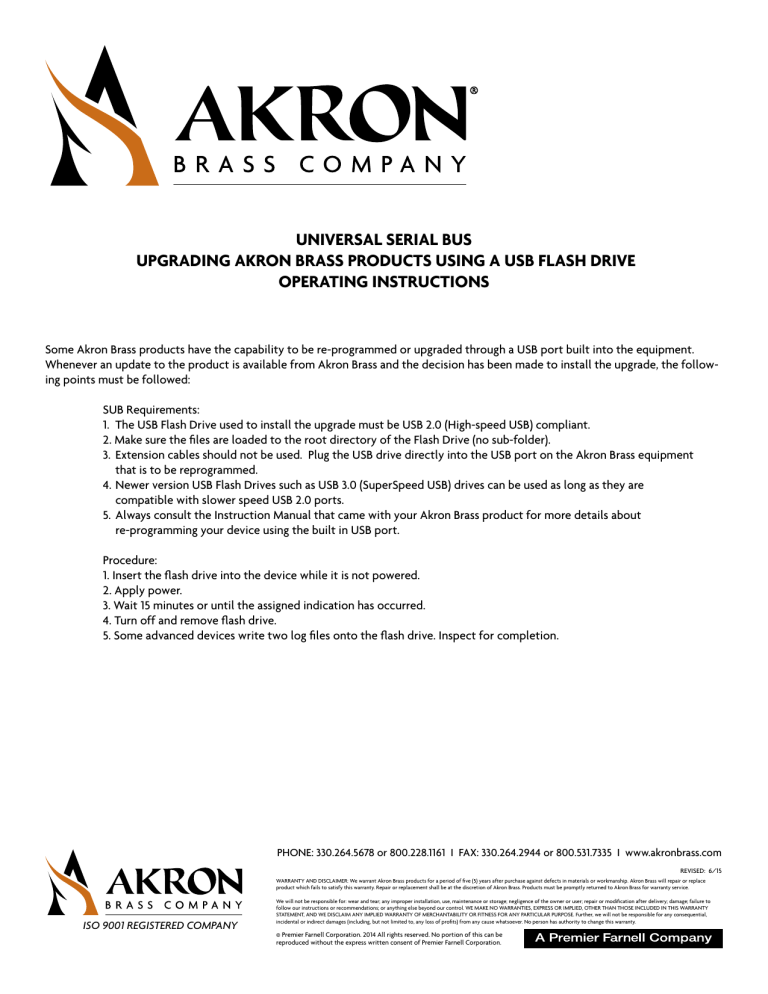 UNIVERSAL SERIAL BUS
UPGRADING AKRON BRASS PRODUCTS USING A USB FLASH DRIVE
OPERATING INSTRUCTIONS
Some Akron Brass products have the capability to be re-programmed or upgraded through a USB port built into the equipment.
Whenever an update to the product is available from Akron Brass and the decision has been made to install the upgrade, the following points must be followed:
SUB Requirements:
1. The USB Flash Drive used to install the upgrade must be USB 2.0 (High-speed USB) compliant.
2. Make sure the files are loaded to the root directory of the Flash Drive (no sub-folder).
3. Extension cables should not be used. Plug the USB drive directly into the USB port on the Akron Brass equipment
that is to be reprogrammed.
4.Newer version USB Flash Drives such as USB 3.0 (SuperSpeed USB) drives can be used as long as they are compatible with slower speed USB 2.0 ports.
5. Always consult the Instruction Manual that came with your Akron Brass product for more details about
re-programming your device using the built in USB port.
Procedure:
1. Insert the flash drive into the device while it is not powered.
2. Apply power.
3. Wait 15 minutes or until the assigned indication has occurred.
4. Turn off and remove flash drive.
5. Some advanced devices write two log files onto the flash drive. Inspect for completion.
PHONE: 330.264.5678 or 800.228.1161 I FAX: 330.264.2944 or 800.531.7335 I www.akronbrass.com
REVISED: 6/15
WARRANTY AND DISCLAIMER: We warrant Akron Brass products for a period of five (5) years after purchase against defects in materials or workmanship. Akron Brass will repair or replace
product which fails to satisfy this warranty. Repair or replacement shall be at the discretion of Akron Brass. Products must be promptly returned to Akron Brass for warranty service.
ISO 9001 REGISTERED COMPANY
We will not be responsible for: wear and tear; any improper installation, use, maintenance or storage; negligence of the owner or user; repair or modification after delivery; damage; failure to
follow our instructions or recommendations; or anything else beyond our control. WE MAKE NO WARRANTIES, EXPRESS OR IMPLIED, OTHER THAN THOSE INCLUDED IN THIS WARRANTY
STATEMENT, AND WE DISCLAIM ANY IMPLIED WARRANTY OF MERCHANTABILITY OR FITNESS FOR ANY PARTICULAR PURPOSE. Further, we will not be responsible for any consequential,
incidental or indirect damages (including, but not limited to, any loss of profits) from any cause whatsoever. No person has authority to change this warranty.
© Premier Farnell Corporation. 2014 All rights reserved. No portion of this can be
reproduced without the express written consent of Premier Farnell Corporation.

* Your assessment is very important for improving the work of artificial intelligence, which forms the content of this project