Philips SPD5100CC/00 Datasheet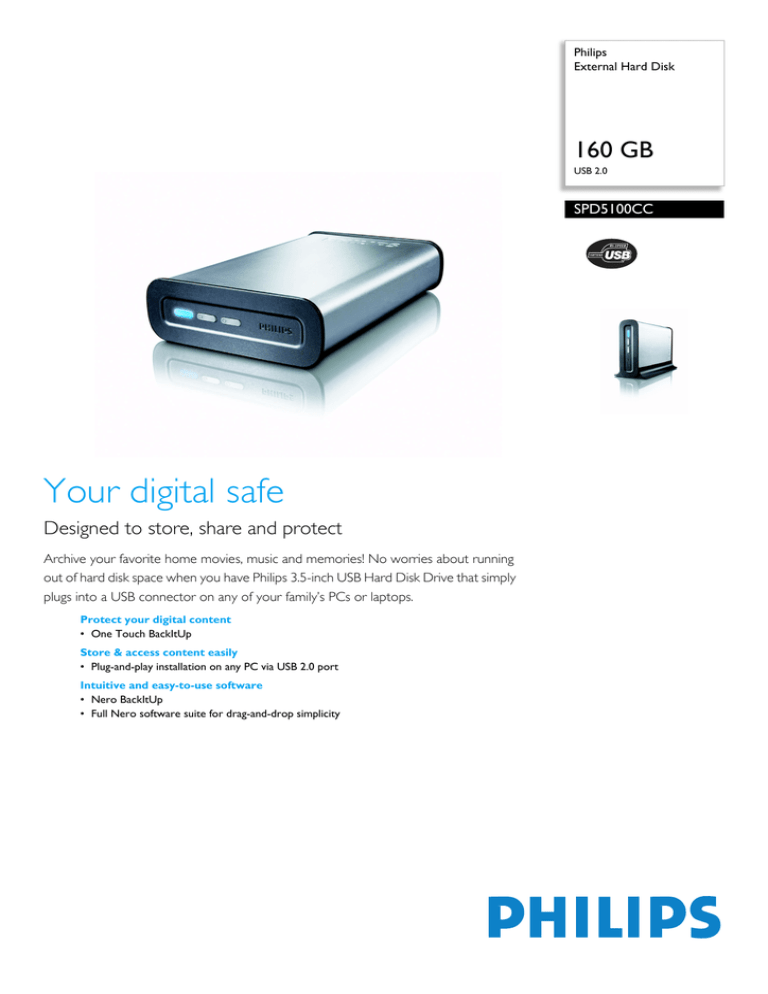 Philips
External Hard Disk
160 GB
USB 2.0
SPD5100CC
Your digital safe
Designed to store, share and protect
Archive your favorite home movies, music and memories! No worries about running
out of hard disk space when you have Philips 3.5-inch USB Hard Disk Drive that simply
plugs into a USB connector on any of your family's PCs or laptops.
Protect your digital content
• One Touch BackItUp
Store & access content easily
• Plug-and-play installation on any PC via USB 2.0 port
Intuitive and easy-to-use software
• Nero BackItUp
• Full Nero software suite for drag-and-drop simplicity
SPD5100CC/00
External Hard Disk
160 GB USB 2.0
Technical specifications
Storage Media
•
•
•
•
•
Built-in memory capacity: 8
Hard disk capacity: 160 GB
HDD Type: 3.5" HDD
Rotational speed: 7200 rpm
Transfer rate: 35 MB/s (USB2.0)
Accessories
•
•
•
•
AC/DC adaptor
CD-ROM
User manual
Cables: USB cable
Product highlights
Outer Carton
Plug-and-play installation
Plug-and-play installation on any PC via USB 2.0 port
Packaging Data
Drag-and-drop simplicity
Drag-and-drop simplicity with Nero software suite
• Quantity: 4
•
•
•
•
•
Length: 304 mm
Width: 145 mm
Height: 242 mm
Gross weight: 2.4 kg
Tare weight: 1 kg
Connectivity
• Interface: Hi Speed USB2.0
System Requirements
• PC OS: Windows 98SE/ ME/ 2000/ XP
• Processor: Pentium 4 1 GHz, 128 MB RAM
Software
• Nero: BackItUp, EasySync
•
Date of issue 2006-03-23
Version: 2.0
12 NC: 9082 100 05478
EAN: 87 10895 91882 4
Specifications are subject to change without notice.
Trademarks are the property of Koninklijke Philips
Electronics N.V. or their respective owners.
© 2006 Koninklijke Philips Electronics N.V.
All Rights reserved.
www.philips.com
Nero BackItUp
Back up software
One Touch BackItUp
Allows you to back up your files with one touch of the
button.

* Your assessment is very important for improving the work of artificial intelligence, which forms the content of this project