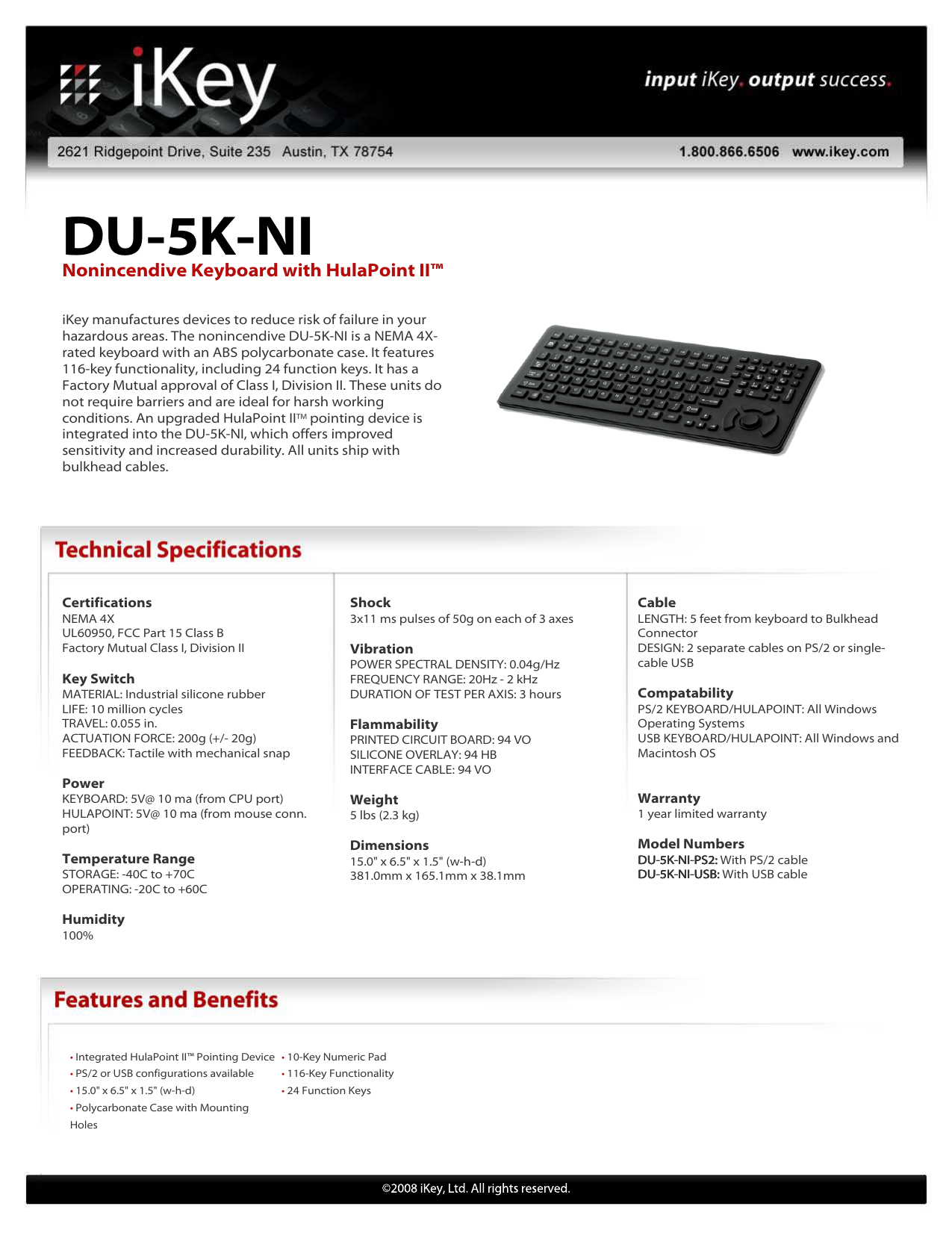 DU-5K-NI
Nonincendive Keyboard with HulaPoint II™
iKey manufactures devices to reduce risk of failure in your
hazardous areas. The nonincendive DU-5K-NI is a NEMA 4Xrated keyboard with an ABS polycarbonate case. It features
116-key functionality, including 24 function keys. It has a
Factory Mutual approval of Class I, Division II. These units do
not require barriers and are ideal for harsh working
conditions. An upgraded HulaPoint IITM pointing device is
integrated into the DU-5K-NI, which offers improved
sensitivity and increased durability. All units ship with
bulkhead cables.
Certifications
Shock
Cable
NEMA 4X
UL60950, FCC Part 15 Class B
Factory Mutual Class I, Division II
3x11 ms pulses of 50g on each of 3 axes
LENGTH: 5 feet from keyboard to Bulkhead
Connector
DESIGN: 2 separate cables on PS/2 or singlecable USB
Vibration
Key Switch
MATERIAL: Industrial silicone rubber
LIFE: 10 million cycles
TRAVEL: 0.055 in.
ACTUATION FORCE: 200g (+/- 20g)
FEEDBACK: Tactile with mechanical snap
POWER SPECTRAL DENSITY: 0.04g/Hz
FREQUENCY RANGE: 20Hz - 2 kHz
DURATION OF TEST PER AXIS: 3 hours
Flammability
PRINTED CIRCUIT BOARD: 94 VO
SILICONE OVERLAY: 94 HB
INTERFACE CABLE: 94 VO
Compatability
PS/2 KEYBOARD/HULAPOINT: All Windows
Operating Systems
USB KEYBOARD/HULAPOINT: All Windows and
Macintosh OS
Power
KEYBOARD: [email protected] 10 ma (from CPU port)
HULAPOINT: [email protected] 10 ma (from mouse conn.
port)
Temperature Range
STORAGE: -40C to +70C
OPERATING: -20C to +60C
Weight
Warranty
5 lbs (2.3 kg)
1 year limited warranty
Dimensions
Model Numbers
15.0" x 6.5" x 1.5" (w-h-d)
381.0mm x 165.1mm x 38.1mm
DU-5K-NI-PS2: With PS/2 cable
DU-5K-NI-USB: With USB cable
Humidity
100%
• Integrated HulaPoint II™ Pointing Device • 10-Key Numeric Pad
• PS/2 or USB configurations available
• 116-Key Functionality
• 15.0" x 6.5" x 1.5" (w-h-d)
• 24 Function Keys
• Polycarbonate Case with Mounting
Holes
©2008i
Ke
y
,
L
t
d.
Al
l
r
i
ght
sr
e
s
e
r
v
e
d.

* Your assessment is very important for improving the work of artificial intelligence, which forms the content of this project