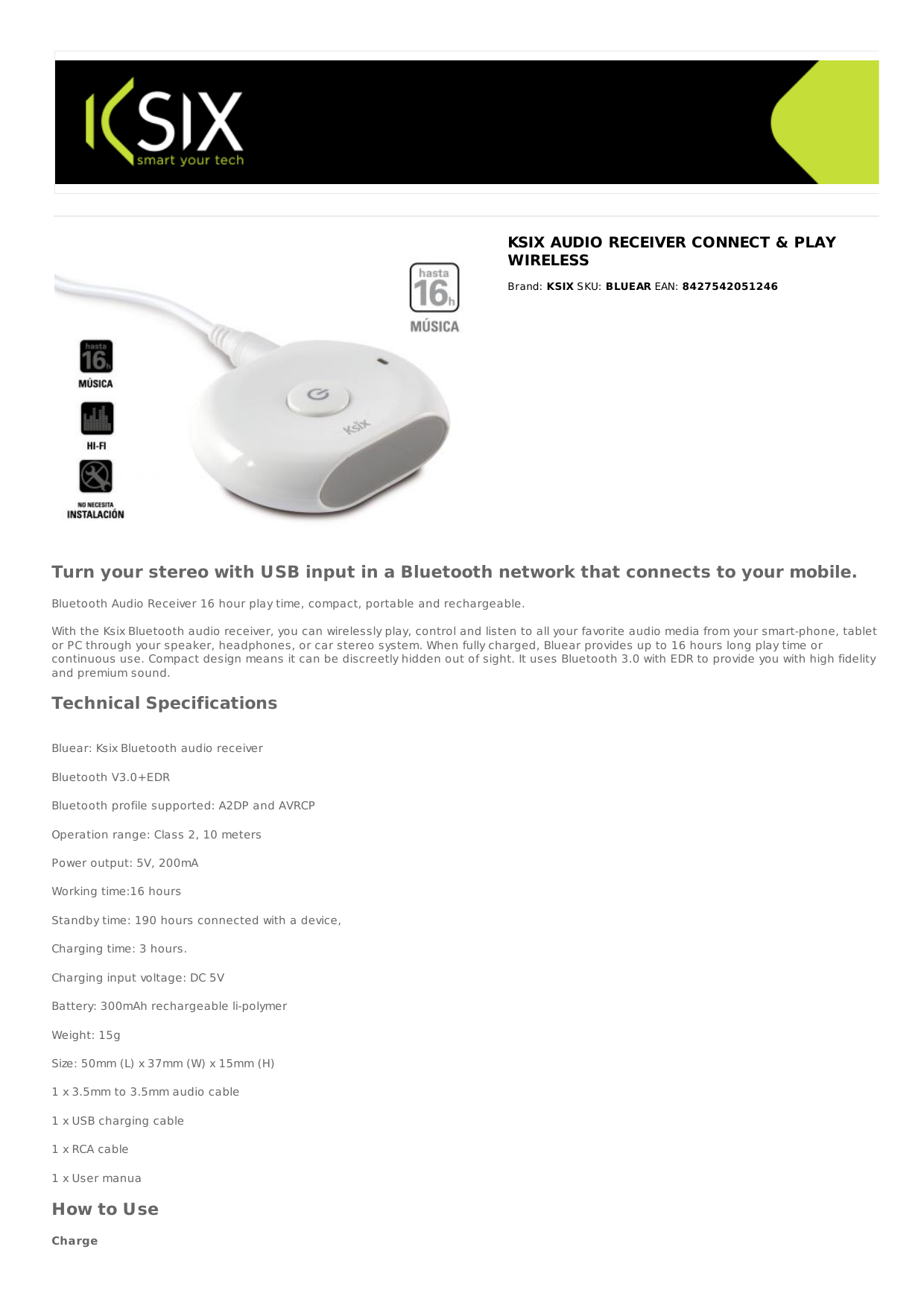 KSIX AUDIO RECEIVER CONNECT & PLAY
WIRELESS
Brand: KSIX SKU: BLUEAR EAN: 8427542051246
Turn your stereo with USB input in a Bluetooth network that connects to your mobile.
Bluetooth Audio Receiver 16 hour play time, compact, portable and rechargeable.
With the Ksix Bluetooth audio receiver, you can wirelessly play, control and listen to all your favorite audio media from your smart-phone, tablet
or PC through your speaker, headphones, or car stereo system. When fully charged, Bluear provides up to 16 hours long play time or
continuous use. Compact design means it can be discreetly hidden out of sight. It uses Bluetooth 3.0 with EDR to provide you with high fidelity
and premium sound.
Technical Specifications
Bluear: Ksix Bluetooth audio receiver
Bluetooth V3.0+EDR
Bluetooth profile supported: A2DP and AVRCP
Operation range: Class 2, 10 meters
Power output: 5V, 200mA
Working time:16 hours
Standby time: 190 hours connected with a device,
Charging time: 3 hours.
Charging input voltage: DC 5V
Battery: 300mAh rechargeable li-polymer
Weight: 15g
Size: 50mm (L) x 37mm (W) x 15mm (H)
1 x 3.5mm to 3.5mm audio cable
1 x USB charging cable
1 x RCA cable
1 x User manua
How to Use
Charge
It comes with a built-in rechargeable battery that provides up to 16 hours working time or 190 hours stand by time if connected to a Bluetooth
device. We recommend fully charging the battery before using it for the first time.
1-Insert one Micro USB charging cable end into the Micro USB socket and put the other end into a standard USB power outlet, such as laptop,
wall socket, or car charger.
2-It takes 3 hours to fully charge for the first time. Each subsequent charge cycle takes around 2.5-3 hours.
3-LED will indicate red when charging , and goes off when charging is complete.
4-If you have not used the device for a few months, the LED might not turn red when first charging. It might take 15-35 minuts before the LED
turns red.
5-We suggest fully charging the device at least every 2 months.
Turn On/Off
Turn On:press and hold the MFB button for about 3-5 seconds until the blue LED flashes once with a beep sound
Turn Off: press and hold the MFB button for about 3-5 seconds until the red LED flashes once with beep sound, then go off.
FAQS
1- Why cant the Bluear be paired with a phone?
-Pairing mode will last 3 minutes, it will turn off if no device is paired.
-Please check if your phone supports A2DP profile, have turned on Bluetooth and all nearby Bluetooth devices are showing.
2- Why cant Bluear be paired and connected with a laptop?
- Please make sure your laptop has Bluetooth function and the Bluetooth software support audio profile transmit.
3- Why Bluear turned off when supplying power to it?
- Press the MFB button to turn on Bluear . It will automatically connect with the last paired device and stream music whilst charging.
Working with a Bluetooth device
Pairing procedure:
a- Plug the 3.5 mm audio cable into the products 3.5 mm audio socket. Plug the other end (or 2 x RCA) into the audio input of your home hi-fi
stereo system.
b- Keep the Bluetooth receiver and your Bluetooth source device (eg, smart-phone, tablet, laptop, etc) within 1 meter.
c- Press and hold the MFB button of Bluetooth receiver from power off status for around 6-8 seconds until the blue and red LEDs flash quickly
and alternatively, indicating it is in pairing mode.
d- Make your Bluetooth source device into pairing mode: Taking an iPhone as an example. Tap setting> Bluetooth > Bluetooth on > Ksix Bluear,
Bluear will automatically connect with your iPhone. In case you have an Smartphone from any other brand (Sony, Samsung, LG…) you have to
follow the same instructions.
e- After successful pairing and connection, the Blue LED will blink twice every 4 seconds.
Receiving
Note: Pairing mode will last 3 minutes, if no device can be paired during this period, the Bluetooth receiver will automatically turn off.
The Bluetooth receptor can be pairing with a stereo Bluetooth device using the PIN code 0000, 1111, 8888 y 1234.
Turn on the Bluetooth receiver, it will auto enter into standby mode, then auto turn off after 10 minutes
The can remember 8 paired devise, but it can only be connected with 1 device each time. When the number of paired devices exceeds 8, the
first one will be replaced.
Each time the Bluetooth receiver turns on, it will connect to the last connected device automatically based on last paired device in range and
Bluetooth visible. If you want to pair it to other device, turn off the current devices Bluetooth function first and try to pair the receiver to the
new device according to the above procedures.
LED status
Function
Operation procedure
LED indicator
Power on
Press MFB for 3-5 seconds
Blue led flashes once
Power off
Press MFB for 3-5 seconds
Red LED flashes once
Pairing mode
From power off status, press MFB button for 6-8 seconds
Red and blue LEDs flash quickly and alternatively lasts
for 3 minutes
Play - pause
Short press MFB button
Charging
Plug charging cable into Bluear Micro USB socket, Bluear will
Red LED on during charging
auto power off
Charging complete
Red LED off after charging complete
Charging whilst
streaming music
From power off status press MFB button once, to make
Bluear connect with
last connected device
Red LED on and blue,LED flashes once
We find most problems are caused by improper pairing. Please follow the instructions step-by-step.
Additional Information
Trademark Statement The Bluetooth word mark and logos are owned by the Bluetooth SIG, Inc.
This product is CE certified according to the provision of the R&TTE Directive (99-5-EC). Declare that this product is in compliance with the
essential requirements and other relevant provisions of Directive 1999-5-EC.