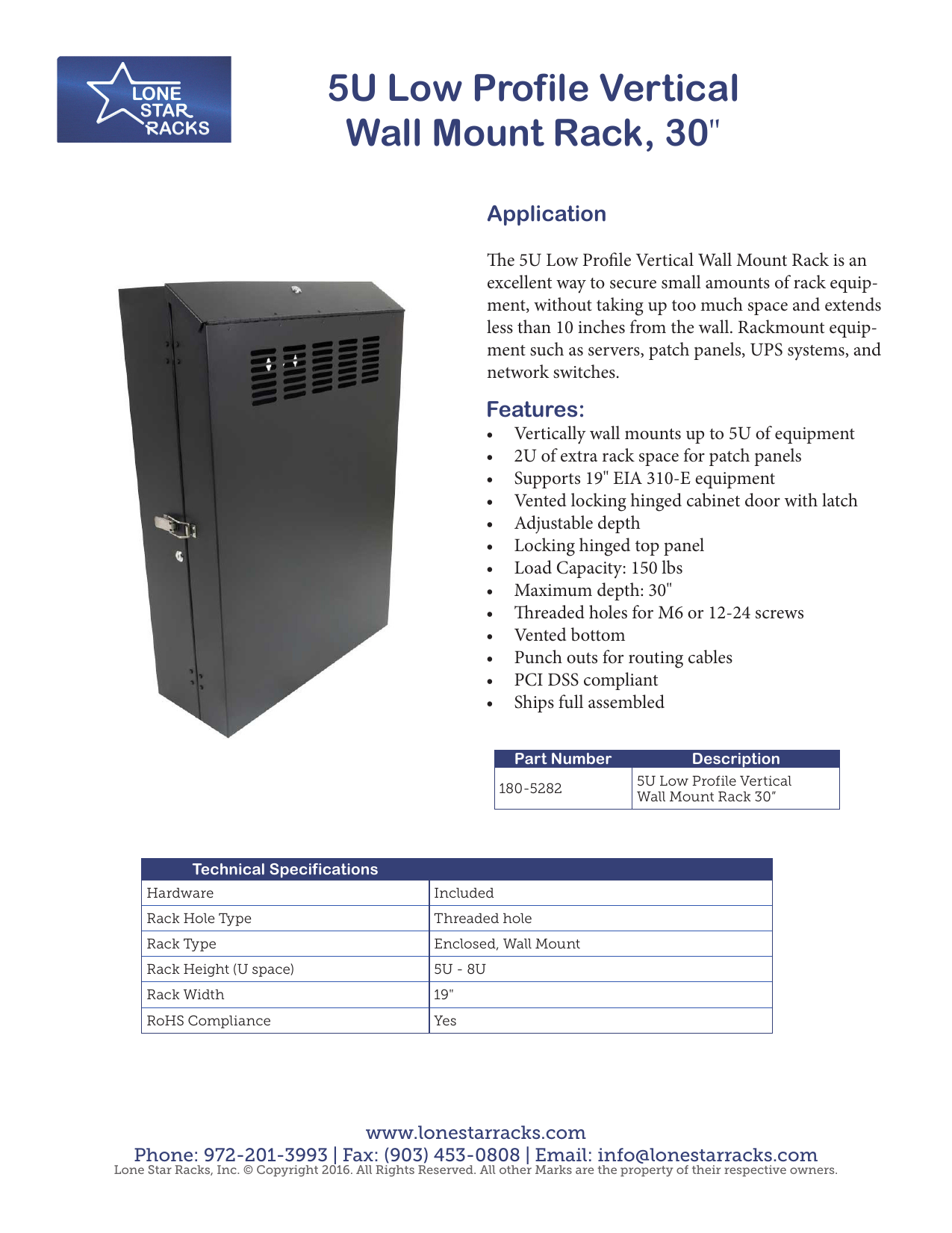 5U Low Profile Vertical
Wall Mount Rack, 30"
Application
The 5U Low Profile Vertical Wall Mount Rack is an
excellent way to secure small amounts of rack equipment, without taking up too much space and extends
less than 10 inches from the wall. Rackmount equipment such as servers, patch panels, UPS systems, and
network switches.
Features:
•
•
•
•
•
•
•
•
•
•
•
•
•
Vertically wall mounts up to 5U of equipment
2U of extra rack space for patch panels
Supports 19" EIA 310-E equipment
Vented locking hinged cabinet door with latch
Adjustable depth
Locking hinged top panel
Load Capacity: 150 lbs
Maximum depth: 30"
Threaded holes for M6 or 12-24 screws
Vented bottom
Punch outs for routing cables
PCI DSS compliant
Ships full assembled
Part Number
180-5282
Description
5U Low Profile Vertical
Wall Mount Rack 30"
Technical Specifications
Hardware
Included
Rack Hole Type
Threaded hole
Rack Type
Enclosed, Wall Mount
Rack Height (U space)
5U - 8U
Rack Width
19"
RoHS Compliance
Yes
www.lonestarracks.com
Phone: 972-201-3993 | Fax: (903) 453-0808 | Email: info@lonestarracks.com
Lone Star Racks, Inc. © Copyright 2016. All Rights Reserved. All other Marks are the property of their respective owners.

* Your assessment is very important for improving the work of artificial intelligence, which forms the content of this project