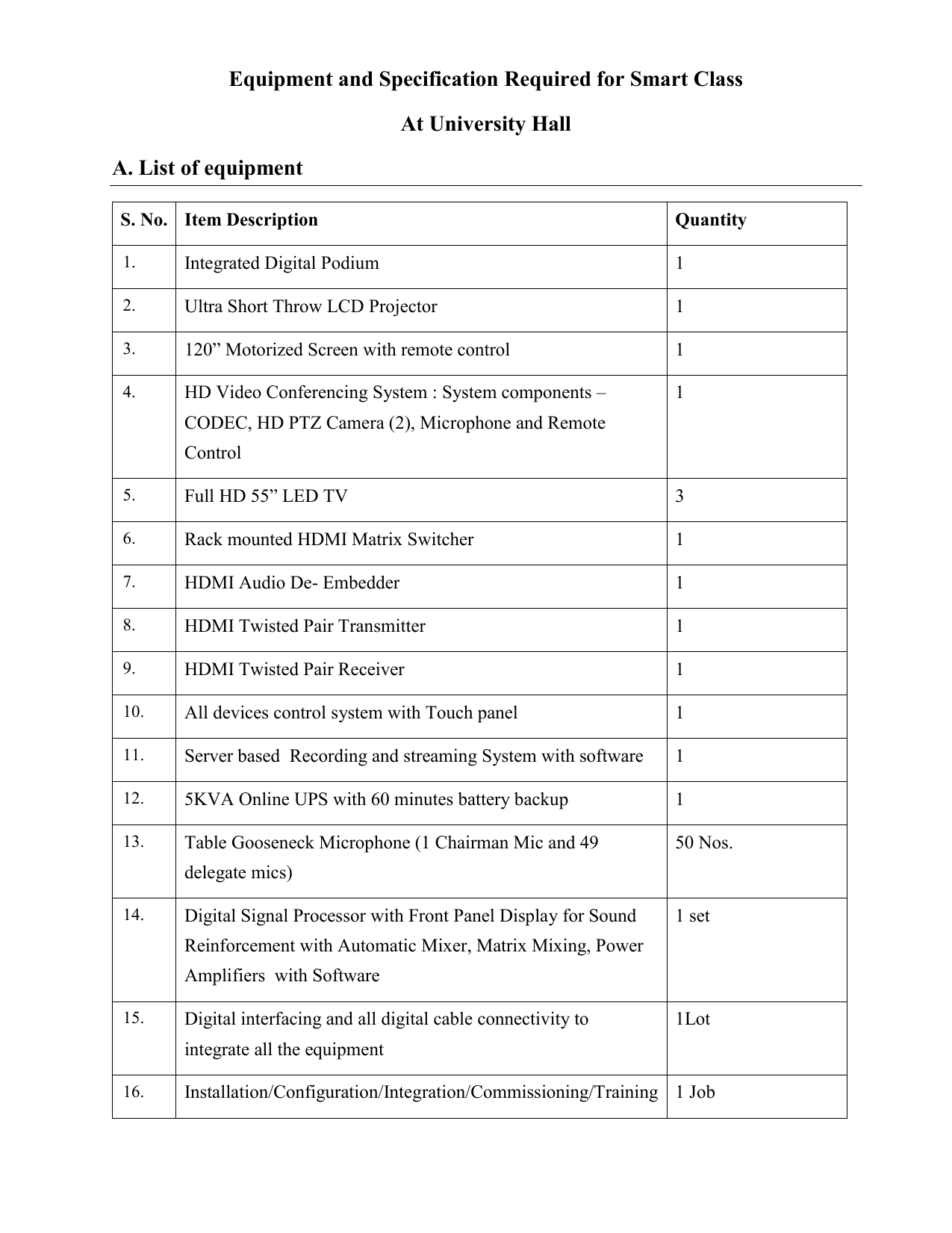 Equipment and Specification Required for Smart Class
At University Hall
A. List of equipment
S. No. Item Description
Quantity
1.
Integrated Digital Podium
1
2.
Ultra Short Throw LCD Projector
1
3.
120" Motorized Screen with remote control
1
4.
HD Video Conferencing System : System components –
1
CODEC, HD PTZ Camera (2), Microphone and Remote
Control
5.
Full HD 55" LED TV
3
6.
Rack mounted HDMI Matrix Switcher
1
7.
HDMI Audio De- Embedder
1
8.
HDMI Twisted Pair Transmitter
1
9.
HDMI Twisted Pair Receiver
1
10.
All devices control system with Touch panel
1
11.
Server based Recording and streaming System with software
1
12.
5KVA Online UPS with 60 minutes battery backup
1
13.
Table Gooseneck Microphone (1 Chairman Mic and 49
50 Nos.
delegate mics)
14.
Digital Signal Processor with Front Panel Display for Sound
1 set
Reinforcement with Automatic Mixer, Matrix Mixing, Power
Amplifiers with Software
15.
Digital interfacing and all digital cable connectivity to
1Lot
integrate all the equipment
16.
Installation/Configuration/Integration/Commissioning/Training 1 Job
B. WI-FI LAN Work along with equipment
1.
Supply, laying, termination and testing of UTP CAT 6 Cable 1box (305 Mtr)
with casing and capping for Networking of AP complete with
necessary ferrule numbering at both the ends of each piece of
cable complete.
2.
Supply, installation, testing and commissioning of CAT - 6 5
Information outlets (I/O) with face plate and flush PVC box
complete to be installed concealed in wall.
3.
Supply, installation and fixing of 24 port Gigabit Fast 1
Ethernet Web Managed L2 PoE Switch
4.
Supply, installation and fixing of 300 Mbps Wireless Access 3
Point with PoE Support
5.
Patch Cord Cat 6 UTP Blue 1m - Moulded
6
6.
Patch Cord Cat 6 UTP Blue 2m - Moulded
6
7.
Supply, installation and fixing of Patch Panel Cat 6 UTP 1
Modular -24 Port- Loaded 0.5U Height
8.
Supply, installation and fixing of 9 U Wall Mount Rack with 1
Accessories
A. Equipment Specifications:
1. Integrated Digital Podium
I.
Stand Type, Solid Built housing with steel / Fiberglass / rubber wood.
II.
Provided with locking system to prevent theft Soft wheels for convenient transport.
III.
Sliding Door with Wooden material to protect Tablet Monitor and as Laptop Stand.
IV.
Equipped with LCD Tablet Monitor with 19 inches or wider tablet monitor with
1920×1080 resolution or more and must have following features
Aspect Ratio
Active Area
Brightness
Contrast Ratio
Viewing Angle
Hight Adjustment
16:10
Minimum 477(H)×268(V)
Minimum 250cd/m2
1000:1
160°(H/V)
Motorised Control of height through button
writing, annotation, erasing, recording of session with video,
cut & paste of annotated images, multi-flag pages available for
Software Functions short notes, facility of making e-book, dual page option, fit to
curve, multi color page insert , insertion of video MS office file
etc for annotation.
V.
VI.
VII.
Standard Electronic Pen for writing on Tablet Monitor.
Trainer Laptop interface terminals and slots to use a laptop.
Gooseneck adjustable Mic to fit user's height with good acoustics to attain good
Quality Audio
VIII.
IX.
X.
Standard mouse for navigation during training.
Drawer for keeping material required for trainer.
6" or Higher LCD Control Panel for Multi controller which utilizes and control all
the devices in the lecture room such as interactive whiteboard, TV, DVD, air
conditioner, PC, projector, large-sized screen etc.
XI.
Podium must be equipped with automatic mixer, Power Amplifier etc. which can
support upto 8 column line array speaker, 4 wireless Microphone and 2 lapel
Microphone.
XII.
8 Speakers set having output 120W @ 4 ohm or more, Frequency range 52.9 ~
12,000Hz, Sound Pressure Level 96dB, Total harmonic distortion 0.1% (1kHz) or
better
XIII.
3 Wireless Hand held Microphone system and two lapel microphone system.
XIV.
Podium must be equipped with presentation switcher (video scaler) that accepts and
scales a wide range of video signals to a common, high resolution output rate. It can
accommodate two composite video, two S-video, one standard or high definition
component video, one DVI-D, and two RGB computer-video sources. It must be
capable to support 4LED TV, one Projector output and 2 PTZ camera.
XV.
Podium must be equipped with One-Gang WPB Wallplate for HDMI, VGA, and
Stereo Audio
XVI.
Digital Podium should have sufficient space for installing a PC, Visualiser,
Amplifier, Controller, Wireless Receiver must.
XVII.
Equipped with Document Visualizer with following specification:
i. SXGA (1280 × 1024) High Quality Resolution, up to 20 frame rate per
second or Better
ii. Image Sensor 1/2" 1.3M Pixels CMOS or Better
iii. Manual Focus Function
iv. Digital 7X Zoom or more
v. USB Cable PC Interface
XVIII.
Equipped with PC of internationally known brand like HP, IBM, Dell etc
i. Processor: Intel Core i7-2600, 3.4 GHz, 8MB cache or better
ii. Chipset: Intel Q67 or higher on OEM motherboard
iii. Memory: 3GB DDR3 RAM
iv. HDD: 320 GB @7200 RPM SATA or higher
v. DVD ROM Drive: 8X or better
vi. OS: Preloaded Windows 8
vii. NIC: 10/100/1000 on board integrated network port and GiGa bit Wi-Fi Card
viii. Preinstalled MS Office 2012 Professional (Academic Version) or higher
ix. Preloaded Antivirus with one year subscription
XIX.
One year onsite comprehensive warrantee
2. Ultra Short Throw HD LCD Projector
1.
2.
Display Technology
Native Resolution
3.
4.
Brightness
Lamp Life
DLP
XGA 1024 x 768 or better Should support upto
WUXGA ( 1920 x 768 )
5000 lumens or better
3500 hours or better
5.
6.
Contrast Ratio
Input Connections
7.
8.
9.
10.
11.
Aspect Ratio
Audio
Video Compatibility
3D capable
Scan Freq
12.
13.
Keystone Correction
Features
4000:1 or better
Should have minimum 2-VGA for 2 computer Inputs
,1XHDMI 19-pin, 1X LAN Port, 1XComposite Video,1X
S-Video,1X 3.5mm Audio In, USB Mini-B , VGA Out
Should have 4:3 and should support 16:9
2 Watt or better
SDTV and HDTV or better
Should Support PC Based 3 D Content or Better
Horizontal Scan Freq 15-101 KHz Vertical Scan Freq
24-120 Hz or Better
Vertical +-30 degrees or Better
3. 120" Motorized Screen with remote control
1
2
3
4
Size
Aspect Ration
Vie Angle
Other Features
120" (Diagonal)
4:3
160 degree
 Free to stop any location
 Super high grain
 Matt white fabric
 Screen should be retractable and can be
operated (pull down and wound back) via
remote and preferably wireless remote control.
 Screen should be supplied with wall mounting /
fixing kit.
4. HD Video Conferencing System : System components – CODEC, HD PTZ
Camera (2), Microphone and Remote Control
(a) CODEC : Hardware based meeting the following minimum specifications:
I.
II.
III.
IV.
V.
VI.
VII.
VIII.
IX.
X.
Signaling Protocols H.323
Bandwidth : H.323 / SIP up to 6 Mbps (p2p), : H.323 / SIP up to 2 Mbps
Network Protocol : IPv4 and IPv6.
Video Standards: H.263, H.264 and H.239
Video Resolution : Full HD, 1920 X 1080 @30ps, [email protected]
Video Features: Native aspect ratio 16:9; Picture-in-picture and side-by-side
view of remote and local; self-vie, All resolution progressive scanning.
Video Input :
a. 3xHD PTZ cameras.
b. 1xDVI input for connecting Desktop PC/Laptop for content sharing
(along with PC audio for multimedia contents)
Video Output : 2 x HDMI/DVI /HD Video Out for connecting primary and
secondary monitors.
Audio Quality: Full duplex audio with echo cancellation, automatic noise
suppression and automatic gain control,
Audio Standards: G.711, G.722, G.722.1, and G722.1C/MPEG-4 AAC-LD
XI.
XII.
XIII.
XIV.
XV.
XVI.
XVII.
XVIII.
XIX.
Audio Input: 2 or more Microphone input for connecting external omnidirectional wired microphone. 2 x Stereo / MicLine-in (3.5mm Jack), 1X RJ-45,
1X HD Video-In, 1X DVI-In, 1X HD Camera-In (Focus)
Audio Ouput: 1X RJ-45, 1X Stereo Line-out, 1X HD Video-Out, 1X DVI-Out
Network Interface : Minimum 1 port 10/100/1000 Mbps Ethernet interface.
Support for NAT and Firewall Traversal, 1 RJ-45 for Phone, 1X RJ-11 for analog
phone, 1X 3.5 mm Mic-In for Microphone
Security : Secure password authentication, H.235 (AES) encryption
QoS : DiffServ, IP Precedence, Adaptive QoS, Dynamic bandwidth allocation,
Forward Error Correction
Supports : Diagnostic and management functionality, Directory services, Farend camera control
IP based recording – One button recording to centralized IP based recorder
without loosing any multiparty port
User Interface : Infrared remote Control for full functionality
Embedded HD Multipoint Control Unit: Full HD CP MCU with upto 4 participant,
Upto 4-way [email protected], [email protected], [email protected] Virtual multiway allows
participant viewing control.
Note 1 : Three HD PTZ cameras can be connected to the CODEC either directly meet
classroom requirement explained under 'scope of work'.
The CODEC should have at least one HDMI/DVI/HD-SDI port for connecting any 3rd
Party HD PTZ Camera. This may be controlled either through its own remote control or
through GUI application running in Tablet/Laptop.
(b) Camera :
I.
II.
III.
IV.
V.
VI.
VII.
VIII.
IX.
X.
Should be separate Full HD PTZ camera with wall and ceiling mounting fixtures
(One of the cameras will be mounted on the wall and others will be hung from the
ceiling) and having the following minimum specifications.
Image sensor : 1/3" CMOS/CCD
Native output : Full HD, 1920 X 1080 @30ps, [email protected]
Zoom : Optical :12X or better
Format:16:9 aspect ratio
Focus : Manual and Auto
White Balance : Manual and Auto
Iris : Manual and Auto
Video Output : HD output compatible to HDMI/DVI. For any other interface
standard, it should be possible to connect the camera to CODEC either directly or
through suitable converters.
Presets : ≥ 10
Note : It has been assumed that the same camera will be used for both wall and
ceiling mounting.
5. Full HD 55" LED TV
1.
Size
55" Diagonal Size
2.
3.
4.
5.
Resolution
Aspect Ratio
Pixel Pitch
Active Display Area
1,920 x 1,080, (16.7 Million Display Color)
16:9
0.21(H) x 0.63(V)mm
1209.6 (H) x 680.4 (V) mm
6.
7.
8.
9.
10.
Brightness
Dynamic Contrast Ratio
Viewing Angle (Horizontal /
Vertical):
Response Time
Connectivity
11.
General Feature
350 cd/㎡
100,000:1
178 / 178 °
8 ms
Analog D-SUB, DVI-D (Dual Link),Component, CVBS,
HDMI,Input Audio: Stereo Mini Jack,Output Audio: Stereo
Mini Jack,RS232C (In/Out), RJ45
Slim & Light LFD with Built-in Scheduler , can display
scheduled contents automatically
Built in Speaker (10W + 10W), Plug and Play ,Display PPT etc
(through USB), PIP/PBP, Narrow Bezel, Light Weight
6. Rack Mounted HDMI Matrix Switcher
VIDEO Routing
Signal type:
Digital video :
Digital audio :
Resolution range
Maximum data rate
Standards :
Switching speed
Impedance
Return loss
TDR rise time
Equalization
VIDEO OUTPUT
Number/signal type:
Connectors:
Nominal level :
Minimum/maximum level(s) :
Impedance
HDMI 8 x 8 matrix Switcher
TMDS digital RGB and single-link DVI digital video signals are
supported
RGB digital video (DVI and HDMI standards) or Y, Cr, Cb digital
component video (HDMI), actively buffered (supports all
single-link DVI and HDMI [if using an optional adapter]
standards from 640x480 @ 60 Hz to 1600x1200 @ 60 Hz
computer video and HDTV 480p, 720p, 1080i, 1080p)
Supports HDMI audio transmitted through the RGB and Y, Cr,
Cb lines, actively buffered.
EDID and DDC:
Supports Extended Display Identification Data (EDID) and
Display Data Channel (DDC) data using DVI and HDMI
standards. EDID and DDC signals are actively buffered.
HDCP: Compliant with High-bandwidth Digital Content
Protection (HDCP) using DVI and HDMI 1.3 standards
HPD
Up to 1080p (HDTV) or 1920x1200 (the highest resolution of
the single-link DVI standard) @ 60 Hz
6.75 Gbps (2.25 Gbps per color),Maximum pixel clock: 225
MHz
DVI 1.0, HDMI 1.3
200 ns, max
100 ohms
<-15 dB @ 1 MHz to 1.5 GHz
(10%-90%) 75 ps
Automatic
4 or 8 (depending on model) digital RGB
4 or 8 female HDMI type A
1.2 Vp-p
0.5 V to 1.0 Vp-p with no offset (follows input)
100 ohms
Return loss
: <-15 dB @ 1 MHz to 1.5 GHz
DC offset
±500 mV maximum with input at 0 offset
Rise and fall time
:(20-80%) 0.6 ns
Re-clocking
: Automatic
Peripheral device power
250 mA per output
CONTROL/REMOTE — SWITCHER
Serial control port :
1) RS-232, 9-pin female D connector
(1) RS-232, front panel 2.5 mm mini stereo jack
Serial
control
pin 9-pin D connector 2 = Tx, 3 = Rx, 5 = GND
configurations:
Mini stereo jack Tip = Tx, ring = Rx, sleeve = GND
Ethernet control port
1X RJ-45 female connector, 10/100Base-T, half/full duplex
with autodetect
Ethernet protocol
ARP, ICMP (ping), IP, TCP, DHCP, HTTP, Telnet
Default settings :Link speed and duplex level = autodetected
7. HDMI Audio De- Embedder
VIDEO:
Maximum data rate
Resolution range
VIDEO INPUT
Number/signal type –
Equalization
Input cable length
VIDEO OUTPUT
Number/signal type
AUDIO INPUT
Number/signal type
Source formats
AUDIO OUTPUT
Number/signal type
Connectors
CONTROL/REMOTE
USB control ports
8. and 9.
675 Gbps (2.25 Gbps per color),Maximum pixel clock 225
MHz
Up to 1920x1200 or 1080p @ 60 Hz, 12-bit color
1 single link HDMI
Automatic for up to -12 dB of cable loss
Up to 25' (7.6 m)
1 single link HDMI
1, combined with HDMI video input
PCM, Dolby Digital 2/0, Dolby Digital 2/0 Surround, Dolby
Digital 5.1, Dolby Digital EX, DTS Digital Surround 5.1, DTSES Matrix 6.1, DTS-ES Discrete 6.1
1 combined with HDMI video output and either1 stereo
balanced/unbalanced or 1 S/PDIF
(1) 3.5 mm captive screw connector, 5 pole1 female RCA
jack (tip, ring)
1 front panel female mini USB B
HDMI Twisted Pair Transmitter and Receiver
Video
Resolution Range
up to 1920 x 1200 or 1080p @ 60 Hz ,80,10 or 12 bit color depth
Maximum Data Rate
6.75 Gbps ( 2.25 Gbps per color)
Video Input -Transmitter
Connectors
Interconnection between
Transmitter & Receiver
Connectors
1 female RJ-45 per unit
Signal Transmission Distance Up to 230'(70m) using CAT
5e//6/6a/7 UTP or STP Cable
(solid conductor 24 AWG or better)
Video Output- Receiver
Connectors – 1female HDMI Type A
Audio Input
Number/ Signal Type -1 PC Level stereo, Unbalanced
Audio Output
Number Signal Type – 1stereo (2Channel), Balanced/Unbalanced
1 female HDMI Type A
Control / Remote External device( pass through ,unidirectional or bidirectional) Serial Control
Port input / output
Transmitter
RS-232 Via 3.5mm,5 pole captive screw connector for RS-242
Control (±5V)(Connector is shared with IR Control Port)
Receiver
1.0" H x 4.3" W x 6.0" D (quarter rack wide) (2.5 cm H x 10.9 cm
W x 15.2 cm
10.All devices control system with Touch panel
Memory
Memory Card
External Storage support
Authentication
RS-232/422/485
IR/Serial
RELAY OUTPUT
suppression
I/O
Digital Input:
threshold
Digital Output:
IR
SDRAM: 512 MB,Flash: 4 GB
Memory Card: supports SD™ and SDHC™ cards up to 32
GB,:
USB mass storage devices up to 1 TB
IIS v.6.0 Web Server; SMTP e-mail client; installer setup via
Crestron Toolbox™ or MSIE[2]
Cresnet®: Cresnet master mode
For 2-way device control and monitoring, all ports
support,RS-232 up to 115.2k baud with software
handshaking, one port also supports RS-422 or RS-485 and
hardware handshaking
Supports 1-way device control via infrared up to 1.2 MHz
or serial TTL/RS-232 (0-5 Volts) up to 115.2k baud
1 - 8: (2) 8-pin 3.5mm detachable terminal block
comprising (8) normally open, isolated relays;
Rated 1 Amp, 30 Volts AC/DC;
MOV arc suppression across contacts
1 - 8: (1) 9-pin 3.5mm detachable terminal block
comprising (8) "Versiport" digital input/output or analog
input ports (referenced to GND);
Rated for 0-24 Volts DC, input impedance 20k Ohms, logic
>3.125V low/0 and <1.875V high/1;
250mA sink from maximum 24 Volts DC, catch diodes for
use with "real world" loads;
SERIAL OUTPUT 1 - 8: (2) 8-pin 3.5mm detachable terminal
block comprising (8) IR/Serial output ports; IR output up to
COM 1:
COM 2-3
MEMORY:
USB
LAN
Cresnet master port;
Other Ports
Other Features
1.2 MHz;
(1) 5-pin 3.5mm detachable terminal block;Bidirectional
RS-232/422/485 port; Up to 115.2k baud; hardware and
software handshaking support
(2) 3-pin 3.5mm detachable terminal blocks;Bidirectional
RS-232 ports;Up to 115.2k baud; software handshaking
support
(1) SD memory card slot;Accepts one SD or SDHC card up
to 32 GB for memory expansion
(1) USB Type A female;USB 2.0 port for storage devices
(1) 8-wire RJ45 jack; 10Base-T/100Base-TX Ethernet port
and support for Ethernet: 10/100 Mbps; auto-switching;
auto-negotiating; auto-discovery;full/half duplex; industrystandard TCP/IP stack; UDP/IP; CIP; DHCP; SSL;IEEE 802.1X;
SNMP; BACnet®/IP[1]; IPv4 or IPv6; Active Directory
Outputs power to Cresnet devices if a power pack is
connected to the 24VDC power input jack;
8 IR/serial, 8 relay, and 8 Versiport I/O ports
With Touch Panel and all necessary software to ensure
proper functioning , pls. take in to note the desired relay
or any other Hardware if required is included in the offer
to control all tendered items
11.Server based Recording and streaming System with software
1. It must be appliance/Hardware server based & 19 inch Rack mountable.
2. Hardware system should have one Intel Xeon Processor E5 2630(6 Core) 2.3 GHz/1333 MHz/
Cache 15 MB L3 with 64 GB RAM (equivalent to HP/IBM/Dell)
3. Hardware system should have minimum 1TB disk storage capacity and in addition to storage
capacity, system should also be supplied with 12 TB NAS storage device so that it must support
minimum 1000 hours of [email protected] or higher resolution.
4. System must be supplied with the required software for recording of video session and take
video signals from video terminals / endpoints. Also it must support live video streams on the
network.
5. Concurrent Recording : Minimum 5 or more
6. Recording resolution support: Minimum 720p or higher
7. The system must support E-Learning application such as Knowledge sharing, viewing of
training session, lectures from remote location at any time.
8. Management control: Admin or User can control the applications from Web browser.
9. Video resolution support: H.264 video
10. Can record or Live stream video session along with data sharing/Presentations from the end
points to PC (MAC/WIN) &IPAD.
11. It must support Network ports/Ethernet: Min 1
12. The system must be capable of integrating into any LDAP environment. In particular, the
streaming/recording solution must allow administrators to integrate the solution with
Microsoft Active Directory/Microsoft Outlook.
13. Live Stream: System should support Multicast or Unicast
14. Viewing requirement at user end: Streaming and live video can run on flash or any video
player
15. Recorded video must have the function of Play, pause, forward, rewind, full screen on Laptops
(MAC/WINDOWS)
16. Should support multiple Web browsers like Internet Explorer (version 7 or 8), Chrome, Safari
on MAC OS, Firefox
17. NAT/Firewall transversal should be available
12.Five KVA Online UPS with 60 minutes battery backup




Isolation transformer with PWM Technology, Floor mounted type suitable for single phase
AC input voltage 160V to 260V, 50+/-1.5 Hz and single phase AC output voltage 230+/1%
V, 50+/-0.5 Hz.
Battery type: sealed lead maintenance free, Lead Acid tubular.
Output wave form : Pure sine wave
Warranty: 1Year on-site comprehensive warranty.
13.Table Gooseneck Microphone (1 Chairman Mic and 49 delegate mics)
 Gooseneck with base and power switch with snap-fit foam windscreen
Gooseneck length
Generation Element:
Frequency Response
Polar Pattern
Maximum SPL (1kHz at 1% THD, 1
k-ohm load)
Equivalent Output Noise (Aweighted)
Signal to Noise Ratio (referenced
at 94 dB SPL)
Dynamic Range with
Common Mode Rejection
Mute Switch Attenuation
Preamplifier Output Clipping Level
(1% THD)
Polarity
18"
Dual condenser, back electret
70 to 17,000 Hz
Cardoid
125.0 dB
21-29.0 dB SPL
65.0-75 dB
1 k- >94.0 dB
45.0 dB minimum
50.0 dB minimum
-6.0 dBV (0.5 V)
Positive sound pressure on diaphragm produces
positive voltage on pin 2
14.Digital Signal Processor with Front Panel Display for Sound Reinforcement
with Automatic Mixer, Matrix Mixing, Power Amplifiers with Software
(Single or Multiple devices can be used to achieve below Features and
Specification)
A. DSP Input / Output Configuration
The following attributes are required








Should support minimum 50 Nos Gooseneck Mic Inputs
Should also support Input Gain Adjust, Mic or Line Level , Phantom Power on/off
Should support filtering for Low Pass, High Pass, PEQ
Should have facility for Mute on/off
Should have facility for Chairman Override on/off
Should have facility for AGC on/off
Should support Automatic Level Control on/off
Should support line input and line output for 120 Gooseneck mic, 10 Wall mount
speaker
 General Features
o Features
o AVB Compatible
o Auto Mixer to prevent false gating to ambient Noise
o Matrix Mixing / Routing for Mix-Minus Operation
o
-45 Port for Network Connection
o RS 232 Port for Serial Control with External Control System
o Front Panel LCD/LED Display for Edit Settings, Preset Activation, Gain
Changes etc.
o Ability to View, Select, Calibrate Following:
 No of Open Microphones
 Ambient Level
 Gate Threshold Adjust
 Off /Attenuation Adjust
 Hold Time
 Chairman Priority
o 19" Rack Mountable
o Certification UL/CE
Power Amplifiers
Channels
Output per channel
Power Range
Impedance S
Monitoring Features
Mountable
Certification
To support 120 mic and 10 Wall mount
speaker
30 Watts (Min) in to 8 Ohm
115/230v operation
electable 8Ohms/70/100V
Temp value, Fault etc.
19" Rack
UL/CE
B. Specification for Wi-Fi LAN Equipments
1. UTP CAT 6 Cable
Features
Category 6 Unshielded Twisted Pair 4 pair 100 Ohm cable
shall be compliant with ANSI/TIA/EIA-568-B.2-1 upto
600 Mhz.
Category 6 UTP cables shall extend between the work area
location and its associated telecommunications closet and
consist of 4 pair, 23 AWG, UTP Non Plenum cable jacket.
The 4 pair Unshielded Twisted Pair cable should be UL
Listed and ETL Certify.
Zero-Bit error throughput test as per IEEE standards
verified by ETL
The 4 pair Unshielded Twisted Pair cable should be RoHS
Compliant
Construction: 4 twisted pairs separated by internal X
shaped, 4 channel, full separator. Half shall not be
accepted.
Conductor Solid Copper
Insulator Polyethylene
Delay Skew : 35 ns MAX
Jacket PVC
Attenuation : 22.8dB/100m at 250MHz, 29.4dB/100m at
400MHz, 39dB/100m at 600MHz
Mechanical
Characteristics
2. CAT - 6 Information outlets (I/O) with face plate and flush PVC box
Features






Material
Port
Surface Mount Face Plate & Box with CAT6 Work Area Data
I/O Outlet (RJ45) adhering to ETL Verification program for
compliance with TIA568B.2-1
Category 6, TIA568.B.2-1 – 600MHz
Information Outlet should be UL Listed and I/O box should be
RoHS Compliant
568A/B configuration
Be constructed of high impact with color and icon options for
better visual identification. Integrated hinged dust cover using
collapsible angular spring loaded shuttered technology.
Face plate should be Single Gang square plate and Should
have provision for Labe
 ABS / UL 94 V-0
 One
3. 24 Port Gigabit Fast Ethernet Web Managed L2 POE Switch
i. Port:
24 ports 10/100/1000Base-T and 2 ports 1000Base-X, 2 Giga SFP
port
ii. Power Over Ethrenet
 Support for 802.3af,802.3AF
(PoE)
 Power per port - 31Watts for 4 ports, Rest of the ports
supports 15.4Watts
iii.
iv.
v.
vi.
vii.
viii.
Switching Capacity
Forwarding Rate
MAC address
Vlan
Jumbo Frane
Features
ix. VLAN Support
x. Management
xi. Quality of Service
52Gbps
Min 35Mpps
16K
256
9K
 Auto Negotiation of port speed and Duplex Settings
 IEEE 802.1wrapid Spanning Tree group
 Loopback Detection
 IEEE 802.3ad Link Aggregation or equivalent
 IEEE 802.1p (Priority Queues)
 IEEE 802.1x security,
 Port based Mirroring
 Support for IPv6

















xii. Security










802.1Q VLAN
Private vlan
Traffic Segmentation
VLAN protocol
GVRP
Q-in-Q
Web based management interface
Through Telnet, HTTP and NMS.
Virtual LAN Management feature.
SNMP Version 1,2c
Firmware upgrade via Web
Remote Ping
Port statistics
4 hardware queues
Strict priority, weighted round-robinPriorityQueue
Scheduling
Queue assignment based on DSCP and class of
service
Bandwidth Control
o Egress : min 16Kbps Granularity
o Ingress : min 16Kbps Granularity
Local Authentication with support for manual
Privilege definitions assignment
802.1x Authentication
Port Security
Automatic HTTPS redirection
DHCP Snooping
Defence Engine
IP Source Guard
Management Access Filter for
HTTP/HTTPS,SNMP,TELENT/SSH
Broadcast,Multicast,Unicast Storm Control Based
on Packets per seconds
Flow based Rate limiting based on Packets per
second (PPS)
4. 300 Mbps Wireless Access Point with PoE Support
Antenna:
Port
Push Button
Flash Memory
SDRAM:
Frequency band:
Standard compliance
Data Rate
Output power
Wireless mode
Wireless Security
Certification:
Power
5.



































PiFa Antenna x 2 (2T2R MIMO Technology)
One 10/100Mbps 10/100 Ethernet Uplink port for AN
One WPS push button
Flash: 2MB
16MB
2.4000 ~ 2.4835GHz
IEEE 802.3 10BASE-T Ethernet
IEEE 802.3u 100BASE-TX Fast Ethernet
IEEE802.11b
IEEE802.11g
IEEE802.11n
RADIUS (IEEE802.1x)
IEEE802.11b: 1/2/5.5/11Mbps
IEEE802.11g: 6/9/12/24/36/48/54Mbps
IEEE802.11n (20MHz): MCS0-15, up to 144Mbps
IEEE802.11n (40MHz): MCS0-15, up to 300Mbps
IEEE802.11b @ 11Mbps: 26 +/- 1.5dBm
IEEE802.11g @ 54Mbps: 24 +/- 1.5dBm
IEEE802.11n (20MHz) @ MCS15: 23 +/- 1.5dBm
IEEE802.11n (40MHz) @ MCS15: 23 +/- 1.5dBm
Access Point
Wireless Client
Point to Point
Point to Multi Point
WDS
Universal Repeater
Protected Client Authentication
802.1x support
Static/Dynamic IEEE802.11 WEP Keys
WPA
WPA2
FCC part 15 Class B
CE
5V DC, 2A Switching Power Adapter
IEEE802.3af Power-over-Ethernet
and 6. Patch Cord Cat 6 UTP 1m and 2m
Type
Conductor
Unshielded Twisted Pair, Category 6, TIA / EIA 568-B.2
 24 AWG 7 / 32, stranded copper
Length
Plug Protection
Warranty
Category
Housing
Terminals






Load bar
Jacket
Insulation



7-feet for workstation and 3feet for Jackpanel / equipment
Matching colored snag-less, elastomer polyolefin boot
25-year component warranty
Category 6
Clear polycarbonate
Phosphor Bronze, 50 micron gold plating over selected area
and gold flash over remainder, over 100 micron nickel under
plate
PBT polyester
PVC
Flame Retardant Polyethylene
7. Patch Panel Cat 6 UTP Modular -24 Port- Loaded 0.5U Height
Type 24-port, Unshielded Twisted Pair, Category 6, TIA / EIA 568
Keystone Krone type. Ports must be replaceable in 8 Port
Port Arrangement
Module.
Category Category 6
Circuit Identification Patch Panels Rear Cable Management without tie-wrap with
Scheme simplified numbering labels
Height . 5 U , to save the Rack space.