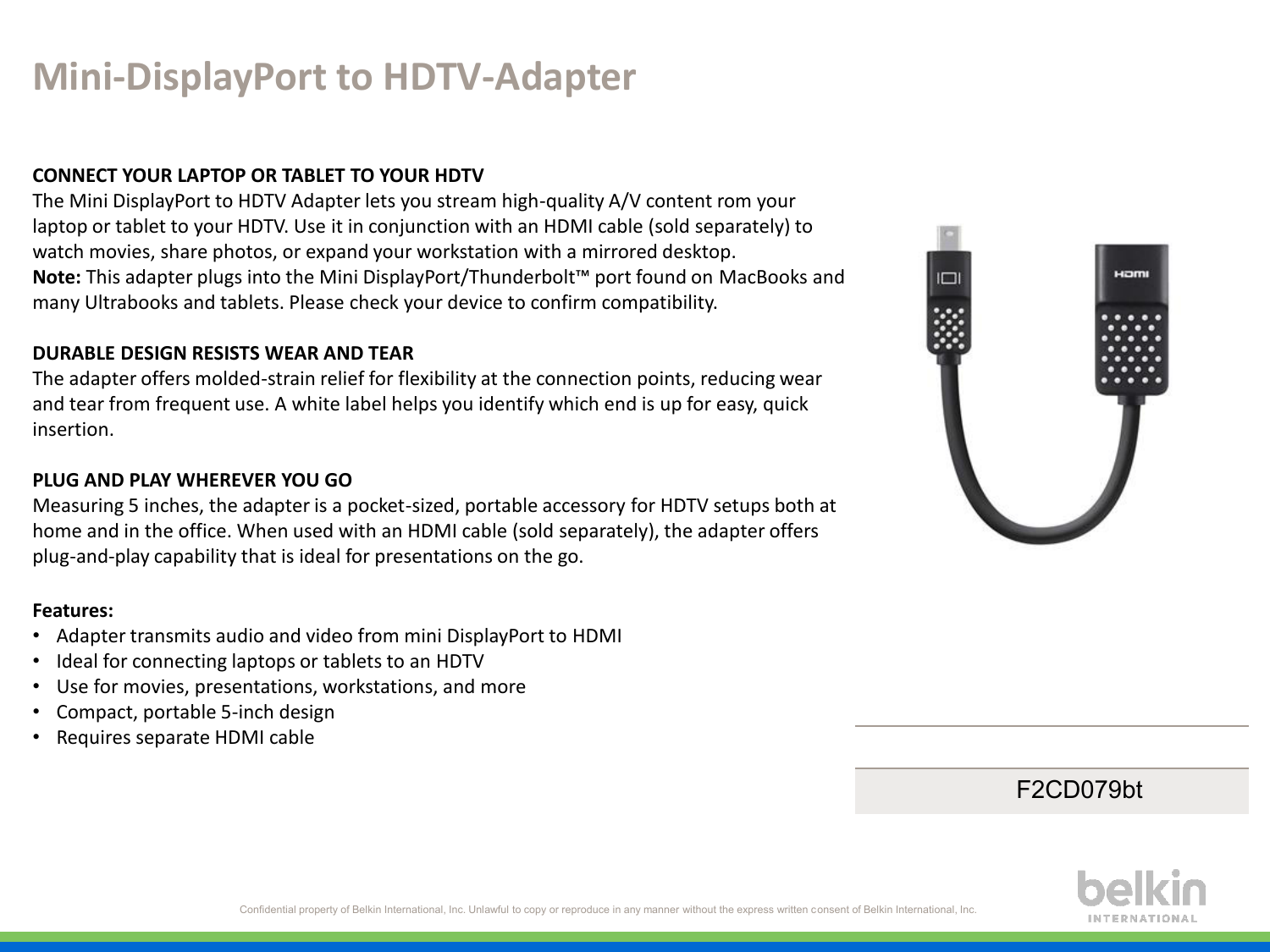 Mini-DisplayPort to HDTV-Adapter
CONNECT YOUR LAPTOP OR TABLET TO YOUR HDTV
The Mini DisplayPort to HDTV Adapter lets you stream high-quality A/V content rom your
laptop or tablet to your HDTV. Use it in conjunction with an HDMI cable (sold separately) to
watch movies, share photos, or expand your workstation with a mirrored desktop.
Note: This adapter plugs into the Mini DisplayPort/Thunderbolt™ port found on MacBooks and
many Ultrabooks and tablets. Please check your device to confirm compatibility.
DURABLE DESIGN RESISTS WEAR AND TEAR
The adapter offers molded-strain relief for flexibility at the connection points, reducing wear
and tear from frequent use. A white label helps you identify which end is up for easy, quick
insertion.
PLUG AND PLAY WHEREVER YOU GO
Measuring 5 inches, the adapter is a pocket-sized, portable accessory for HDTV setups both at
home and in the office. When used with an HDMI cable (sold separately), the adapter offers
plug-and-play capability that is ideal for presentations on the go.
Features:
• Adapter transmits audio and video from mini DisplayPort to HDMI
• Ideal for connecting laptops or tablets to an HDTV
• Use for movies, presentations, workstations, and more
• Compact, portable 5-inch design
• Requires separate HDMI cable
F2CD079bt
Confidential property of Belkin International, Inc. Unlawful to copy or reproduce in any manner without the express written consent of Belkin International, Inc.

* Your assessment is very important for improving the work of artificial intelligence, which forms the content of this project