SERVER FEATURES: . Color Video Yes Image Compression JPEG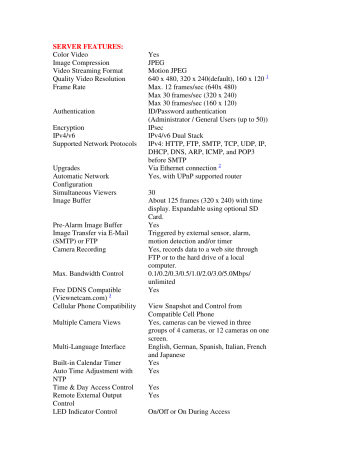 SERVER FEATURES:
Color Video
Image Compression
Video Streaming Format
Quality Video Resolution
Frame Rate
Authentication
Encryption
IPv4/v6
Supported Network Protocols
Upgrades
Automatic Network
Configuration
Simultaneous Viewers
Image Buffer
Pre-Alarm Image Buffer
Image Transfer via E-Mail
(SMTP) or FTP
Camera Recording
Max. Bandwidth Control
Free DDNS Compatible
(Viewnetcam.com) 3
Cellular Phone Compatibility
Multiple Camera Views
Multi-Language Interface
Built-in Calendar Timer
Auto Time Adjustment with
NTP
Time & Day Access Control
Remote External Output
Control
LED Indicator Control
.
Yes
JPEG
Motion JPEG
640 x 480, 320 x 240(default), 160 x 120 1
Max. 12 frames/sec (640x 480)
Max 30 frames/sec (320 x 240)
Max 30 frames/sec (160 x 120)
ID/Password authentication
(Administrator / General Users (up to 50))
IPsec
IPv4/v6 Dual Stack
IPv4: HTTP, FTP, SMTP, TCP, UDP, IP,
DHCP, DNS, ARP, ICMP, and POP3
before SMTP
Via Ethernet connection 2
Yes, with UPnP supported router
30
About 125 frames (320 x 240) with time
display. Expandable using optional SD
Card.
Yes
Triggered by external sensor, alarm,
motion detection and/or timer
Yes, records data to a web site through
FTP or to the hard drive of a local
computer.
0.1/0.2/0.3/0.5/1.0/2.0/3.0/5.0Mbps/
unlimited
Yes
View Snapshot and Control from
Compatible Cell Phone
Yes, cameras can be viewed in three
groups of 4 cameras, or 12 cameras on one
screen.
English, German, Spanish, Italian, French
and Japanese
Yes
Yes
Yes
Yes
On/Off or On During Access
CAMERA FEATURES:
Zoom
Image Sensor
External Video Input
Viewing Angle
Remote Pan Angle
Remote Tilt Angle
Maximum Pan/Tilt Speed
Hide-Away Lens
Preset Locations
Click to Center
Focus
Aperture
Illumination
White Balance
Adjustments
Exposure
Clear Dome Lens Cover
Video Pass-through
AUDIO FEATURES:
2-Way Audio
CODEC
Frequency Range
Input
Output
Audio Pass-through
WIRELESS FEATURES:
Wireless Technology
Frequency
Number of Channels
Transmission Speed
Security
INTERFACE FEATURES:
Network Connection
External I/O Connector
SD Card Slot for Image Buffer
.
Max. 42x (21x Optical, 2x digital)
1/4" 380,000 pixel CCD
No
Wide: 51° / Tele: 2.6°
175° Left and Right at up to 200°/sec. (or
less based upon user setting)
-120° to 0° (on desk) 0° to 90 ° (on
ceiling)
Pan: 300°/sec Tilt: 200°/sec
No
23 preset parameters include Pan, Tilt,
Zoom, Focus and White balance
(including Home position and 2 alarm
positions).
(Free firmware upgrade may be required)
Yes
Auto/Manual
(f No.) : F1.6 - 3.6
Normal: 3 - 100,000 lx
Color Night View: 0.09 - 100,000 lx
Auto/Manual/Hold
Brightness, White Balance, Focus
Auto
No
No
.
Yes (Half Duplex)
PCM (64kbps), ADPCM (32kbps),
Monaural
300Hz - 3.4kHz
External Microphone (not included) or
audio source using RCA jack.
External Speaker (not included) using
stereo mini jack. (output is mono)
No
.
No
No
No
No
No
.
Ethernet (10Base-T/100Base-X)
1 input / 1 output
Yes
Analog Video Output
Composite Video Output (NTSC) - 3.5mm
mini jack (mini to RCA Female connector
included)
Speaker/Microphone Jack
3.5mm mini-jack
.
OTHER FEATURES:
Weatherproof (splash resistant) No
Built-in Sensor
Motion Detection (Free firmware upgrade
may be required)
Power Over Ethernet
PowerDsine (www.powerdsine.com)
Compatibility
Power over Ethernet Midspan 3000/6000
Series
when used with Splitter PD-401/12-PAN
Wall mount, desk/ceiling mount, tripod
Multiple Mounting Options
mount
Operating Temperature
0°C to +40°C (+32°F to +104°F) Indoor
Only
Operating Humidity
20-80% RHG, non-condensing
12VDC (100-240V AC Adaptor included)
Power Source
Power Consumption
12W
Included Accessories
AC Adaptor and Cord, Ceiling Mount
Cover, Ceiling Plates, Screws and Setup
CD-ROM
.
PC SYSTEM
REQUIREMENTS:
Operating System
Windows 98SE, NT4.0, 2000, ME and XP
Requirements
(IPv6 : Windows XP only)
Web Browser requirements
Internet Explorer 5.5 or later/Netscape
Navigator 4.7 (The network camera image
is not displayed correctly in Netscape 6.x)
Dimensions (H x W x D)
51/2'' x 413/16'' x 413/16''
Weight
1.43 lbs
Footnotes
1 160 x 120 for mobile access only
2 Some features listed here may require a free firmware
upgrade to activate.
3 Viewnetcam.com is a free, optional service that requires
registration.

* Your assessment is very important for improving the work of artificial intelligence, which forms the content of this project