Philips HD6110/10, HD6110 Datasheet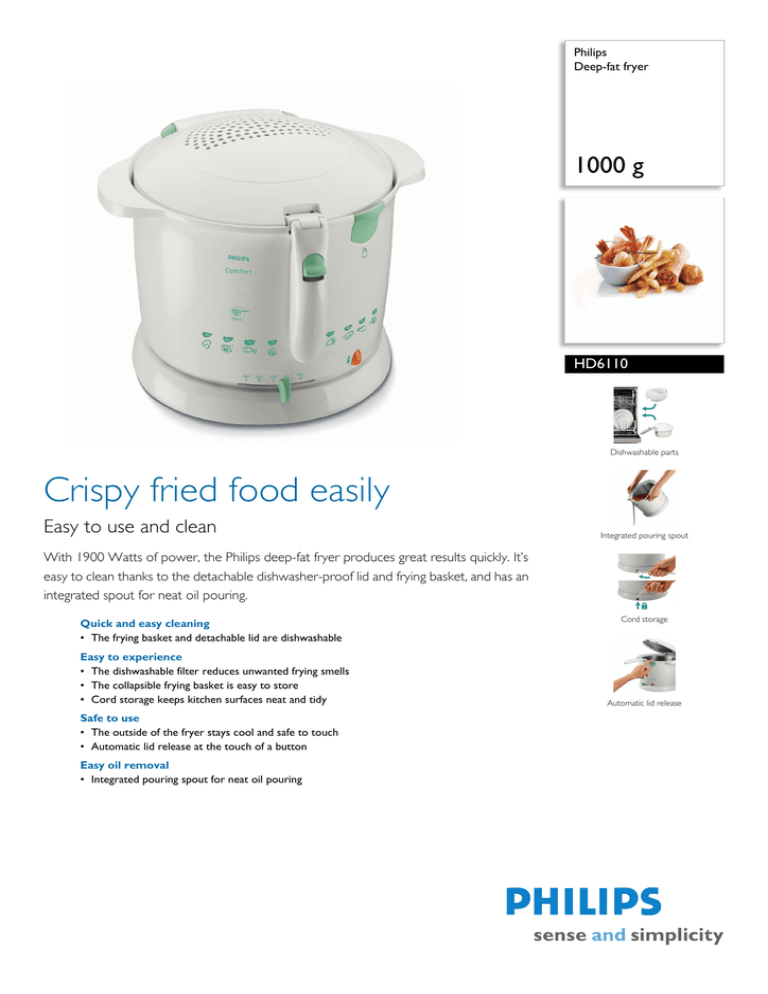 Philips
Deep-fat fryer
1000 g
HD6110
Dishwashable parts
Crispy fried food easily
Easy to use and clean
Integrated pouring spout
With 1900 Watts of power, the Philips deep-fat fryer produces great results quickly. It's
easy to clean thanks to the detachable dishwasher-proof lid and frying basket, and has an
integrated spout for neat oil pouring.
Quick and easy cleaning
• The frying basket and detachable lid are dishwashable
Easy to experience
• The dishwashable filter reduces unwanted frying smells
• The collapsible frying basket is easy to store
• Cord storage keeps kitchen surfaces neat and tidy
Safe to use
• The outside of the fryer stays cool and safe to touch
• Automatic lid release at the touch of a button
Easy oil removal
• Integrated pouring spout for neat oil pouring
Cord storage
Automatic lid release
HD6110
Deep-fat fryer
1000 g
Specifications
Product highlights
General specifications
•
•
•
•
Adjustable thermostat: 150-190 °C
Handgrips
Power-on light
Non-slip feet
Design specifications
•
•
•
•
Dimensions (L x W x H): 300 x 255 x 380 mm
Weight appliance: 2.8 kg
Materials: plastic (PP)
Additional available colours: white with light green
•
Technical Specifications
•
•
•
•
•
•
Power: 1900 W
Voltage: 220-240 V
Frequency: 50/60 Hz
Capacity: 1000 g
Oil content: 2 l
Cord length: 1 m
Issue date 2007-09-11
© 2007 Koninklijke Philips Electronics N.V.
All Rights reserved.
Version: .0
Specifications are subject to change without notice.
Trademarks are the property of Koninklijke Philips
Electronics N.V. or their respective owners.
www.philips.com
Integrated pouring spout
Facilitates neat oil pouring for easy oil removal.

* Your assessment is very important for improving the work of artificial intelligence, which forms the content of this project