Philips PSC724/00 User manual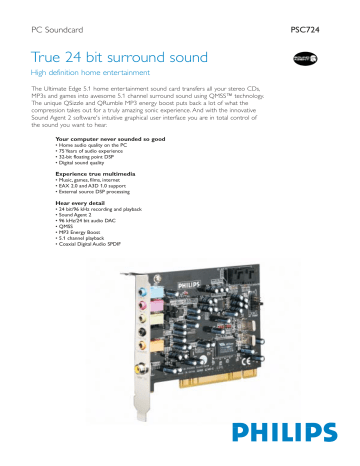 PC Soundcard
True 24 bit surround sound
High definition home entertainment
The Ultimate Edge 5.1 home entertainment sound card transfers all your stereo CDs,
MP3s and games into awesome 5.1 channel surround sound using QMSS™ technology.
The unique QSizzle and QRumble MP3 energy boost puts back a lot of what the
compression takes out for a truly amazing sonic experience. And with the innovative
Sound Agent 2 software's intuitive graphical user interface you are in total control of
the sound you want to hear.
Your computer never sounded so good
•
•
•
•
Home audio quality on the PC
75 Years of audio experience
32-bit floating point DSP
Digital sound quality
Experience true multimedia
• Music, games, films, internet
• EAX 2.0 and A3D 1.0 support
• External source DSP processing
Hear every detail
•
•
•
•
•
•
•
24 bit/96 kHz recording and playback
Sound Agent 2
96 kHz/24 bit audio DAC
QMSS
MP3 Energy Boost
5.1 channel playback
Coaxial Digital Audio SPDIF
PSC724
PC Soundcard
PSC724
Commercial Specifications
Product Highlights
Sound
• Sound Enhancement
Auto Volume Leveller, Balance,
EQ by genre, Graphic Equaliser
Connectivity
• Headphone
• Microphone
3.5 mm
Microphone socket
Accessories
• Included Accessories
Installation CD
Software
• Music Match Jukebox
• Philips Sound Agent 2
CD-ROM drive
Hard disk space
PC OS
Processor
RAM memory
Compatible Soundcard Standards
20 MB
Windows® 2000 or XP
450 MHz processor or better
32 MB
General MIDI, Sound Blaster PCI,
EAX 1.0, EAX 2.0, Microsoft
DirectSound, Microsoft DirectSound
3D, PCI 2.1, MPU-401 UART,
QInteractive 3D, QSound
Environmental Modelling
Packaging Data
• EAN code
• 12NC code
• Gross Weight
• Tare Weight
• Nett Weight
• Length
• Width
• Height
87 10895 84443 7
9082 100 03396
0.35 kg
0.23 kg
0.12 kg
32 cm
6 cm
21.5 cm
Outer Carton
• EAN code
• Quantity
• Gross Weight
• Tare Weight
• Nett Weight
• Length
• Width
• Height
32-bit floating point DSP
A software engine that can losslessly process 24 bit
sound to add DSP effects without reverting back to 16
bit resolution.
5.1 channel playback
5.1 channel sound for reproduction of Dolby Digital®
and EAX® sound sources.
System Requirements
•
•
•
•
•
•
24 bit/96 kHz recording and playback
24 bit files have a higher resolution and can more
accurately define a track than conventional 16 bit
technology. Using a true 24 bit playback and recording
path, the PC can be turned into a high end home
entertainment centre.
87 10895 84444 4
5
2.17 kg
0.52 kg
1.65 kg
33.5 cm
33 cm
23.5 cm
75 Years of audio experience
Philips invented the CD, lead the team that wrote the
USB audio specification and has produced millions of
audio systems, home cinema sets and TV's over many
decades. As a leader in audio innovation, you can trust
Philips to make PC sound systems of the highest sound
quality.
Coaxial Digital Audio SPDIF
Coaxial digital audio connection.
Digital sound quality
Audio is transferred as a digital signal and only at the
last minute is it converted to an analog signal. This
reduces the amount of interference on the signal and
results in playback that is true to the original recording.
EAX 2.0 and A3D 1.0 support
PC games often contain 3D sound that is positioned in
space using various standards. EAX and A3D are so
called API's that translate the sounds used in a game
into 3 dimensional sound to ensure an immersive
gaming experience.
External source DSP processing
Enables use of the soundcard functionality for external
sources such as TV's or hi-fi systems and turns e.g. a
normal TV programme into an enveloping 5.1 channel
surround experience.
Home audio quality on the PC
Philips has used over 75 years experience at the
leading edge of audio to create PC audio products with
the same performance as our award-winning home
audio systems.
MP3 Energy Boost
When CD's are ripped to MP3, some of the dynamics
are lost due to compression. MP3 Energy Boost
dynamically analyses MP3 and WMA files and adds
frequencies that were lost during compression. The
result: more defined and realistic MP3's that are closer
to the original CD track.
Music, games, films, internet
All types of music, games, films and internet audio
sources can be played, so no matter what you want to
hear, we make your multimedia experiences sound
more involving than ever.
QMSS
QMSS turns all stereo sources to convincing multichannel surround, meaning that all games, music and
movies can be heard in multi-channel surround sound,
and not just in regular stereo.
Date of issue: May 2004
Specifications are subject to change without notice
Trademarks owned by Royal Philips Electronics
2004 © Royal Philips Electronics - All rights reserved
www.philips.com/pcstuff
Sound Agent 2
Sound Agent 2 is intelligent software with a fun and
easy-to-use graphical interface. The Sound Agent takes
the confusion out of PC audio by automatically
optimizing the sound for all popular formats. It also
allows you to fine-tune the performance to fit in with
your personal audio tastes.

* Your assessment is very important for improving the work of artificial intelligence, which forms the content of this project