Philips SCD469/00 Datasheet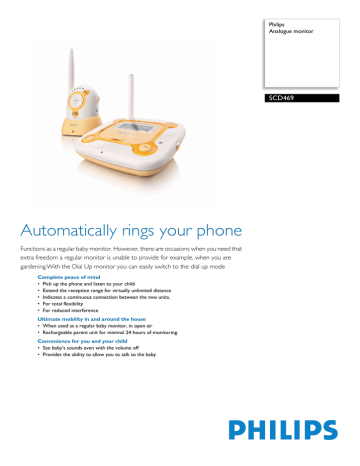 For preview purpose only
Philips
Analogue monitor
SCD469
Automatically rings your phone
Functions as a regular baby monitor. However, there are occasions when you need that
extra freedom a regular monitor is unable to provide for example, when you are
gardening.With the Dial Up monitor you can easily switch to the dial up mode
Complete peace of mind
• Pick up the phone and listen to your child
• Extend the reception range for virtually unlimited distance
• Indicates a continuous connection between the two units.
• For total flexibility
• For reduced interference
Ultimate mobility in and around the house
• When used as a regular baby monitor, in open air
• Rechargeable parent unit for minimal 24 hours of monitoring.
Convenience for you and your child
• See baby's sounds even with the volume off
• Provides the ability to allow you to talk to the baby
For preview purpose only
SCD469/00
Analogue monitor
Technical specifications
Tuner/Reception/Transmission
•
•
•
•
•
Frequency band: 40.675 - 40.690 MHz
Number of pilot tones: 4
Pilot tone: Digital
Maximum range: 200 m
Number of channels: 4
Convenience
•
•
•
•
Auto out of range warning
Battery low indication
Power on indication
Volume control
Product highlights
Accessories
•
•
•
•
•
AC/DC Adaptor: 9V DC 200mA
Batteries: 4 x AA baby unit not incl.
Belt clip: Belt clip on parent unit
User Manual
Quick Start Guide
Power
• Battery Voltage: 4.8 V
• Power supply: 230 V
• Operating time on battery: 12 hour(s)
•
Date of issue 2006-11-17
Version: .0
Specifications are subject to change without notice.
Trademarks are the property of Koninklijke Philips
Electronics N.V. or their respective owners.
© 2006 Koninklijke Philips Electronics N.V.
All Rights reserved.
www.philips.com
Digital signal confirmation
Indicates a continuous connection between the baby
and the parent unit with visible and audible link
indicators.
Works with land lines and mobile phones
For total flexibility
4 channels
For reduced interference
Sound-level lights on parent unit
Sometimes its a great help to 'see' when your baby
makes a sound. This row of lights provide you with a
clear visual indication.

* Your assessment is very important for improving the work of artificial intelligence, which forms the content of this project