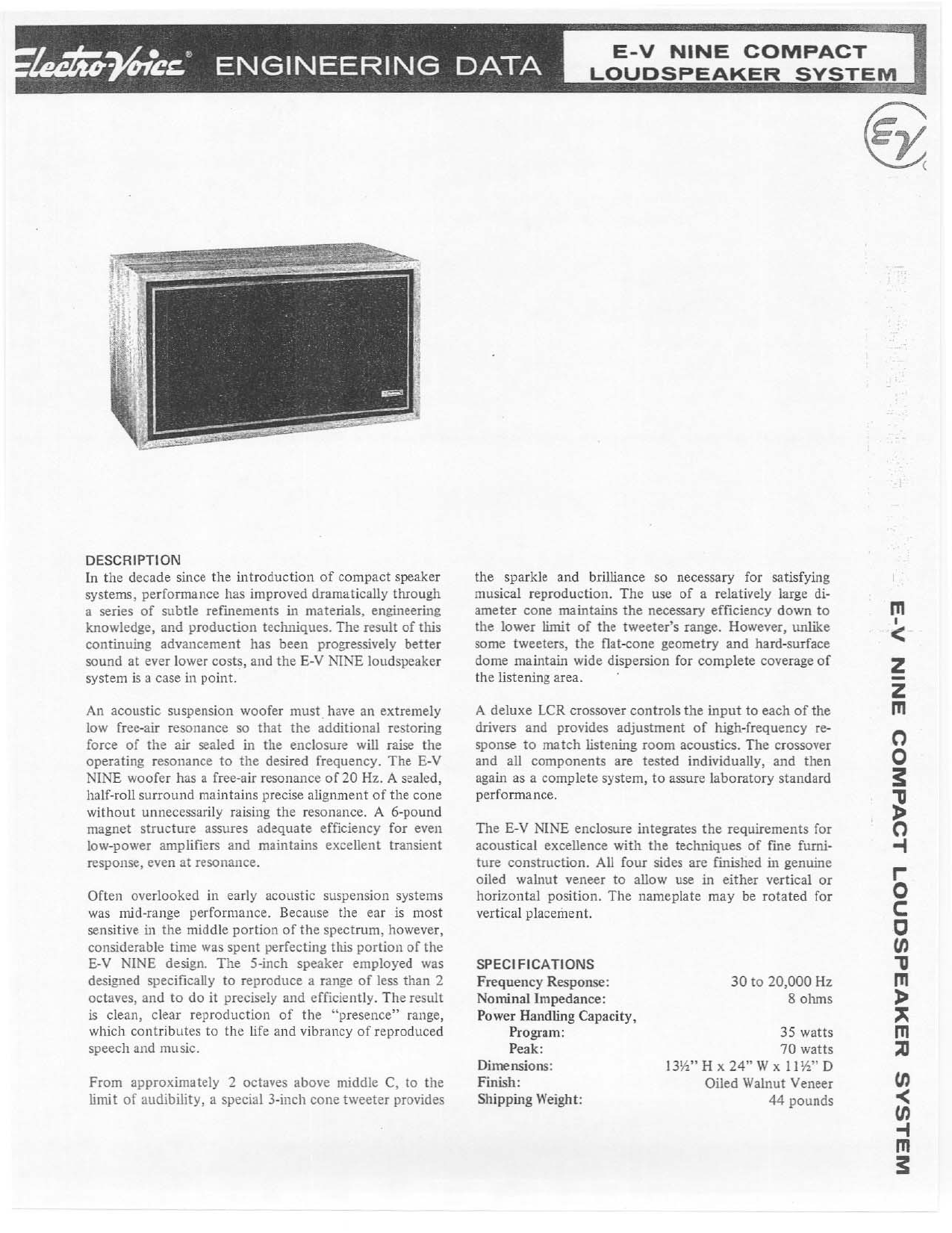 echo Voice ENGINEERING DATA
DESCRIPTION
In the decade since the introduction of compact speaker
systems, performance has improved dramatically through
a series of subtle refinements in materials, engineering
knowledge, and production techniques. The result of this
continuing advancement has been progressively better
sound at ever lower costs, and the E-V NINE loudspeaker
system is a case in point.
An acoustic suspension woofer must have an extremely
low free-air resonance so that the additional restoring
force of the air sealed in the enclosure will raise the
operating resonance to the desired frequency. The E-V
NINE woofer has a free-air resonance of 20 Hz. A sealed,
half-roll surround maintains precise alignment of the cone
without unnecessarily raising the resonance. A 6-pound
magnet structure assures adequate efficiency for even
low-power amplifiers and maintains excellent transient
response, even at resonance.
Often overlooked in early acoustic suspension systems
was mid-range performance. Because the ear is most
sensitive in the middle portion of the spectrum, however,
considerable time was spent perfecting this portion of the
E-V NINE design. The 35-inch speaker employed was
designed specifically to reproduce a range of less than 2
octaves, and to do it precisely and efficiently. The result
is clean, clear reproduction of the "presence" range,
which contributes to the life and vibrancy of reproduced
speech and music.
From approximately 2 octaves above middle C, to the
limit of audibility, a special 3-inch cone tweeter provides
the sparkle and brilliance so necessary for satisfying
musical reproduction. The use of a relatively large di-
ameter cone maintains the necessary efficiency down to
the lower limit of the tweeter s range. However, unlike
some tweeters, the flat-cone geometry and hard-surface
dome maintain wide dispersion for complete coverage of
the listening area.
A deluxe LCR crossover controls the input to each of the
drivers and provides adjustment of high-frequency re-
sponse to match listening room acoustics. The crossover
and all components are tested individually, and then
again as a complete system, to assure laboratory standard
performance.
The E-V NINE enclosure integrates the requirements for
acoustical excellence with the techniques of fine furni-
ture construction. All four sides are finished in genuine
oiled walnut veneer to allow use in either vertical or
horizontal position. The nameplate may be rotated for
vertical placement.
SPECIFICATIONS
Frequency Response: 30 to 20,000 Hz
Nominal Impedance: 8 ohms
Power Handling Capacity,
Program; 35 watts
Peak: 70 watts
Dimensions: 13%" Н x 24" W x 11%" D
Finish: Oiled Walnut Veneer
Shipping Weight: 44 pounds
E-V NINE COMPACT
LOUDSPEAKER SYSTEM __
NILSAS HIHVIdASONOT LIOVANOOD ENIN A-3
Part No. 534884
PLACEMENT
The E-V NINE may be placed on a table, shelf, or on the
floor. Generally however, the most realism will be ob-
tained if its height from the floor is near the listener's ear
level. The E-V NINE performs equally well placed in a
horizontal or vertical position, The nameplate may be
rotated to accommodate either placement.
The above comments apply also to stereophonic place-
ment. Additionally, however, the two systems should be
tar enough apart to permit listeners to sit at the apex of a
thirty- to forty-degree angle, as illustrated in Figure 2. A
distance of six to eight feet between stereo speakers will,
in most rooms, provide natural separation. Placing the
loudspeakers too close together or listening at too great a
distance will destroy the stereo effect, and the sound
heard will be essentially monophonic. Extreme spacing
between speakers or listening at too short a distance will
produce exaggerated and unreal separation. In long
rooms, the loudspeakers should be placed along one of
the short walls facing into the long room dimension. This
improves bass reproduction and provides good stereo
listening over most of the room.
AMPLIFIER CONNECTIONS
The E-V NINE has a nominal impedance of eight ohms.
Connections should be made between the left terminal
(T1) and the amplifier 8-ohm terminal; the right terminal
(12) should be connected to the amplifier "common"
terminal (sometimes referred to as "O" or "C"). Con-
nections should be made with No, 18 or larger wire;
common zip- or lamp-cord is satisfactory. If the speaker
leads are to be run behind a molding strip or under a
carpet, TV twin lead may be used.
: ADJUSTMENT OF BALANCE CONTROL
The E-V NINE is equipped with a continuously-variable
balance control to adjust the high-frequency response of
the system to varying acoustical environments. The
"normal" position, indicated on the control, should be
correct in most instances. Acoustically "hard" or "live"
rooms may require a retarded setting of the control to
compensate for the greater amount of high-frequency
reflection. In "soft" or "dead" rooms with carpeting, soft
furniture, and draperies, an advanced setting of the
control will normally be required. The best guide to
setting the control properly is a familiarity with the
sound of live music. That position of the control which
provides the musical balance most pleasing to you is
correct.
CUSTOMER SERVICE
Your E-V NINE system has been packed to provide
protection well in excess of shipping requirements of the
Interstate Commerce Commission. If shipping damage
occurs, contact the dealer from whom the unit was
purchased, or the carrier, and request inspection and
further instructions.
===| Бао |
RESPONSE IN dl
à E 5LEXESS 8 E 8 555587
FREQUENCY IN HERTZ
Figure | — Representative frequency response and
range of balance control action.
TH} Z
TY €
THH 5
THH Di
THN El
THH Or
HOLE IN THE
MIDDLE"
EL
ES
LISTENING
POSITION
SOUND BECOMES
MONAURAL AT
GREATER DISTANCES
Figure 2 — Placement for Stereo
GUARANTEE
Your Electro-Voice speaker system is guaranteed for five
years from date of purchase against failures due to
defects in material or workmanship. Within this period,
Electro-Voice will repair or replace (at our option) any
defective system delivered to us or our service agency.
The unit will be returned prepaid and without charge for
material or labor. Excluded from this guarantee are
finishes, and failures caused by shipping damage or
physical abuse. Operation under conditions other than
those encountered in typical installations, operation in
excess of specified ratings, or repair by other than
Electro-Voice or its authorized service agencies will void
this guarantee. Should difficulty occur, contact the
Electro-Voice Service Manager for instructions.
ELECTRO-VOICE, INC./ Buchanan, Michigan
A Subsidiary of Gulton Industries, Inc.
930
Lithoin U, 8, A.