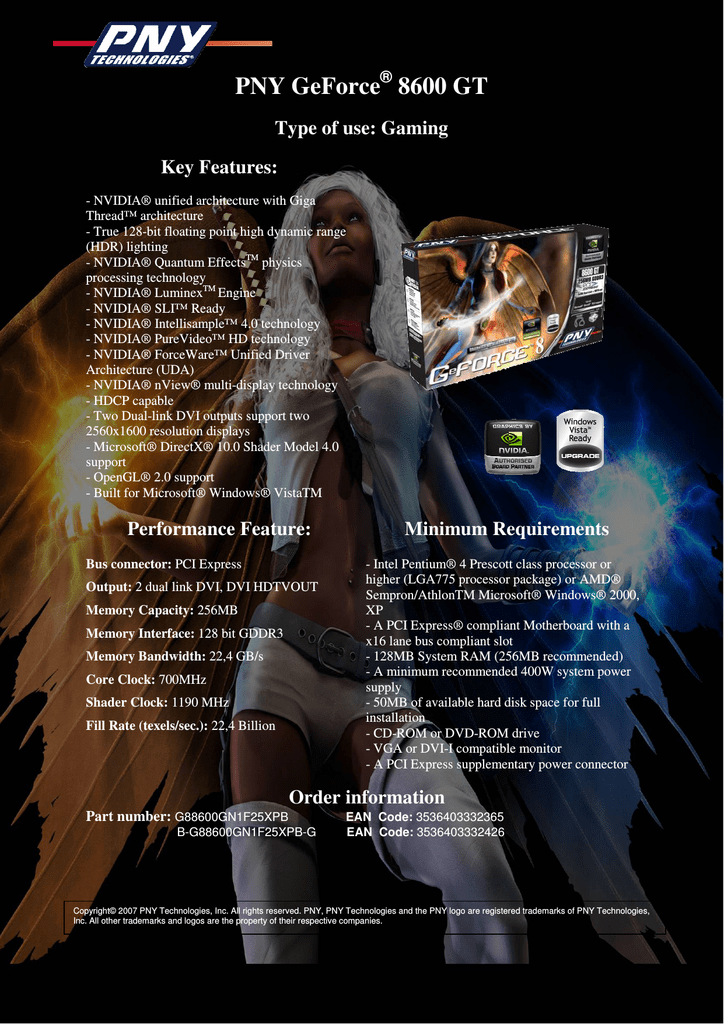 PNY GeForce® 8600 GT
Type of use: Gaming
Key Features:
- NVIDIA® unified architecture with Giga
Thread™ architecture
- True 128-bit floating point high dynamic range
(HDR) lighting
- NVIDIA® Quantum EffectsTM physics
processing technology
- NVIDIA® LuminexTM Engine
- NVIDIA® SLI™ Ready
- NVIDIA® Intellisample™ 4.0 technology
- NVIDIA® PureVideo™ HD technology
- NVIDIA® ForceWare™ Unified Driver
Architecture (UDA)
- NVIDIA® nView® multi-display technology
- HDCP capable
- Two Dual-link DVI outputs support two
2560x1600 resolution displays
- Microsoft® DirectX® 10.0 Shader Model 4.0
support
- OpenGL® 2.0 support
- Built for Microsoft® Windows® VistaTM
Performance Feature:
Bus connector: PCI Express
Output: 2 dual link DVI, DVI HDTVOUT
Memory Capacity: 256MB
Memory Interface: 128 bit GDDR3
Memory Bandwidth: 22,4 GB/s
Core Clock: 700MHz
Shader Clock: 1190 MHz
Fill Rate (texels/sec.): 22,4 Billion
Minimum Requirements
- Intel Pentium® 4 Prescott class processor or
higher (LGA775 processor package) or AMD®
Sempron/AthlonTM Microsoft® Windows® 2000,
XP
- A PCI Express® compliant Motherboard with a
x16 lane bus compliant slot
- 128MB System RAM (256MB recommended)
- A minimum recommended 400W system power
supply
- 50MB of available hard disk space for full
installation
- CD-ROM or DVD-ROM drive
- VGA or DVI-I compatible monitor
- A PCI Express supplementary power connector
Order information
Part number: G88600GN1F25XPB
B-G88600GN1F25XPB-G
EAN Code: 3536403332365
EAN Code: 3536403332426
Copyright© 2007 PNY Technologies, Inc. All rights reserved. PNY, PNY Technologies and the PNY logo are registered trademarks of PNY Technologies,
Inc. All other trademarks and logos are the property of their respective companies.

* Your assessment is very important for improving the work of artificial intelligence, which forms the content of this project