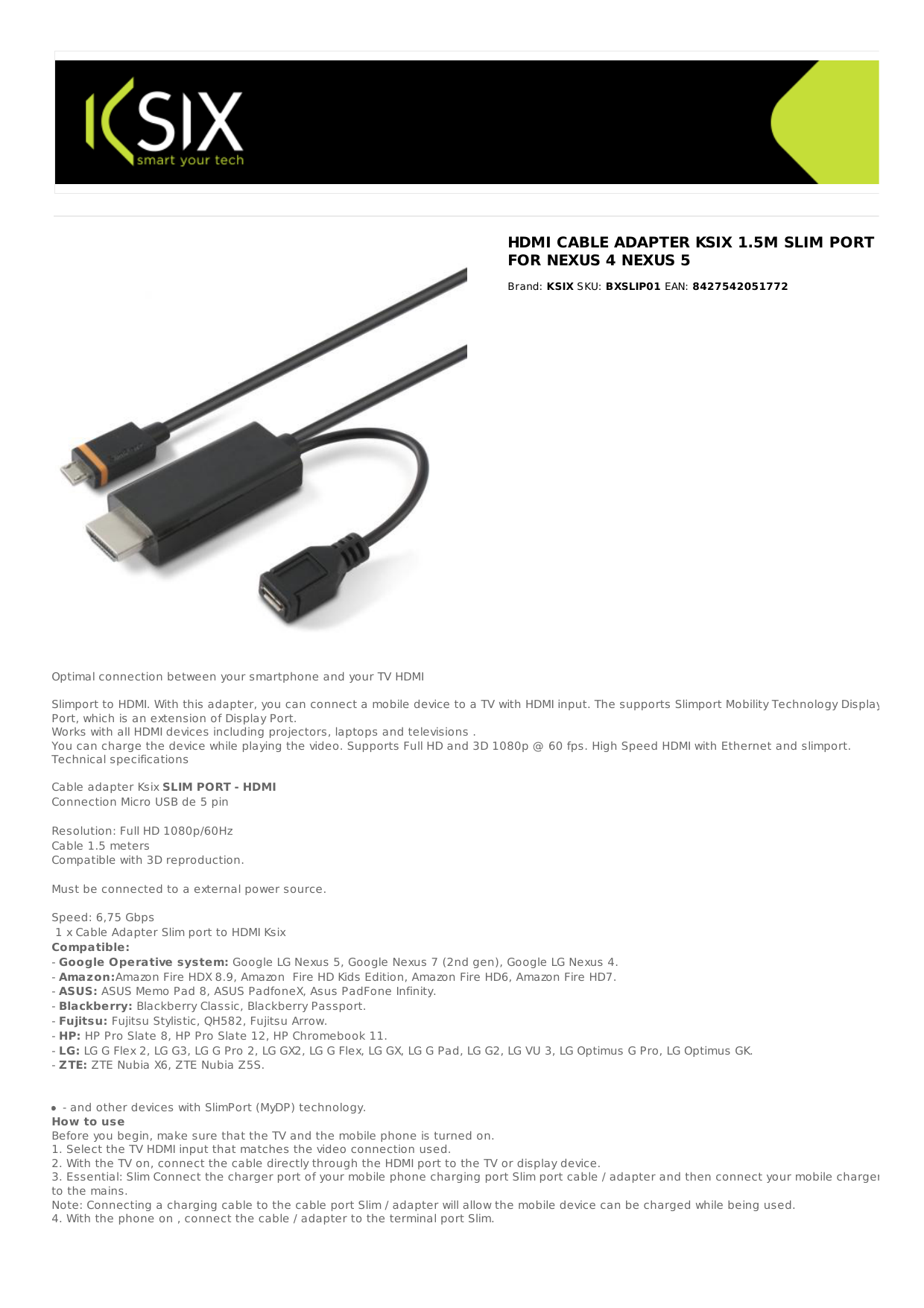 HDMI CABLE ADAPTER KSIX 1.5M SLIM PORT
FOR NEXUS 4 NEXUS 5
Brand: KSIX SKU: BXSLIP01 EAN: 8427542051772
Optimal connection between your smartphone and your TV HDMI
Slimport to HDMI. With this adapter, you can connect a mobile device to a TV with HDMI input. The supports Slimport Mobility Technology Display
Port, which is an extension of Display Port.
Works with all HDMI devices including projectors, laptops and televisions .
You can charge the device while playing the video. Supports Full HD and 3D 1080p @ 60 fps. High Speed HDMI with Ethernet and slimport.
Technical specifications
Cable adapter Ksix SLIM PORT - HDMI
Connection Micro USB de 5 pin
Resolution: Full HD 1080p/60Hz
Cable 1.5 meters
Compatible with 3D reproduction.
Must be connected to a external power source.
Speed: 6,75 Gbps
1 x Cable Adapter Slim port to HDMI Ksix
Compatible:
- Google Operative system: Google LG Nexus 5, Google Nexus 7 (2nd gen), Google LG Nexus 4.
- Amazon:Amazon Fire HDX 8.9, Amazon Fire HD Kids Edition, Amazon Fire HD6, Amazon Fire HD7.
- ASUS: ASUS Memo Pad 8, ASUS PadfoneX, Asus PadFone Infinity.
- Blackberry: Blackberry Classic, Blackberry Passport.
- Fujitsu: Fujitsu Stylistic, QH582, Fujitsu Arrow.
- HP: HP Pro Slate 8, HP Pro Slate 12, HP Chromebook 11.
- LG: LG G Flex 2, LG G3, LG G Pro 2, LG GX2, LG G Flex, LG GX, LG G Pad, LG G2, LG VU 3, LG Optimus G Pro, LG Optimus GK.
- Z TE: ZTE Nubia X6, ZTE Nubia Z5S.
- and other devices with SlimPort (MyDP) technology.
How to use
Before you begin, make sure that the TV and the mobile phone is turned on.
1. Select the TV HDMI input that matches the video connection used.
2. With the TV on, connect the cable directly through the HDMI port to the TV or display device.
3. Essential: Slim Connect the charger port of your mobile phone charging port Slim port cable / adapter and then connect your mobile charger
to the mains.
Note: Connecting a charging cable to the cable port Slim / adapter will allow the mobile device can be charged while being used.
4. With the phone on , connect the cable / adapter to the terminal port Slim.

* Your assessment is very important for improving the work of artificial intelligence, which forms the content of this project