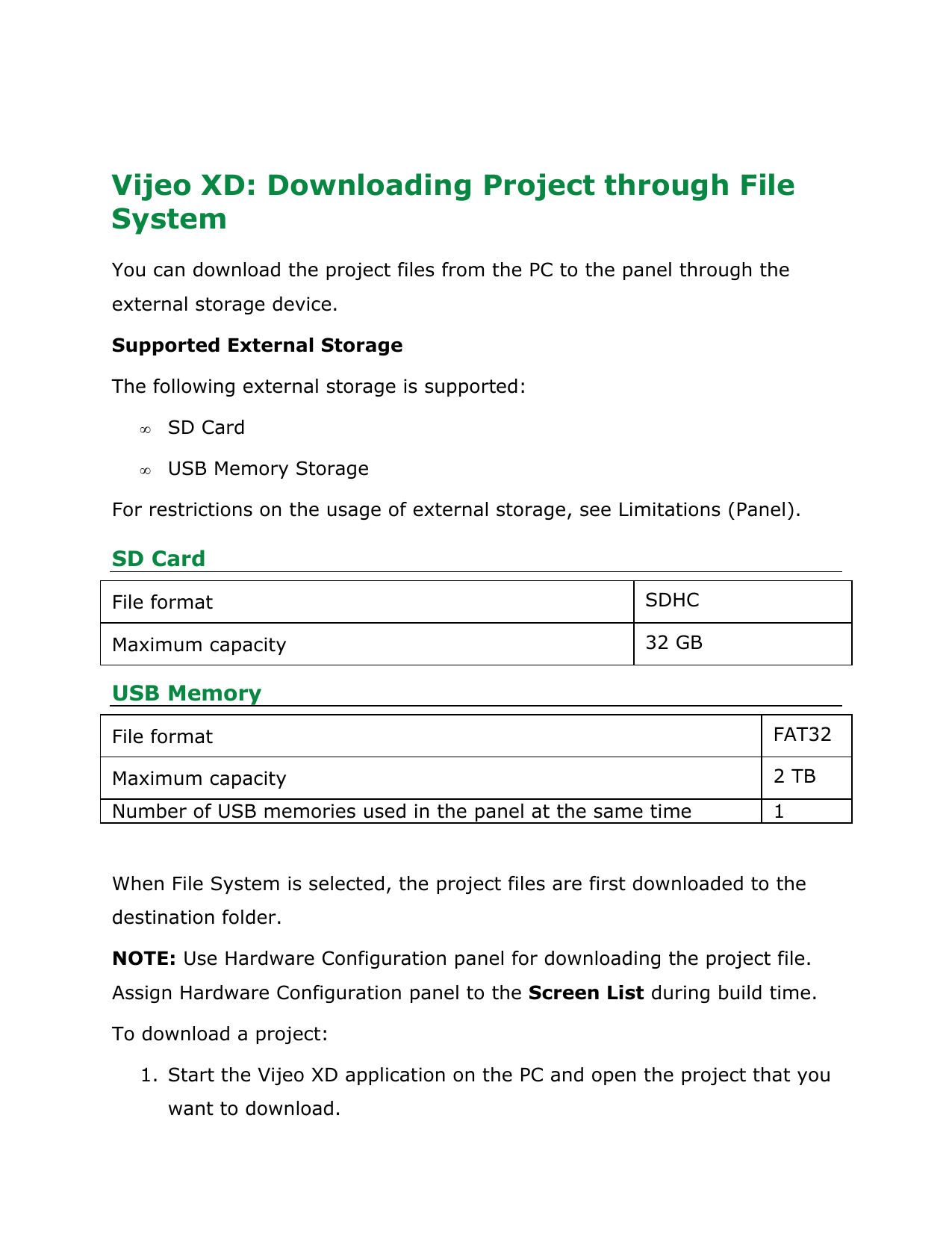 Vijeo XD: Downloading Project through File
System
You can download the project files from the PC to the panel through the
external storage device.
Supported External Storage
The following external storage is supported:
•
SD Card
•
USB Memory Storage
For restrictions on the usage of external storage, see Limitations (Panel).
SD Card
File format
SDHC
Maximum capacity
32 GB
USB Memory
File format
FAT32
Maximum capacity
2 TB
Number of USB memories used in the panel at the same time
1
When File System is selected, the project files are first downloaded to the
destination folder.
NOTE: Use Hardware Configuration panel for downloading the project file.
Assign Hardware Configuration panel to the Screen List during build time.
To download a project:
1. Start the Vijeo XD application on the PC and open the project that you
want to download.
2. In Target Transfer Set
, acknowledge that Transfer Type is File
System and external storage's folder is specified in Path.
In the System Configuration Editor, on the Document toolbar, click
Download
.
or
Press ALT+D.
NOTE: Before downloading, make sure the panel you are downloading
to is the same panel type as defined in the Target Settings
.
3. The Download Manager dialog box displays the status. When the
download is complete, the panel background becomes steady green.
The file package.VML is generated in the destination folder.
If the destination folder is outside external storage, copy the file to the
external storage's folder.
NOTE:
•
The progress bar displays the remaining download time. It may
take some time to download large project files.
•
If the download is unsuccessful, the progress bar appears in red.
The Download Manager dialog box displays an error message
if a breakdown is detected.
•
If the download is forcibly closed, the progress bar appears in
gray.
4. Close the Download Manager dialog box after the download is
complete.
5. Insert the external storage in the panel.
6. Copy package.VML to the defined path (USB
Memory:C:\USBStorage,SD Card:C:\SDCard) for iPC and HMIGTU
Series Open Box.
7. Open Hardware Configuration screen and touch USB/SD in the
Download from.
After the project has been downloaded successfully, the panel restarts and
runs the downloaded project.
NOTE: If the runtime versions of the panel and the PC do not match, a
message is displayed to download the matching version.

* Your assessment is very important for improving the work of artificial intelligence, which forms the content of this project