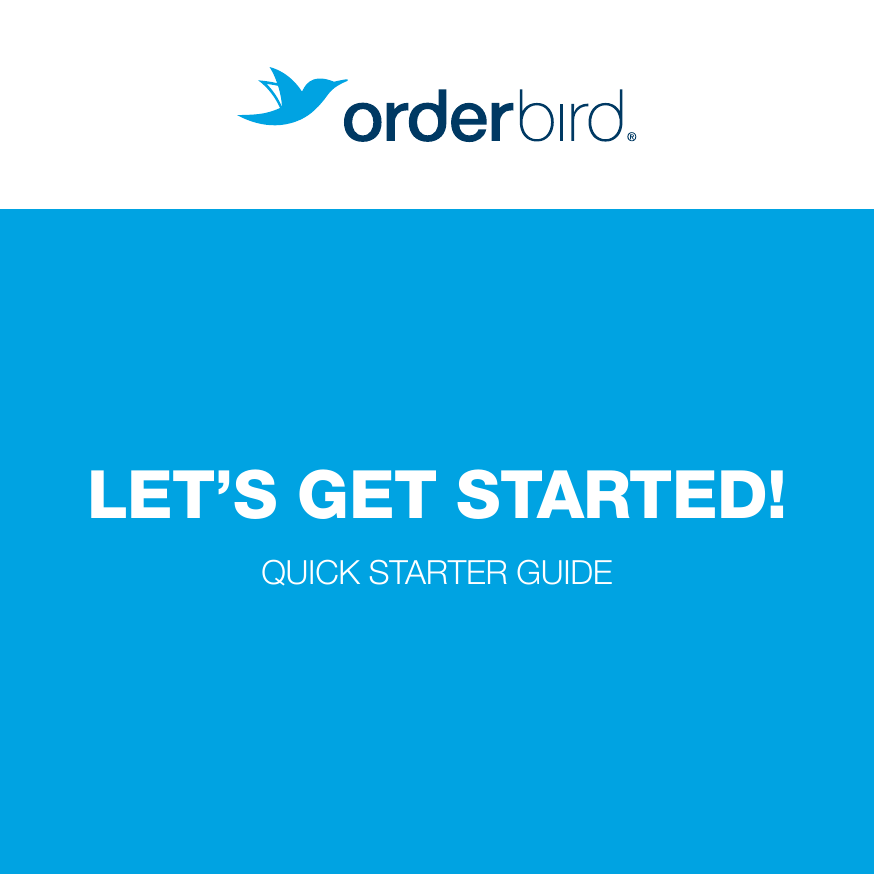 LET'S GET STARTED!
QUICK STARTER GUIDE
WELCOME TO ORDERBIRD!
YOUR CREDENTIALS
Hooray, your new iPad POS by orderbird has arrived! We thank you for your trust
in us and are looking forward to a successful partnership with you.
Get started right away with your personal log-in information for your network
on this page. Tip: Write down your personal my.orderbird.com log-in data as well,
so you always have them at hand.
Your network credentials
Your my.orderbird.com credentials
eMail address
2
Password
3
TABLE OF CONTENTS
1. Quick Start
3. Further questions . . . ?
Got everything? – Five things you will need
7
Let's get started – Build your network with orderbird WiFi
9
Your new orderbird WiFi - How do I install orderbird WiFi?
10
Your new orderbird WiFi - Step by step guide
12
Go wireless! – Tips for a safe and stable wireless network
15
Get connected! – Connect with your network and log in to orderbird
17
Almost there – Connect your printer
18
Take good care of your orderbird register
21
… about Apple and more
What is an Apple-ID and where do I find it?
34
How do I install the orderbird app for the first time?
34
… about orderbird and more
How do I find my my.orderbird.com log-in info?
35
4. Return slip for routers
36
5. Notes for your cash auditor
38
2. Your network is set up – continue with the orderbird app
4
Get started with the app – Intuitive use
24
Book a session with your success manager – Service: Onboarding
26
my.orderbird.com – Full control from anywhere
28
Internet gone? – Working in fallback mode
31
5
QUICK START
GOT EVERYTHING?
FIVE THINGS YOU WILL NEED
1. Your iPad with the orderbird app installed (see p. 34 on how to install the app)
2. A working internet connection
3. Your credentials: eMail address and password for my.orderbird.com
QUICK START
4. Your orderbird routers and repeaters, printers and cash drawer, if you have one
5. If you need them, prepare to have electrical extension cords and long LAN cables
Do you have these items at hand?
LET'S GET STARTED!
7
QUICK START
QUICK START
LET'S GET STARTED
BUILD YOUR NETWORK WITH ORDERBIRD WIFI
printer
orderbird base router
On the following pages we will explain to you how to connect your network
devices (routers, repeaters, and printers) and how to find the ideal places to set
up your routers and repeaters.
internet router
B
A
8
C
The close-up on this page shows you how to connect your routers and printers.
Note the colours of the ports and cables!
A
Your connection to the internet.
B
You can use empty ports to connect additional printers or router / repeaters.
C
If you have a cash drawer, you can connect it here.
9
QUICK START
QUICK START
YOUR NEW ORDERBIRD WIFI
HOW DO I INSTALL ORDERBIRD WIFI?
orderbird cable repeater
2
Have a look at the example set-up of your orderbird routers and repeaters on the
righthand side for an optimal network connection. In our example, the base router
is placed in the guest area and one repeater each is placed in the kitchen as well
as at the bar.
KITCHEN
orderbird base router
Please connect the base router and all repeaters via LAN cable.
1
2
The base router - This type of router is unique in your orderbird network,
as it is the central unit of your network architecture. You connect it directly
to the router of your ISP. You can recognize the orderbird base router by the
number "1" printed on its front side.
printer
internet router
1
OFFICE
GUEST AREA
The cable repeater - You can connect a cable repeater to your base router
to extend the network's wireless reach. A maximum of three repeaters can
be connected in a row. You can recognize the orderbird cable repeater by
the number "2" printed on its front side.
orderbird cable repeater
printer
2
BAR
10
11
QUICK START
QUICK START
YOUR NEW ORDERBIRD WIFI
STEP BY STEP GUIDE
The set-up
Take a moment to think about how you want to set up your orderbird routers and
repeaters. It is your goal to have a stable wireless connection in all your busy
areas. The time you will invest in this step will be invested wisely, as it will make
your business run smooth! The tips on page 15 "Go wireless!" can help you.
1.
2.
3.
12
Position all orderbird repeaters in a suitable location. They should be placed
in such a way that you will have a stable signal in all your working areas, such
as kitchen, bar, and guest area. Each repeater broadcasts for a radius of
seven metres. To ensure consistent wireless network reception, place your
repeaters no more than seven metres apart from each other.
It is best to place the orderbird base router at a central location, as all
repeaters will be connected with it. In the example set-up on page 11, the
base router in the kitchen is the central hub for all repeaters.
Position all your printers in a suitable location. For example, the printer for
beverage orders should be located at the bar. Tip: In default settings, your
printer for beverage orders is also your receipt printer.
The connection
4.
Connect your internet router (ISP) via LAN cable with your orderbird base
router.
5.
Connect all cable repeater via LAN cable with your base router.
6.
Plug in your base router and your repeaters.
7.
Connect your printer with the closest repeater or the base router.
8.
Plug in your printers.
Zap!
9.
Turn on all of your printers, as well as your base router and all of your repeaters.
10. Wait a couple of seconds for the network to boot.
13
QUICK START
QUICK START
GO WIRELESS!
TIPS FOR A SAFE AND STABLE WIRELESS NETWORK
orderbird cable repeater
orderbird base
router
C
A
Check all cable connections! LAN cables connect with a click. Avoid
tripping hazards! Don't lay cables through doors, windows or outside. LAN
cables must not be bent or put under pressure, as they break easily.
B
Put your orderbird router and repeaters high up (app. 1,80m), so that the
WiFi signal can travel freely. In a best case scenario, the devices are set up
vis-á-vis. Glass panes, metal or electronic devices like microwaves can
interfere with the WiFi signal.
C
Do not forget to screw in all antennas to your base router and repeaters!
A
D
B
1,80m
If you have more than one orderbird repeater…
D
14
…You can connect a maximum of three repeaters in a row. Tip: A connection
via LAN cable is optimal for a stable network.
15
QUICK START
GET CONNECTED!
CONNECT WITH YOUR NETWORK AND LOG IN TO ORDERBIRD
1.
Switch on your orderbird base router as well as your repeaters and your
printer(s).
2.
Take your iPad / iOS device and go to Settings
WiFi and connect
your iOS device with your orderbird WiFi (see picture to the left). You can
find your log-in data and your network name on page 3.
3.
Open the orderbird app on your iOS device. If you have not installed the
app yet, you can find out how to do it on page 34.
4.
Sign in with your my.orderbird.com credentials. Follow the instructions
given on the screen. See page 35 of this manual on how to set up a
my.orderbird.com account.
17
QUICK START
QUICK START
ALMOST THERE
CONNECT YOUR PRINTER
Printer
Set up your orderbird printer
Counter
Print Settings
Counter
Active
Find printer IP automatically
1.
Open the orderbird app on your iOS device and go to Settings
Counter.
Printers
2.
Pull the slider for "Active" to the right to enable the printer (Picture 1).
3.
Tap on "Find printer IP automatically" and choose an IP (e.g. 192.168.1.43)
(Picture 2).
Kitchen
192.168.1.73
9100
Printer
Einzelbon
Artikelbon
Tischbon
Counter
5.
Tap on "Test print" to print a test receipt. If you have multiple printers and
the receipt comes out the wrong printer, repeat step 3 and choose another IP
from the list.
192.168.1.43
TM-T88V
Counter
Active
Find printer IP automatically
Kitchen
4.
Print Settings
Available Printers
192.168.0.193
TM-T20ll
192.168.1.73
9100
Picture 1
192.168.0.152
TM-T20ll
Einzelbon
Artikelbon
Repeat these steps for all printers that you want to add.
Tischbon
Picture 2
18
19
QUICK START
ALMOST THERE
QUICK START
TAKE GOOD CARE OF YOUR
ORDERBIRD REGISTER
CONNECT YOUR PRINTER
You don't find the right printer IP or the test receipt doesn't
print?
20
A
Check if you are connected to the right WiFi network with your iOS Device
(see page 17 "Get connected!").
B
Switch off the printer for 10 sec. and then switch it back on. Repeat steps 1
through 5 on page 18 again, if necessary.
C
Check if the thermal paper roll is placed correctly inside the printer. If prints
come out white, turn around the paper roll and try again.
Switch it off
Let your iPad (or any iOS device) rest every now and then (for example at night).
Hold down the on / off button until the iPad asks you to "slide to power off".
Regular breaks for your iPad help avoid memory and performance problems,
which can cause the app to slow down or even crash.
Stay online
orderbird encrypts and archives your revenue data and master data on
my.orderbird.com while you are online. Only after all data have been synchronized, your reports will be generated. Please stay online while your are working!
21
YEAH, YOUR
NETWORK IS
SET UP :)
… LET'S CONTINUE WITH THE ORDERBIRD APP!
YOUR NETWORK IS SET UP
GET STARTED WITH
THE APP
INTUITIVE USE
Acquaint yourself with the orderbird app! You will
find out that the the app is easy to use. Just pick
up your iPad and try out the different functions
orderbird has to offer!
Your tax advisor can later deduct all orders that
you booked while you were practicing with the
app as test orders.
24
YOUR NETWORK IS SET UP
YOUR NETWORK IS SET UP
BOOK A SESSION WITH YOUR
SUCCESS MANAGER
ONBOARDING
Our customer success managers are at your service to help you get started with
your new online register. If you have booked an onboarding with us, an eMail with
instructions on how to book an appointment has been sent to you. Follow the
instructions and pick a date and time that suits you.
TIP: The appointments with our wonderful success managers are in high demand,
so be quick to book yours!
Book your Welcome
call now!
Click here in your
eMail and follow the
instructions on your
Katrin
Marijke
Rosy
Simon
screen step by step to
book an appointment.
26
27
YOUR NETWORK IS SET UP
YOUR NETWORK IS SET UP
MY.ORDERBIRD.COM
FULL CONTROL FROM ANYWHERE
Take the tour at my.orderbird.com. It's worthwhile! Learn
more about your top sellers and generate daily, weekly,
monthly or yearly revenue reports.
1
2
1
Go to my.orderbird.com and take the tour. Find out
how my.orderbird.com can make you more succesful!
2
With up-to-date reports on daily, weekly, or monthly
revenues you are always in control.
3
28
Here you can generate financially compliant reports.
3
FALLBACK
INTERNET GONE?
WORKING IN FALLBACK MODE
In case of connectivity issues, you can continue working
with the fallback mode - the app will lead you through all
necessary steps.
FALLBACK
If the network comes on and off . . .
In case of connectivity issues, it often helps to switch off
your internet router and orderbird router, as well your printers
and turn them back on after a few seconds. If this does not
solve the problem, we are there to help you!
FALLBACK
In case of acute
connectivity issues
You can find our contact infos on the back cover of this
manual. Please, do not reset your devices without us, as this
may lead to data loss!
Please do NOT delete the orderbird app!
31
RECOMMEND US!
TELL YOUR FRIENDS ABOUT US - WE'D APPRECIATE IT
For every new customer that you recommend us to, we will gift you with a free
one-year licence worth 490 €. Of course, our new customer won't come away
empty-handed - they will receive a discount of 100 € on our starter kit.
1. Recommend us
Send us your friend's contact details to [email protected]
2. Receive a voucher
Your friend will receive a discount of 100 € on our orderbird
starter kit.
3. Collect your bonus
As soon as your friend redeems the voucher, you will receive
an orderbird one-year licence worth 490 €.
33
FURTHER QUESTIONS?
FURTHER QUESTIONS?
… FURTHER QUESTIONS?
. . . ABOUT APPLE AND MORE
. . . ABOUT ORDERBIRD AND MORE
What is an Apple-ID and where do I find it?
How do I find my my.orderbird.com log-in info?
When you first set up our iPad or any iOS device, Apple asks you for your AppleID. You need an Apple-ID to download the orderbird app from the App Store. We
strongly recommend that you set up an extra Apple-ID for your business and do
not use your private Apple-ID. That way you can let trusted employees handle the
account in case of your absence. More information of the Apple-ID and how to
create one can be found here: support.apple.com.
You have created credentials for my.orderbird.com yourself. They are made up
of your eMail address and a password. If you have forgotten the password, go to
my.orderbird.com and click on the "Forgot your password?" button. We will then
send a password recovery eMail to you.
You want to know more about…
How do I install the orderbird app for the first time?
Connect your iPad to the internet. Go to the App Store and type in "orderbird" on
+
the search bar on top. Then tap on "Load" LOAD or the cloud symbol
and
the app will be installed to your iPad / iOS device.
…the features of the app? You have more questions on how to use the app?
And how do you add or delete items again? Find answers to your questions on
support.orderbird.com.
Leave the App Store by pushing the home button in the frame around the display
and open the orderbird app by tapping on the orderbird app symbol
.
34
35
RETURN SLIP FOR ROUTERS
RETURN SLIP FOR ROUTERS
We know from experience that every business has individual demands for their
network set-up. This means that you may have ordered more orderbird routers
and repeaters than needed. We can advise you regarding the set-up of your
network to ensure a safe and stable WiFi signal throughout your entire venue.
The return slip is solely intended for the return of routers/repeaters. The devices
need to be sent back in original packaging and undamaged; only then we can
issue a credit voucher. To receive a return slip, please mail us at [email protected]
com and include the following information in your eMail:
•
•
•
•
Name of your business
Your customer number
Reason for return
Number of routers and repeaters you wish to return
Our team will then contact you.
Please do not send back any devices independently! All devices need to be
sent to our logistics centre, to guarantee a credit voucher.
36
NOTES FOR YOUR CASH AUDITOR
NOTES FOR YOUR CASH AUDITOR
NOTES FOR YOUR CASH AUDITOR
Entering orders and billing
Security features
• Each article/data record is automatically assigned a Universally Unique
Identifier (UUID)
• Journal entries for each operation, including a reference to items ordered, are
generated for additional operations such as cancelling, discounting or charging
for articles.
• As soon as the terminal is online, all its journal entries are transmitted directly to
the server and stored there without interruptions.
• To provide additional control mechanisms, the POS system assigns unique
invoice numbers per shift and terminal.
• When an invoice is re-opened, all the items in the invoice are counter-booked
and re-booked.
• The fact that we only supply the POS user with his daily closing report after the
data has arrived on our server ensures that it cannot be deleted or amended.
• The orderbird company develops and sells type 3 POS systems.
More information and complete procedure documentation can be found online.
Please go to support.orderbird.com and type "audit" into the search bar.
Daily closing
To complete the daily closing of orderbird POS, it is absolutely necessary to first
synchronize the journal on the server. The daily closing is then generated on the
server and documented with a consecutive Z number.
38
39
No 01 – EN | 01 – 2017
Help is only a click away! Tap on
the little questions mark above the
main menu and then on "Help".
WE'D LOVE
TO HELP YOU!
support.orderbird.com I [email protected]
By phone via 0800 - 67 337 24 (Germany) or international: + 49 30 208 983 099
Our service team is available Monday through Friday from 9am to 6pm
via telephone. In case of emergency* you can also reach us outside our
office hours.
*Definition of emergency: When productive business with orderbird is not possible at all or only with major impediments.