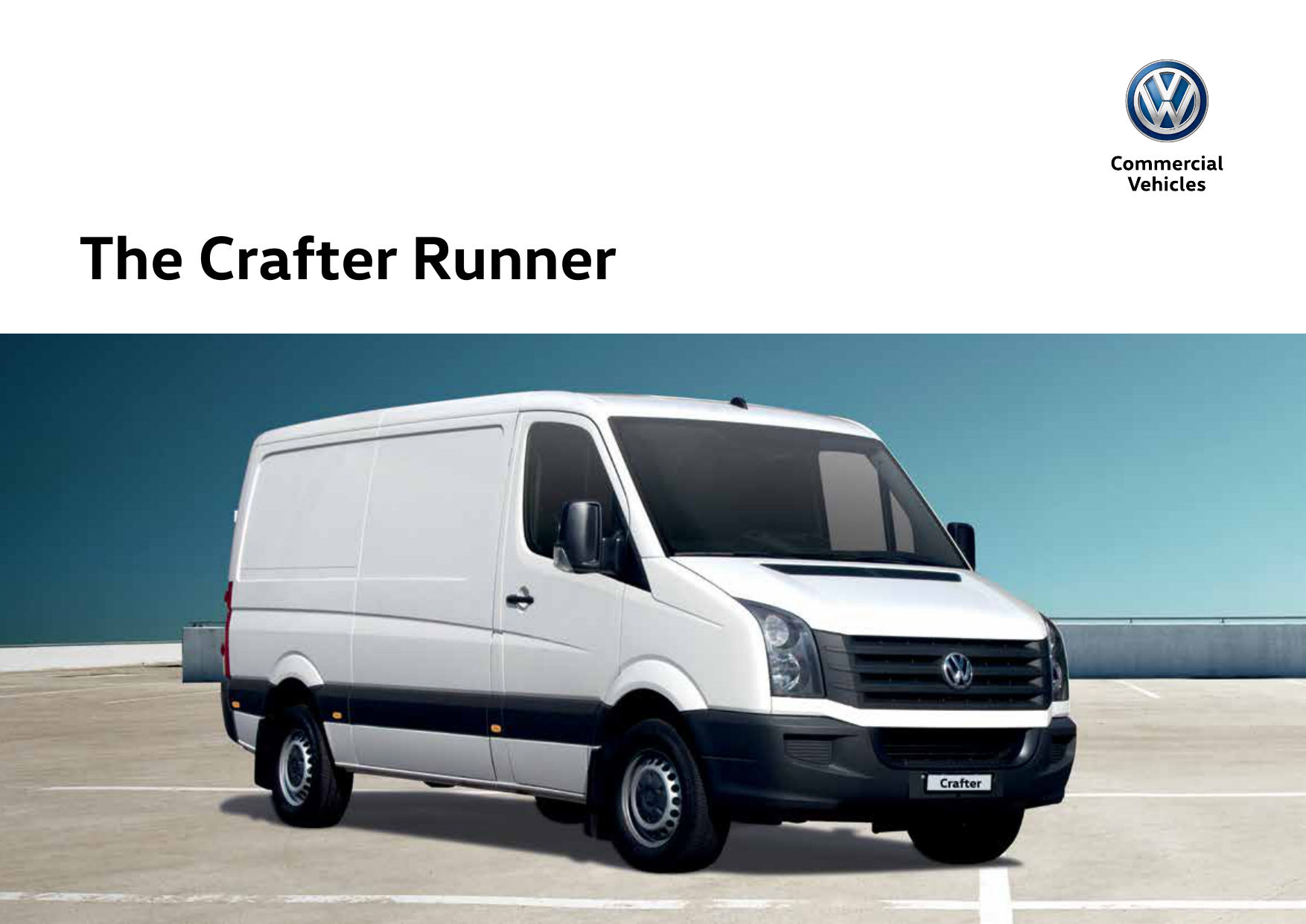 The Crafter Runner
Standard for
The Crafter Runner.
Exterior
–– Exterior mirrors electrically adjustable and heated, convex,
with wide-angle range and turn signal
–– Daytime Running Lights (DRL)
–– Sliding door, left, 1,300mm wide
–– Rear wing doors
–– Side reflectors
–– 16" steel wheels with full sized steel spare wheel
–– "Runner" decal
Built for extreme jobs.
Crafter Runner.
Interior
–– Height-adjustable driver's seat with lumbar support
–– Steering wheel, height and reach adjustable
–– Cleverly thought out storage system
–– Glove compartment with lid
–– Rubber flooring in the driver's compartment
–– Partition with fixed window
–– "Runner" cloth seat upholstery
Available in mid wheelbase (MWB) with medium roof and long
wheelbase (LWB) with high roof, the Crafter Runner offers a load
capacity of 9m3 (MWB) and 14m3 (LWB), a wide sliding door on the
passenger's side that fits a pallet and convenient rear barn doors.
Engineered specifically for heavy-duty use, the durable common rail
TDI engines set the benchmark for output and fuel consumption.
Sure handling and clear instrumentation, intuitive ergonomics, clever
technology, brilliant safety and smart provision of handy cabin space.
Crafter knows how to make work easier. Safer. More productive.
Long wheelbase Crafter Runner TDI340 shown.
Function
–– Bluetooth® phone and audio streaming compatibility
–– RSD2000 radio with USB/AUX/SD input
–– Cruise control with speed limiter
–– Vehicle immobiliser
–– Central locking with remote control
–– Power windows and exterior mirrors
–– Semi-automated air conditioning with dust and pollen filter
–– 12V socket
Safety*
–– Hill-start assist
–– Adaptive Electronic Stabilisation Programme (ESP)
–– Traction Control System (TCS)
–– Electronic Differential Lock (EDL)
–– Anti-Lock Braking System and Brake Assist
–– Driver and front passenger airbags
–– Seat belt warning buzzer
–– 10 (MWB) / 12 (LWB) lashing eyes
01 RSD2000 Radio System. The "RSD2000" with 4.3" LCD screen, AM/FM tuner, SD card input, Aux-in and USB ports,
Bluetooth® audio streaming will keep your business going while on the road.
Mechanical
–– Electrical interface for external use (CAN bus technology)
–– Trailer wiring preparation
*Safety technologies are not a substitute for the driver's responsibility of
the vehicle.
Mid wheelbase Crafter Runner TDI300 shown on front page.
Lashing eyes (not illustrated). The Crafter is equipped with up to twelve lashing eyes in the load compartment floor
to safely secure your load.
01
Specifications
Engine
Colour & Trim
Crafter 35 Van MWB Standard Roof
TDI300
Type
4 Cylinder, direct injection
Max power, kW @ rpm
Max torque, Nm @ rpm
Capacity, litres/cc
Bore x Stroke / Compression ratio
Fuel type
Fuel system
80 @ 3,500
300 @ 1,500 – 2,250
2.0 / 1,968
81.0 x 95.5 / 16.0:1
Transmission
Driven wheels
6 speed manual
Rear Wheel Drive
Crafter 35 Van LWB High Roof
TDI340
105 @ 3,500
340 @ 1,575 – 2,250
2.0 / 1,968
81.0 x 95.5 / 16.0:1
Diesel DIN EN 590
3rd Generation Common Rail Direct Injection
Suspension and steering
Front axle
Independent McPherson struts, sub-frame with coil springs and gas filled dampers
Rear axle
Live rear axle featuring longitudinal leaf springs and gas dampers
Steering
Rack and pinion power steering
Dimensions
Brakes
Front disc brakes, mm
Rear disc brakes, mm
Candy White | Solid paint finish | B4B4
300 x 28 ventilated
298 x 16 solid
Crafter 35 Van Runner MWB Standard Roof
Weights and Capacities
Weights
3,550
2,064
1,486
3,550
2,261
1,289
Unbraked
Towbar downball load, kg
2,000
750
100
2,000
750
100
Dimensions
Seating capacity
Cargo Capacity, m3
Load Compartment Length (mm)
Load Compartment Width (mm) - maximum
Load Compartment Width (mm) - at wheel arches
Load Compartment Height (mm)
Lateral sliding doors width, mm
Lateral sliding doors height, mm
Rear barn door width, mm
Rear barn door height, mm
Load Sill Height, mm
Turning Circle (m)
2
9
3,265
1,780
1,350
1,650
1,300
1,520
1,565
1,540
670
13.6
2
14
4,300
Gross Vehicle Weight (GVM), kg
Unladen Mass1, kg
Payload2 maximum, kg
Towing
Towing Capacity, kg
Braked≠
1,780
1,350
1,940
1,300
1,820
1,565
1,840
670
15.6
1. The Unladen Mass (UM) includes 10L of fuel, vehicle fluids and no occupants. Figures quoted are for base model vehicles only. 2. Payload figures
determined by subtracting 'Unladen Mass' (UM) from total 'Gross Vehicle Mass' (GVM). A vehicle's final payload, given the different configurations, can
only be determined by weighing the individual vehicle and comparing to the known GVM. Figures quoted are for base model vehicles only.
≠ Please note, Volkswagen Group Australia does not endorse or will not be held liable for any claim, loss or damage arising from the use or fitment of
electronic trailer brakes.
Crafter 35 Van Runner LWB High Roof
Runner Classic Grey
Cloth seat upholstery | Classic Grey
Owning a Volkswagen
The Crafter
Runner
Volkswagen Group Australia Pty Ltd
24 Muir Road Chullora NSW 2190
ABN 14 093 117 876
Printed in Australia
September 2016
www.volkswagen-commercial.com.au
Publication:VWCCRAFRUNMY16
Volkswagen New Vehicle Warranty
Every new Volkswagen vehicle is covered by a 3 year
unlimited kilometre manufacturer's warranty, which
includes Volkswagen Assist (24-hour roadside assistance).
Every new Volkswagen vehicle is also covered by a 3 year
paintwork and 12-year anticorrosion perforation warranty.
For further information regarding this New Vehicle
Warranty, including pricing and terms and conditions,
please consult your local Volkswagen dealer or visit
www.volkswagen-commercial.com.au
Volkswagen Genuine Parts®
Volkswagen Genuine Parts® are designed for your vehicle and
approved by Volkswagen, with particular regard to safety.
The workmanship, dimensional accuracy and materials used
in these parts comply with factory specifications. To ensure
safety and reliability, Volkswagen recommends the use of
Volkswagen Genuine Parts®. Volkswagen Authorised Dealers
offer a two-year unlimited kilometre warranty on Genuine
Parts from the date of purchase.
Volkswagen Assist – 24-Hour Roadside Assistance
As a valued customer, you can be assured that wherever
you travel within Australia, you will have access to
roadside assistance, 24 hours a day, 365 days a year. This
is complimentary for the duration of the vehicle's original
Volkswagen warranty period. You will receive help in the
event of a breakdown or accident and, if required, your
vehicle will be mobilised or transported to an Authorised
Volkswagen Workshop. As a Volkswagen owner you will also
have access to the additional benefits of accommodation
and car rental if your vehicle cannot be mobilised within
24 hours, when you are over 100km away from home.
Important information
Bluetooth® is a registered trademark of Bluetooth SIG Inc.
Volkswagen is distributed by Volkswagen Group Australia Pty Ltd, 24 Muir Road, Chullora,
NSW 2190, ABN 14 093 117 876. Specifications are as planned at September 2016, for
Model Year 2016 and are subject to change without notice or obligation. All information
in this brochure is correct at the time of publication, however variations may occur
from time to time and Volkswagen, in so far as it is permitted by law to do so, shall not
be liable in any way as a result of any reliance by any person on anything contained in
this brochure. Authorised Volkswagen dealers will provide up-to-date information on
model application, design feature, prices and availability on request. All colours are a
general guide only, as the printing process cannot reproduce the actual exterior colour
appearance. See your dealer to confirm colour/model availability.
Your Volkswagen dealer.