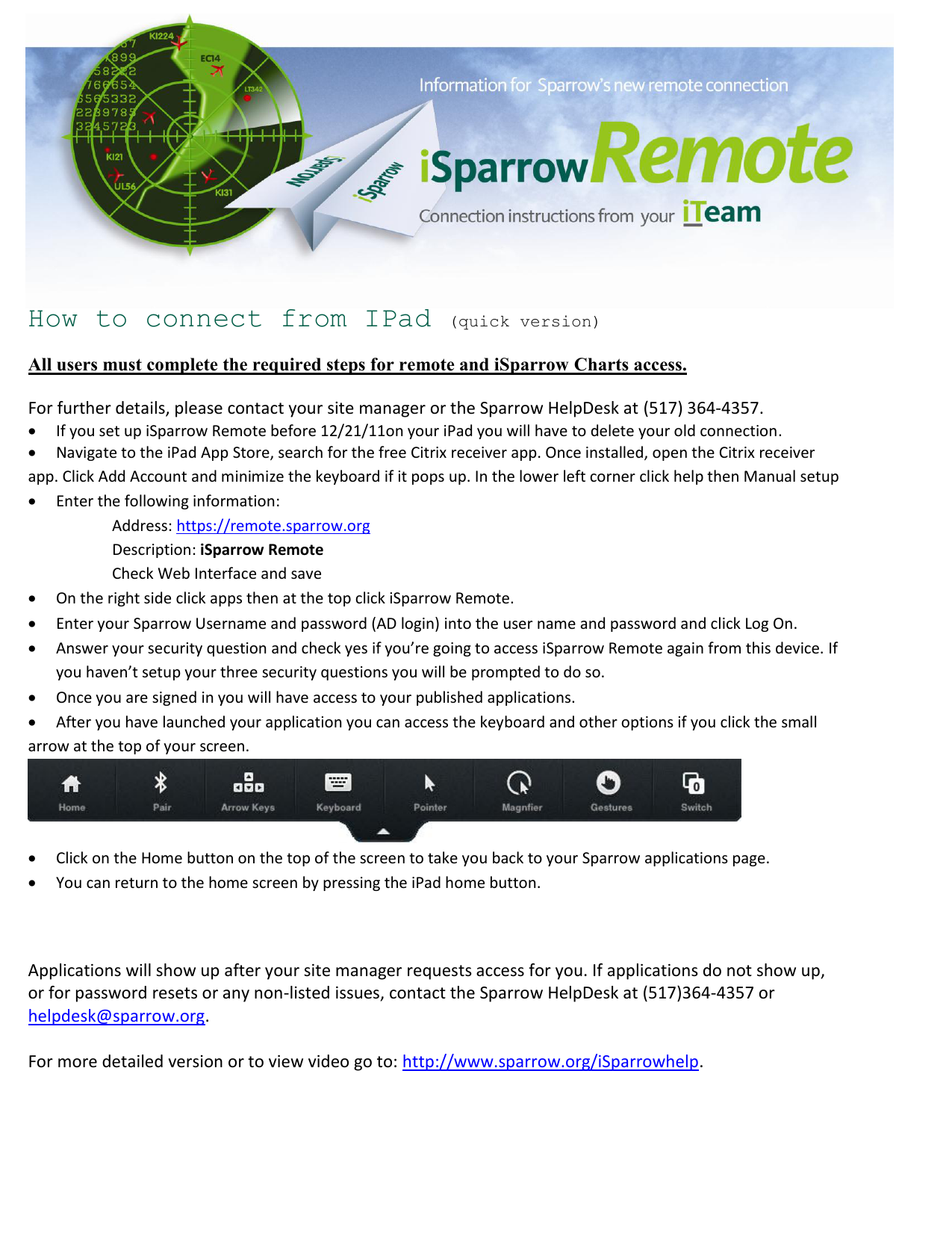 How to connect from IPad
(quick version)
All users must complete the required steps for remote and iSparrow Charts access.
For further details, please contact your site manager or the Sparrow HelpDesk at (517) 364-4357.
 If you set up iSparrow Remote before 12/21/11on your iPad you will have to delete your old connection.
 Navigate to the iPad App Store, search for the free Citrix receiver app. Once installed, open the Citrix receiver
app. Click Add Account and minimize the keyboard if it pops up. In the lower left corner click help then Manual setup
 Enter the following information:
Address: https://remote.sparrow.org
Description: iSparrow Remote
Check Web Interface and save
 On the right side click apps then at the top click iSparrow Remote.
 Enter your Sparrow Username and password (AD login) into the user name and password and click Log On.
 Answer your security question and check yes if you're going to access iSparrow Remote again from this device. If
you haven't setup your three security questions you will be prompted to do so.
 Once you are signed in you will have access to your published applications.
 After you have launched your application you can access the keyboard and other options if you click the small
arrow at the top of your screen.


Click on the Home button on the top of the screen to take you back to your Sparrow applications page.
You can return to the home screen by pressing the iPad home button.
Applications will show up after your site manager requests access for you. If applications do not show up,
or for password resets or any non-listed issues, contact the Sparrow HelpDesk at (517)364-4357 or
helpdesk@sparrow.org.
For more detailed version or to view video go to: http://www.sparrow.org/iSparrowhelp.

* Your assessment is very important for improving the work of artificial intelligence, which forms the content of this project