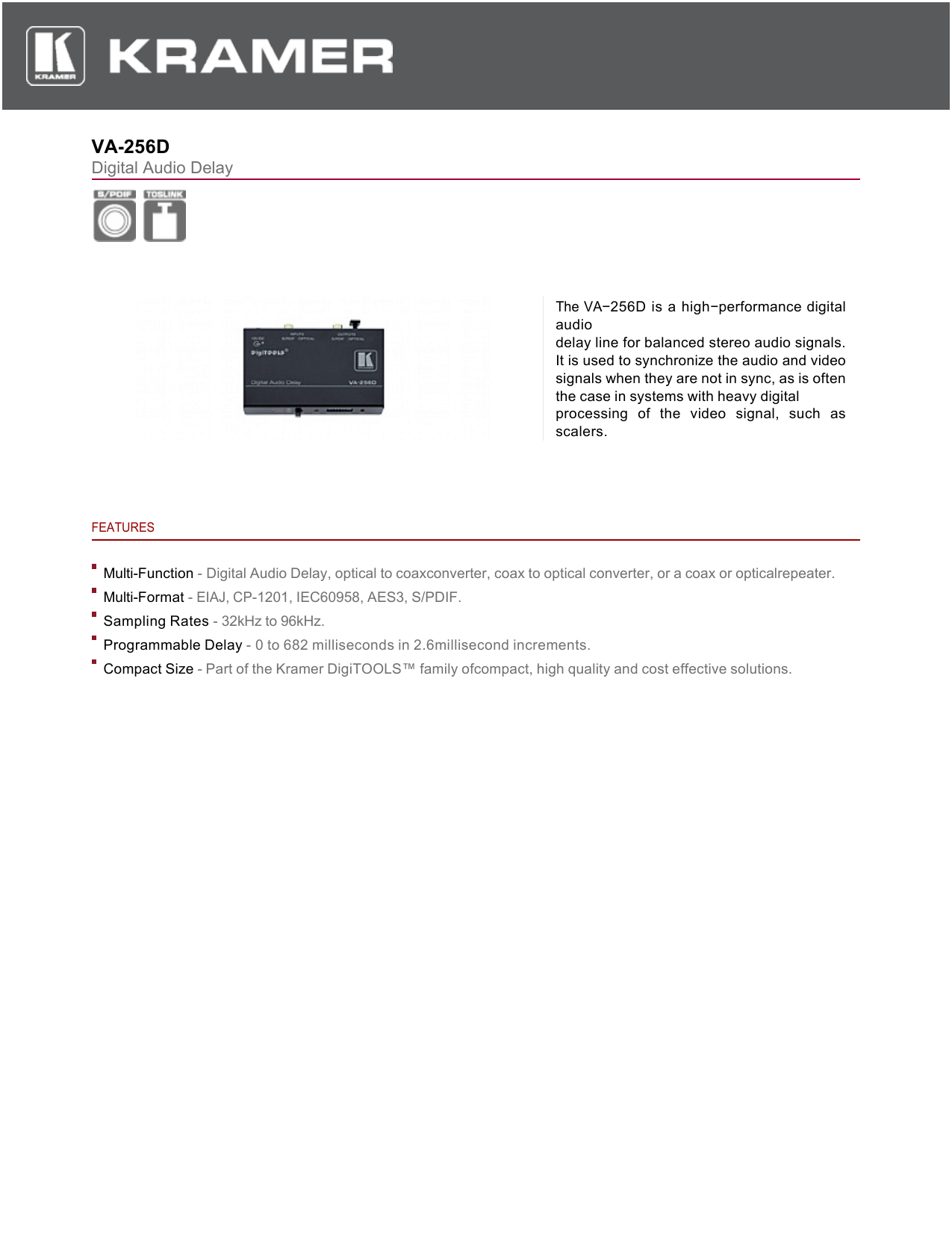 VA-256D
Digital Audio Delay
The VA−256D is a high−performance digital
audio
delay line for balanced stereo audio signals.
It is used to synchronize the audio and video
signals when they are not in sync, as is often
the case in systems with heavy digital
processing of the video signal, such as
scalers.
FEATURES
Multi-Function - Digital Audio Delay, optical to coaxconverter, coax to optical converter, or a coax or opticalrepeater.
Multi-Format - EIAJ, CP-1201, IEC60958, AES3, S/PDIF.
Sampling Rates - 32kHz to 96kHz.
Programmable Delay - 0 to 682 milliseconds in 2.6millisecond increments.
Compact Size - Part of the Kramer DigiTOOLS™ family ofcompact, high quality and cost effective solutions.
VA-256D
TECHNICAL SPECIFICATIONS
INPUTS:
1 S/PDIF input on an RCA connector; 1 Toslink optical connector.
OUTPUTS:
1 S/PDIF output on an RCA connector; 1 Toslink optical connector.
COMPATIBILITY: Digital Audio (S/PDIF): All current broadcast. DVD standards, including Dolby Digital, EX, DTS, ES and
PCM. Audio sample rates of 32kHz, 44.1kHz, 48kHz (standard DVD) and 96kHz (DTS 96/24).
AUDIO DELAY: 0-999ms for 32kHz sample rate signals. 0-740ms for 44.1kHz sample rate signals. 0-680ms for
48kHz sample rate signals. 0-340ms for 96kHz sample rate signals.
POWER
SOURCE:
DIMENSIONS:
12V DC, 300mA.
WEIGHT:
0.3kg. (0.67lbs.) approx.
12 cm x 7.5 cm x 2.5 cm (4.7" x 2.95" 0.98", W, D, H).
ACCESSORIES: Power adapter, mounting bracket.
OPTIONS:
19" rack adapters: RK-T1, RK-T3.

* Your assessment is very important for improving the work of artificial intelligence, which forms the content of this project