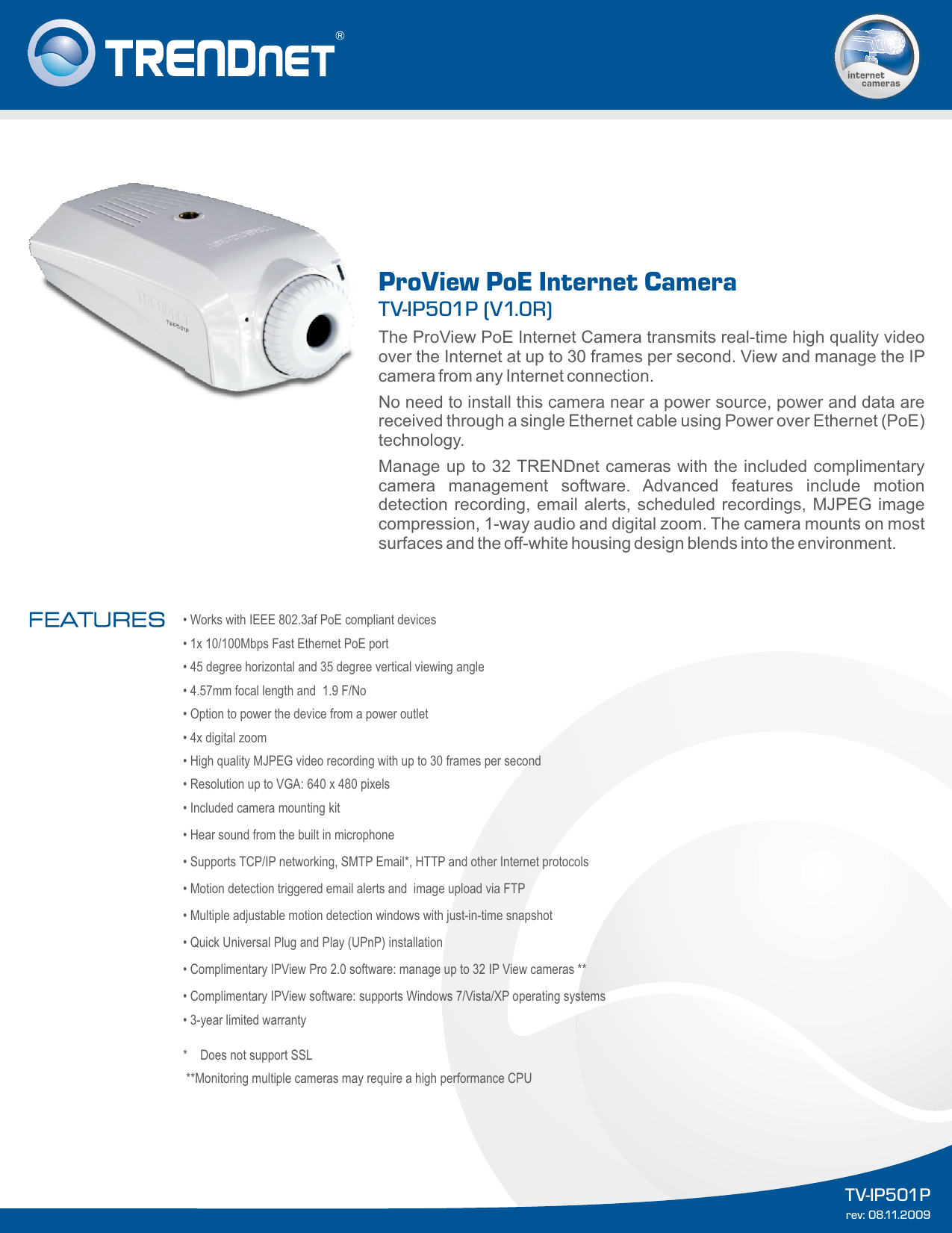 internet
cameras
ProView PoE Internet Camera
TV-IP501P (V1.0R)
The ProView PoE Internet Camera transmits real-time high quality video
over the Internet at up to 30 frames per second. View and manage the IP
camera from any Internet connection.
No need to install this camera near a power source, power and data are
received through a single Ethernet cable using Power over Ethernet (PoE)
technology.
Manage up to 32 TRENDnet cameras with the included complimentary
camera management software. Advanced features include motion
detection recording, email alerts, scheduled recordings, MJPEG image
compression, 1-way audio and digital zoom. The camera mounts on most
surfaces and the off-white housing design blends into the environment.
FEATURES
• Works with IEEE 802.3af PoE compliant devices
• 1x 10/100Mbps Fast Ethernet PoE port
• 45 degree horizontal and 35 degree vertical viewing angle
• 4.57mm focal length and 1.9 F/No
• Option to power the device from a power outlet
• 4x digital zoom
• High quality MJPEG video recording with up to 30 frames per second
• Resolution up to VGA: 640 x 480 pixels
• Included camera mounting kit
• Hear sound from the built in microphone
• Supports TCP/IP networking, SMTP Email*, HTTP and other Internet protocols
• Motion detection triggered email alerts and image upload via FTP
• Multiple adjustable motion detection windows with just-in-time snapshot
• Quick Universal Plug and Play (UPnP) installation
• Complimentary IPView Pro 2.0 software: manage up to 32 IP View cameras **
• Complimentary IPView software: supports Windows 7/Vista/XP operating systems
• 3-year limited warranty
* Does not support SSL
**Monitoring multiple cameras may require a high performance CPU
TV-IP501P
rev: 08.11.2009
ProView PoE Internet Camera
TV-IP501P (V1.0R)
SPECIFICATIONS
Camera
General
• Sensor: 1/4" color CMOS image sensor • Resolution: up to 640 x 480 pixels • Board lens • Focal length: 4.57mm
• F/No: F1.9 • Minimum illumination: 1 Lux
• Focus depth: 20cm ~ infinity
• View angle: horizontal: 45 degree, vertical: 35 degree
Audio
• Built-in microphone
Image & Video
• Compression: MJPEG
• Sensitivity: -48dB +/- 3dB (5 meters max) • Frequency: 50~16000Hz • S/N: 50dB • Codec: PCM
• Exposure/white balance control: automatic
• Resolution: VGA (640x480), QVGA (320x240), QQVGA (160x120) up to 30fps
Hardware
Network
LED
• IEEE 802.3u 10/100Mbps Fast Ethernet, Auto-MDIX
• Power, Link
Reset Button
Power Consumption
• Reset settings
Power
• 5V, 2.5A external power adapter
Dimension
• 195 x 90 x 50mm (7.7 x 3.5 x 2 in.)
Stand Dimension
Weight
• 128 mm (4.7 in.)
Temperature
• Operating: 5°C ~ 40°C (41°F ~ 104°F)
Certification
• CE, FCC
• IEEE 802.3af PoE
• 1.5 watts
• Camera: 133g (4.7oz.)
• Stand: 121g (4.3 oz.)
• Storage: -15°C ~ 50°C (5°F ~ 122°F)
Requirement
To View Camera Browser
• Internet Explorer 6.0 or above, Safari 2.0 or above, Firefox 2.0 or above and Netscape
To Run IPView Pro Software
• Windows 7 (32/64-bit), Vista (32/64-bit), XP (32/64-bit)
IPView Pro 2.0
• Channel: supports up to 32 cameras
Network Protocols
• IPV4, ARP, TCP, UDP,ICMP
• HTTP Server • PPPoE
• Record/Playback/Motion Detection/Audio
• DHCP Client, NTP Client, DNS Client, DDNS Client, SMTP Client, FTP Client
• UPnP
Management
Remote
• Remote management supported
Backup / Restore
• Save/retrieve configuration files
Setting
Image
• Brightness, contrast, noise reduction, saturation, sharpness, white balance, flip mirror(horizontal/vertical)
Video
• Encoding type: MJPEG
• Compression rate: 5 levels
• Frame rate: 1, 5, 7, 15, 20, Auto (up to 30fps)
• Frequency: 50Hz, 60Hz
Recording (via Software)
• Storage size: 32MB (minimum) • Recording type: event based (motion detection), continuous and scheduled
Snapshot (via Software)
• Trigger event: motion detection
Access Port
• HTTP port: 80 (default)
Digital Zoom
• 4x
Dynamic DNS
• Yes
Time
• Synchronize with NTP server or set time/date manually
• Action: send alert email and/or upload to FTP
TV-IP501P
rev: 08.11.2009
ProView PoE Internet Camera
TV-IP501P (V1.0R)
NETWORKING SOLUTIONS
ProView Internet Camera
(TV-IP501P)
PACKAGE CONTENTS
• TV-IP501P
• CD-ROM (Utility & User's Guide)
• Multi-Language Quick Installation Guide
• Cat. 5 Ethernet cable (3m/ 9.8ft.)
Power + Data (PoE)
Power + Data (PoE)
• Power adapter (5V, 2.5A)
• Camera mounting Kit
24-Port 10/100Mbps Web Smart PoE switch
with 4 Gigabit Ports and 2 Mini-GBIC Slots
(TPE-224WS)
Internet
300Mbps Wireless N
ADSL2/2+ Modem Router
(TEW-635BRM)
ProView Wireless Internet Camera
(TV-IP501W)
ProView Wireless Internet Camera
(TV-IP501W)
RELATED PRODUCTS
TV-IP501W
ProView Wireless Internet Camera
TS-S4002
2-Bay SATA I/II Network Storage Enclosure
TPE-80WS
8-Port Gigabit Web Smart PoE Switch
TV-H510
Outdoor Camera Enclosure with Heater and Fan
ORDERING INFORMATION
20675 Manhattan Place,Torrance, CA 90501 USA
Tel: 1-310-961-5500
Fax: 1-310-961-5511
Web: www.trendnet.com
Email: sales@trendnet.com
To Order Please Call:
1-888-326-6061
TRENDnet is a registered trademark. Other Brands and product names are trademarks of their respective holders. Information provided in this document pertain to TRENDnet
products and is subject to change at any time, without notice. For the most recent product information please visit http://www.trendnet.com.
Copyright © TRENDnet. All Rights Reserved.