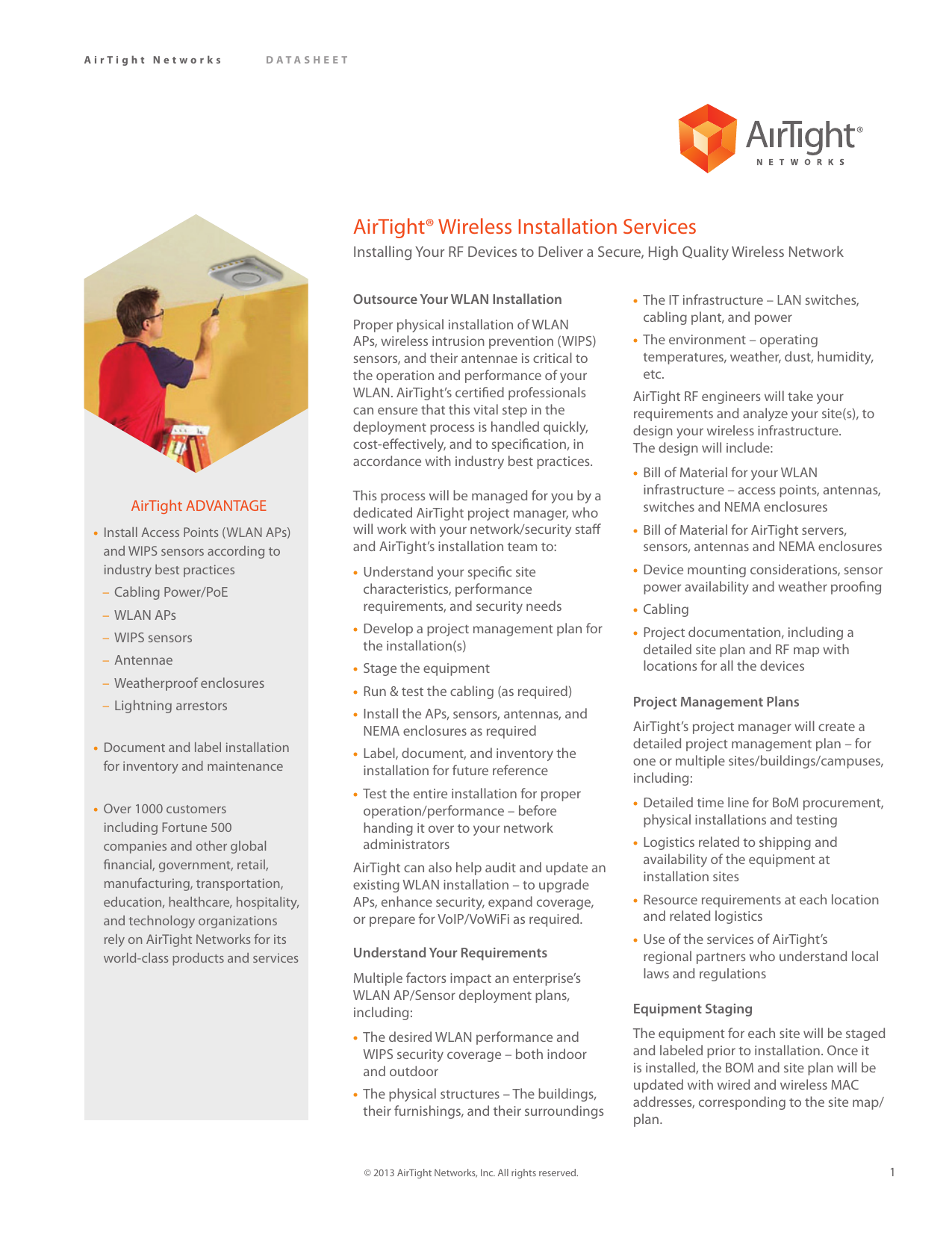 AirTight Networks
D ATA S H E E T AirTight® Wireless Installation Services
Installing Your RF Devices to Deliver a Secure, High Quality Wireless Network
Outsource Your WLAN Installation
Proper physical installation of WLAN
APs, wireless intrusion prevention (WIPS)
sensors, and their antennae is critical to
the operation and performance of your
WLAN. AirTight's certified professionals
can ensure that this vital step in the
deployment process is handled quickly,
cost-effectively, and to specification, in
accordance with industry best practices.
AirTight ADVANTAGE
•• Install Access Points (WLAN APs)
and WIPS sensors according to
industry best practices
–– Cabling Power/PoE
–– WLAN APs
–– WIPS sensors
–– Antennae
–– Weatherproof enclosures
–– Lightning arrestors
•• Document and label installation
for inventory and maintenance
•• Over 1000 customers
including Fortune 500
companies and other global
financial, government, retail,
manufacturing, transportation,
education, healthcare, hospitality,
and technology organizations
rely on AirTight Networks for its
world-class products and services
This process will be managed for you by a
dedicated AirTight project manager, who
will work with your network/security staff
and AirTight's installation team to:
•• The IT infrastructure – LAN switches,
cabling plant, and power
•• The environment – operating
temperatures, weather, dust, humidity,
etc.
AirTight RF engineers will take your
requirements and analyze your site(s), to
design your wireless infrastructure.
The design will include:
•• Bill of Material for your WLAN
infrastructure – access points, antennas,
switches and NEMA enclosures
•• Bill of Material for AirTight servers,
sensors, antennas and NEMA enclosures
•• Understand your specific site
characteristics, performance
requirements, and security needs
•• Device mounting considerations, sensor
power availability and weather proofing
•• Develop a project management plan for
the installation(s)
•• Project documentation, including a
detailed site plan and RF map with
locations for all the devices
•• Stage the equipment
•• Run & test the cabling (as required)
•• Install the APs, sensors, antennas, and
NEMA enclosures as required
•• Label, document, and inventory the
installation for future reference
•• Test the entire installation for proper
operation/performance – before
handing it over to your network
administrators
AirTight can also help audit and update an
existing WLAN installation – to upgrade
APs, enhance security, expand coverage,
or prepare for VoIP/VoWiFi as required.
Understand Your Requirements
Multiple factors impact an enterprise's
WLAN AP/Sensor deployment plans,
including:
•• The desired WLAN performance and
WIPS security coverage – both indoor
and outdoor
•• The physical structures – The buildings, their furnishings, and their surroundings
© 2013 AirTight Networks, Inc. All rights reserved.
•• Cabling
Project Management Plans
AirTight's project manager will create a
detailed project management plan – for
one or multiple sites/buildings/campuses,
including:
•• Detailed time line for BoM procurement, physical installations and testing
•• Logistics related to shipping and
availability of the equipment at
installation sites
•• Resource requirements at each location and related logistics
•• Use of the services of AirTight's regional partners who understand local
laws and regulations
Equipment Staging
The equipment for each site will be staged
and labeled prior to installation. Once it
is installed, the BOM and site plan will be
updated with wired and wireless MAC
addresses, corresponding to the site map/
plan.
1
AirTight Networks
D ATA S H E E T About
AirTight Networks
AirTight Networks is a global
provider of secure Wi-Fi solutions
that combine its patented and
industry-leading wireless intrusion
prevention system (WIPS)
technology with the next generation
cloud-managed, controller-less
Wi-Fi architecture. This unified
approach allows enterprises for
the first time to benefit from
Wi-Fi access while concurrently
protecting their networks 24/7 from
wireless threats at no additional
cost. AirTight's customers include
global enterprises across virtually
all industries and range from those
who overlay AirTight WIPS™ on top
of other WLAN solutions, to those
who leverage the AirTight Cloud
Services™ to manage AirTight
Wi-Fi™, WIPS, and regulatory
compliance (e.g., PCI) across tens of
thousands of locations from a single
console. AirTight owns 29 granted
U.S. and international patents
on WIPS and cloud-managed
wireless security, with more than
20 additional patents pending.
For more information, please visit:
www.airtightnetworks.com.
AirTight is a registered trade­mark
of AirTight Networks, Inc. AirTight
Networks, AirTight Networks logo,
AirTight Cloud Services and AirTight
Secure Wi-Fi are trademarks. All other
trademarks are the property of their
respective owners.
Cabling
If new cabling is required, AirTight can
manage this for you, or you can use
your own cabling contactor. If AirTight
installs the cabling, we will ensure strict
compliance to local building codes and
regulations. In either case, as part of the
installation service, AirTight will ensure
that:
•• Cable runs are prepared for access
points, antennae and sensors
•• Cables are tested and terminated
properly
•• Power is supplied for the APs and WIPS
sensors - either through PoE or local
power outlets
Physical Installation & Verification
AirTight's team will complete
•• Installation and initial configuration of
the AirTight® Enterprise Server(s) [does
not include configuration/tuning of the
wireless security policy]
•• Installation of the APs, sensors,
and antennae in accordance with
AirTight (or WLAN AP vendor) physical
installation guidelines and industry best
practices:
–– Weather-proofing for extreme
temperatures, rain, dust, shock and
lightning protection
–– Distance from metal masts, minimum
distance from lighting fixtures and
ceiling mounts
–– Cable joining, bending, maximum
cable length, spacing of cable
supports and strain relief
•• Verification of connectivity for each AP
and sensor
•• Device labeling with location identifiers
•• Verification of RF coverage and wireless
security enforcement - post installation
AirTight and its regional partners will
adhere to building, local and national
regulations for equipment installation.
Handover
Upon conclusion of the installation and
verification, a formal project handover will
be scheduled – with acceptance criteria
and full documentation.
Installation Service
Installation Service Prerequisites/Requirements
- Building maps/floor plans
- LAN switch ports for each AP or sensor
- Rack space for AirTight WIPS Server
- Adequate power for the server and POE injectors (if required)
- AirTight WIPS Server(s) and Sensors have been procured
- Access points, wireless controllers, devices and antennas have been procured
- IP Addressing scheme for all Server(s) and Sensors has been finalized
- Assigned point of contact at Customer Site
Note: If you want the AirTight team to remediate your existing WLAN installation, you will have to
provide the bill of material for access points, WLAN controllers, antennas and their configuration. We
can work with your IT staff to add additional WLAN and Wireless Security coverage to existing sites
Installation Service Deliverables
- Document customer needs gathered using phone and Webex sessions
- Physical installation of all devices in the bill of material
- Connectivity between Sensors and Servers
- Executive status report at the end of the installation
- Debrief session with the customer via phone and Webex
Getting Started
For more information, please visit www.airtightnetworks.com/wlan-services or email
sales@airtightnetworks.com.
The Global Leader in Secure Wi-Fi Solutions
AirTight Networks, Inc. 339 N. Bernardo Avenue #200, Mountain View, CA 94043
T +1.877.424.7844 T 650.961.1111 F 650.961.1169 www.airtightnetworks.com info@airtightnetworks.com
© 2013 AirTight Networks, Inc. All rights reserved. AirTight Networks and the AirTight Networks logo are trademarks, and
AirTight is a registered trademark of AirTight Networks, Inc. All other trademarks mentioned herein are properties of their
respective owners. Specifications are subject to change without notice.