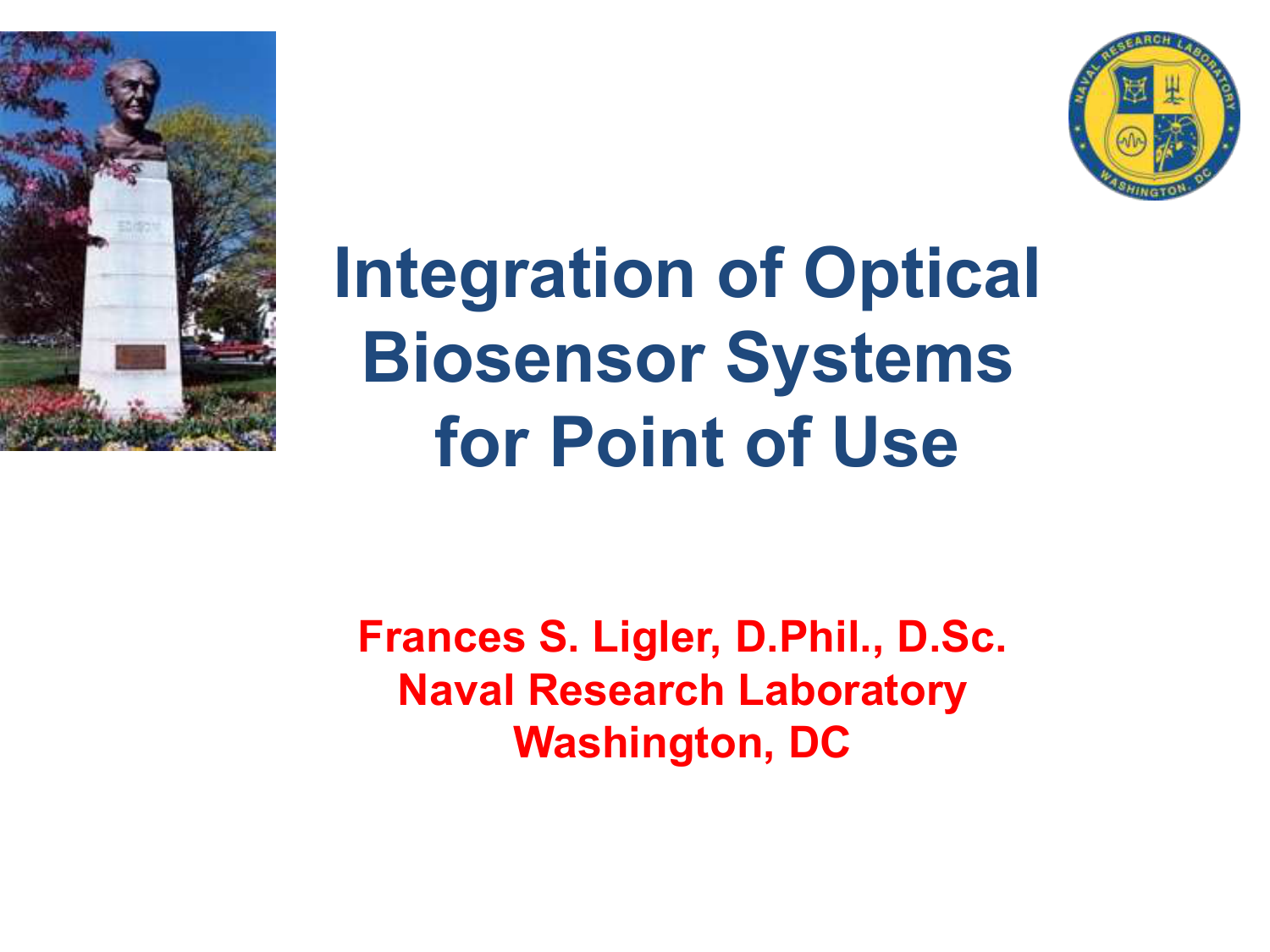 Integration of Optical
Biosensor Systems
for Point of Use
Frances S. Ligler, D.Phil., D.Sc.
Naval Research Laboratory
Washington, DC
Movement to Point of Use: Drivers
I.
Public concerns
II. Immediacy: Eliminate sample transportation
III. New concepts for molecular recognition
IV. Integration of microfluidics and optics/electronics
V. Simplified fabrication technologies
VI. Miniaturization in electronics & communication
VII. Systems integration choices
I. Public Concerns*
•
•
•
•
•
•
Medical awareness—point of care
Diagnostics for developing countries
Homeland security
Clean drinking water
Other toxic materials, nanotechnology ―threat‖
Energy
USER DRIVES SYSTEM DESIGN
*Grant funding/market opportunity
NRL Automated Biosensors 1996-2012
Lifepoint
Impact
Fast 2000
Analyte 2000 on UAV BioHawk
Fast
6000
RAPTOR Plus
CT-Array Biosensor
mBio
Leopard
Signalyte
UUV mounted
immunosensor
II. Immediacy: Eliminate sample transportation
• Medical
– Hospital bedside
– Doctor's office
– Home
– Remote telemedicine
• Environmental monitoring: pollution &
climate change
• Food safety from source to store
• Homeland security and military operations
Autonomous Mobile Biosensor Systems
Spinoffs: Portable cyclone air samplers and fiber optic
biosensors (Research International)
Robust air sampler for BioWatch
Future: Swarms
•Remote identification
•10 lb payload
•Ram air cyclone
•4-fiber biosensor
•Lyophilized antibodies
•Assays at 5 min intervals
• Real-time data transfer
•Successful demos at Dugway Proving
Ground
•Widespread sensing and data collection, agile networks
•Nodes can be cell phones, autonomous vehicles,
medical devices, other data collection platforms
•Changes in chemistry, physiology, epidemiology, safety
•Geospatial information from meters to continents
Ligler et al. (1998) Remote sensing using an airborne
biosensor. Environ. Sci. & Tech., 32, 2461-2466.
Microarray Immunosensors
Sandwich
Concept
2005-2012 Commercial Products
Glass slide
CT-Array Biosensor
NRL Developmental Prototype
•
•
•
•
•
mBio
Leopard
Small camera
0.4 ft3 box
<10 lb.
External computer control
Moldable reservoirs
Golden et al. (2005) Talanta 65, 1078-1085.
Golden et al., 1999, SPIE 3602, 132
Golden et al., 1999, SPIE 3602, 132
Microarray Biosensor for the Future
IBM concept for $1 multiplexed POC immunosensor for whole blood
Published by Gervais et al. in Adv. Mater. 2011, 23, H151–H176
III. New concepts for molecular recognition
and signal generation
•
•
•
•
Single domain antibodies
Anti-microbial peptides
Carbohydrates
Designer peptides
Single-domain Antibodies & Fragments
27KDa
Human / Rabbit / Mouse
12 & 15 KDa
• SdAb are stable: refold after exposure
– Heat as high as 95oC
– Solvent
• Papers by Ellen Goldman & George Anderson
Llama SdAb's heated to 95o,
Cooled to 25o
Tested for binding to SEB
Antimicrobial Peptides for Semi-selective Recognition
•
•
•
•
Naturally occurring peptides - innate immune system
12-45 amino acids
Disrupt microbial membranes
+ PE PN Ab
- PA Ab
Semi-selective binding
MI
CA PB
+
0 ng/ml
1
10
100
500
1000
– ID based on pattern of binding
Normalized percent of binding
120
E. coli
Salmonella
Coxiella
Brucella
100
80
BotA assays
60
40
•First demo
- toxin detection
•Environmentally stable
20
0
Magainin
Polymyxin B
Cecropin A
Parasin
Bactenicin
Polymyxin E
Kulagina, et al. (2005) Anal.Chem. 77, 6504-6508; (2006) Anal. Chim. Acta 575, 9-15; (2006) Sens. Act. B, 121,
150-157; (2007) Sensors 7, 2808-2824.
Carbohydrate-Target Interactions
Bacterium
Virus
Cell
Toxin
Glycoprotein
Nathan Sharon & Halina Lis in SCIENTIFIC AMERICAN January 1993, 82-89
More Sugars
Anti-CT mAb
PBS
Galβ1-3GalNAcβ
β-GalNAc
Galβ1-4Glc β
Carbohydrate Binding of Toxins
• α-Neu5Ac
• Neu5Acα2-8Neu5Acα
• Neu5Acα2-3Galα1-4Glcβ
Campylobacter
TT (20)
TT (0)
• Neu5Acα1-3Galα1-3GalNAcα
No recognition
Ricin (10)
Ricin (5)
Ricin (0)
Other targets
CT (5)
CT (0.5)
CT (0)
•Bot. toxoid A
Cy5-CT (5)
Cy5-CT (0.5)
Cy5-CT (0)
• Campylobacter
(µg/ml)
• Cy5-TT
• SEB
• E. coli 0157:H7
• Salmonella
No recognition
Ngundi et al. (2006) Biosens. Bioelectron., 22, 124-130; (2007) Sensor Letts. 5, 621-624.
Designer Peptides
David Baker's FoldIt game harnesses
human creativity through gaming and
social networking to address
molecular design problems.
Eiben, C. B., et al. Increased Diels-Alderase activity through backbone
remodeling guided by Foldit players Nature biotechnology. 30(2), 190-2. (2012)
IV. Integration of microfluidics with
optics/electronics
•Single structure provides multiple functions
•Optical and fluidic components integrated into single substrate
•Low energy electronic components for data acquisition and transmission
•Compatibilty with personal electronics
Integrating fluidic channel, sensor surface,
and waveguide for signal collection
***********
YYYYYYYYYYYYY
Excitation
Emission
*
*
*
*
*
*
*
*
*
*
*
YYYYYYYYYYYYY
Ligler et al. (2002) Anal. Chem.; 74, 713-719.
Signalyte
CreatvMicrotech
Fluid Focusing using Laminar Streams
Concept of "Soft Boundaries"
Fluids focus fluids
2A)
3A)
Fluids focus light.
2B)
3B)
3C)
Channel wall
Symmetry plane at
center of channel
Howell et al. (2008) Lab Chip,
8, 1097 - 1103.
Hydrodynamic Focusing of Conductance
Fluidic
Channel
Current
Electrode
Sense
Electrodes
Permanent
Magnets
Captured
5µ Beads
Current
Electrode
Inlet 2
Low -Conductivity Confinement Flow
Cells Specifically Bound
t1
Ionic Buffer
R
Before
V
After
Outlet
Polymer Optics Integrated with Microfluidics
Parallel processing without walls
Polymer diode array
Integrated system
focused
Wojciechowski, et al. (2009) Organic Photodiodes for Biosensor Miniaturization, Anal.Chem. 81, 3455-3461.
Integrated Laser Diodes as Light Sources
UV transparent ribbon
carrying bare die
LED's
Bare die LED
being transferred
Micromachined
trench
UV absorbent
material
~100 mm
Transferred
bare die LED
Substrate
LDW of Blue LED
~ 250 µm
Bare LED
Metallic
Interconnects
Connected LED
Laser transfer and embedding can also be used for edge emitter laser diodes
(sources) and photodiodes (detectors) as well as microlenses and prisms
required for the complete miniaturized sensor package (A. Pique et al.)
LED Array by Laser Direct Write on Polyimide
~ 250 µm
The bare die LEDs are 100 µm thick and the polyimide substrate is ~125 µm thick.
Alberto Pique, NRL
Integration of Microfluidic Valves
Reviewed in Gervais et al. in Adv. Mater. 2011, 23, H151–H176 (Fig 6).
Integration of Microfluidic Pumps
From Gervais et al. in Adv. Mater. 2011, 23, H151–H176 (Fig. 7)
Immunodiagnostics liked to GPS
and telecommunicaions
Explosive detection using
unmanned underwater vehicle (Remus)
•Displacement immunoassay on a chip
•No reagent additions
•Continuous monitoring for days
•Assays directly in sea water
•Optical readout transmitted to PDA
•Coordinated with onboard GPS data
Anne Kusterbeck, PI (NRL)
V. Simplified Fabrication Technologies
•
•
•
•
•
Soft lithography
CNC milling
Laser ablation
Laser direct write
Hot embossing
Materials
Hard:
– Glass
– Silicon
– Thermoplastics
• Soft:
– PDMS
– Hydrogels
– Teflon
– Thermoplastics
– Paper
Surface modifcation:
--antifouling
--hydrophilic/hydrophobic
--tethers for biomolecules
--metal-coatings
--textured
VI. Miniaturization in electronics &
communication
•
•
•
•
•
Personal communication
Personal data access (e.g. IPhone, IPad)
Cloud computing
Agile networks
On-chip energy sources
VII. Systems Integration Choices
Choices dictated by application and user.
Choices are interconnected.
Results must be accurate, timely & actionable.
•
•
•
•
•
•
Integrated or off-chip optics/electronics
Option of on-chip pumps and valves
Automated sample processing
Automated analysis
Integrated data processing
Telecommunications for data transfer
Examples of System Choices
• Automated detection using antibody array
– MBio diagnostics for resource-limited settings
– Leopard array immunosensor for food safety
• Microflow cytometry
– Analysis using coded beads
• Multiplexed detection of biothreat agents
• Clinical diagnostics or environmental monitoring
– Continuous monitoring of marine algae
• MBio Diagnostics, Inc., Boulder, CO
• One sample, panel of results, in minutes
– Multiplexed assays at point-of-care
– Blood: HIV, Hepatitis, …
– Respiratory: Flu, Strep, …
– Cardiac: Troponin, …
– Cell counting: CD4, …
Disposable reagents, fluidics, waveguide
Handheld reusable optics, electronics
Inexpensive, battery operated
© 2011 MBio Diagnostics, Inc.
MBio Multiplexed Serology System
© 2011 MBio Diagnostics, Inc.
Antenatal Screening Panel
HIV
Hepatitis Syphilis
Replace three
rapid tests
• >1 million deaths: congenital HIV & syphilis
• Trial: Antenatal clinics in Kenya, 2700 patients
© 2011 MBio Diagnostics, Inc.
MBio Cell Counting System
Brightfield
Fluor1; CD3+
Fluor2; CD4+
~500 um
Three registered images
Differential staining
© 2011 MBio Diagnostics, Inc.
0.5 mm
MBio CD4+ Cell Count
Current Clinical Sample Data
MBio CD4+ Count (cells/ul)
1500
1000
MBio
Identity
Passing Bablok
500
0
0
500
1000
1500
CD4+ Count (cells/ul)
Flow Cytometry (BD FACSCalibur)
© 2011 MBio Diagnostics, Inc.
Contact:
• Chris Myatt, CEO
– chris.myatt@mbiodx.com
• Mike Lochhead, Vice President
– mike.lochhead@mbiodx.com
Opportunity: Food Safety
Hanson Technologies' OmniFresh 1000™
• Same automation as NRL Array Biosensor
• Integrated with large-volume concentrator
• Screens entire produce lots
• Continuously samples produce wash
• Results in 2 hours
• Large samples (100-300 gallons)
• Concentrates and then detects
microorganisms using array biosensor
• Two highly successful validation pilots
completed on production washing
36
machines
Microflow Cytometry based on
Hydrodynamic Focusing
•
•
•
•
Grooves direct sheath fluid above and below core stream
Simulations and confocal images match closely
Number of chevrons determines height of core
Relative flow rates determines width of core
Confocal Validation of Core Geometry
Top view
Side view
Cross section
Multiplexed Immunoassays
Coded Beads
E. Coli
73
Salmonella
77
58
Bead
Array
32
Assays for detection of multiple targets
Listeria
Camphylobacter
Different antibodies on each bead enables deeply multiplex detection
Capture
bead
Bioagent Labeled
antibody
Color
analysis
2 Fluorescent ID Tags
Light Scatter
Phycoerythrin Tracer
Cholera toxin assay
0.7
6000
0.6
5000
0.5
0.4
3000
0.3
Luminex
Microcytometer
4000
bead 81: CTX
bead 75: BSA
Luminex bead 81: CTX
2000
0.2
1000
0.1
0
0.0001
0
0.001
0.01
0.1
1
Toxin concentration (ng/ml)
10
100
1000
NRL 12-Plex Assay for E. coli O157:H7
10
96
96
92
92
71
71
75
75
100
100
79
79
77
77
81
81
1
50
50
54
54
56
56
58
58
Normalized
PE >3
0.1
0.01
0.1
1
10
50 – g α Listeria
54 – chicken IgY (+ control)
56 – g α E. coli O157:H7
58 – g α Salmonella
71 – r α Ricin toxin
75 – BSA (- control)
77 – m α F. tularensis
79 – r α Y. pestis
81 – r α Cholera toxin
92 – m α SEB
96 – g α B. anthracis
100 – r α Shigella
Detection Limits
Bead Sets and Limits of Detection
Detection Limits – 10% serum
Bead ID
Analyte
Detection Limits-buffer
50
Listeria
1x105 (cells/ml)
1x106 (cells/ml)
54
Chicken IgY
Positive Control
Positive Control
56
E.Coli
1x104 (cells/ml)
1x104 (cells/ml)
58
Salmonella
1x105 (cells/ml)
71
Ricin
1x10-2 (ng/ml)
Not determined
75
BSA
Negative Control
Negative Control
77
F. tularensis
1x 105 (cells/ml)
1x106 (cells/ml)
1x 105 (cells/ml)
79
Y. Pestis
1x 105 (cells/ml)
Not determined
81
Cholera toxin
1x10-1 (ng/ml)
Not determined
92
SEB
1x100 (ng/ml)
Not determined
96
B. Anthracis
1x 104 (cells/ml)
1x 105 (cells/ml)
100
Shigella
1x 105 (cells/ml)
1x 105 (cells/ml)
E. coli Assay
E. coli -10% serum normalized
1.6
Normalized Fluorescence
1.2
0.8
0.4
0
1.00E-01
-0.4
1.00E+01
1.00E+03
Concentration (cells/ml)
1.00E+05
1.00E+07
Automated Sample Prep
Sample
+ Beads
Biotinylated
Antibody
Cocktail
PE-Streptavidin
Magnetic
Trap
Howell et al. Patent Publication 20110188339, and
international application PCT/US11/22942
Verbarg et al. 2012 Lab on a Chip. Advance Article
DOI: 10.1039/C2LC21189K
Changing Magnetic Field in Microchannel
Capture and Release
Automated Processing for E.Coli Detection
•Stronger signal in less time
• Less reagent required
•Preconcentration if desired
•Sample volumes flexible
Black bars: automated processing: 5 min + 3 min reagent exposures
Gray bars: manual processing with 5 min + 3 min reagent exposures
White bars: manual processing with 30 min + 30 min reagent exposu
Microflow Cytometer with
Automated Sample Processing
•Can be used for:
sequential samples (clinical, food, grab)
periodic monitoring (air, water)
•On chip reagents, mixing, analysis
•Off chip magnets, optics, pumps, data processing
GE + NRL: Integrate Sample Prep with Microflow
Cytometer on Disposable Chip for POC
Sample Preparation Module
Reservoir
1
Reservoir Reservoir
2
4
Microcytometer Module
Sheath Fluid
Optical Detection
Fluidic Control
Magnetic
Trap Port
3
5
Reservoir Reservoir
Waste
Outlet
Sheath Fluid
Sheath Fluid
Sample
Sheath Fluid
Automated Microflow Cytometer System
for Marine Algae: System considerations
•
•
•
•
•
Core Size – ideally the diameter of the smallest expected particle.
– Larger core size gives more throughput but poor variance
(Algae are submicron to hundreds of microns)
Particle velocity – higher velocity provides greater throughput.
– Increases internal backpressures requires more power-intensive pumps
– Faster signal processing requires more power-intensive microcontroller
(Bigger algae are very dilute)
Detector Dynamic range – Wider range improves algae discrimination
– Requires decreasing electronic noise provided by more expensive/complex electronic parts
– Alternative is to overlap detectors, which requires more space and power
(Scatter can be misleading due to inclusions in algae, colors critical)
Resolution – the best resolution occurs with 16 or more data points per peak.
– Faster sample processing (more power-intensive electronics)
– More data throughput (complex electronic design)
– More expensive detectors
– Extra data storage space
(Data must be stored on board)
Sensitivity – increase minimum light level detection
– Complex optical schemes (expensive coatings and parts, can require a lot of space)
(Total system must fit in 8'inc h diamter can)
Microflow Cytometer to Detect Changes
Microflow Cytometer
Field trials in fall 2011
•Reconfigured for corrosion resistance
•Integrated in can for submersion
•Pressure tested
•Cage-deployed off Oregon coast
•Measured 3 distinct algael populations
•NO LEAKS
Undergoing further miniaturization
• 1 µ Synechococcus
• 12-85 µ Nitzschia d.
• 8-32 µThalassiosira
Accuri C6
N. Hashemi, J.S. Erickson, J.P. Golden, F.S. Ligler, Biosensors and Bioelectronics (2011)
Optical Biosensors
• Current
– Commercial biosensors available for point of use
– Initial use by defense and diagnostics industries
– Multiple commercial transitions
• Near term
– Expanding sensing capability/information density
– Miniaturization of automated systems
• Future
– Small, inexpensive, easy-to-use sensors:
for diagnostics, environmental monitoring, food & water safety
– Biosensors for distributed operations:
multiple targets, continuous monitoring, networked response
Thank You
NRLers
Chris Taitt
Lisa Shriver-Lake
Joel Golden
Peter Howell
Jeff Erickson
David Mott
George Anderson
Kim Sapsford (now FDA)
Alberto Pique
Carl Villarruel
Post Docs
Miriam Ngundi
Nadia Kulagina
Abel Thangawng
Dan Ateya
Jason Kim
Jason Wojciechowski
Mansoor Nasir
Nastaran Hashemi
Yasenka Memisevic
Sponsors
Defense Threat Reduction Agency
ONR/NRL
DARPA
NIH
Corporate Partners
Precision Photonics
Research International
Hanson Technologies
Constellation Technologies
BioIdent
Life Point
GE Global Research
Creatv Microtech
AND YOU FOR LISTENING!