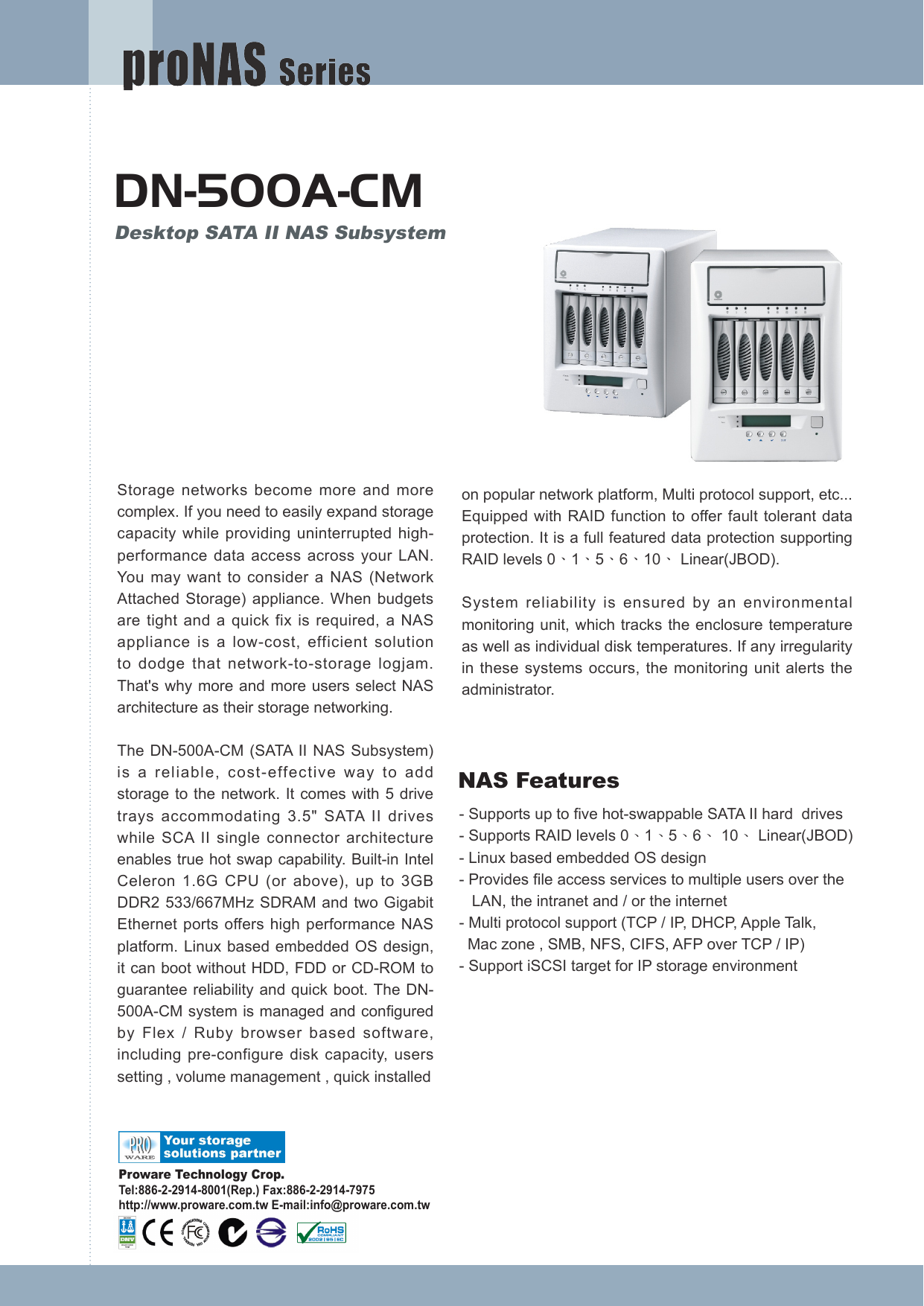 DN-500A-CM
Desktop SATA II NAS Subsystem
Storage networks become more and more
complex. If you need to easily expand storage
capacity while providing uninterrupted highperformance data access across your LAN.
You may want to consider a NAS (Network
Attached Storage) appliance. When budgets
are tight and a quick fix is required, a NAS
appliance is a low-cost, efficient solution
to dodge that network-to-storage logjam.
That's why more and more users select NAS
architecture as their storage networking.
The DN-500A-CM (SATA II NAS Subsystem)
is a reliable, cost-effective way to add
storage to the network. It comes with 5 drive
trays accommodating 3.5" SATA II drives
while SCA II single connector architecture
enables true hot swap capability. Built-in Intel
Celeron 1.6G CPU (or above), up to 3GB
DDR2 533/667MHz SDRAM and two Gigabit
Ethernet ports offers high performance NAS
platform. Linux based embedded OS design,
it can boot without HDD, FDD or CD-ROM to
guarantee reliability and quick boot. The DN500A-CM system is managed and configured
by Flex / Ruby browser based software,
including pre-configure disk capacity, users
setting , volume management , quick installed
Proware Technology Crop.
Tel:886-2-2914-8001(Rep.) Fax:886-2-2914-7975
http://www.proware.com.tw E-mail:info@proware.com.tw
on popular network platform, Multi protocol support, etc...
Equipped with RAID function to offer fault tolerant data
protection. It is a full featured data protection supporting
RAID levels 0、1、5、6、10、 Linear(JBOD).
System reliability is ensured by an environmental
monitoring unit, which tracks the enclosure temperature
as well as individual disk temperatures. If any irregularity
in these systems occurs, the monitoring unit alerts the
administrator.
NAS Features
- Supports up to five hot-swappable SATA II hard drives
- Supports RAID levels 0、1、5、6、 10、 Linear(JBOD)
- Linux based embedded OS design
- Provides file access services to multiple users over the
LAN, the intranet and / or the internet
- Multi protocol support (TCP / IP, DHCP, Apple Talk,
Mac zone , SMB, NFS, CIFS, AFP over TCP / IP)
- Support iSCSI target for IP storage environment
Series Technical Specifications
Model Number : DN-500A-CM
H/W Platform
Intel Celeron 1.6G CPU (or above)
Cache memory: 1GB ~ 3GB DDR2 533/667MHz
Supports 5 SATA II hard drives
Two Gigabit Ethernet port
Environmental monitoring unit
300W power supply with PFC
Storage
Equipped with RAID function to offer fault tolerant data protection
Supports RAID levels 0、1、5、6、 10 Linear(JBOD)
Volume Management
Disk usage statistics
Hot spare capability
Connectivity
SMB over TCP / IP
NFS over UDP / IP
CIFS over TCP / IP
NAT
DHCP
FTP
Internet Server
Unit acts as a DHCP server
Unit acts as a master browser
Share level security
User ID security for NFS
Macintosh Support
AFP over Apple Talk
AFP over TCP / IP
Mac zones
iTune service
Specification are subject to change without notice.
*The max. size of logical volume is 16TB.
General
File Server Independent
Localized language support
Support Quick setup
Supports trunking / load balance / fail over / LACP(802.3ad)
Support UPS management
Support USB printer server
Support BT download
iSCSI Target
Support U-Share
System Management
Windows and Macintosh Client Discover Utility Tool
Automatic IP address configuration
Management through Web browser
Flash upgradeable unit
Supports Microsoft ADS / PDC and Unix NIS accounts import
Fail-free online firmware upgrade
Unicode support
Backup / Restore support
Back Solution
Power Requirements
AC 100V ~ 240V Full Range
6.3A, 50Hz ~ 60Hz
Environmental
Relative Humidity: 10%~85% Non-condensing
Operating Temp: 10OC ~ 40OC (5OOF ~ 104OF)
Physical Dimensions : 261 (H) x 180(W) x 390 (D)mm
Weight : 9.1Kg (without drives)
All company and product names are trademarks of their respective owners.

* Your assessment is very important for improving the work of artificial intelligence, which forms the content of this project