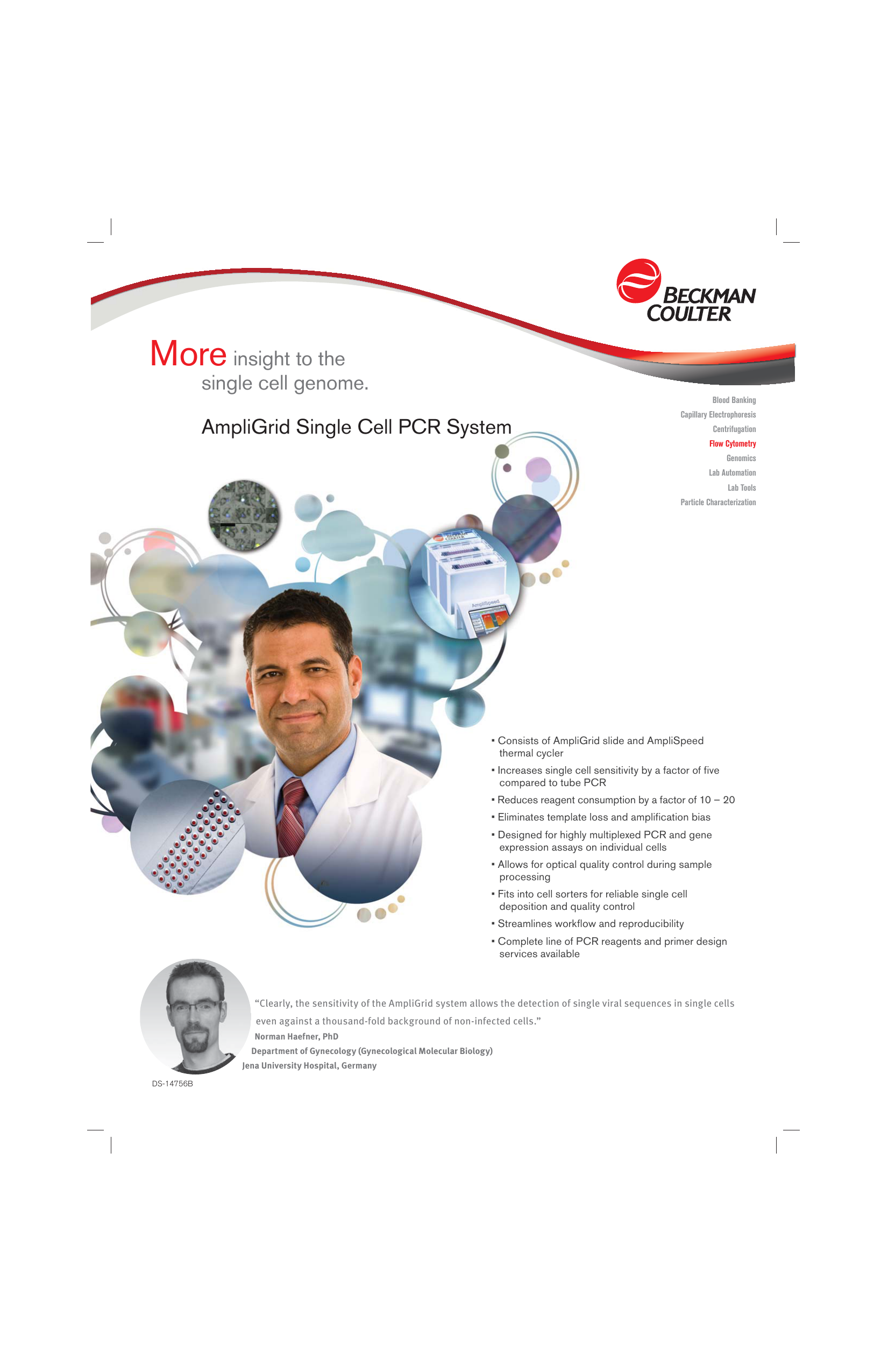 More insight to the
single cell genome.
Blood Banking
AmpliGrid Single Cell PCR System
Capillary Electrophoresis
Centrifugation
Flow Cytometry
Genomics
Lab Automation
Lab Tools
Particle Characterization
• Consists of AmpliGrid slide and AmpliSpeed
thermal cycler
• Increases single cell sensitivity by a factor of five
compared to tube PCR
• Reduces reagent consumption by a factor of 10 – 20
• Eliminates template loss and amplification bias
• Designed for highly multiplexed PCR and gene
expression assays on individual cells
• Allows for optical quality control during sample
processing
• Fits into cell sorters for reliable single cell
deposition and quality control
• Streamlines workflow and reproducibility
• Complete line of PCR reagents and primer design
services available
"Clearly, the sensitivity of the AmpliGrid system allows the detection of single viral sequences in single cells
even against a thousand-fold background of non-infected cells."
Norman Haefner, PhD
Department of Gynecology (Gynecological Molecular Biology)
Jena University Hospital, Germany
DS-14756B
AmpliGrid Platform Specifications
2,3 ±0,0
Dimensions
75,6 ±0,2
1,6 ±0,1
4,5 ±0,0
12,0 ±0,1
3,0 ±0,1
25,0 ±0,2
AG480F
A
B
C
D
serial#1
1 2 3 4 5 6 7 8 9 10 11 12
AmpliGrid
4,5 ±0,0
5,75 ±0,1
18,0 ±0,0
8,5 ±0,0
3,5 ±0,1
lay-on edge
AmpliGrid Single Cell PCR Slide
AmpliSpeed Thermal Cycler
Size: 25 mm x 75.6 mm (+/– 0.2 mm)
Material: Ultra-flat glass microscope slide
Number of reaction sites: 48
Diameter reaction sites (hydrophilic area): 1.6 mm (+/– 0.1 mm)
Diameter reaction sites (hydrophobic area): 3.0 mm (+/– 0.1 mm)
Features: Inactivated, DNA-free
Volume aqueous phase: 1 μL (+/– 10 %)
Volume sealing solution: 5.0 μL
Pitch reaction sites: 4.5 mm (+/– 0.0 mm)
Production facility class: 100 cleanroom
Temperature range: Ambient +15°C to 99°C
Temperature accuracy: +/- 0.2°C at 72°C
Temperature homogeneity: +/- 0.2°C after 20 seconds at 72°C
Effective heating rate: 3°C/sec.
Effective cooling rate: 3°C/sec.
Dimensions [mm] (wxdxh) ASC200D/400D : 126 x 295 x 112 /
126 x 486 x 112
Weight ASC200D/400D: 2.9 kg / 4.7 kg
Operation conditions: +10°C to + 30°C
Ordering Information
DNA-free microliter reaction slide (5 pcs./pck.), 48 reaction sites each, incl. 1 x 4 mL Sealing
Solution
B11228
DNA-free microliter reaction slide (5 x 5 pcs.), 48 reaction sites each, incl. 4 x 4 mL Sealing
Solution (for manual use)
OAX04505
AmpliSpeed two bay slide cycler instrument with display unit, incl. 1x AmpliTray
OAX04102
AmpliSpeed ASC400D
AmpliSpeed four bay slide cycler instrument with display unit, incl. 1x AmpliTray
OAX04103
AmpliGrid RT-PCR Cell
Sorting Starter Set
1x AmpliSpeed ASC200D, 5 x 5 pcs. AG480F, 1x Flow Cytometry Calibration Slide, 5x One-step
Single Cell RT-PCR Kit , 4 x 4 mL Sealing Solution
A98027
ASC400D-B3K
Biomek* 3000 integration set: ASC400D slide cycler mounted and leveled on carrier including all
accessories and software CD
B00278
AmpliGrid Single Cell
RT-PCR Kit
AmpliGrid Single Cell One-step RT-PCR system. Sufficient for 5 AG480F slides. No AmpliGrid
slides included.
AmpliGrid AG480F
AmpliSpeed ASC200D
OAX04515
www.coulterflow.com
Space for
FSC Logo
For Research Use Only. Not for use in diagnostics procedures.
Beckman Coulter, the stylized logo, AmpliGrid , AmpliSpeed and Biomek are trademarks of Beckman
Coulter, Inc. and are registered with the USPTO.
Printed with soy ink
For Beckman Coulter's worldwide office locations and phone numbers, please visit "Contact Us" at www.beckmancoulter.com
B2011-12769-DG-5000
© 2011 Beckman Coulter, Inc.
PRINTED IN U.S.A.