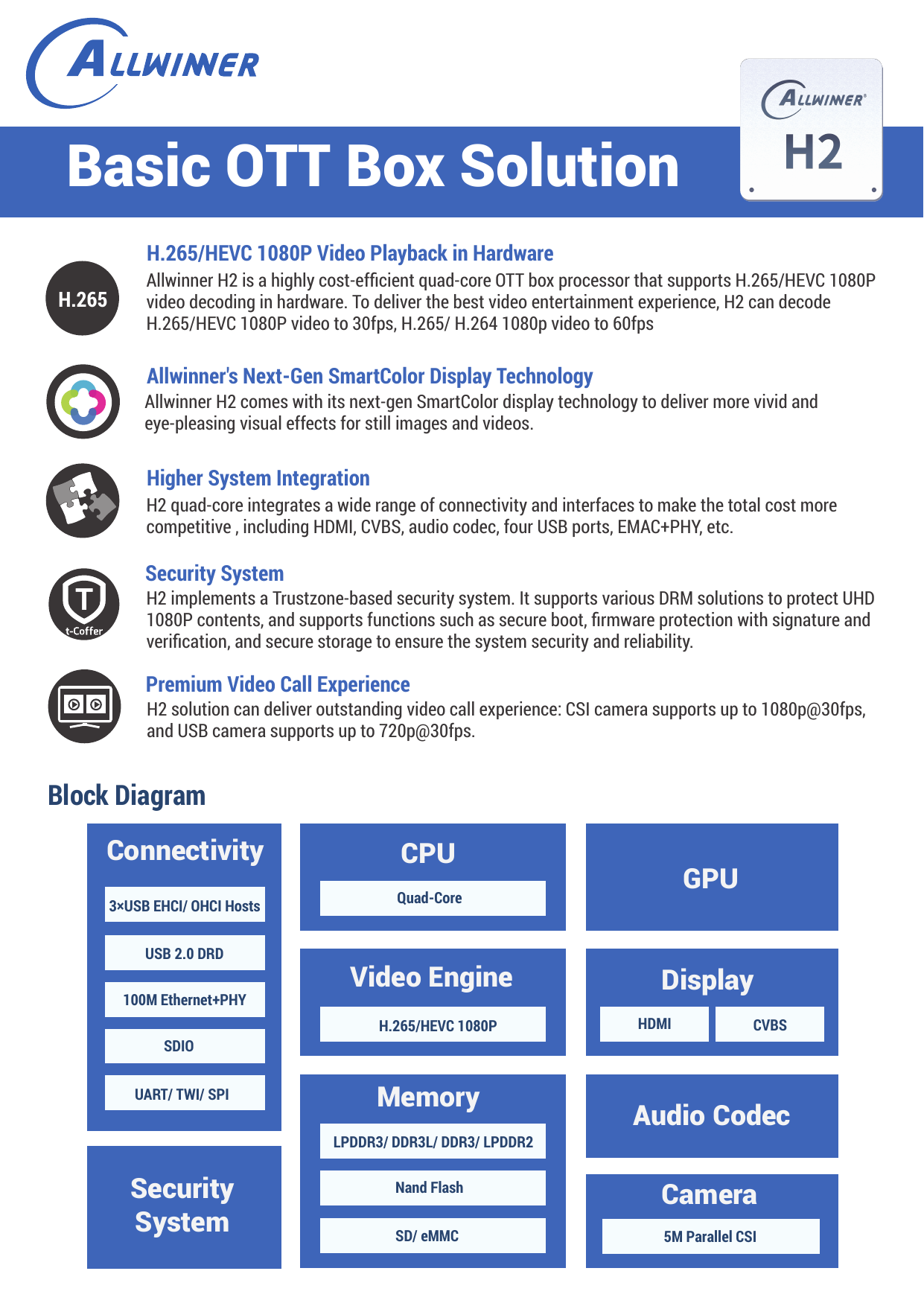 Basic OTT Box Solution
H.265/HEVC 1080P Video Playback in Hardware
H.265
Allwinner H2 is a highly cost-efficient quad-core OTT box processor that supports H.265/HEVC 1080P
video decoding in hardware. To deliver the best video entertainment experience, H2 can decode
H.265/HEVC 1080P video to 30fps, H.265/ H.264 1080p video to 60fps
Allwinner's Next-Gen SmartColor Display Technology
Allwinner H2 comes with its next-gen SmartColor display technology to deliver more vivid and
eye-pleasing visual effects for still images and videos.
Higher System Integration
H2 quad-core integrates a wide range of connectivity and interfaces to make the total cost more
competitive , including HDMI, CVBS, audio codec, four USB ports, EMAC+PHY, etc.
Security System
H2 implements a Trustzone-based security system. It supports various DRM solutions to protect UHD
1080P contents, and supports functions such as secure boot, firmware protection with signature and
verification, and secure storage to ensure the system security and reliability.
Premium Video Call Experience
H2 solution can deliver outstanding video call experience: CSI camera supports up to 1080p@30fps,
and USB camera supports up to 720p@30fps.
Block Diagram
Connectivity
3×USB EHCI/ OHCI Hosts
USB 2.0 DRD
100M Ethernet+PHY
SDIO
UART/ TWI/ SPI
CPU
Video Engine
H.265/HEVC 1080P
Memory
LPDDR3/ DDR3L/ DDR3/ LPDDR2
Security
System
GPU
Quad-Core
Display
HDMI
CVBS
Audio Codec
Nand Flash
Camera
SD/ eMMC
5M Parallel CSI
Features and Specifications
CPU
· Quad-core Cortex-A7
GPU
· Mali400MP2 GPU
· Supports OpenGL ES 2.0
Memory
Video
· Supports LPDDR2/ LPDDR3/ DDR3 / DDR3L SDRAM
· Supports 8-bit SLC/MLC/TLC/EF NAND with 64-bit ECC
· Supports SD/eMMC/tSD/fSD/efSD
· Supports H.265/HEVC 1080P@30fps video decoding
· Supports multi-format 1080p@60fps video decoding, including H.264 BP/MP/HP, VP8, MPEG1/2,
MPEG4 SP/ASP GMC,H.263 including Sorenson Spark, WMV9/VC-1, JPEG/MJPEG, etc
· Supports H.264 1080p@30fps video encoding
Display
· Supports HDMI output with HDCP
· Supports HDMI CEC
· Supports HDMI 3D function
· Integrated CVBS
· Supports simultaneous output of HDMI and CVBS
Camera
· Supports 8-bit YUV422 CMOS sensor interface
· Supports CCIR656 protocol for NTSC and PAL
· Supports 5M pixel camera sensor
· Supports video capture resolution up to 1080p@30fps
Security
System
· Trustzone based security architecture
· Supports mainstream DRM solutions
· Supports secure boot/secure storage
· Supports firmware signature and verification, supports version management
Integration
· Audio codec
· 3 x USB EHCI/OHCI Hosts, USB 2.0 DRD
· 100M Ethernet PHY
· CIR, UART, LRADC, SDIO
· Integrated CVBS
ABOUT ALLWINNER
Allwinner Technology is a leading fabless design company dedicated to smart application processor SoCs and smart analog ICs.
Its product line includes multi-core application processors for smart devices and smart power management ICs used by brands worldwide.
With its focus on cutting edge UHD video processing, high performance multi-core CPU/GPU integration, and ultra-low power consumption,
Allwinner Technology is a mainstream solution provider for the global tablet, internet TV, smart home device, automotive in-dash device,
smart power management, and mobile connected device markets. Allwinner Technology is headquartered in Zhuhai, China.
CONTACT US
For more product info, please contact service@allwinnertech.com, or scan the QR code to follow us on Wechat.
This brief is for reference only and has no commitment. All content contained herein is subject to changes without notice.
©2015 Allwinner Technology Co., Ltd.

* Your assessment is very important for improving the work of artificial intelligence, which forms the content of this project