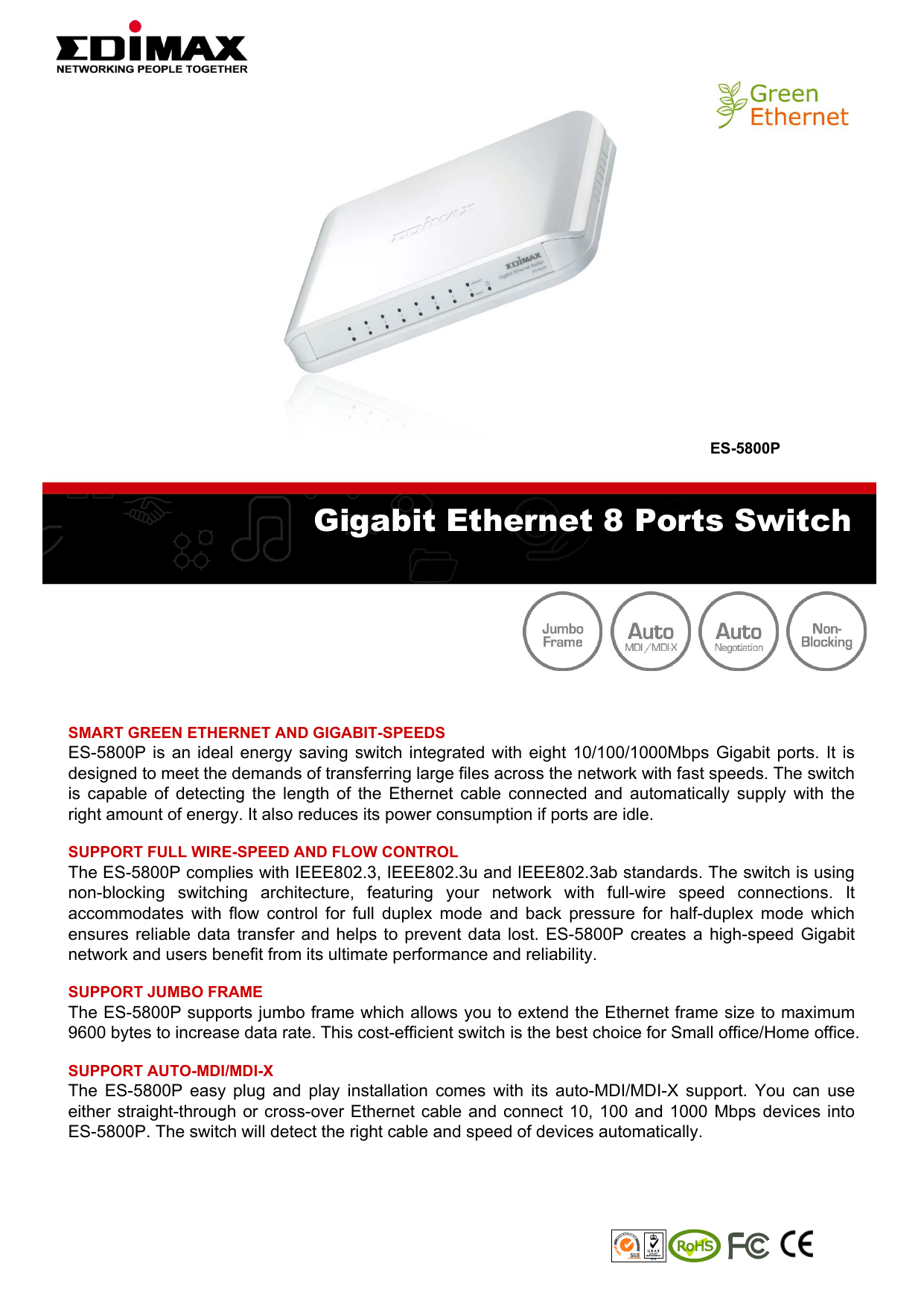 ES-5800P
Gigabit Ethernet 8 Ports Switch
SMART GREEN ETHERNET AND GIGABIT-SPEEDS
ES-5800P is an ideal energy saving switch integrated with eight 10/100/1000Mbps Gigabit ports. It is
designed to meet the demands of transferring large files across the network with fast speeds. The switch
is capable of detecting the length of the Ethernet cable connected and automatically supply with the
right amount of energy. It also reduces its power consumption if ports are idle.
SUPPORT FULL WIRE-SPEED AND FLOW CONTROL
The ES-5800P complies with IEEE802.3, IEEE802.3u and IEEE802.3ab standards. The switch is using
non-blocking switching architecture, featuring your network with full-wire speed connections. It
accommodates with flow control for full duplex mode and back pressure for half-duplex mode which
ensures reliable data transfer and helps to prevent data lost. ES-5800P creates a high-speed Gigabit
network and users benefit from its ultimate performance and reliability.
SUPPORT JUMBO FRAME
The ES-5800P supports jumbo frame which allows you to extend the Ethernet frame size to maximum
9600 bytes to increase data rate. This cost-efficient switch is the best choice for Small office/Home office.
SUPPORT AUTO-MDI/MDI-X
The ES-5800P easy plug and play installation comes with its auto-MDI/MDI-X support. You can use
either straight-through or cross-over Ethernet cable and connect 10, 100 and 1000 Mbps devices into
ES-5800P. The switch will detect the right cable and speed of devices automatically.
FEATURES AND TECHNICAL SPECIFICATIONS
HARDWARE INTERFACE
8 x 10/100/1000Mbps Ethernet Ports
LED Indicators: Power, Speed and Link/Activity
STANDARD
IEEE802.3, IEEE802.3u and IEEE802.3ab
IEEE802.3x
MAC Address
4K
FUNCTIONS
Jumbo Frame (9600 bytes)
Non‐Blocking
Store‐and‐Forward architecture
Full wire speed filtering Auto‐MDI/MDI‐X and auto learning
Auto‐negotiation HUMIDITY &
TEMPERATURE
10‐95% (Non‐condensing)
0~55 Degree Celsius
DIMENSION
180 x 111 x 25 mm
POWER ADAPTER
DC 12V, 1A
MEMORY BUFFER
128K Bytes
CERTIFICATIONS
CE, FCC GREEN ETHERNET
(a)
ES-5800P is capable of automatically detecting the length of the Ethernet cable and dynamically adjusting the power
consumption accordingly.
(b)
ES-5800P can detect the link status of each port. When the port is idle, the ES-5800P will reduce it's power usage.

* Your assessment is very important for improving the work of artificial intelligence, which forms the content of this project