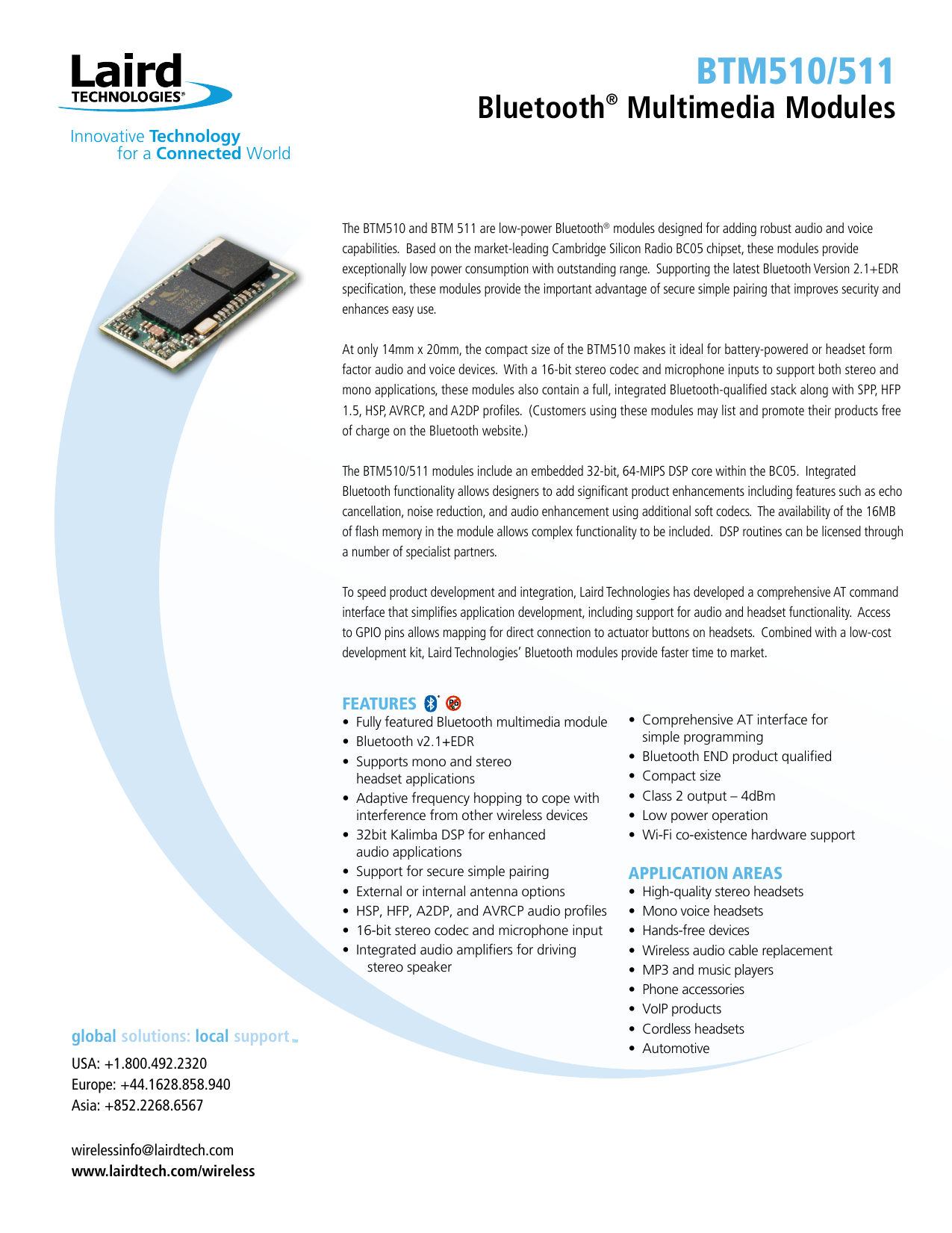 BTM510/511
Bluetooth Multimedia Modules
®
Innovative Technology
for a Connected World
The BTM510 and BTM 511 are low-power Bluetooth® modules designed for adding robust audio and voice
capabilities. Based on the market-leading Cambridge Silicon Radio BC05 chipset, these modules provide
exceptionally low power consumption with outstanding range. Supporting the latest Bluetooth Version 2.1+EDR
specification, these modules provide the important advantage of secure simple pairing that improves security and
enhances easy use.
At only 14mm x 20mm, the compact size of the BTM510 makes it ideal for battery-powered or headset form
factor audio and voice devices. With a 16-bit stereo codec and microphone inputs to support both stereo and
mono applications, these modules also contain a full, integrated Bluetooth-qualified stack along with SPP, HFP
1.5, HSP, AVRCP, and A2DP profiles. (Customers using these modules may list and promote their products free
of charge on the Bluetooth website.)
The BTM510/511 modules include an embedded 32-bit, 64-MIPS DSP core within the BC05. Integrated
Bluetooth functionality allows designers to add significant product enhancements including features such as echo
cancellation, noise reduction, and audio enhancement using additional soft codecs. The availability of the 16MB
of flash memory in the module allows complex functionality to be included. DSP routines can be licensed through
a number of specialist partners.
To speed product development and integration, Laird Technologies has developed a comprehensive AT command
interface that simplifies application development, including support for audio and headset functionality. Access
to GPIO pins allows mapping for direct connection to actuator buttons on headsets. Combined with a low-cost
development kit, Laird Technologies' Bluetooth modules provide faster time to market.
FEATURES
• Fully featured Bluetooth multimedia module
• Bluetooth v2.1+EDR
• Supports mono and stereo
headset applications
• Adaptive frequency hopping to cope with
interference from other wireless devices
• 32bit Kalimba DSP for enhanced
audio applications
• Support for secure simple pairing
• External or internal antenna options
• HSP, HFP, A2DP, and AVRCP audio profiles
• 16-bit stereo codec and microphone input
• Integrated audio amplifiers for driving
stereo speaker
global solutions: local support
USA: +1.800.492.2320
Europe: +44.1628.858.940
Asia: +852.2268.6567
wirelessinfo@lairdtech.com
www.lairdtech.com/wireless
TM
• Comprehensive AT interface for
simple programming
• Bluetooth END product qualified
• Compact size
• Class 2 output – 4dBm
• Low power operation
• Wi-Fi co-existence hardware support
APPLICATION AREAS
• High-quality stereo headsets
• Mono voice headsets
• Hands-free devices
• Wireless audio cable replacement
• MP3 and music players
• Phone accessories
• VoIP products
• Cordless headsets
• Automotive
BTM510/511
Bluetooth Multimedia Modules
®
Innovative Technology
for a Connected World
CATEGORIES
FEATURE
IMPLEMENTATION
Wireless Specification
Bluetooth®
Version 2.1+EDR
Frequency
2.402 – 2.480 GHz
Max Transmit Power
Class 2
+6dBm (at antenna pad – BTM510)
+6dBm (from integrated antenna – BTM511)
Receive Sensitivity
Better than -86dBm
Range
50 metres
Data Rates
Up to 2.1Mbps (over the air)
UART Data Transfer Rate
Greater than 300 Kbps
Host Interface
UART
Audio Interfaces
Codec
Microphone
Supports DTR, DSR, DCD and RI, multiplexed with other functionality.
Internal 16 bit Stereo Codec
Integrated Amplifiers for driving Stereo Speaker
Integrated low noise microphone bias
Integrated Kalimba DSP
32bit, 64MIPS
DSP
SPP – Serial Port Profile
HSP
HFP – Audio Gateway and Handset
A2DP – Source and Sink
AVRCP – Target and Controller
Profiles
Supply Voltage
Supply
3.0V – 3.6V DC
I/O
1.7V – 3.6V DC
Power Consumption
Current Consumption
Operational - Less than 70 mA (including speaker amplifiers)
Idle (sleep) < 1.5mA
Coexistence /
Compatibility
802.11 (Wi-Fi)
2 wire and 3 wire schemes supported
Connections
External Antenna
Connection via SMT pad – BTM510
Internal Antenna
Multilayer ceramic antenna – BTM511
Physical
Dimensions
Environmental
Operating Temperature
AT Command Set (extended for audio and headset functions)
14.0mm x 20.0mm x 1.6mm (external antenna – BTM510)
14.0mm x 26.0mm x 1.6mm (integrated antenna – BTM511)
-30°C to +70°C
Storage Temperature
-40°C to +110°C
Lead free
Lead-free and RoHS compliant
Warranty
1 Year
Development Kit
Development board and software tools
Programming API
Miscellaneous
Development Tools
ORDERING INFORMATION
BTM510 Bluetooth Multimedia Module (external antenna)
BTM511 Bluetooth Multimedia Module (with integrated antenna)
DVK-BTM510 Dev Kit with BTM510
The details contained within the document are subject to change. Download the product
specification from www.lairdtech.com/wireless for the most current specification.
global solutions: local support
USA: +1.800.492.2320
Europe: +44.1628.858.940
Asia: +852.2268.6567
wirelessinfo@lairdtech.com
www.lairdtech.com/wireless
TM
LWS-SPEC-BTM510-511 0109
Any information furnished by Laird Technologies and its agents is believed to be accurate and reliable. Responsibility for the use and application of Laird Technologies materials
rests with the end user since Laird Technologies and its agents cannot be aware of all potential uses. Laird Technologies makes no warranties as to the fitness, merchantability, or suitability of any Laird Technologies materials or products for any specific or general uses. Laird Technologies shall not be liable for incidental or consequential
damages of any kind. All Laird Technologies products are sold pursuant to the Laird Technologies terms and conditions of sale in effect from time to time, a copy of which will
be furnished upon request. For further information please visit our website at www.lairdtech.com. Alternatively contact: wirelessinfo@lairdtech.com. Bluetooth® is a trademark
owned by Bluetooth SIG, Inc., USA and licensed to Laird Technologies.
© 2009 All Rights Reserved. Laird Technologies is a registered trademark of Laird Technologies, Inc.

* Your assessment is very important for improving the work of artificial intelligence, which forms the content of this project