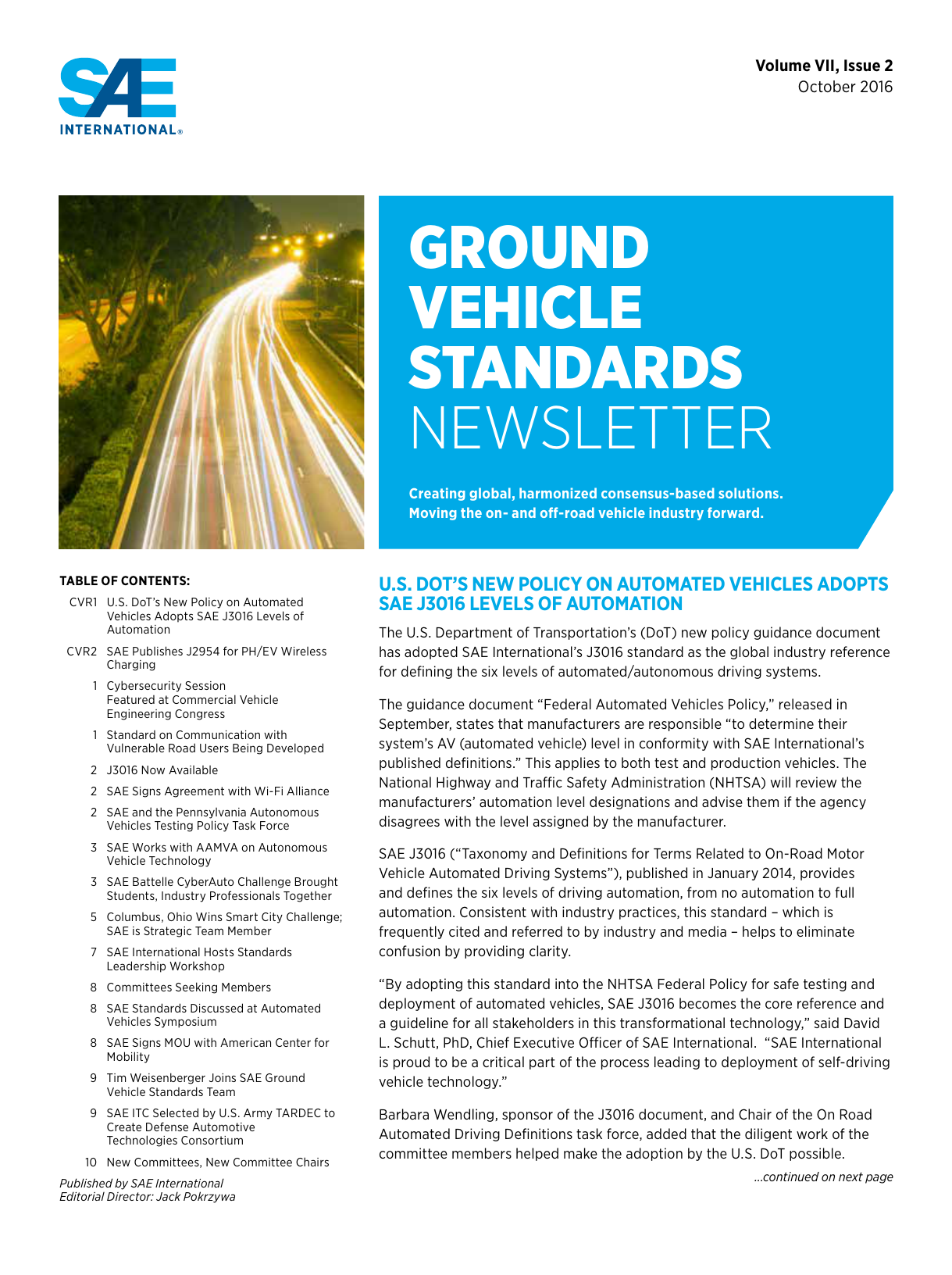 Volume VII, Issue 2
October 2016
GROUND
VEHICLE
STANDARDS
NEWSLETTER
Creating global, harmonized consensus-based solutions.
Moving the on- and off-road vehicle industry forward.
TABLE OF CONTENTS:
CVR1 U.S. DoT's New Policy on Automated
Vehicles Adopts SAE J3016 Levels of
Automation
CVR2 SAE Publishes J2954 for PH/EV Wireless
Charging
1 Cybersecurity Session
Featured at Commercial Vehicle
Engineering Congress
1 Standard on Communication with
Vulnerable Road Users Being Developed
2 J3016 Now Available
2 SAE Signs Agreement with Wi-Fi Alliance
2 SAE and the Pennsylvania Autonomous
Vehicles Testing Policy Task Force
3 SAE Works with AAMVA on Autonomous
Vehicle Technology
3 SAE Battelle CyberAuto Challenge Brought
Students, Industry Professionals Together
5 Columbus, Ohio Wins Smart City Challenge;
SAE is Strategic Team Member
7 SAE International Hosts Standards
Leadership Workshop
8 Committees Seeking Members
8 SAE Standards Discussed at Automated
Vehicles Symposium
8 SAE Signs MOU with American Center for
Mobility
9 Tim Weisenberger Joins SAE Ground
Vehicle Standards Team
9 SAE ITC Selected by U.S. Army TARDEC to
Create Defense Automotive
Technologies Consortium
10 New Committees, New Committee Chairs
Published by SAE International
Editorial Director: Jack Pokrzywa
U.S. DOT'S NEW POLICY ON AUTOMATED VEHICLES ADOPTS
SAE J3016 LEVELS OF AUTOMATION
The U.S. Department of Transportation's (DoT) new policy guidance document
has adopted SAE International's J3016 standard as the global industry reference
for defining the six levels of automated/autonomous driving systems.
The guidance document "Federal Automated Vehicles Policy," released in
September, states that manufacturers are responsible "to determine their
system's AV (automated vehicle) level in conformity with SAE International's
published definitions." This applies to both test and production vehicles. The
National Highway and Traffic Safety Administration (NHTSA) will review the
manufacturers' automation level designations and advise them if the agency
disagrees with the level assigned by the manufacturer.
SAE J3016 ("Taxonomy and Definitions for Terms Related to On-Road Motor
Vehicle Automated Driving Systems"), published in January 2014, provides
and defines the six levels of driving automation, from no automation to full
automation. Consistent with industry practices, this standard – which is
frequently cited and referred to by industry and media – helps to eliminate
confusion by providing clarity.
"By adopting this standard into the NHTSA Federal Policy for safe testing and
deployment of automated vehicles, SAE J3016 becomes the core reference and
a guideline for all stakeholders in this transformational technology," said David
L. Schutt, PhD, Chief Executive Officer of SAE International. "SAE International
is proud to be a critical part of the process leading to deployment of self-driving
vehicle technology."
Barbara Wendling, sponsor of the J3016 document, and Chair of the On Road
Automated Driving Definitions task force, added that the diligent work of the
committee members helped make the adoption by the U.S. DoT possible.
...continued on next page
...continued from previous page
"We were very fortunate to have an outstanding task force
membership that includes deep experts in law and regulation,
as well as automated driving technology design and
development," Wendling said.
Recognizing the international importance of this standard,
SAE International will offer the upcoming revised edition of
J3016 license free to enable wide adoption by global, regional,
and local legislatures to expedite deployment of self-driving
technologies.
DoT will request that vehicle OEMs voluntarily provide reports
regarding how the guidance has been followed. It is expected
that this would require entities to submit a Safety Assessment
to NHTSA's Office of the Chief Counsel for each system,
outlining how they are meeting the guidance at the time their
product is to be ready for testing or deployment on public
roads. The safety assessment will be used to assist NHTSA
and the public in evaluating how safety is being addressed by
the industry as it develops and tests automated/autonomous
driving systems.
Formal acknowledgement of SAE J3016 by the DoT "creates
a clearer and in some ways simpler framework for an ongoing
conversation between industry stakeholders, advocates, and
state and local governments that can help direct ongoing
regulatory efforts as the industry continues to progress," noted
Jeremy Carlson, principal automotive analyst at IHS Markit, in a
statement.
"This action is therefore a positive step in enabling progress in
the development and deployment of autonomous vehicles."
Carlson and the IHS analyst group expect rapid growth
in automated vehicles to begin in 2025. His recent report
forecasts that more than 18 million autonomous vehicles will be
sold in the U.S. through 2035, "broadly aligning to SAE Levels
4 and 5" while creating new opportunities for automakers and
personal-mobility options for consumers.
SAE PUBLISHES J2954 FOR PH/EV WIRELESS CHARGING
SAE J2954 ("Wireless Power Transfer for Light-Duty Plug-In/
Electric Vehicles and Alignment Methodology") was published
by the PH/EV Wireless Power Transfer committee.
This milestone document establishes an industrywide specification for wireless power transfer between
infrastructure, vehicle suppliers and OEMs for plug-in electric
and electric vehicles (PH/EV).
With wireless charging quickly becoming mainstream for
consumer electronic devices in low power applications,
standardization is needed for commercialization of high power
wireless power transfer (WPT) of PH/EVs.
In order to achieve a basis for the start of commercialization
for WPT, it is important to define criteria for safety and
electromagnetic limits, efficiency and interoperability targets,
as well as a test setup for the acceptance of WPT. All of these
criteria are addressed in SAE J2954.
"Wireless power transfer, using SAE J2954 is a game changer
for PH/EVs," said Jesse Schneider, Chair of the Wireless
Power Transfer committee and Fuel Cell, Electric Vehicle and
Standards Development Manager at BMW. "This first in a series
of documents will enable consumers to simply park their vehicles
into spaces equipped with J2954 equipment and walk away
without doing anything to charge their PH/EV,"
"The frequency band, safety, interoperability, EMC/ EMF
limits as well as coil definitions from SAE J2954 enable any
compatible vehicle to charge wirelessly from its WPT home
charger, work, or a shopping mall WPT charger, etc. with the
same charging ability," said Schneider. "SAE J2954 WPT
automates the process for charging and extends the range for
the vehicle customer only by parking in the right spot."
J2954 WPT compatible systems have been built by automakers
and suppliers and are currently under test with a cross-industry
team with the US Department of Energy, Idaho and Argonne
National Labs. The test data, first in the bench and later in the
vehicle, will be used later to finalize as a standard to support
the roll out of this technology.
STANDARD ON COMMUNICATION WITH
VULNERABLE ROAD USERS BEING DEVELOPED
J2945/9, "Performance Requirements for Safety
Communications to Vulnerable Road Users" is being
developed by the DSRC (Dedicated Short Range
Communication) Technical Committee, and is planned to
be issued by the end of 2016.
This standard will determine vulnerable road user (VRU)
use cases, identify relevant SAE DSRC standardization
activities, make recommendations for performance
levels, and embark on any necessary new standard
development. VRUs include pedestrians, bicyclists,
persons with disabilities and other non-motorized
vehicles,.
CYBERSECURITY SESSION
FEATURED AT COMMERCIAL VEHICLE
ENGINEERING CONGRESS
A "Cybersecurity for Commercial Vehicle" session will be held
at the SAE 2016 Commercial Vehicle Engineering Congress,
October 4-6, in Rosemont, Illinois.
This session focuses on the critical issues around cybersecurity of commercial vehicles, manned and unmanned,
that are moving on land. While safety is the major concern,
topics also include theft and asset protection, secure
fleet management, and protection of business models.
Presentations will focus on recent advances, standards, best
practices and potential solutions.
Presentations during the session will include "A Thorough
Vulnerability Analysis of Medium and Heavy Duty Vehicles,"
"Towards a Cyber Assurance Testbed for Heavy Vehicle
Electronic Controls," and "Near Term Approaches to
Improving Information Security in HD Vehicles."
The prevalence of handheld devices carried by VRUs
and the potential for data exchange or messaging
with vehicles has led the committee to consider VRU
standards.
Honda R&D has demonstrated that DSRC technology
in a vehicle can communicate with a smartphone (also
equipped with DSRC technology) that is carried by
pedestrians to provide audio and visual warning to both
the vehicle and the pedestrian.
DELIVERY OPTIONS FOR SAE TECHNICAL
STANDARDS
The more than 35,000 standards in the SAE database, which
now includes 24,000 historical standards dating back to the
early 1900's, can be accessed on SAE's Digital Library Platform
through one of the targeted solutions below:
• SAE Ground Vehicle Standards Database is comprised of
more than 7,000 current standards and 2,200 historical
versions issued by SAE's ground vehicle committees. subs.
sae.org/dlibstd-gv/
• SAE J1939 Standards Collection is the easiest and most
cost-effective way to access to SAE's family of standards
relating to the Controller Area Network (CAN) for heavyduty vehicles. subs.sae.org/j1939_dl/
• SAE Subscriptions are online portfolios of SAE standards
or technical papers focused on targeted industries and
technologies such as emissions, NVH, alternative fuels and
more. subs.sae.org/specialty/
• SAE JPaks let you decide how many ground vehicle
standards you need and when you need them. Choose from
packages that provide up to 10, 15, 25, 35, or 50 downloads
per year. subs.sae.org/jpaks
SAE International Ground Vehicle Standards Newsletter
1
J3016 NOW AVAILABLE
"Taxonomy and Definitions
for Terms Related to Driving
Automation Systems for On-Road
Motor Vehicles" (originally issued
in 2014 under the title "Taxonomy
and Definitions for Terms Related to
On-Road Motor Vehicle Automated
Driving Systems") provides a
taxonomy for motor vehicle driving
automation systems that perform
part or all of the dynamic driving
task (DDT) on a sustained basis and
that range in level from no driving
automation (level 0) to full driving
automation (level 5).
The standard provides detailed
definitions for these six levels along
with new, additional supporting
terms , that can be used to describe
the full range of driving automation
features equipped on motor vehicles in a functionally consistent
and coherent manner. On example is "ODD" or Operational
Design Domain. Defined as "The specific conditions under
which a given driving automation system or feature thereof
is designed to function, including, but not limited to, driving
modes."
The new revisions, while substantial, preserves the original SAE
J3016 level names, numbers, and functional distinctions, as well
as the supporting terms. However, the revised version:
• Clarifies and rationalizes taxonomical differentiators for lower
levels (levels 0-2)
• Clarifies the scope of the J3016 driving automation taxonomy
(i.e., explains to what it does and does not apply)
• Modifies existing, and adds new, supporting terms and defi
itions
• Adds more rationale, examples, and explanatory text
throughout.
SAE SIGNS AGREEMENT WITH WI-FI ALLIANCE SAE AND THE PENNSYLVANIA AUTONOMOUS
VEHICLES TESTING POLICY TASK FORCE
SAE International and the Wi-Fi Alliance have signed an
agreement which will allow for the two organizations to
collaborate and share materials relevant to Dedicated Short
Range Communications (DSRC) technology for the automotive
market.
A member task group inside Wi-Fi Alliance is developing
certification requirements based upon the IEEE 802.11p
specification as it relates to vehicle-to-vehicle communication,
specifically in the area of collision avoidance. SAE's work on
specifications in this area, including J2945/1 ("On-Board System
Requirements for V2V Safety Communications"), published in
March, is key to this certification program development.
Wi-Fi Alliance is a global non-profit industry association
consisting of companies from across the Wi-Fi ecosystem that
share a common vision of connecting everyone and everything,
everywhere.
2
SAE International is participating as a member of the Pennsylvania
Department of Transportation's Autonomous Vehicles Testing
Policy Task Force, which will provide guidance for the state's
autonomous vehicle policy.
Bill Gouse, Director of Federal Program Development for SAE
International, attended the Task Force's initial meeting in Pittsburgh
in June. The task force consists of representatives from local, state,
and federal government, state police, academia, private industry,
and associations.
Pennsylvania is developing legislation that will allow, but also place
restrictions on, the testing of autonomous vehicles on public roads.
The state requested information to include in draft legislation, and
SAE provided two standards: J3018 (" Guidelines for Safe On-Road
Testing of SAE Level 3, 4, and 5 Prototype Automated Driving
Systems (ADS)"); and J3016 ("Taxonomy and Definitions for Terms
Related to On-Road Motor Vehicle Automated Driving Systems)."
It is possible that these standards may be referenced in the final
legislation.
SAE International Ground Vehicle Standards Newsletter
SAE WORKS WITH AAMVA ON AUTONOMOUS VEHICLE TECHNOLOGY
SAE is providing information to a committee of the American
Association of Motor Vehicle Administrators (AAMVA) that is
studying aspects of assisted and automated driving.
AAMVA represents the state and provincial officials in the United
States and Canada who administer and enforce motor vehicle
laws. The organization develops model programs in motor
vehicle administration, law enforcement and highway safety.
Regarding its programs covering driver training and driver
license testing, AAMVA looked to SAE for information on how
autonomous features (such as those related to parking and
braking) might affect future driving tests. SAE Ground Vehicle
Standards staff members have provided the committee with
information on this technology and the relevant standards in
this area.
SAE INTERNATIONAL
FOR ON- AND OFF-ROAD GLOBAL, HARMONIZED
STANDARDS SOLUTIONS, ALL ROADS LEAD TO SAE
Since 1905, SAE International has been providing the common engineering
requirements for new mobility products, advanced technologies, and
applications. We are uniquely positioned to provide innovative, first-to-market
standards solutions to the global on- and off-road industries and their
engineering challenges.
For automotive vehicles, SAE plays the central role in developing essential,
consensus-based standards in such critical areas as emissions and safety to
meet the most stringent regulations around the world. As the recognized
global center of expertise on Commercial Vehicle Construction, Agricultural,
and Off-Road equipment/machinery, our standards are readily adopted on an
international level.
Recognized as an international Standards Development organization as
defined by the World Trade Organization, SAE offers a full suite of standards
development capabilities—committee or consortium administration,
cooperative research, and database development—providing industry,
companies, and individuals with extensive opportunities to participate,
influence, grow, and prosper.
sae.org
SAE International Ground Vehicle Standards Newsletter
3
SAE BATTELLE CYBERAUTO CHALLENGE BROUGHT STUDENTS,
INDUSTRY PROFESSIONALS TOGETHER
The 2016 SAE Battelle CyberAuto Challenge™ was
held July 24-29, 2016 at Macomb Community College in
Sterling Heights, Michigan.
The Challenge is a five-day, hands-on practicum and workshop
where teams comprised equally of high school and college
students are matched with professionals to work on real cars
to find real answers to cybersecurity challenges. Participating
professionals include automotive engineers, government
engineers, and ethical "white hat" hackers.
Thirty-four students from around the globe, including
students from Germany, Japan, and Canada were selected to
participate in this year's Challenge. The event enables industry
professionals to benefit from the fresh perspectives offered by
high-performing high school/college students. In turn, students
gain exposure to industry experts and hands-on learning. One
student remarked that "it turns out the automotive industry is
more fun than I thought."
This year, the Challenge featured a series of classroom lessons,
strategy sessions, impromptu discussions, and hands-on
activities. Topics included wireless attacks, CANBUS, secure
coding, hardware, SocketCAN, and forensics, as well as legal and
ethical issues. The confidential, interactive environment fostered
...continued on next page
TOGETHER WE MOVE
MOBILITY FORWARD
Collaboration. Despite today's highly competitive world, it's still how
problems are solved, challenges overcome, and advances are made.
Since 1905, SAE International, a professional society, has been providing the
platform for that collaboration among those who want to advance mobility.
In fact, the sharing of knowledge to solve common problems was the
impetus of SAE's earliest standardization efforts—efforts that benefit all of
industry by setting expectations for quality, safety, and efficiency and allow
for focus on innovation.
Yet, while today's mobility challenges are very different from those of
yesterday's, automotive, aerospace, and commercial vehicle engineers continue
to look to SAE International to connect with each other and the technical
resources needed to advance themselves, their companies, and industry.
SAE International is the authority on vehicle engineering—developing more
vehicle technical standards than any other organization, offering the largest
library of vehicle engineering content, and bringing together the largest
global network of engineers in the world.
How are the various mobility sectors solving for their toughest
engineering challenges? Learn from them at alwaysinmotion.sae.org
US +1.724.776.4841 • Asia +86.21.6140.8900 • Europe +32.2.789.23.443 • sae.org
P1618239
4
SAE International Ground Vehicle Standards Newsletter
See how collaboration
through consensusbased standards are
helping advance the
complex issues of
vehicle connectivity.
Download 3-part
infographic series at
alwaysinmotion.sae.org
Essential automotive
standards for connected
transportation
...continued from previous page
collaboration and creativity among different cross-sectors of the
automotive, academia and cybersecurity industries.
Now in its fifth year, the Challenge continues to demonstrate that
the automotive community is:
"The event would not be possible without the support of the
industry" said Marc LeDuc, SAE International Technical Program
Director, Engineering Events, and Business Developer for the
Challenge. "I know I sound like a NASCAR driver, but I would
like to thank GM, Honda. Ford, Delphi, and Denso, along with the
Michigan Economic Development Corporation (MEDC), Oakland
County and all the other security suppliers for their generous
sponsorship and support."
• Keeping the core auto engineer connected to the cyber
community
• Prioritizing cybersecurity and mitigating potential risks from
cyber/auto development
• Developing a common "community of interest" around the
cybersecurity issue
• Developing a cyber/auto talent "pipeline" amongst high school
and college students
COLUMBUS, OHIO WINS SMART CITY CHALLENGE; SAE IS STRATEGIC TEAM MEMBER
In June, the U.S. Department of
Transportation (DoT) announced that the
city of Columbus, Ohio was selected as
the winner of the Smart City Challenge.
Columbus was chosen from a group of
seven finalists. SAE International was
listed as a strategic team member for five
of the finalist cities – Austin, Columbus,
Denver, Pittsburgh, and San Francisco.
SAE's resources that support the Smart
City Challenge project goals include
SAE ground vehicle standards, the
SAE technical library, SAE's technical
consulting program, the SAE Cooperative
Research Program, and SAE's Professional
Development program.
According to the U.S. DoT news release,
Columbus was selected as the winner
of the Challenge because it put forward
Slide from the USDOT December Presentation.
an impressive, holistic vision for how
technology can help all of the city's
residents to move more easily and to access opportunity. The
city proposed to deploy three electric self-driving shuttles to link
UPCOMING STANDARDS TECHNICAL
a new bus rapid transit center to a retail district, connecting more
COMMITTEE MEETINGS
residents to jobs. Columbus also plans to use data analytics to
improve health care access in a neighborhood that currently has
A current schedule can be found on the
an infant mortality rate four times that of the national average,
SAE website.
allowing them to provide improved transportation options to
those most in need of prenatal care.
www.sae.org/standards/
SAE Ground Vehicle Standards staff will communicate with
Columbus city planning officials regarding SAE's specific role.
As winner of the Challenge, Columbus will receive up to $40
million from U.S. DOT and up to $10 million from Paul G. Allen's
Vulcan Inc. The city also raised $90 million from other private
partners to carry out the plan.
SAE International Ground Vehicle Standards Newsletter
5
GAIN A COMPETITIVE ADVANTAGE. IMPACT YOUR BOTTOM LINE.
INVEST IN STANDARDS.
Standards. The workhorse documents that result in common practices, processes, and products throughout the ground vehicle
industry are also paramount to the advancement of technology. Standards documents are more than the practices of today.
They account for history and anticipate the future of technology, regulation, and business. The direct benefit of standards are
simple in concept but extraordinary in their global impact toward ever-safer, cleaner, more efficient worldwide transportation.
Technical standards enable and enhance:
•
•
•
•
•
consistent and clear expectations for product performance and reliability
regulatory compliance
consistent product quality
compatibility and interoperability
more efficient procurement
Standardization also:
•
•
•
•
•
lowers trade barriers
lowers purchasing costs
decreases design time
promotes innovation
increases new technology speed to market
Because industry can rely on standards for globally harmonized solutions to common issues, individual companies can devote
more time and resources to advance their proprietary technology. In this way, standards help foster competition, which
advances the collective technology of industry and in turn, creates the need for new and revised standards. This has been the
cycle for ground vehicle standards solutions.
And, at the heart of those solutions is SAE International, the recognized leader in mobility engineering for over 100 years.
It plays the central role in developing global automotive standards and a key role in bringing US documents to the global
standards table, working hand-in-hand with the global community to advance industry.
While participation in the standards development process helps the advancement of the industry it can also contribute to the
advancement of your company and personal career.
Corporate Benefit
•
•
•
•
•
•
•
Input into the direction of the standards
Competitive intelligence through advance knowledge of standard direction
Advance warning of pending regulations and influence over the technical basis of the regulation
Insight into the competitive environment
Product liability protections
Strong relationships with customers and suppliers
Association with the leading society for advancing mobility technology
Individual Benefit
•
•
•
•
•
Professional development from continuous working contact with peers
Peer recognition for advancing your industry's sectors technologies
Excellent networking and learning opportunities from product developers/users around the world
Discover emerging technologies
Contribute to the industry's body of technical knowledge
To learn more about SAE Technical Standards Development—and for a schedule of Technical Committee meetings—visit us on
the web at http://www.sae.org/standards/
Become a better you.
Volunteer for an SAE Standards Development Committee.
6
SAE International Ground Vehicle Standards Newsletter
SAE INTERNATIONAL HOSTS STANDARDS LEADERSHIP WORKSHOP
The fifth SAE International Standards Leadership Workshop took
place on June 21-22, 2016 at SAE International in Warrendale,
Pennsylvania. The biennial workshop enjoyed an expansion this
year, growing from Aerospace-focused event to one that also
included participation from Ground Vehicle Standards.
"The 2016 SAE Committee Leadership Workshop was again
a highly successful event and we were delighted to welcome
committee leaders as well as members of our Aerospace and
Ground Vehicle Councils and the Technical Standards Board
to SAE World Headquarters," said David Alexander, Director
- Aerospace Standards. "The workshop benefitted from the
involvement of the automotive and commercial vehicle standards
communities together with aerospace."
Goals of the workshop included increasing cross-committee
communication, gaining feedback from committee leadership,
providing committee leadership with guidance and training,
improving SAE committee leadership relationships and clarifying
committee leadership roles.
The two-day program featured a combination of interactive
and best practice sessions led by the Aerospace and Ground
Vehicle Standards staffs. The activities provided participants with
key takeaways to help in their leadership roles going forward.
Presentations by Content Management, Publications, Cooperative
Research and other SAE departments gave participants useful
insight into the SAE organization as it relates to the standards
development process. Even seasoned committee leaders were
able to leave the workshop having learned something new.
"As in previous years, the workshop provided an excellent forum
for those who lead the world's premier mobility standards
committees to learn and provide feedback to enhance the
standards-writing process. It was also an opportunity for SAE
staff to recognize the highly valuable contributions made by
committee leaders," Alexander said.
STANDARDS CONSORTIUM ADMINISTRATION
With over a century of experience providing the common engineering requirements for new mobility vehicles, SAE can be
a key component in developing any consortium-based activity, providing the expertise and worldwide technological and
human resources to help you turn your vision into a successful operating reality.
Each client maintains its desired degree of autonomy, flexibility, and control. Client/project-tailored services include:
• A legal framework
• Fiscal oversight
• Policy and procedure development
• Publishing and distribution services
• Marketing and public relations activities
SAE International Ground Vehicle Standards Newsletter
7
COMMITTEES SEEKING MEMBERS
Two SAE Task Forces are seeking members.
A new Automated Driving System-Dedicated Vehicles (ADS-DVs) Task Force
has been established to Identify Issues related to the use of this technology by
persons with disabilities It is expected that level 4 and 5 Automated Driving
System-Dedicated Vehicles (ADS-DVs) will eventually enable persons to travel
at will who are otherwise unable to obtain a driver's license for a conventional
vehicle, namely, persons with visual, physical, and/or cognitive impairments.
The purpose of this task force is to gather and develop information on user
issues specific to this non-driver population of ADS-DV users. The task force
will conduct a literature review, as well as consult with advocates for the blind,
and disabled, and elderly by producing an Information Report that summarizes
potential user issues for this community. The task force will work closely with
other SAE Committees (e.g., S&HF Steering Committee) on any work products
created by this new task force.
The ANS Safety Glazing Task Force (under the SAE Glazing Materials Standards
Committee) is seeking members. Currently, International and U.S. automotive
safety glazing standards contain obsolete information and have created a
fragmented array of requirements for safety glazing manufacturers. To improve
the situation, this task force is working to develop a single standard that better
addresses safety glazing in ground vehicles.
The goal of the task force is to create a well-formatted and well-organized
standard, defensible by glazing experts, with improved language and greater
details about testing. "BSR/SAE J3097-201x, Standard for Safety Glazing
Materials for Glazing Motor Vehicles and Motor Vehicle Equipment Operating
on Land Highways" will prescribe test methods with minimum performance
specifications and provide vehicle location specifications for applying safety
glazing materials on motor vehicles and motor vehicle equipment operating
on land highways. To be published as an American National Standard, the
document will address glass and plastic glazing materials. The committee is
seeking all interested parties, with an emphasis on potential members who
would be in the "users" or "general interest" categories.
SAE STANDARDS DISCUSSED
AT AUTOMATED VEHICLES
SYMPOSIUM
Jack Pokrzywa, Director, Global Ground
Vehicle Standards, SAE International, spoke at
the Automated Vehicle Symposium 2016, held
July 19-21 in San Francisco.
Pokrzywa gave a presentation on SAE's
automated and connected transportation
standards, describing standards activity in the
areas of safety, security, privacy, interoperability,
terms and definitions, and vehicle system
performance requirements.
SAE SIGNS MOU WITH AMERICAN
CENTER FOR MOBILITY
SAE and the American Center for Mobility (ACM)
have signed a Memorandum of Understanding
(MOU). SAE and ACM have mutual objectives in
the areas of the acceleration of the development
and deployment of technical standards for
connected and automated vehicles and
adjacent technologies and infrastructure. The
relationship with ACM will provide opportunity
for SAE technical committees, especially in the
areas of connected and automated vehicles, to
research and test solutions before they will be
codified.
To volunteer for these committees and other opportunities like SAE
book authors, event organizers, and more, visit connection.sae.org/
volunteeropportunities/opportunities-list-public.
ENGINEERING AIDS FROM SAE
SAE provides products that support testing procedures set forth in SAE
Standards, Recommended Practices, Information Reports, and other SAE
documents including the OSCAR H-Point Machine, which is used in the
design of seating and interior packages and in conjunction with SAE J 826
(rev. 1995), FMVSS regulations, and ISO standards—making it the required
design and auditing tool for current production.
Also available is the newly designed HPM II H-Point Machine, which
includes enhancements over the OSCAR H-Point machine for use in
advance design applications.
Available at store.sae.org/ea/
8
SAE International Ground Vehicle Standards Newsletter
TIM WEISENBERGER JOINS SAE GROUND VEHICLE STANDARDS TEAM
Tim Weisenberger has joined the SAE Ground Vehicle Standards team as SAE Ground Vehicle Project
Specialist – Technical Programs. He comes to SAE from the U.S. DOT Volpe Center.
Tim has more than 25 years of diverse professional experience in areas including intelligent
transportation systems, connected vehicles, automated vehicles, cybersecurity, and smart card
technology.
His experience in the implementation of cybersecurity programs for operational systems,
infrastructure, and vehicles led him to contribute to development of the NHTSA Vehicle Cybersecurity
Program to secure vehicle networks and systems. He is a recent US Expert and Rapporteur for the ISO
TC204, WG8 focusing on ITS standards.
SAE ITC SELECTED BY U.S. ARMY TARDEC TO CREATE DEFENSE AUTOMOTIVE
TECHNOLOGIES CONSORTIUM
The SAE Industry Technologies Consortia (ITC), an SAE
International affiliate, was selected by the U.S. Army Tank
Automotive Research, Development and Engineering Center
(TARDEC) to create a Defense Automotive Technologies
Consortium (DATC).
DATC, which will be comprised of commercial automotive
manufacturers and suppliers, will address key technology areas,
including: automotive cybersecurity; vehicle safety technologies,
vehicle lightweighting;, autonomous vehicles and intelligent
systems, connected vehicles, and advanced energy storage
technologies.
The intended period for the OTA is seven years; during which up
to $700 million in projects can be awarded by the government.
This new consortium will greatly reduce the time it takes for
the U.S. Army to award projects for crucial vehicle technologies
development. The DATC is an "other transactional agreement"
(OTA) to quickly and efficiently integrate innovative automotive
technologies into military ground vehicles, ultimately resulting
in speed of adoption of commercial technologies and improved
defense capabilities.
"SAE has a long history of supporting the U.S. Army, dating
back to World War I when our members designed and
manufactured the crucial Class B Truck in just 69 days for
the war effort," David L. Schutt, PhD, President of DATC and
Chief Executive Officer of SAE International, said. "We are
pleased and honored to continue that support through the
work of DATC. Helping to expedite the adoption of innovative
technologies will greatly assist our nation's defense capabilities."
AN ECONOMICAL PATHWAY FOR JOINT VENTURE RESEARCH:
THE COOPERATIVE RESEARCH PROGRAM OF SAE
Cooperative research ventures serve to bring more minds to the challenges and
issues faced by industry. The result is a more robust project than each participating
organization could complete independently. The pooling of financial resources also
affords each participant more efficient use of their research budgets and eliminates
duplication of efforts. Whether moving forward on the development of fuel cell
standards…researching alternative refrigerants…or developing a database of human
body measurements to foster ergonomic designs, SAE's Cooperative Research
Program can assist your company in its collaborative research needs.
To learn more contact Gary Pollak, Program Manager +1.724.772.7196;
gary@sae.org
SAE International Ground Vehicle Standards Newsletter
9
NEW COMMITTEES, NEW COMMITTEE CHAIRS
Welcome, New Chairs! Thank you and know that your volunteer efforts
are greatly appreciated.
Newly-formed committees
• Truck and Bus Automated Commercial Vehicle Advisory
Group
• Truck and Bus J3029 Forward Collision Warning Task
Force
• Accelerator Pedal Position Sensor Task Force (SAE J1843)
• J1939 Functional Safety CRP Task Force
• Identifying Disabled User Issues for ADS-DVs Task Force
• Backing Plate Dimensional Definition-Measurement Task
Force
• Cybersecurity Assurance Testing Task Force
• Automotive Cybersecurity Integrity Level (ACsIL) Task
Force
• Oil Cooler Application Task Force (J1468)
• Hydraulic Brake Hose Assemblies Task Force
• Frederick Kelley, General Cable Corp., Truck and Bus
Electrical Systems Committee • David Sims-Williams, Durham University, Road Vehicle
Aerodynamics Forum Committee
• Daryl Trate, FCA US LLC, Glazing Materials Standards
Committee • John Semeniuk, Northstar Battery Company LLC, Battery
Standards Truck Battery Committee
• Laurence Claus, Fasteners Committee
• Eric Daume, Honda R & D Americas Inc., Heated Seats
Standards Committee • Alan Korn, Truck and Bus Active Safety Systems
Committee • Barbara Czerny, ZF – TRW, Automotive Cybersecurity
Integrity Level (ACsIL) Task Force
• Motorcycle Lighting Committee
• Trisha Baird, Harley Davidson Motor Company, Motorcycle
Lighting Committee New chairs
• Scott Lambert, NUCAP Industries Inc., Backing Plate
Dimensional Definition-Measurement Task Force
• Bill Stanko, Ford Motor Company, Hydrogen
Fuel Cell Vehicle Crash Testing Safety Guidelines
Committee
• Frank Pritzl, Travelers Companies, Data Collection and
Archiving Standards Committee
• Philip Headley, Active Safety AEB Task Force
• Paul Wozniak, Trico Products Corp., Wiper Standards
Committee • Mike Ahmadi, Synopsys Inc., Cybersecurity Assurance
Testing Task Force
• William Lowe, General Motors, Battery Standards
Advanced Battery Concepts Committee • Lee Mixon, Mixon Hill, V2I and I2V Task Force
• Craig Shankwitz, Montana State University, Truck and Bus
J3045 Lane Departure Warning Task Force
• Sean Naughton, Curtiss-Wright, Accelerator Pedal
Position Sensor Task Force (SAE J1843) • Donald Karner, Battery Field Discharge and Disconnect
Committee • Paul DeStefano, Valeo Sylvania LLC, J1383 Performance
Requirements for headlamps Task Force • Matthew Smith, Navistar Inc., Truck and Bus
Aerodynamics and Fuel Economy Committee
• Kenneth Boyd, Ford Motor Co. Ltd., Tow Vehicle Trailer
Rating Committee
• Manuch Nikanjam, Chevron, TC7 Renewable Diesel in
Railroad Applications Task Force
• Dean Deter, Oak Ridge National Laboratory, Green Racing
Committee • Jeffrey Wishart, Intertek Testing Services NA Inc., ORAV
Verification and Validation Task Force • Michael Larsen, General Motors LLC, Regulatory
Cooperation Task Force
• Angela Wolynski, Michelin North America, Highway Tire
Committee
• Carlos Agudelo, Link Engineering Company, Brake
Dynamometer Standards Committee
• Aravind Kailas, Volvo Group, V2V Safety Awareness Task
Force
10
SAE International Ground Vehicle Standards Newsletter
VOLUNTEER RECOGNITION: DOCUMENT SPONSORS
The following individuals have recently served as active committee members and have dedicated their time and talent in guiding
the development of standards documents from the preparation of all drafts through balloting and publication.
THANK YOU.
Kathleen Allanson
Anthony Dahm
Michael Larsen
Richard Scholer
Gregory Anderson
Kevin Davis
John Lenkeit
Craig Shankwitz
David Antanaitis
Harald Eisele
Michael Lyons
Jordan Silberling
Ken Archibald
Keith Friedman
Bruce McKie
David Sims-Williams
Keith Armitage
Gregory Gillham
Sean Naughton
Daniel Stern
John Bowman
Luc Girard
Colin Pelletier
Ronald Strong
Vern Caron
Charles Groeller
Samantha Peterson
Peter Thompson
Tim Chelli
Thomas Haley
Charles Polley
John Warner
Lu Chun
Len Hensel
Mark Pompetzki
Jack Zakarian
Peter Coll
Alan Jaenecke
Eric Quillen
Michael Zitkovic
Oscar Cordo
Jason Jenkins
Scot Reeder
Douglas Cummins
Eric Keerbs
Joseph Robbins
Barbara Czerny
David Kelley
Jesse Schneider
SAE: A GLOBAL PARTNER IN STANDARDS DEVELOPMENT
In addition to the maintenance and development of its family of technical standards, SAE International is also an active
partner with other standards development organizations, government agencies, and regulatory bodies to support the
newest, most robust, and comprehensive standards products for a changing global marketplace.
• US Department of Transportation
• US Department of Energy
• Society of Automotive Engineers of Japan
(JSAE)
• Japan Automobile Research Institute (JARI)
• German Electrical and Electronic
Manufacturers Association (ZVEI)
• Brasilian National Standards Organization
(ABNT)
• US Federal Highway Administration
• American National Standards Institute
(ANSI)
• China Automotive Technology & Research
Center (CATARC)
• US Environmental Protection Agency
• Automotive Electronics Council (AEC)
• National Highway Traffic Safety
Administration
• International Organization for
Standardization (ISO); US representative
• Korean Agency for Technology and
Standards (KATS)
• The European Telecommunications
Standards Institute (ETSI)
SAE International Ground Vehicle Standards Newsletter
11
P167906
P169471
AUTOMOTIVE INTERNET OF
THINGS STEERING COMMITTEE
• Road Vehicle Aerodynamics Forum Committee
• Interior Climate Control Steering Committee
• Interior Climate Control Service Committee
• Interior Climate Control MAC Supplier Committee
• Interior Climate Control Vehicle OEM Committee
• Interior Climate Control Fluids Committee
• Glazing Materials Standards Committee
• ANS Safety Glazing Task Force
• Cooling Systems Standards Committee
• J1597 - TF Lab Test Vehicle and Industrial Heat Ex
• J1726-TF - Crg Air Cooler Internal Clean, Leak,
Nomenclature
• J1339 - Test Method for Measuring Perfor Eng
Cooling Fans
• J1542 TF - Lab Test Veh Ind Heat Ex Therm Cyc Dur
• J1598 TF - Lab Test Veh Ind Heat Ex for Dur Vib
Ind Loading
• Ergonomics Steering Committee
• Human Accom and Design Devices Stds Committee
• Controls and Displays Standards Committee
• Adaptive Devices Standards Committee
• Heated Seats Standards Committee
• Dynamical Modeling and Simulation Committee
• Odometer and Speedometer Standards
• Light Vehicle Exterior Sound Level Standards
Committee
• Tow Vehicle Trailer Rating Committee
• Volatile Organic Compounds
• Wiper Standards Committee
• VIN - WMI Technical Committee
VEHICLE ENGINEERING SYSTEMS
• Foundation Brake Steering Committee
• Brake Committee
» Brake Materials Environmental Task Force
• Brake Linings Standards Committee
• Brake Dynamometer Standards Committee
• Road Test Procedures Standards Committee
• Brake NVH Standards Committee
• Hydraulic Brake and Actuation Steering Committee
• Brake Fluids Standards Committee
• Automotive Brake and Steering Hose Standards
Committee
• Hydraulic Brake Components Standards Committee
• Vehicle Performance Steering Committee
• Chassis Controls Technical Committee
• Highway Tire Committee
• Vehicle Dynamics Standards Committee
• Wheel Standards Committee
» Composite Wheels Task Force
» Aftermarket Wheel Test Certification
Conformance Task Force
» Wheel Finishing Lab Testing Task Force
CHASSIS SYSTEMS
• J2886 DRBFM Task Force
• J1739 Task Force
AUTOMOTIVE QUALITY AND
PROCESS IMPROVEMENT
COMMITTEE
• Service Committee
• Towability Committee
• Collision Repair Committee
• J1828 Working Group
• J1555 Review Working Group
• J1573 Working Group
• Graphics Based Service Information Task Force
SERVICE DEVELOPMENT
STEERING COMMITTEE
MOTOR VEHICLE COUNCIL
400 Commonwealth Dr.
Warrendale, PA 15096
www.sae.org
• Occupant Protection and Biomechanics Steering
Committee
• Seat Belt Systems Standards Committee
• Children's Restraint Systems Committee
• Inflatable Restraints Committee
» Rear Seat Inf Restraints Interaction w
Children _ Sm Adults
• Impact and Rollover Test Proced Stds Committee
» Hydrogen Fuel Call Vehicle Crash testing
Safety Guidelines
» J2482 Dynamic Simulation Sled Testing TF
» EV Crash Testing Safety Procedures TF
• Safety Test Instrumentation Stds Committee
• Human Biomechanics and Simulations Standards
Committee
» Pedestrian Dummy TF
» Dummy Testing and Equipment Standards
Committee
» Hybrid III Dummy Family TF
• Driver Assistance Systems Steering Committee
• On-Road Automated Vehicle Standards
Committee
» ORAV RAI Task Force
» ORAV Safety Testing TF
» ORAV Definitions TF
» ORAV Planning TF
» ORAV Verification and Validation TF Meeting
• Active Safety Systems Standards Committee
» Active Safety Pedestrian Test Mannequin TF
» Active Safety Test Target Validation/
Correlation TF
» AS3 Definitions & Terms TF
» Active Safety Systems Sensors Task Force
» AS3 CIB_AEB Task Force
• Crash Data Collection and Analysis Steering Committee
• Data Collection & Archiving Standards Committee
• Data Analysis Standards Committee
• Cross-cutting Issues Standards Committee
• Motor Vehicle Fire Investigation Task Force
VEHICLE SAFETY SYSTEMS
• Safety and Human Factors Standards Steering
Committee
• Vehicle Sound for Pedestrians
» VSP TASK FORCE 3 J2889-1
• J2831 In-Vehicle Text Messaging Task Force
• Visual Behavior and Metrics Committee
• J2396 Definitions measures related to DV
behavior TF
• J2802 Blind Spot Monitoring
• J2830 Process for testing of in-vehicle icons
task force
• J2395 ITS In-Vehicle Message Priority Task Force
• J2808 Lane Departure Warning Systems Task Force
• Lane-Keeping Assistance Systems Subcommittee
(J3048)
• Driver Vehicle Interface Committee
» J2988 DVI Task Force 3 - VOICE USER
INTERFACE
» J2972 DVI Task Force 2 - Hand-free definition
» DVI Task Force 1 - Research Foundations
and Outreach
» DVI TF4 Evaluation Approaches,
Prioritization and Mitigation
» DVI Task Force 5 - Automated Vehicles
and HMI
• Driving Performance Operational Definitions
(DRIPOD) J2944
• Adaptive Cruise Control and Forward Collision
Warning
• Driver Vision Standards Committee
VEHICLE SAFETY SYSTEMS
f +1.248.273.2455
e CustomerService@sae.org
•
•
•
•
•
•
•
•
•
•
•
Ignition Standards Committee
Emissions Standards Committee
Engine Power Test Code Committee
Filter Test Methods Standards Committee
Gasoline Fuel Injection Standards Committee
Air Cleaner Test Code Standards Committee
Piston and Ring Standards Committee
Fuel Systems Standards Committee
Drivetrain Standards Committee
Belt Drive (Automotive) Systems Committee
Automatic Transmission Transaxle Committee
SAE IC POWERTRAIN STEERING
COMMITTEE
• Vehicle EE System Diagnostics Steering Committee
• Vehicle E E System Diagnostic Standards Committee
» J2534 Pass-Thru Programming Task Force
» J1962 OBD II Diagnostic Connector TF
» J1979 Review Task Force
» J1699-2 OBD II Related SAE Specification
Verification Test
» J1978 OBD II Scan Tool Task Force
» J3005 Guidance for Remote OBD Task Force
» J1930 Electrical Electronic Systems
Diagnostics Task Force
» J2012 Diagnostic Trouble Code Task Force
• Electrical Distribution Steering Committee
• Connector Systems Standards Committee
• Cable Standards Committee
• Harness Covering Standards Committee
• Circuit Protection and Switch Device Committee
• Functional Safety Committee
» Brakes, Trailer Brake, and Part Brake TF
» Steering and Suspension Task Force
» Propulsion and Driveline Task Force
• Event Data Recorder Committee
• Electronic Design Automation Steering Committee
• Electronic Design Automation Standards
Committee
• Vehicle Architecture For Data Communications
Standards
» CXPI - Clock Extension Peripheral Interface
Task Force
» J2284 CAN Update Task Force
» SENT Task Force
» Communication Transceivers Qualification
Requirements TF
• Vehicle Electric Power Supply Systems Standards
Committee
• Embedded Software Standards Committee
• Automotive Electronic Systems Reliability Standards
• Vehicular Flat Panel Display Standards Committee
• Electromagnetic Compatibility (EMC) Standards
» Electromagnetic Immunity (EMI) Task Force
» Electromagnetic Radiation (EMR) Task Force
• Vehicle Electrical System Security Committee
• Vehicle Electrical Hardware Security Task Force
• Vehicle Cybersecurity Systems Engineering
Committee
• Cybersecurity Assurance Testing Task Force
ELECTRICAL SYSTEMS
• Connected Vehicles Steering Committee
• DSRC (Dedicated Short Range Communication)
Tech Cmte
» Cross Cutting Task Force
» V2V Cooperative Automation Task Force
» V2 Others Task Force
» V2I and I2V Task Force
» V2V Safety Awareness Task Force
• Light Duty Vehicle Performance and Economy
Measure Committee
• J3066 - On-Brd Fuel Cons Measurement and
Report Std Task Force
VEHICLE ENGINEERING SYSTEMS
Lighting Systems Steering Committee
Lighting Committee Editorial Advisory Group
Heavy Duty Lighting Standards Committee
Lighting Standard Practices Committee
• J2938 LED Light Source Tests and Requirements
Task Force
Lighting Materials Standards Committee
• Improved Headlamp Lens Durability Task Force
Lighting Discussion Forum
Road Illumination Devices Standards Committee
• J3069 Adaptive Driving Beam Task Force
• Replaceable Bulb Task Force
• J2650 LED Road Illumination Devices Task Force
Signaling and Marking Devices Stds Committee
• Signature/Accent Lighting Task Force
Test Methods and Equipment Stds Committee
• Camera-based Light Measurement Techniques
Task Force
• J575 Thermal Test (Underhood) Task Force
Emergency Warning Lights and Devices Standards
Committee
• Complex Emergency Warning Devices Task Force
• EMC Guidelines for Emergency Warning Devices
Task Force
International Lighting Standards Advisory Group
International Cooperation Committee
Motorcycle Lighting Committee
Battery Safety Standards Committee
Battery Standards Recycling Committee
Small Task Oriented Vehicle Battery Committee
Battery Test Equipment Committee
Battery Terminology Committee
Battery Materials Testing Committee
Secondary Battery Use Committee
Start-Stop Battery Committee
Capacitive Energy Storage Committee
Battery Field Discharge and Disconnect Committee
Battery Systems Connectors Committee
Battery Standards Testing Committee
Battery Thermal Management Committee
Battery Standards Labeling Committee
Battery Transportation Committee
Battery Size Standardization Committee
Battery Standards Starter Battery Committee
Battery Standards Truck and Bus Battery Committee
Battery Standards Electronic Fuel Gauge Committee
Battery Standards Advanced Battery Concepts
Committee
• Green Racing Committee
• Sustainable Manufacturing Task Force
GREEN TECHNOLOGY STEERING
COMMITTEE
•
•
•
•
•
•
•
•
•
•
•
•
•
•
•
•
•
•
•
•
VEHICLE BATTERY STANDARDS
STEERING COMMITTEE
• Fuel Cell Standards Committee
• Fuel Cell Interface Task Force
• Fuel Cell Safety Task Force
» Fuel Cell Responder Task Force
• Hybrid - EV Committee
• Hybrid Wireless Charging J2954 Task Force
• Hybrid Terminology J1715 Task Force
• Hybrid and EV First and Second Responder Task
Force
• Hybrid Connector J1772 Task Force
• Hybrid Electric Motor Rating Task Force
• Hybrid Communication and Interoperability
Task Force
• Hybrid Safety J2344 Task Force
• Hybrid Power Quality J2894 Task Force
• Hybrid Power Transfer J3105
HYBRID-EV STEERING COMMITTEE
•
•
•
•
•
•
•
•
•
•
•
•
•
LIGHTING SYSTEMS
•
•
•
•
•
•
•
•
•
•
•
•
•
•
•
•
•
•
•
•
MAC Refrigerant Blends (MRB CRP)
Alternative Refrigerants
CRP1234yf Alt Refrigerant Assessment
CRP150 Low GWP Alt Refrigerants Assessment
High Temperature Battery Study
Gage R&R of HPM
H2 Fuel Cell Station Breakaways, Hoses, Fittings and
Nozzles
High Strain Rate Plastics
IMAC
ITS Projects
CAESAR
Ergonomics
Federal Highway (FHWY) Dedicated Short Range
Communications (DSRC)
Otologic Trauma
Rechargeable Energy Storage Systems (RESS) Safety
EVSE/EV Interoperability
Truck Cab Anthropometric Study
Emergency Vehicle Lighting
Vehicle Sound Level for Pedestrians
Plastics Suitable for use with H2
COOPERATIVE RESEARCH PROJECTS
• Fuels and Lubricants TC 1 Engine
Lubrication
• Fuels and Lubricants EOVC Task Force
• Fuel and Lubricants TC2 Industrial Lubricants
• Fuels and Lubricants TC 3 Driveline and Chassis
Lubrication
• Axle Efficiency Task Force
• Fuel and Lubricants Tech Task Force
• Fuel and Lubricants TC3 Task Force for J306
• Fuels and Lubricants TC 7 Fuels Committee
• Fuel and Lube TC7 Biodiesel Fuel and Blends Task
Force
• Fuels and Lubricants TC7 Biodiesel Railroad
Subcommittee
FUELS AND LUBRICANTS COUNCIL
• Truck and Bus Brake and Stability Control Steering
Committee
• Truck and Bus Active Safety Systems Committee
• Truck and Bus Foundation Brake Committee
• Truck and Bus Brake Actuator Committee
• Truck and Bus Brake Systems Committee
• Truck and Bus Brake Supply and Control
Components Committee
• Truck and Bus Hydraulic Brake Committee
• Air Brake Tubing and Tube Ftg Committee
• Truck and Bus Wheel Committee
• Truck and Bus Powertrain Steering Committee
• Truck and Bus Hybrid Safety Committee
• Truck and Bus Hydraulic Hybrid Committee
• Truck and Bus Alternative Fuels Committee
• Truck and Bus Natural Gas Task Force
• Truck and Bus Body and Occupant Environment
Steering Committee
• Ready-Mix Concrete Truck Safety Committee
• Truck and Bus Human Factors Committee
• Truck Crashworthiness Committee
• Truck and Bus Windshield Wipers and Climate
Control Committee
• Truck and Bus Total Vehicle Steering Committee
• Truck and Bus Corrosion Committee
• Truck and Bus Tire Pressure Management Systems
Committee
• Truck and Bus Tire Committee
• Truck and Bus Aerodynamics and Fuel Economy
Committee
• Truck and Bus Electrical * Electronic Steering
Committee
• Truck and Bus Event Data Recorder Committee
• Truck and Bus Electrical Systems Committee
• Truck and Bus Low Speed Communication Network
Committee
• Truck Bus Control and Communications Network
Committee (J1939)
TRUCK AND BUS COUNCIL
• Certified Power (Horsepower and Torque
Certification)
• J2746 Software Assessment Repository
• On Board Diagnostics Databases
• MAC Equipment Conformance
• EA (H-Point Machines)
• WMI/VIN
• WMC/PIN
• Wheel Conformance
Automotive Corrosion and Prevention Committee
Acoustical Materials Committee
Committee on Automotive Rubber Specs
Surface Enhancement Committee
Fatigue Design and Eval Executive Advisory Group
• Material Properties Committee
• Structural Analysis Committee
• Fatigue Lifetime Predictions Committee
• Road Load Data Acquisition Committee
• Component Testing and Simulation Committee
Fasteners Committee
Ground Vehicle Reliability Committee
• Terrain Modeling Task Force
• Software System Reliability Subcommittee
• Unmanned Ground Vehicle Reliability Task Force
• CBM (Condition Based Management) Subcommittee
Non-Hydraulic Hose Committee
Lightweight Vehicle Design Materials and Asy
Technology Committee
Metals Technical Executive Steering Committee
• Carbon and Alloy Steels Committee
• Metals Test Procedures Committee
• Sheet and Strip Steel Committee
• Elev Temp Prop of Ferrous Metals Committee
• Automotive Iron and Steel Castings Committee
Plastics Committee
Hose Clamp Performance and Compatibility
Committee
Vibration Control Committee
Textile and Flexible Plastics Committee
Automotive Adhesives and Sealants Committee
Fluid Conductors and Connectors Tech Steering
Committee
• Hydraulic Tube Fittings Committee
• Hydraulic Hose and Hose Fittings Committee
• Metallic Tubing Committee
Spline Committee -B92
Spring Steering Committee
• Coil Spring Committee
• Leaf Spring Committee
• Pneumatic Spring Committee
• Torsion Bar Spring and Stabilizer Bars Committee
STANDARDS DERIVATIVE PROGRAMS
•
•
•
•
•
•
•
•
•
•
•
•
•
•
•
•
•
•
MATERIALS, PROCESSES AND
PARTS COUNCIL
Jennifer Collins – jennifer.collins@sae.org
Lorie Featherstone – lorie.featherstone@sae.org
Beth Perry – elizabeth.perry@sae.org
Jana Wright – jana.wright@sae.org
Patricia Ebejer – patricia.ebejer@sae.org
Nikki Ameredes – nikki.ameredes@sae.org
Jill Kqiraj – gjysta.kqiraj@sae.org
Mary Doyle – mary.doyle@sae.org
Keith Wilson – keith.wilson@sae.org
Kris Siddall – kris.siddall@sae.org
Gary Pollak – gary.pollak@sae.org
Jack Pokrzywa – jack.pokrzywa@sae.org
GROUND VEHICLE STAFF
• Motorcycle Technical Steering Committee
• Motorcycle Sound Level Committee
• Marine Technical Steering Committee
• Marine Engine Fuel Systems Committee
• Personal Watercraft Committee
• Snowmobile Technical Committee
• Small Engine and Powered Equipment Committee
• Special Purpose Vehicle Committee
• Light Utility Vehicle Task Force (J2258)
• Low Speed Vehicle Task Force (J2358)
• Ship Fluid Systems Committee
• Ship Systems - Fasteners Committee
• Trailer Committee
• Trailer - Gooseneck and 5th Wheel Task Force
• Trailer Dynamics Task Force
• Conventional Towing System up to 20,000 lbs
Task Force
• Trailer Terminology Task Force
• Trailer Braking Standard Task Force
SPECIALIZED VEHICLE AND
EQUIPMENT COUNCIL
• Agricultural Tractor Standards Committee (ATSC)
• ATSC Test Standards Subcommittee
• ATSC Tire Subcommittee
• ATSC ROPS Subcommittee
• Con-Ag Council Chairs Vice Chairs Subcommittee
• Common Tests Technical Steering Committee
• CTTC C1, Hydraulic Systems
• CTTC C2, Electrical Components and Systems
• Human Factors Technical Advisory Group
• HFTC1, Controls, Visibility, Anthropometrics,
Accessiblty
• HFTC2, Machine Displays and Symbols
• HFTC4, Operator Seating and Ride
• HFTC6, Operator Accommodation
• Machine Technical Steering Committee
• MTC1, Loaders, Crawlers, Scrapers and Mounted
Attachments
• MTC2, Sweeper, Cleaner, and Machinery
• MTC4, Forestry and Logging Equipment
• MTC C5, Excavators
• MTC7 Roadbuilding Machinery Technical
Subcommittee
• MTC8, Tire and Rim
• MTC9, Trenching and Horizontal Earthboring
Machines
• Operator Protection Technical Advisory Group
• OPTC1, Personnel Protection (General)
• OPTC2, Braking
• OPTC3, Lighting and Sound Committee
• OPTC4, Protective Structures
• Cranes and Lifting Devices Committee
CONSTRUCTION AGRICULTURAL AND
OFF ROAD MACHINERY COUNCIL
GLOBAL GROUND VEHICLE STANDARDS
Match your expertise with one of the many SAE Technical Standards Development Committees
that are writing the common engineering requirements for the advancement of the ground vehicle industry.
GLOBAL GROUND VEHICLE STANDARDS COMMITTEES & STAFF CONTACTS
Volunteer today!