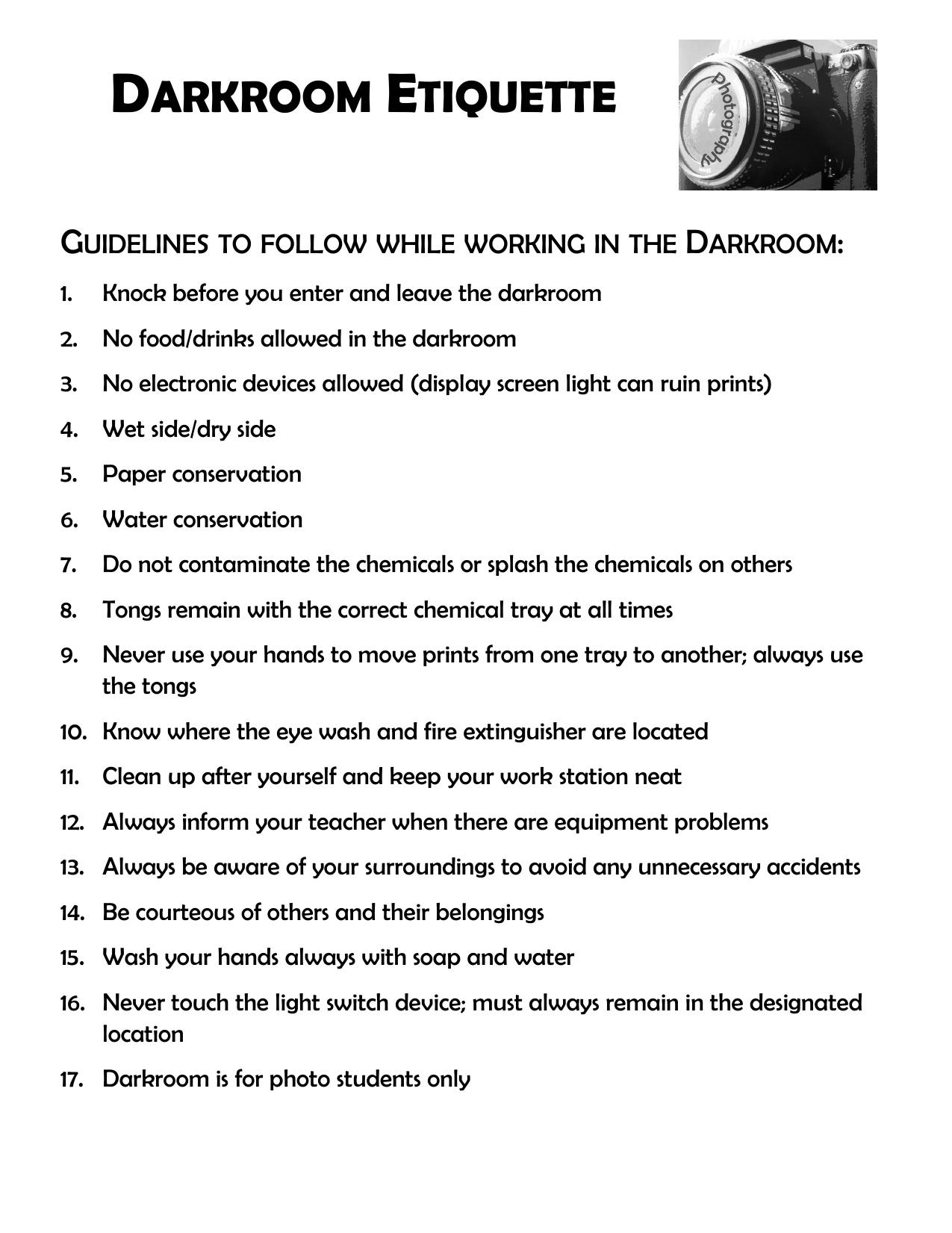 DARKROOM ETIQUETTE
GUIDELINES TO FOLLOW WHILE WORKING IN THE DARKROOM:
1.
Knock before you enter and leave the darkroom
2. No food/drinks allowed in the darkroom
3.
No electronic devices allowed (display screen light can ruin prints)
4. Wet side/dry side
5.
Paper conservation
6. Water conservation
7.
Do not contaminate the chemicals or splash the chemicals on others
8.
Tongs remain with the correct chemical tray at all times
9. Never use your hands to move prints from one tray to another; always use
the tongs
10. Know where the eye wash and fire extinguisher are located
11. Clean up after yourself and keep your work station neat
12. Always inform your teacher when there are equipment problems
13. Always be aware of your surroundings to avoid any unnecessary accidents
14. Be courteous of others and their belongings
15. Wash your hands always with soap and water
16. Never touch the light switch device; must always remain in the designated
location
17. Darkroom is for photo students only
BASIC DARKROOM CHEMISTRY
PRINTING IN THE DARKROOM
There are many variables in the field of photography. The photographer must sort out and decide which set
of variables must be used towards the production of a final print.
In the darkroom, there are some basic techniques and strategies that will ensure success for all photographers, from the novice to the professional.
There are 4 basic steps in the developing of an exposed print. Each serves an important purpose and there
are no shortcuts! Each step is regulated by time (minutes and seconds) and each chemical requires a specific
processing time.
FOUR BASIC STEPS FOR DARKROOM PRINTING
Step 1
DEVELOPER (Dektol)
2 minutes +/Agitate & drain print
Step 2
STOP BATH
30 seconds
Agitate & drain print
Step 3
FIXER
4 minutes
Agitate & drain print
Step 4
WASH
Rinse 10-30 minutes in
clear, running water
NAME must be on the back
of all your prints!
DEVELOPER:



Begins the developing process on the surface of the exposed print.
When exhausted, it will be very dark in color; let your teacher know to replace
the developer.
Only use Dektol developer in the darkroom.
STOP BATH:



Halts the developing process and prevents it from continuing.
When exhausted, will be a dark red or purple color.
Replace with new chemicals from the film processing station. Dump down drain
and add new.
FIXER:



"Fixes" the print image, making it permanent by removing unexposed silver
halide compound.
After being in the fixer, you may view print in room light.
Can be used over and over again! Fixer is replaced with new chemicals from
the film processing station.
WASH:


Extended rinse stage that removes all chemical residue that might further contaminate the print.
After the wash, the print is dried in either a mechanical dryer or by hanging to
air dry.

* Your assessment is very important for improving the work of artificial intelligence, which forms the content of this project