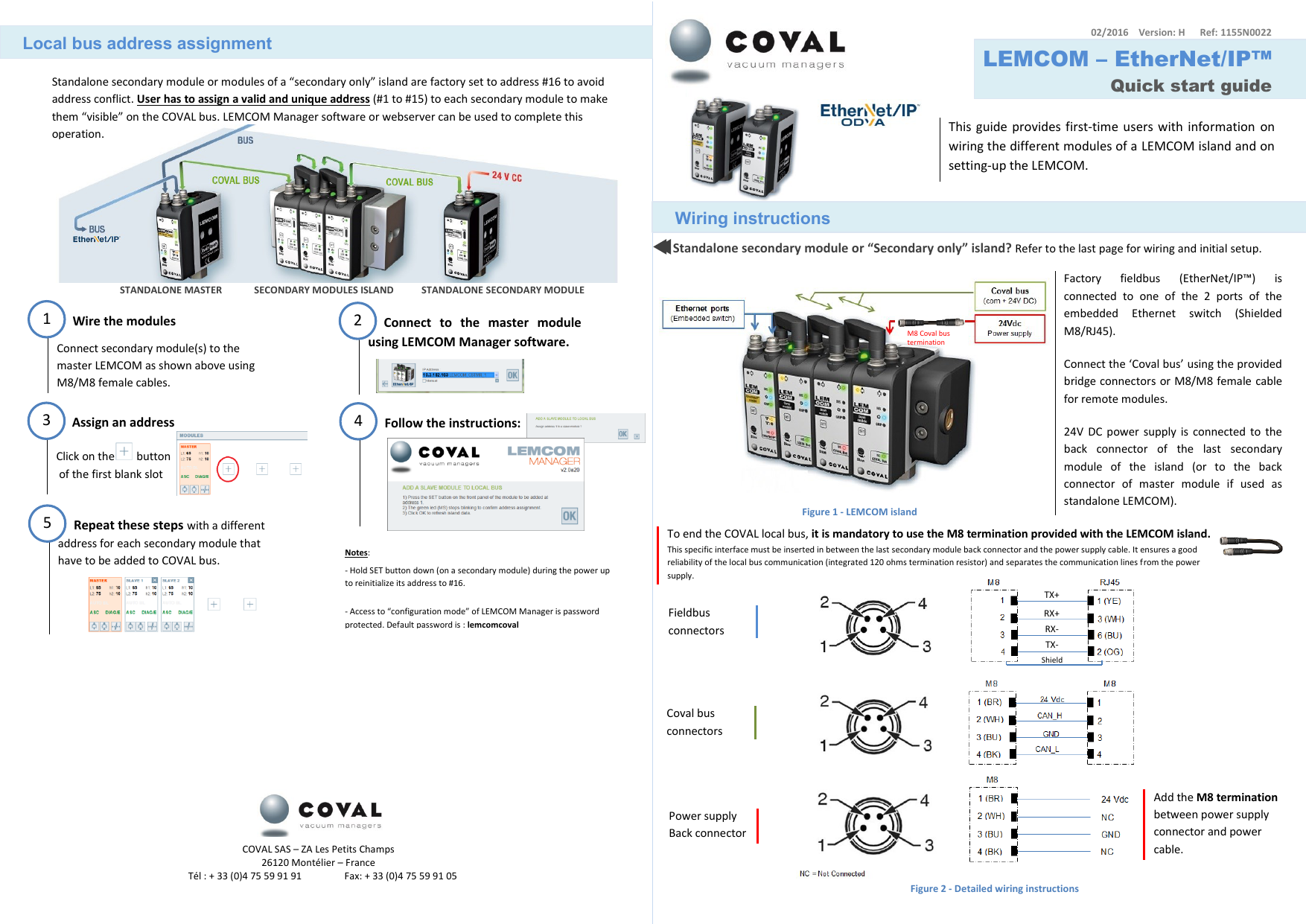 02/2016 Version: H
Local bus address assignment
Ref: 1155N0022
LEMCOM – EtherNet/IP™
Quick start guide
Standalone secondary module or modules of a "secondary only" island are factory set to address #16 to avoid
address conflict. User has to assign a valid and unique address (#1 to #15) to each secondary module to make
them "visible" on the COVAL bus. LEMCOM Manager software or webserver can be used to complete this
operation.
This guide provides first-time users with information on
wiring the different modules of a LEMCOM island and on
setting-up the LEMCOM.
Wiring instructions
Standalone secondary module or "Secondary only" island? Refer to the last page for wiring and initial setup.
STANDALONE MASTER
1
SECONDARY MODULES ISLAND
2
Wire the modules
Connect secondary module(s) to the
master LEMCOM as shown above using
M8/M8 female cables.
3
Connect to the master module
using LEMCOM Manager software.
M8 Coval bus
termination
Connect the 'Coval bus' using the provided
bridge connectors or M8/M8 female cable
for remote modules.
4
Assign an address
Factory
fieldbus
(EtherNet/IP™)
is
connected to one of the 2 ports of the
embedded Ethernet switch (Shielded
M8/RJ45).
STANDALONE SECONDARY MODULE
Follow the instructions:
24V DC power supply is connected to the
back connector of the last secondary
module of the island (or to the back
connector of master module if used as
standalone LEMCOM).
Click on the
button
of the first blank slot
5
Figure 1 - LEMCOM island
Repeat these steps with a different
address for each secondary module that
have to be added to COVAL bus.
To end the COVAL local bus, it is mandatory to use the M8 termination provided with the LEMCOM island.
Notes:
- Hold SET button down (on a secondary module) during the power up
to reinitialize its address to #16.
This specific interface must be inserted in between the last secondary module back connector and the power supply cable. It ensures a good
reliability of the local bus communication (integrated 120 ohms termination resistor) and separates the communication lines from the power
supply.
TX+
- Access to "configuration mode" of LEMCOM Manager is password
protected. Default password is : lemcomcoval
Fieldbus
connectors
RX+
RXTXShield
Coval bus
connectors
Add the M8 termination
between power supply
connector and power
cable.
Power supply
Back connector
COVAL SAS – ZA Les Petits Champs
26120 Montélier – France
Tél : + 33 (0)4 75 59 91 91
Fax: + 33 (0)4 75 59 91 05
Figure 2 - Detailed wiring instructions
IP setup instructions
EtherNet/IP™ functionalities
The IP address of the LEMCOM master
module is factory set to
10.3.182.163.
In order to use the LEMCOM, it's IP address must
be set up according to your network
configuration.
1
Detailed instructions on how to control the LEMCOM using an EtherNet/IP™ PLC are given in the
main user manual (ref. LMEIP-UK-x-1155UM0067).
Plug the power supply to the last
secondary module or to the back connector of
master module (if standalone LEMCOM). Set up a
direct cable connection between the LEMCOM
and a computer using a M8/RJ45 cable.
Quick PLC set up for LEMCOM control and monitoring:
1) Set LEMCOM's IP address according to your network configuration.
2) Add a new Generic Ethernet Module to your RSLogix 5000 project.
3) Fill in the module parameters as shown opposite.
Static assembly instances:
2
Instance
Set the computer's IP address to:
10.3.182.10
10
3
182 10
The computer and the LEMCOM have to be on
the same network.
Select "EtherNet/IP" then click OK to connect.
Replace the default IP address by the
one that will be used on your factory
network.
Open network settings screen by clicking on
Set IP address, subnet and default gateway.
Click OK, the module restarts with the new
settings.
Back to default IP address
To reinitialize the IP address to the default IP 10.3.182.163, please follow these steps:
1) Unplug the power cable
2) Keep down the "SET" button of the master module
3) Plug back in the power cable
4) Release the button when MS led starts to blink.
 IP address is now 10.3.182.163.
Output
101
Input
102
Input
Vacuum and blow-off
control
Gripping status (2 bytes) +
Heartbeat (1 byte)
Gripping status (2 bytes) +
Heartbeat (1 byte) +
Vacuum level (16 bytes)
Front panel indicators
Download and launch LEMCOM
Manager software
Download it from LEMCOM product page
on COVAL website : www.coval.com
Select Configuration Mode then enter password
"lemcomcoval" and click OK.
4
100
Description
MS
led
SET
button
Data size
4 bytes
3 bytes
19 bytes
… more instances available (see main user manual)
Control panel  Network and internet  Network and sharing center
3
Type
LEMCOM_xx:O.Data[0-1]: 16 bits used for vacuum control.
LEMCOM_xx:O.Data[2-3]: 16 bits used for blow-off control.
LEMCOM_xx:I.Data[0-1]: 16 bits that give the gripping status.
LEMCOM_xx:I.Data[2]: First bit used for Heartbeat status.
LEMCOM_xx:I.Data[3-18]: 16x8 bits that give vacuum level.

* Your assessment is very important for improving the work of artificial intelligence, which forms the content of this project