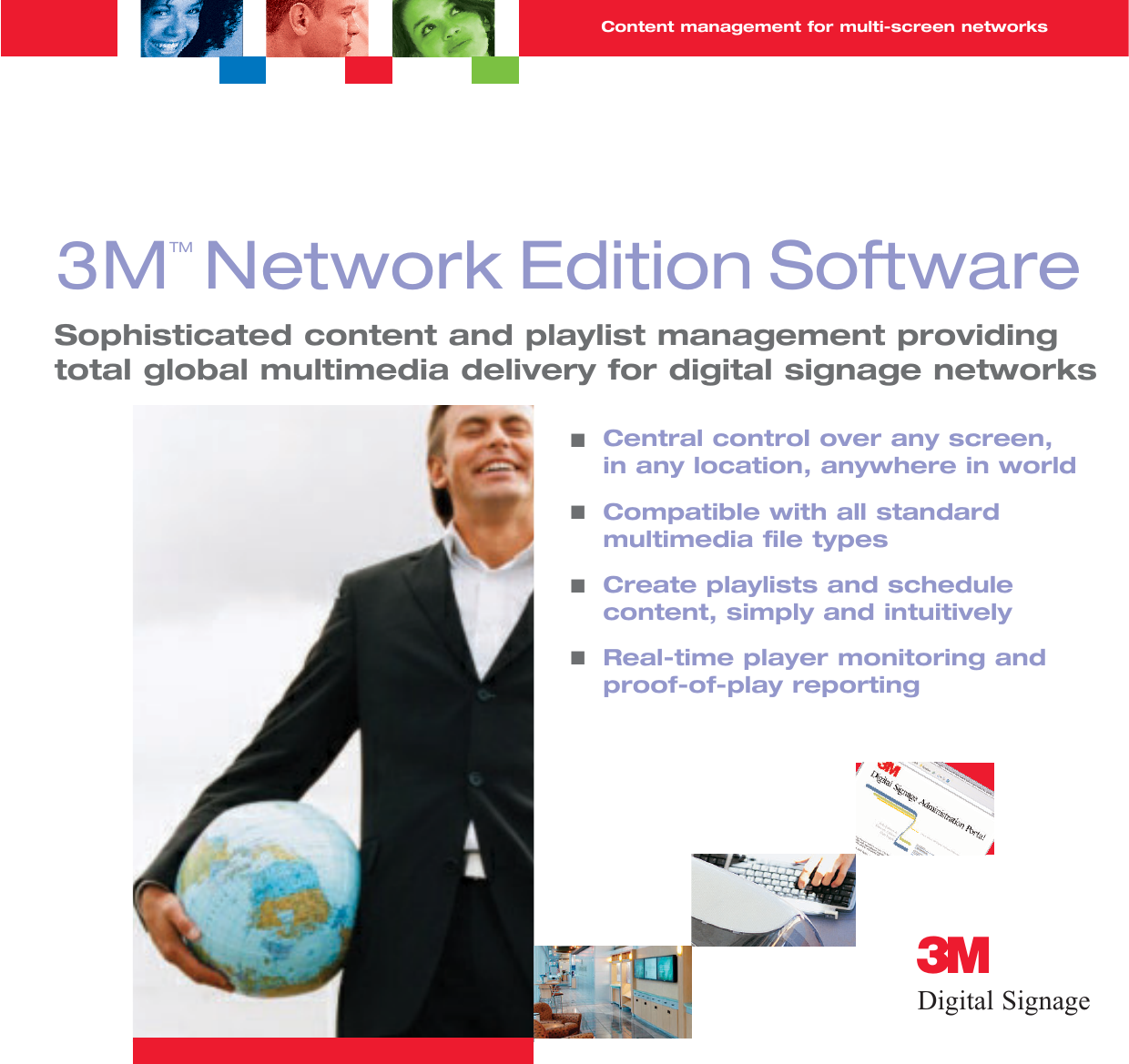 Content management for multi-screen networks
3M Network Edition Software
TM
Sophisticated content and playlist management providing
total global multimedia delivery for digital signage networks
■
Central control over any screen,
in any location, anywhere in world
■
Compatible with all standard
multimedia file types
■
Create playlists and schedule
content, simply and intuitively
■
Real-time player monitoring and
proof-of-play reporting
3
Digital Signage
3MTM Network Edition
Hundreds of customers have already trusted 3M Digital Signage software to power
their digital screen networks. What could it do for your business?
Imagine the opportunities a digital
signage network powered by
3M Network Edition software
could bring to your business...
■
Increase the effectiveness of your point of
sale promotion.
■
Generate new revenue streams from third
party advertising.
■
Improve the way you educate customers
and demonstrate products.
■
Add a new dynamic to employee
communication and training.
■
Enhance your brand by incorporating live or
dynamic data with your key messaging.
■
Improve wayfinding.
A host of features is nothing without total dependability
Everything 3M Network Edition offers today has real-world experience
built-in. The result of over 15 years development involving solutions ranging
from a single screen to complex global networks, 3M software has evolved
into a highly workable, totally effective, thoroughly dependable solution that
will deliver exactly against what you would expect from your digital signage
network.
How will you benefit from ongoing 3M technology development?
Our years of experience and configuration of hundreds of successful
installations have enabled 3M to accumulate a mass of invaluable customer
feedback, all of which has been built into 3M Network Edition software. Our
long-term commitment to continuing software innovation means you can
rely on 3M being able to fullfil not only your current requirements, but also
your needs way into the future.
3M. Endless possibilities.
Index of features and capability
Page
3 Make an impact with flexible dynamic messaging
4 Intuitive user interface
6 Flexible network set up
7
Reliable network operations
8 System requirements
Make an impact with flexible dynamic messaging
The amazing diversity of digital signage networks demands technology that is adaptable, flexible and
compatible with industry-standards. That is why 3MTM Network Edition was created the way it is.
■ Network Edition plays all standard digital
Full multimedia compatibility
media formats without conversion
■ Use industry-standard content creation
Use media assets from any
source, in any format
packages – no new software tools to learn
■ Lower costs; shorter lead times; cheaper,
faster content creation; no re-training
■ Incorporate feeds from any data source,
Incorporate live data
such as weather, news, prices
■ 3M Active Information Modules offer
Use live data feeds to add
even greater diversity to your
programming
subscription data feeds at a click of a
button, including localised weather and
news
■ Link to your own databases for real-time
information updates
■ Data refresh rate fully customisable
■ Display data fullscreen or as side panel
within customised screen layout
Customised, schedulable
screen layouts
■ Divide your screens into multiple
content 'zones'
■ Incorporate live data and corporate
Create even greater impact and
content diversity
logos next to your scheduled dynamic
content
■ Add customisable text tickers
Scheduled dynamic content
■ Fully schedulable: layouts and tickers
may be changed by day, time and
screen
■ Position and size of side panels and text
tickers fully customisable to your
requirements
Schedule live video feeds
Inform and entertain your
audience
■ Live programming including sport, news
and weather incorporated into your playlist
(subject to suitable hardware)
Text ticker
Live
XML
data
Intuitive user interface
Who would have thought something as complex as global content management could be so painless?
Access to 3MTM Network Edition's user interface is via our secure web portal, meaning you can run your entire
network from any internet-enabled computer, anywhere in the world – without having to install any additional
software on your computer.
Access from any PC
■ Web-based user interface
■ Access from any internet-enabled
computer, including Apple Macs
■ No user software to install
Easy to learn and use
Be up and running in hours,
not days!
Network Edition incorporates intuitive
usability features and options such as:
■ Drag-and-drop scheduling and
playlist creation
■ Network management functions grouped
into "tabs" for easy usability
■ Friendly, highly visual user interface
■ Designed for marketers to use, not IT
specialists
Easily create playlists and
schedule content
'To-the-minute' scheduling
provides highly accurate
targeting of your message
Simple, flexible, precise:
■ Create playlists of multiple content items
■ Choose when and where you want them
to play – on a single specified screen
or across groups of players
■ Schedule playout at any time into the future
■ Calendar-style scheduling with easy set up
of recurring playouts
Intuitive user interface
Easily manage your
media library
Store all your content items in
one central library
(Continued)
Total content control:
■ Customisable folders to organise your files
as you want to
■ Enter tracking codes and descriptions
for each media asset
■ Easily see each file's resolution, file format,
creation date and duration
■ Customised reports detail exactly what
Proof of play reporting
Ensure local compliance with
auditable playback
has played out, when and where
■ Report by player or by content item
■ Export to Microsoft® Excel
■ At-a-glance "currently playing" reporting
features provide real-time player status
Network Administrator can:
Multiple users, multiple roles
■ Assign different network access rights
Network Edition
puts you in total control
to different people
■ Control who is able to make changes
to your network
Flexible network set up
From one screen to thousands.
Network Edition gives you the freedom to organise your network – your way.
■ Control any number of screens across any
Powered by the internet
No expensive satellite
connections required
number of locations, worldwide, using the
internet as your communications tool
3MDS.com
portal
■ Simple plug-and-play technology makes
network installation easy - just install the
player software, plug into an internet
connection and away you go
■
your media
■
content
management
network
organization
network
of devices
3M-hosted servers
Relax while 3M takes your
pain away
■ Managing your own servers 24/7 is
expensive, that's why the default Network
Edition set up uses servers hosted by 3M
any PC
location 2
location 1
■ No server hardware for customers to
install, no backup systems needed, no
on-site maintenance contracts required
■ 3M's Network Operations Centre is staffed
24/7 to provide total network reliability
■ Optional Content Server software enables
Flexible server set up
Powerful software designed
with your needs in mind
customers to store their media library on a
local server platform, reducing upload/
download bandwidth. Network
administration activities continue to operate
via 3M's servers.
■ Optional Full Server software enables full
hosting of the network on a local server
platform. Players require access only to
the local server and not the internet.
Standard Windows hardware
Industry-standards are our
standards
■ 3M Network Edition software runs on any
standard Windows XP Pro computer, with
any digital display device in any aspect
■ Standard components means lowest cost
hardware set up and provides future
upgrade flexibility
■ No costly proprietary hardware is required
now or in the future
Network Edition
and
so-on...
Reliable network operations
Wouldn't you like to know precisely what's going on?
3MTM Network Edition software: it's as if you were right there at every screen location.
Real-time player status at a glance:
Network management
■ Players connect to servers every 30 seconds
enabling you to see status in real-time
■ Warning icons if any player experiences
problems
Compliance and error
handling built-in
■ Player monitoring and proof-of-play reports
provide measurable reliability, enabling you
to make marketing accountable
■ Minimise the risk of blank screens –
Network management
corrupt or missing content files are
automatically dropped from playlists
■ Playout continues even if network
Assured playout
connection is lost to ensure no interruption
to playout
■ Remotely switch displays on and off via
Remote display control
RS232 serial connections
■ Fully automated through Network Edition
software
Compliance and error handling built-in
■ Saves power and display life
Advanced network
operations
(Optional software package required)
■ Powerful remote monitoring, management,
maintenance, diagnosis and repair of your
entire network and computing infrastructure
■ Remote control of any PC on the network
Remote display control
■ Fully automated virus, patch and software
deployments
■ Enables continuity of network operation
without the need for an on-site engineer
visit
Advanced network operations
System requirements
The minimum specification you'll need
3M Digital Signage Administrator PC
Administration is via 3M's secure 3MDS.com portal which
can be assessed from any computer meeting the
following minimum specification:
Internet connection (ADSL or faster)
Microsoft® Internet Explorer 6.0 or later
Sun Java™ Runtime Environment, version 1.5 or later
VGA graphics or better
Supported file types
Content Type
3M Digital Signage Player PC
File Type (Format)
Extension
.wmv
.avi
Intel Pentium® 4 Processor, 2.5 GHz or faster
Microsoft® Windows XP Pro Service Pack 2
512 MB RAM or higher
Video card appropriate for attached display device(s)
1 serial port (for screen control on/off)
Internet connection (ADSL or faster)
TV tuner card (if live video feeds are required)
Local administrator privileges
Multi media
Third party software required for media playback
®
■ Microsoft Internet Explorer 6.0 or later
■ Sun Java™ Runtime Environment, version 1.5 or later
®
■ Macromedia Flash Player 7 or later
®
■ Microsoft Windows Media Player 9 or later
■ Apple Quicktime™ 6 or later
■ Elecard MPEG-2 Decoder
®
■ Microsoft DirectX 9.0c Runtime packages or later
■ DivX 5.1 codec or higher (optional)
■ Other codecs as required depending on media
Images
Windows Media video files
Windows video files
(DivX – with appropriate
codec loaded)
Moving Picture Experts Group
(MPEG 1 and MPEG 2)
Macromedia Flash
Quicktime (including MPEG-4
and H.264 formats)
Hi-Def video
Static images
Audio
Web links
Data
Audio files
URLS a, b
Text files
3M Digital Signage Server Software
Optional 3M Content Server and Full Server Software
require Microsoft® Windows Server 2003.
Please contact us for details of minimum hardware
and software configuration required.
a
b
.mpeg and .mpg
.swf
.mov
Any of above
.gif, .jpg, .jpeg, .png,
.tif and .bmp
.mp3 and .wma
http://www.<web link>.com
.data, .txt, .xml, .html
and .idx
Websites with pop-up advertisements are not recommended since these interfere with playback.
Tickers do not work with websites
Note: To play back any of the file formats above the appropriate third party software and/or codec
must be installed on your digital media player in addition to the 3M Network Edition player
software. See Recommended Minimum Specifications for players (left) for more details.
Web links to download recommended third party software are provided on our 3MDS.com
portal during software installation.
Technical support and software warranties
3M Network Edition includes free software warranty, free software upgrades and free
telephone technical support for the life of your subscription with 3M.
Committed to innovation
3M. A digital signage provider you can count on.
In at the start, here to stay.
3M has been at the leading edge of digital signage since its inception at the end of the 1980s when our
original pioneering digital software engine, FRED, was launched. We have been committed to long term
continuing technology innovation ever since.
Hundreds of customers have trusted 3M Digital Signage software to power their digital
screen networks.
3M software currently drives digital signage networks across 23 countries in markets as diverse as retail,
financial services, entertainment, gaming, corporate and transportation. Our largest network to date spans
more than 4,200 interactive screens and large format displays across 900 locations.
Reap the benefits of a long-term relationship with 3M.
Whether you have a single screen or thousands of displays worldwide, 3M has the proven scale and
reliability to provide you with sustainable digital signage solutions that deliver business results.
3M Digital Signage.
The way you want it to be.
3
3M Digital Signage
3M United Kingdom PLC
3M Centre
Tel +44 (0)800 731 3530
Cain Road
Email digitalsignage.uk@mmm.com
Bracknell
Web www.3m.com/digitalsignage
Berkshire RG12 8HT
www.3m.com/uk
3M and the 3M logo are trademarks of
3M Company. All other trademarks are the
property of their respective owners.
© 3M United Kingdom PLC. All rights reserved.