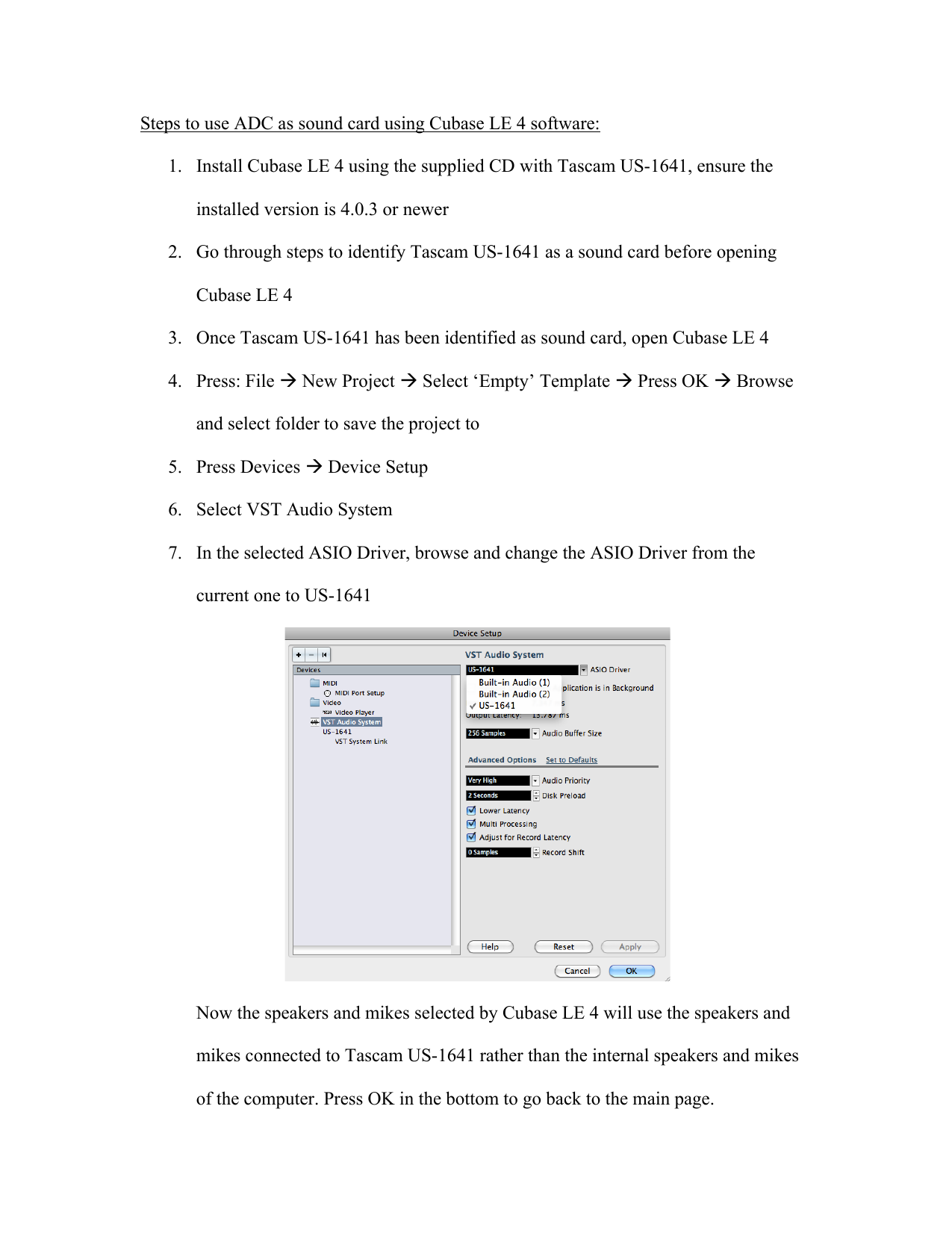 Steps to use ADC as sound card using Cubase LE 4 software:
1. Install Cubase LE 4 using the supplied CD with Tascam US-1641, ensure the
installed version is 4.0.3 or newer
2. Go through steps to identify Tascam US-1641 as a sound card before opening
Cubase LE 4
3. Once Tascam US-1641 has been identified as sound card, open Cubase LE 4
4. Press: File  New Project  Select 'Empty' Template  Press OK  Browse
and select folder to save the project to
5. Press Devices  Device Setup
6. Select VST Audio System
7. In the selected ASIO Driver, browse and change the ASIO Driver from the
current one to US-1641
Now the speakers and mikes selected by Cubase LE 4 will use the speakers and
mikes connected to Tascam US-1641 rather than the internal speakers and mikes
of the computer. Press OK in the bottom to go back to the main page.
8. To add a new audio devise, right click in the dark blue region and select 'Add
Audio Track'
Make the appropriate selections. At this instance you do not specify whether this
audio devise is a speaker or a microphone.
Repeat this process to add the appropriate number of audio devices required
(including both speakers and microphones).
9. Select one of the created devices, and then select from the light blue region on the
left to configure the device as a speaker or a microphone.
To configure a device as a speaker, select the 'Mono Out' region and then the
appropriate channel.
To configure a device as a microphone, select the 'Mono In' region and then the
appropriate channel.
10. To configure the audio signal to be transmitted, just drag the audio file into the
workspace of the speaker.
Multiple files can be added to the workspace for each speaker.
11. To configure which microphones to record from, select the recording button on
the top right of the workspace of the microphone device. Devices can be
configured individually to select which ones are recording and which ones are
not. In the screenshot, the red button on the top right indicates the microphones
that will be recording.
12. Lastly, once each speaker and microphone had been configured, press the start
button to begin the audio transmission and recording. The start button is the green
button in the screenshot below.
To stop the transmission, select the stop button. The yellow button in the
screenshot below is the stop button.

* Your assessment is very important for improving the work of artificial intelligence, which forms the content of this project