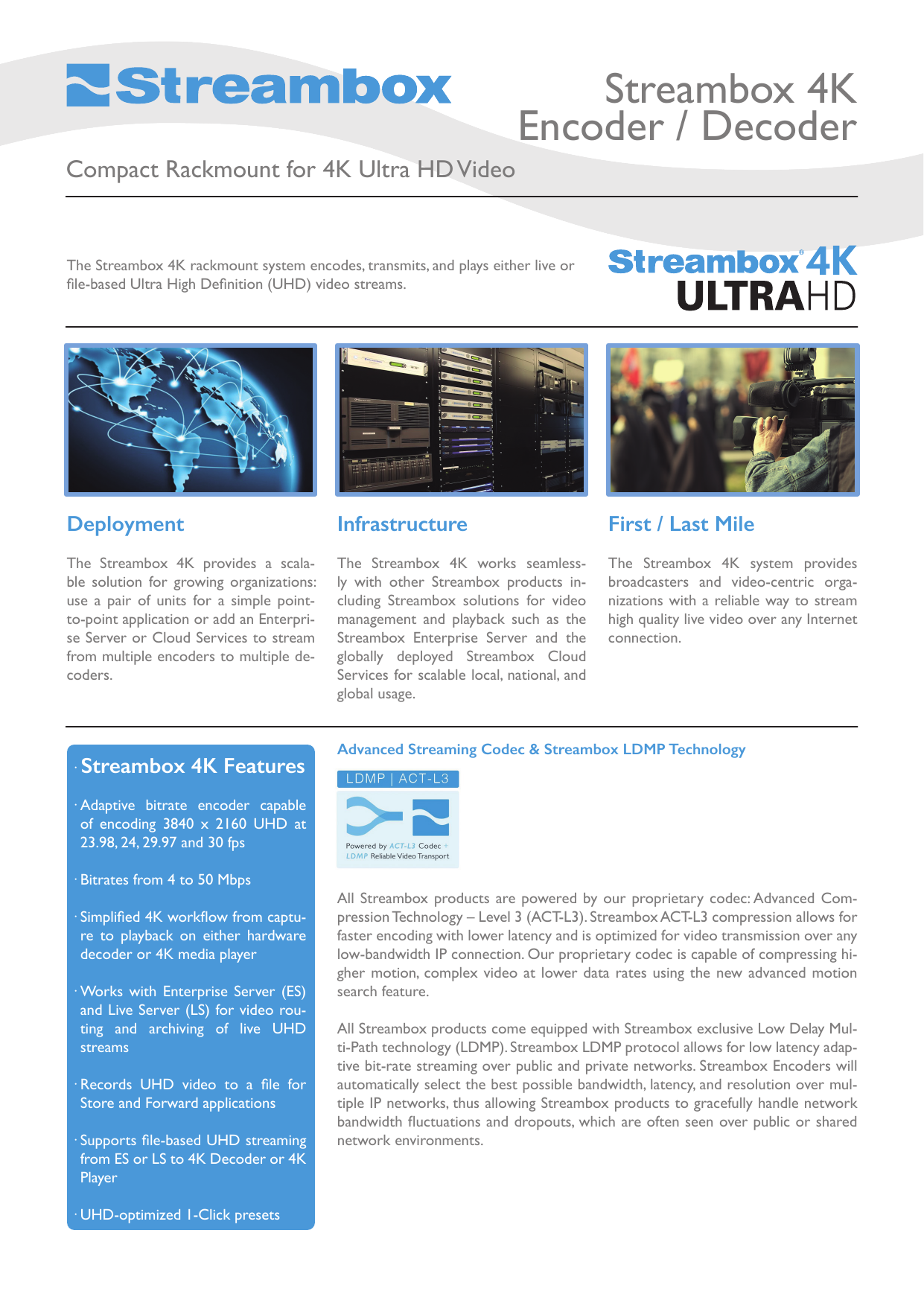 Streambox 4K
Encoder / Decoder
Compact Rackmount for 4K Ultra HD Video
The Streambox 4K rackmount system encodes, transmits, and plays either live or
file-based Ultra High Definition (UHD) video streams.
Deployment
Infrastructure
First / Last Mile
The Streambox 4K provides a scalable solution for growing organizations:
use a pair of units for a simple pointto-point application or add an Enterprise Server or Cloud Services to stream
from multiple encoders to multiple decoders.
The Streambox 4K works seamlessly with other Streambox products including Streambox solutions for video
management and playback such as the
Streambox Enterprise Server and the
globally deployed Streambox Cloud
Services for scalable local, national, and
global usage.
The Streambox 4K system provides
broadcasters and video-centric organizations with a reliable way to stream
high quality live video over any Internet
connection.
·
Streambox 4K Features
Advanced Streaming Codec & Streambox LDMP Technology
· Adaptive bitrate encoder capable
of encoding 3840 x 2160 UHD at
23.98, 24, 29.97 and 30 fps
· Bitrates from 4 to 50 Mbps
· Simplified 4K workflow from capture to playback on either hardware
decoder or 4K media player
· Works with Enterprise Server (ES)
and Live Server (LS) for video routing and archiving of live UHD
streams
· Records UHD video to a file for
Store and Forward applications
· Supports file-based UHD streaming
from ES or LS to 4K Decoder or 4K
Player
· UHD-optimized 1-Click presets
All Streambox products are powered by our proprietary codec: Advanced Compression Technology – Level 3 (ACT-L3). Streambox ACT-L3 compression allows for
faster encoding with lower latency and is optimized for video transmission over any
low-bandwidth IP connection. Our proprietary codec is capable of compressing higher motion, complex video at lower data rates using the new advanced motion
search feature.
All Streambox products come equipped with Streambox exclusive Low Delay Multi-Path technology (LDMP). Streambox LDMP protocol allows for low latency adaptive bit-rate streaming over public and private networks. Streambox Encoders will
automatically select the best possible bandwidth, latency, and resolution over multiple IP networks, thus allowing Streambox products to gracefully handle network
bandwidth fluctuations and dropouts, which are often seen over public or shared
network environments.
Streambox 4K Tehcnical Specifications
VIDEO
Video Formats
Encoding Latency
Framerates
Color Profile
Video Post Filtering
Forward Error Correction
Jitter
Presets
3840 x 2160 UHD
Adjustable from .2 seconds to 8 seconds
23.98, 24, 29.97, 30
4:2:0, 4:2:2
Advanced interlaced/progressive post filtering, including de-blocking, de-mosquito, and
anti-aliasing
Adjustable, 0% to 50%; Reed-Solomon, Parity, Shuffle
Packets order and timing correction (Decoder Mode)
Store Network,Video/Audio input, quality settings
AUDIO
Audio Encoding
IFB
8-ch, 6-ch, 4-ch, 2-ch, 1-ch. AAC, GSM or CELP; 48 or 44.1 kHz
3.5mm (1/8in) Stereo (optional)
IN/OUT
Video In
Video Out
Audio In
Audio Out
Genlock In
Utility
Single-link 6G-SDI 4K, 3G-SDI x 2, or HDMI
Single-link 6G-SDI 4K, 3G-SDI x 2, or HDMI
8 Channel embedded SDI audio, Analog XLR (Channel 1)
8 Channel embedded SDI audio, Analog XLR (Channel 1)
Decoder: Reference/Black burst
VGA, USB 2.0 (1 back, 2 front)
NETWORK
Networking
Network Protocols
Bandwith
LAN 2 RJ-45, Ethernet 10/100/1000 Mbps, IEEE 802.3ab, 802.3u, 802.3
LDMP, Multicast, Unicast UDP for IP, one-way broadcast and multiplex modes
Adjustable from 4 Mbps to 50 Mbps
OS
Linux (SSD)
STORAGE
2.5in SATA drive bay (second Solid State Drive optional)
INTERFACE
Remote Control
Front Panel
Web interface and Remote Desktop
Text LCD, Keypad
POWER
100-240 V AC, 180 W
DIMENSIONS
Case
1 RU 1.77"H x 18.9"W x 20.67"D + connections; 4.5cm H x 48cm W x 52.5cm D
Streambox delivers mobile video everywhere, allowing companies to broadcast from anywhere with unlimited scalability and
lower costs. Using the Streambox mobile app or compact mobile encoders coupled with cloud-based streaming, broadcasters,
educators, congregations and enterprise organizations can deliver live, HD video to viewers immediately.
P: +1 206 956 0544
www.streambox.com
©2015 Streambox, Inc. All rights reserved. The Streambox logo, ACT-L3 codec and SBT3-9300 are trademarks of Streambox,
Inc. All other brands and product names are trademarks or registered trademarks of their respective holders. Information supplied by Streambox, Inc. is believed to be accurate and reliable. Streambox, Inc. assumes no responsibility for any errors in this
brochure. Streambox, Inc. reserves the right,without notice,to make changes in product design or specifications.