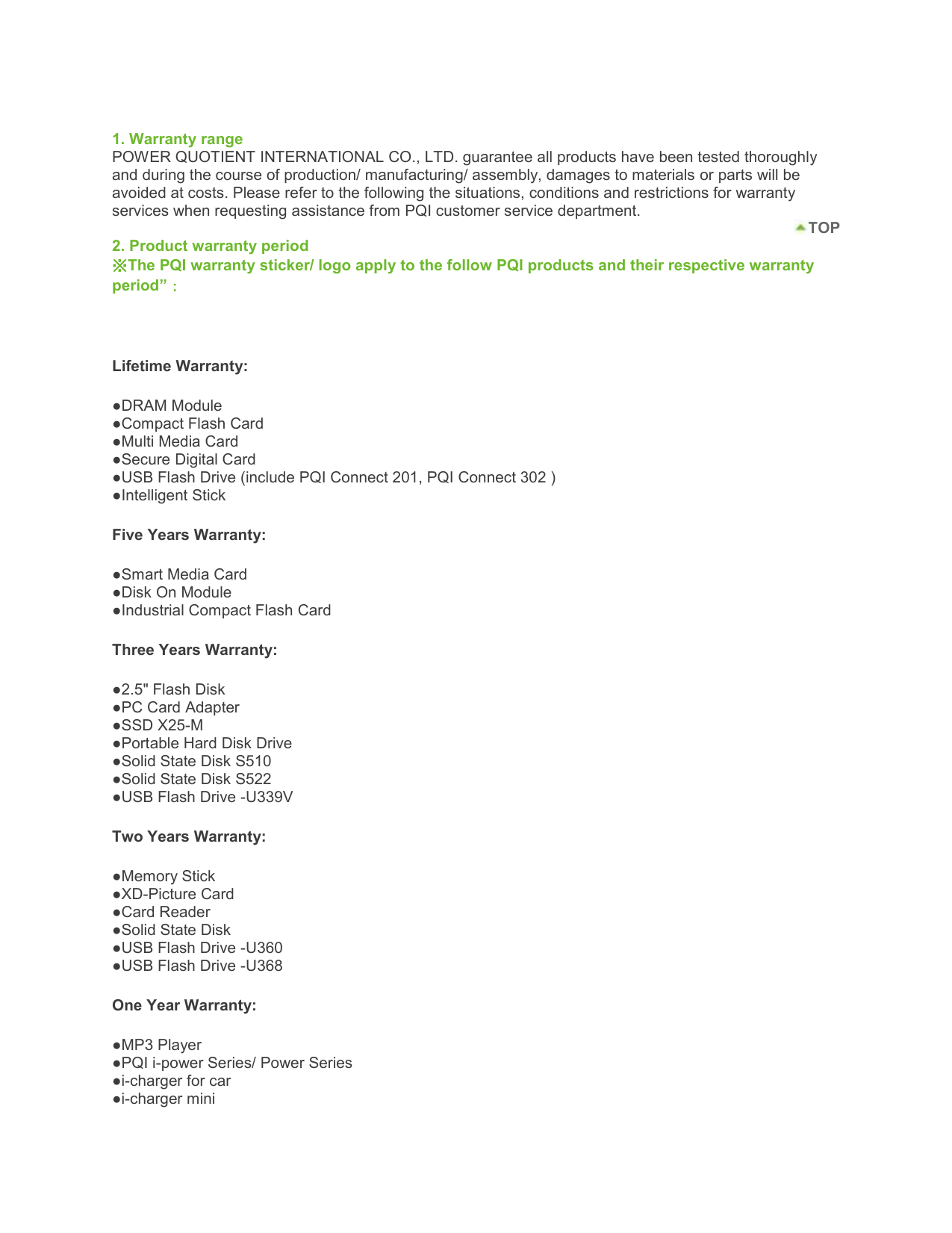 1. Warranty range
POWER QUOTIENT INTERNATIONAL CO., LTD. guarantee all products have been tested thoroughly
and during the course of production/ manufacturing/ assembly, damages to materials or parts will be
avoided at costs. Please refer to the following the situations, conditions and restrictions for warranty
services when requesting assistance from PQI customer service department.
TOP
2. Product warranty period
※The PQI warranty sticker/ logo apply to the follow PQI products and their respective warranty
period":
Lifetime Warranty:
●DRAM Module
●Compact Flash Card
●Multi Media Card
●Secure Digital Card
●USB Flash Drive (include PQI Connect 201, PQI Connect 302 )
●Intelligent Stick
Five Years Warranty:
●Smart Media Card
●Disk On Module
●Industrial Compact Flash Card
Three Years Warranty:
●2.5" Flash Disk
●PC Card Adapter
●SSD X25-M
●Portable Hard Disk Drive
●Solid State Disk S510
●Solid State Disk S522
●USB Flash Drive -U339V
Two Years Warranty:
●Memory Stick
●XD-Picture Card
●Card Reader
●Solid State Disk
●USB Flash Drive -U360
●USB Flash Drive -U368
One Year Warranty:
●MP3 Player
●PQI i-power Series/ Power Series
●i-charger for car
●i-charger mini
●i-Cable Series
●Portable Rainbow Stereo
●Air Bank
●Air Cam
●Air Card
●Air Drive
●Air Pen
●Air Pen express
●PQI Connect 203, PQI Connect 204, PQI Connect 208, PQI Connect 209, PQI Connect 210
●Gmobi iStick
※Products with "Mr. Flash" sticker/ logo are subject to a warranty period of one year.
※When product warranty stated by PQI differs to that of the local government, the warranty
period of the product will then be judged according to local government legislation(s).
TOP
3. The old product warranty period
3 years warranty for DRAM Modules produced prior to April 1st, 2003.
5 years warranty for Compact Flash Card / Multi-Media Card / Secure Digital Card produced prior to
January 1st, 2006.
2 years warranty for USB Flash Drive produced prior to July 1st, 2006.
TOP
4. Warranty Methods
DOA, Exchange for new product:Within 30days from purchase date of PQI product(s), if it is not man
made error or incompatibility issues, the product will be declared DOA and a new product will be provided
for exchange. Please send all accessories, packages and the DOA product along with proof of purchase
to complete the DOA exchange for new product procedures. Products that do not meet DOA exchange
conditions are still entitled to RMA services.
Note:
For the products below, please keep all full package including accessories and USB cables. 1. Portable Hard Disk Drive:
brochure and USB cable. 2. Some Flash Card enclosed with card reader as a gift: card reader should be returned together
3. i-Power: brochure and USB cable. 4. i-Charger: brochure and i-Cable.
RMA, Exchange:For PQI products within the warranty period, warranty services are free of charge
(Including labor or exchange services). The exchange of product or product parts are of the same
specifications or equivalent to.
The exchange of season's limited will be base on the same specifications or equivalence.
Repairs:Products that have been repaired by PQI with the same re-occurring issue(s) within 3 Months
of the repair service are also entitled to a free warranty service to fix the particular issue. For products
with incompatibility issues, warranty repair is limited to 3 times. On the third time, we will exchange it with
a product that has the same specifications or the replacement model to avoid false incompatibility issues.
TOP
5. PQI Warranty Period and Duration
Product warranty durations are calculated based on the date of purchase. Please provide original proof of
purchase documents (eg. receipt or invoices) when requesting warranty services. If customers are unable
to provide an original copy of such documents, the warranty period will be based on the manufacturing
date stated on the product.
TOP
6. PQI Warranty Limitations – Warranty Conditions
1. Warranty is void when users disobey instructions given by the user's manual resulting in
damages.
2. Warranty is void when product damages are caused by natural disaster(s) (eg. flood, fire,
earthquake, thunder/ lightning, typhoon, etc), human-caused (eg. applying external force
causing deformation, breakage, malfunctioning of), damage caused by computer, human-error
(eg. not kept in a secured area resulting in lost of) or other abusive usage of the product.
3. Warranty is void when customers or have allowed a unauthorized third party to install, add,
expand, modify, repair or remove parts or components and resulting in damage(s).
4. Warranty is void when damages are caused by computer viruses or caused when trying to
remove the virus.
5. Warranty is void when damage is caused by physics, electrical, static or magnetic field
interference resulting in instability.
6. Warranty is void when products are left in an unsuited environment (eg. high temperature or
humidity environments) resulting in damages.
7. Warranty is void when products are damaged or lost during the course of delivery from the
customer.
8. During repair services, data stored on the products may be lost as a result of necessary service
procedures. Therefore, please backup all data prior to returning your product to PQI for repair
or warranty services. *PQI will not be responsible for any data loss
9. If any PQI products are used for research and development or professional testing purposes,
any service requested on those products will incur a fee regardless of the warranty stated.
TOP
7. Warranty Service Procedure
1. Prior to sending product(s) for warranty services, please Fax or Email to PQI-RMA
department to acquire a "RMA Request Form". Please fill in the RMA request form (Please
clearly fill in all contact details) and notify the RMA department of the problem(s) you are
experiencing. The RMA department will then issue a RMA number and ask you, the customer
to send the product back to PQI.
2. The RMA number "must" be clearly written on the packaging of the product that is being sent
back. Please also take care when packaging, make sure to place sufficient padding as damages
may occur during transportation. Within 30 days of receiving the RMA number, the product
along with the RMA number must arrive at PQI Taiwan headquarter or other nearest global
branch office. Customer must pay for all delivery and any insurance costs when sending RMA
products to PQI and PQI will cover all handling and insurance costs when returning repaired
products back to customers.
TOP
8. Remarks
1. If products do not qualify as a warranty product, all services provided by PQI on the product
2.
3.
4.
5.
will incur a service fee. The fees and rates charged are set by PQI regulations (Please enquire
within for further details).
When products return to PQI for repairs, if the product is no longer in production or the
required material / component can no longer be acquired, PQI will replace the product with
another that has similar specifications and capacity.
Product warranties are void if the PQI warranty sticker/ logo have been removed, scratched or
damaged in anyway beyond recognition.
Customer must get into the habit of storing backups on other types of mediums when using
flash base storage devices. PQI shall not be responsible or liable, directly or indirectly, for any
damages or loss of data / files.
This warranty covers all repaired or exchanged products.
TOP
9. Disclaimer
1. PQI does not provide additional services other than warranty services described above and
this warranty supersedes all other warranties or representations, oral or written.
2. PQI does not provide additional services other than warranty services described above and
this warranty supersedes all other warranties or representations, oral or written.
3. even if PQI has been advised of the possibility of such damages. PQI will not be liable for any
direct or indirect damages caused. PQI warranty extends no further than repair, exchange or
refund services and PQI will honor all responsibilities within the written conditions stated in
this document.