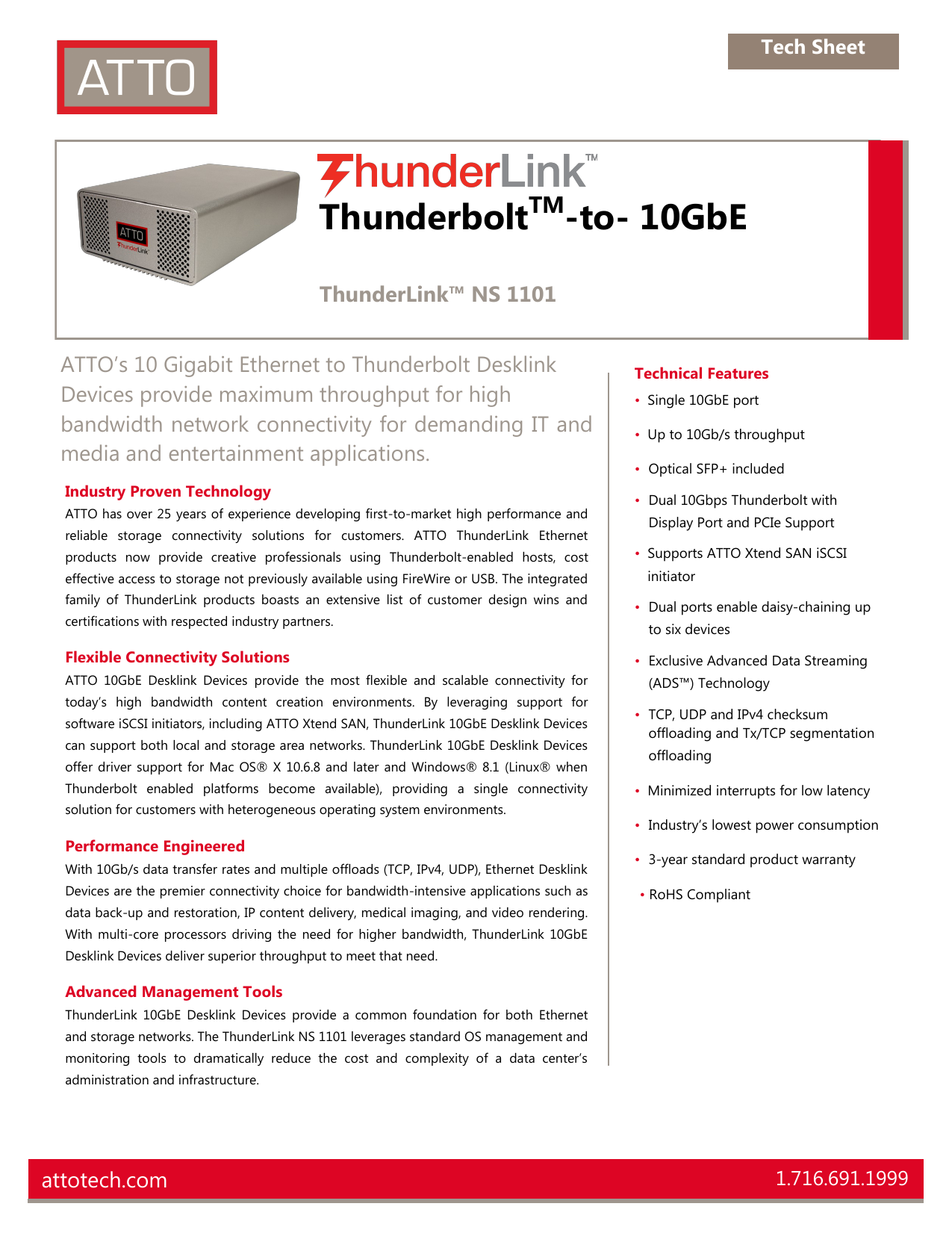 Tech Sheet
ThunderboltTM-to- 10GbE
ThunderLink™ NS 1101
ATTO's 10 Gigabit Ethernet to Thunderbolt Desklink
Devices provide maximum throughput for high
bandwidth network connectivity for demanding IT and
media and entertainment applications.
Industry Proven Technology
ATTO has over 25 years of experience developing first-to-market high performance and
reliable storage connectivity solutions for customers. ATTO ThunderLink Ethernet
products now provide creative professionals using Thunderbolt-enabled hosts, cost
effective access to storage not previously available using FireWire or USB. The integrated
family of ThunderLink products boasts an extensive list of customer design wins and
certifications with respected industry partners.
Flexible Connectivity Solutions
ATTO 10GbE Desklink Devices provide the most flexible and scalable connectivity for
today's high bandwidth content creation environments. By leveraging support for
software iSCSI initiators, including ATTO Xtend SAN, ThunderLink 10GbE Desklink Devices
can support both local and storage area networks. ThunderLink 10GbE Desklink Devices
offer driver support for Mac OS® X 10.6.8 and later and Windows® 8.1 (Linux® when
Thunderbolt enabled platforms become available), providing a single connectivity
solution for customers with heterogeneous operating system environments.
Performance Engineered
With 10Gb/s data transfer rates and multiple offloads (TCP, IPv4, UDP), Ethernet Desklink
Devices are the premier connectivity choice for bandwidth-intensive applications such as
Technical Features
• Single 10GbE port
• Up to 10Gb/s throughput
• Optical SFP+ included
• Dual 10Gbps Thunderbolt with
Display Port and PCIe Support
• Supports ATTO Xtend SAN iSCSI
initiator
• Dual ports enable daisy-chaining up
to six devices
• Exclusive Advanced Data Streaming
(ADS™) Technology
• TCP, UDP and IPv4 checksum
offloading and Tx/TCP segmentation
offloading
• Minimized interrupts for low latency
• Industry's lowest power consumption
• 3-year standard product warranty
• RoHS Compliant
data back-up and restoration, IP content delivery, medical imaging, and video rendering.
With multi-core processors driving the need for higher bandwidth, ThunderLink 10GbE
Desklink Devices deliver superior throughput to meet that need.
Advanced Management Tools
ThunderLink 10GbE Desklink Devices provide a common foundation for both Ethernet
and storage networks. The ThunderLink NS 1101 leverages standard OS management and
monitoring tools to dramatically reduce the cost and complexity of a data center's
administration and infrastructure.
attotech.com
1.716.691.1999
Thunderbolt to 10GbE Optical Desklink Device
Tech Sheet
ThunderLink™ NS 1101
Technical Specifications
Applications
ThunderLink 10GbE Desklink solutions combine the unparalleled performance of 10 Gigabit Ethernet, the lossless benefits of Enhanced Ethernet and robustness of
software iSCSI initiators, to meet the performance and economic needs of today's growing data centers. The ThunderLink NS 1101 is ideal for applications that
require low latency, high bandwidth data transfers, such as data back-up and restoration, video-on-demand and video streaming, medical imaging, and clustered
databases.
General Features
▪
Data rate per port: 10GbE
▪
▪
TCP, UDP and IPv4 checksum offloading
Tx/TCP segmentation offload (Large Send
Offload—LSO)
▪
Low latency interrupts
Management Tools
Compliance
▪
▪
FCC Part 15 Subpart B, Class B
▪
EN55022, Class B/EN55024
▪
EN60825-1
▪
EN60825-2
▪
EN60950-1
▪
CTUVUS
▪
EU RoHS (2002/95/EC)
▪
Easy system monitoring with Simple
Network Management Protocol (SNMP)
and Remote Network Monitoring (RMON)
Statistic Counters
Watchdog Timer for chip/driver status
monitoring
External Connectivity
▪
Interrupt moderation
▪
Interrupt levels INTA, MSI
▪
▪
▪
IEEE 802.3 2005 flow control support
VLAN support with tag insertion and
stripping
Dual speed 10G/1G one LC fiber-optic
connector
▪
Supports 10 G SFP + Cu for Direct Attach
Dimensions
▪
2 LED indicators
▪
▪
LED Indicators: LINK (solid), ACTIVITY
(blinking), LINK SPEED (ON = 10Gb, OFF =
1Gb)
Power Adapter
Advanced Software Features
▪
▪
Adaptive load balancing
IEEE 802.1Q VLANs
Network Standards
User Benefits
▪
Multiple offloads for lower processor usage
and increased throughput
▪
▪
Reduced power, cooling and cabling costs
Low total cost of ownership (TCO) with high
bandwidth over a single link
▪
IEE802.3ae: 10GBASE-SR, 10GBASE-LR
▪
SFF-8431: 10GSFP+Cu (a.k.a Direct Attach)
▪
DCBX Protocol
Operating System Support
Depth 9", Width 5", Height 2.5"
▪
100-240VAC, 50-60Hz, 0.5A Max
▪
12VDC
Environmental
Operating Temperature :
▪ Temperature: 0-40° C
▪
Humidity: 10 - 90% non-condensing
Storage Temperature :
▪
Mac OS® X 10.6.8 and later
▪
Temperature: -40° C to 70° C
▪
Windows® 8.1
▪
Humidity: 5- 95% non-condensing
Warranty
▪
3 Years
ThunderLink NS 1101
Model Number
TLNS-1101-D00 (US)
TLNS-1101-DE0 (EU/
UK)
Input Connectors
(2) 10Gb/s Thunderbolt™
Output Connectors
(1) 10GbE
Connector Type
(1) LC SFP+
Form Factor
Desktop
Warranty
3 Year
attotech.com
1.716.691.1999
Product features and specifications are subject to change without notice.

* Your assessment is very important for improving the work of artificial intelligence, which forms the content of this project