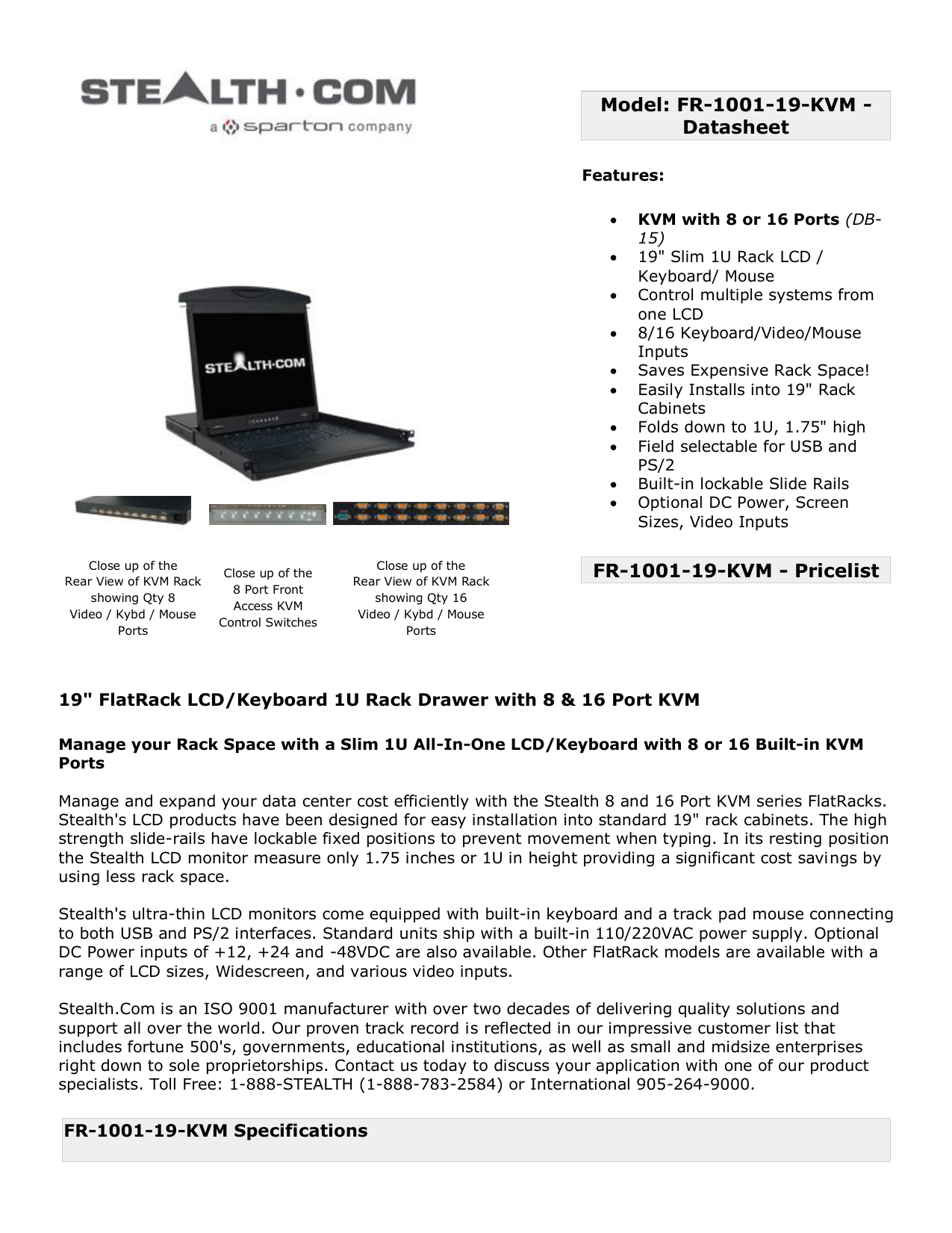 Model: FR-1001-19-KVM Datasheet
Features:










Close up of the
Rear View of KVM Rack
showing Qty 8
Video / Kybd / Mouse
Ports
Close up of the
8 Port Front
Access KVM
Control Switches
Close up of the
Rear View of KVM Rack
showing Qty 16
Video / Kybd / Mouse
Ports
KVM with 8 or 16 Ports (DB15)
19" Slim 1U Rack LCD /
Keyboard/ Mouse
Control multiple systems from
one LCD
8/16 Keyboard/Video/Mouse
Inputs
Saves Expensive Rack Space!
Easily Installs into 19" Rack
Cabinets
Folds down to 1U, 1.75" high
Field selectable for USB and
PS/2
Built-in lockable Slide Rails
Optional DC Power, Screen
Sizes, Video Inputs
FR-1001-19-KVM - Pricelist
19" FlatRack LCD/Keyboard 1U Rack Drawer with 8 & 16 Port KVM
Manage your Rack Space with a Slim 1U All-In-One LCD/Keyboard with 8 or 16 Built-in KVM
Ports
Manage and expand your data center cost efficiently with the Stealth 8 and 16 Port KVM series FlatRacks.
Stealth's LCD products have been designed for easy installation into standard 19" rack cabinets. The high
strength slide-rails have lockable fixed positions to prevent movement when typing. In its resting position
the Stealth LCD monitor measure only 1.75 inches or 1U in height providing a significant cost savings by
using less rack space.
Stealth's ultra-thin LCD monitors come equipped with built-in keyboard and a track pad mouse connecting
to both USB and PS/2 interfaces. Standard units ship with a built-in 110/220VAC power supply. Optional
DC Power inputs of +12, +24 and -48VDC are also available. Other FlatRack models are available with a
range of LCD sizes, Widescreen, and various video inputs.
Stealth.Com is an ISO 9001 manufacturer with over two decades of delivering quality solutions and
support all over the world. Our proven track record is reflected in our impressive customer list that
includes fortune 500's, governments, educational institutions, as well as small and midsize enterprises
right down to sole proprietorships. Contact us today to discuss your application with one of our product
specialists. Toll Free: 1-888-STEALTH (1-888-783-2584) or International 905-264-9000.
FR-1001-19-KVM Specifications
Construction & Design
19" Rackmount steel chassis
1U , 1.75" or 44.5mm high
Screen Size
19.0" (Diagonal)
Type
TFT Active Matrix Liquid Crystal
Aspect Ratio
4:3
Native Resolution
1280 x 1024 (Auto sync from 640 x 480 to 1280 x
1024)
Response Time
1.3ms Typical
Viewable Image Size
Horizontal: 14.8" / 376 mm
Vertical: 11.8" / 301 mm
Video Input
VGA / HD15 (Standard)
DVI-D (Optional)
Viewing Angle
80 (up), 80 (down), 80 (left), 80 (right)
Contrast Ratio
1000:1 (typical)
Luminance (Brightness)
250 cd/m2 typical at center (250 Nits)
Controls On-Screen Display
Built-in Controls for Brightness, Size,
Contrast, H-V Position, Frequency, etc.
Inputs
Video: ANALOG: 0.7Vp-p
Keyboard/Touchpad:
PS/2 and USB Combo cables included
Power (VAC/VDC)
Internal 100~240VAC, 50/60Hz Power Supply
Power Consumption
Max. 48 Watts, Standby 5 Watts
Keyboard
104 Keys
Mouse Touch Pad
3 Button Glide Point
Security
Latching front panel w/ 2-point lock
Operating Temperature
0 - 50C (32 to 122 F)
Storage Temperature
-5 - 60C (-23 to 140 F)
Humidity
5~90%, non-condensing
Shock
10G acceleration (11ms duration)
Vibration
5~500Hz 1G RMS random vibration
Color
Black (standard)
Unit Weight
Unit 51 lbs. (23 kgs)
FR-1001-19-KVM8
- 19" LCD/Keyboard/Trackpad with 8-Port KVM (DB15)
Available Models:
FR-1001-19-KVM16
- 19" LCD/Keyboard/Trackpad with 16-Port KVM
(DB-15)
Dimensions
19.0"(W) x 1.75"(H) x 25.6"(D)
482.6mm x 44.5mm x 650mm
Additional Options
- KVM (Cat6) version with 8, 16 or 32 inputs
available
- 12/24/48VDC Power supply
- DVI-D, BNC, S-Video, RCA Inputs
Product Bundle
Bundle with a Stealth Rackmount Computer and
Save
- see pricelist links above for more details
Warranty
2 Year Parts & Labor
NOTE: Specifications subject to change without notice.

* Your assessment is very important for improving the work of artificial intelligence, which forms the content of this project