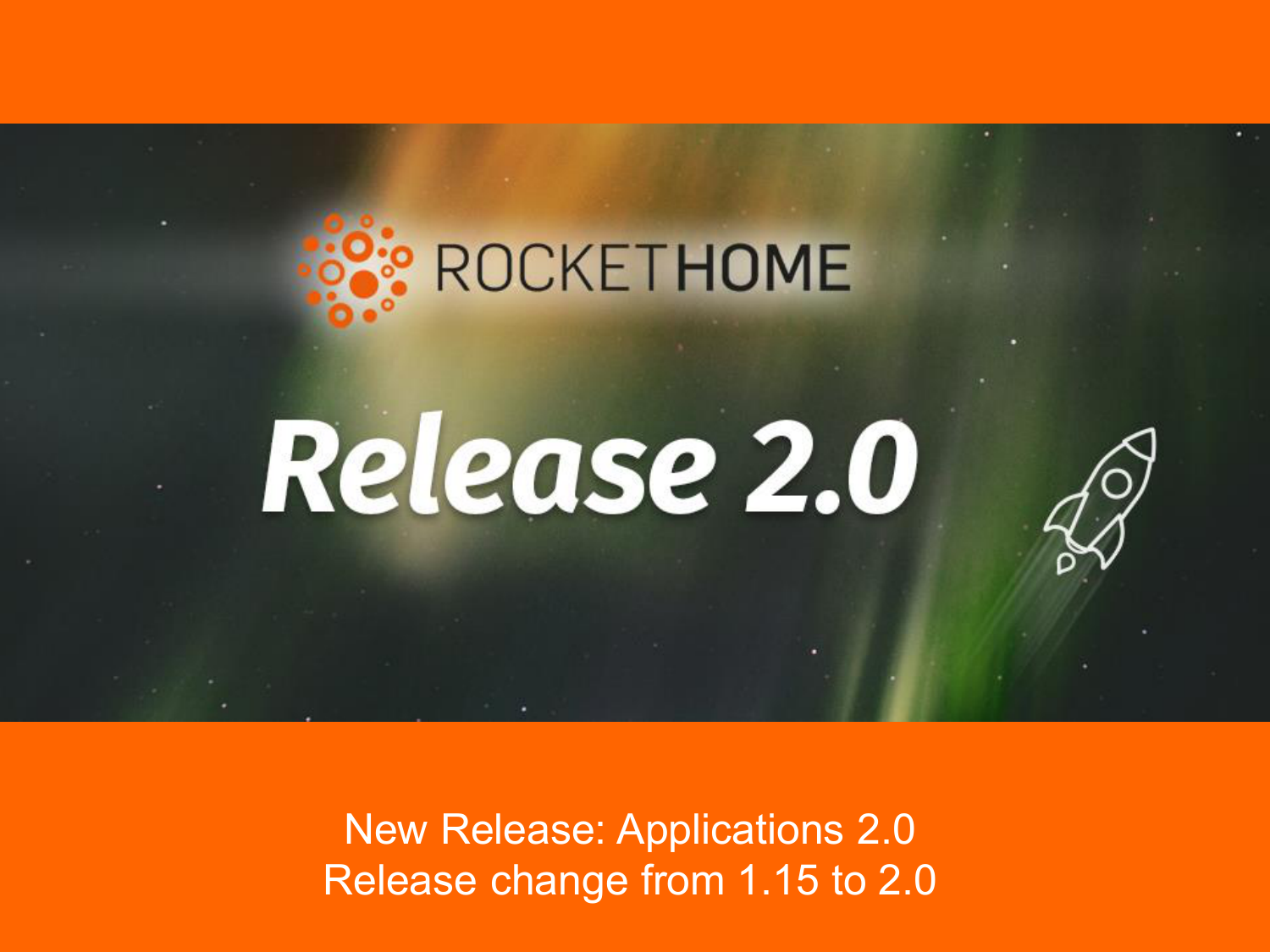 ROCKETHOME GmbH
New Release: Applications 2.0
Release change from 1.15 to 2.0
Web Applications 2.0 - New features at a glance
New camera
Panic Watch
Flush-mounted devices
Permanent login
in the App
Change username
Password security
in the App 2.0
Easy-touch controls
Wall mounted switch
Individual overview through
movable tiles
New navigation
Dashboard with six
different areas
Faster menu navigation
Offline message
of gateway
Faster updating
Fibaro wall plug
Multi-sensor: lux or
% display of brightness
2
Web Portal 2.0
Web Portal 2.0
for faster configuration and administration
of rules
powered by ROCKETHOME
3
Web Portal 2.0
The Web Portal 2.0 shines in a
completely new design and entails a unique user experience.
Enjoy the benefits of a modern
and clear display which makes
the handling of your smart home
devices even easier.
The new adaptive design contains resolution levels for all mobile devices.
4
Web Portal 2.0
The Web Portal 2.0 is a major development step which serves as the basis for all innovations. Enjoy the benefits of a new design and improved user experience on all your
devices.
The easy-touch control of our applications provides an easier control of your home.
5
Expansion of the "Security" Use Case
powered by ROCKETHOME
6
Camera for interior areas D-link DCS-942L
Enjoy the benefits:
• You have an overview of your home.
• The camera is optimised for all available devices.
• Wireless overview: Simple forwarding of your images via e-mail and text
messaging on mobile devices saves you time and effort.
7
Camera for interior areas D-link DCS-942L
Make your home safer and keep an eye on everything - any time, anywhere! The Dlink DCS-942L can be paired and unpaired with ease. The device sends a freeze
image to your smartphone, tablet or computer as soon as the built-in motion detector
is triggered. The image can be updated, saved and sent via e-mail and SMS. You can
also integrate the camera into scenes and services and operate time controls.
8
Camera for interior areas D-link DCS-942L
You can, for example, mount the
camera close to every possible
access to your flat. The integrated
motion detector notifies you
immediately and around the clock
about what is happening in your
home.
Space-saving and easy to use:
Install with just a few simple steps
and keep your toddlers in view.
The possibilities are endless.
Small businesses can use the
camera without cumbersome
wiring
to
reliably
monitor
important areas. Compared to
elaborate monitoring systems, the
D-Link DCS-942L offers optimal
protect-ion at a reasonable price.
9
New "Smart Home Pro" Use Case
with flush-mounted devices
for professional installation
powered by ROCKETHOME
10
Flush-mounted devices
On/Off
On/Off D
Shutter
• The on/off module switches
electronic devices on and
off.
• At the same time, it
measures the power
consumption of the
connected devices in watts
and the total consumption
in kWh.
• The module is used, for
example, to control lamps,
fans or washing machines.
• The on/off D-module is a
potential-free contact which
offers the advanced control
of heating and cooling
systems.
• Using scenes, services and
time controls, you can
determine exactly which
devices should stay on or
off in which room, when
and for how long.
• The shutter module can be
used for the control of
motors.
• You can easily control
blinds or your garage door
with your smartphone or
tablet
.
Dimmer
Dual On/Off
• This module dims the light
of connected devices. It
can be used also for the
speed control of fans.
• The dimmer module
provides even more
comfort in your home
.
• Similar to the on/off
module, the dual on/off
module switches electronic
devices on and off.
• This module makes it
possible to control two
switches or buttons and
operate two devices at the
same time.
Make your wall switch smart! A properly installed flush-mounted module enables the
easy integration of Smart Home in your own power grid. With them, an existing infrastructure can be simply used to control connected devices.
Qubino Flush-mounted devices
Shutter
module
Dimmer
module
On/Off
module
On/Off D
module
Dual
On/Off
module
12
New Use Case
"Ambient Assisted Living"
powered by ROCKETHOME
13
BeNext Panic Watch
Ambient Assisted Living products are specifically suitable for health-impaired people. The
BeNext Panic Watch is similar to a conventional panic button, but can be worn like a
bracelet on the body.
With the Panic Watch, it is possible to send messages automatically to a pre-configured
e-mail address after an alarm is triggered. If the device battery is low, it sends a signal to
the user.
14
What else is new?
powered by ROCKETHOME
15
Lux display for FIBARO Motion Sensor
The brightness of the multi-sensor can be optionally displayed in lux and percent. This
display is integrated into a graph. Lux is the SI unit of illumination intensity. The lux display can be found on the tile in the portal and in the app. You decide on which solution
best meets your needs.
16
FIBARO Wall Plug
The update time for the power consumption has been reduced.
Now you can access the power consumption data of your devices even faster.
17
Z-Wave ME Wall Switch
With the wall switch, you can control other Z-wave devices or play out scenes.
The device supports secure Z-Wave communication and sends control commands. The
wall switch works like a remote control which switches devices on and off.
18
Features for WebView, Portal and Apps
The password can
now be saved in iOS
and Android
application.
From now on,
you can change
your user name
at a later time.
Performance
and stability
improvements
You can receive a
notification when
your gateway is
offline.
A permanent login
in the iOS and
Android application
allows you to stay
logged in.
19
Get your own IoT solution in the 2.0 version now!
Do you have questions?
Contact:
Carina Diviccaro (Team Lead Sales)
Tel.: +49 221 888 955 20
E-mail: c.diviccaro@rockethome.de
ROCKETHOME GmbH
Pohligstraße 3
50969 Cologne
www.rockethome.de
Management:
Yüksel Sirmasac (CEO)
Sven Paeslack (COO)
Nikolaus Haas (Director New Business)
ROCKETHOME
This documentGmbH
and the contents are confidential and may not be disclosed without the express consent of ROCKETHOME GmbH.

* Your assessment is very important for improving the work of artificial intelligence, which forms the content of this project