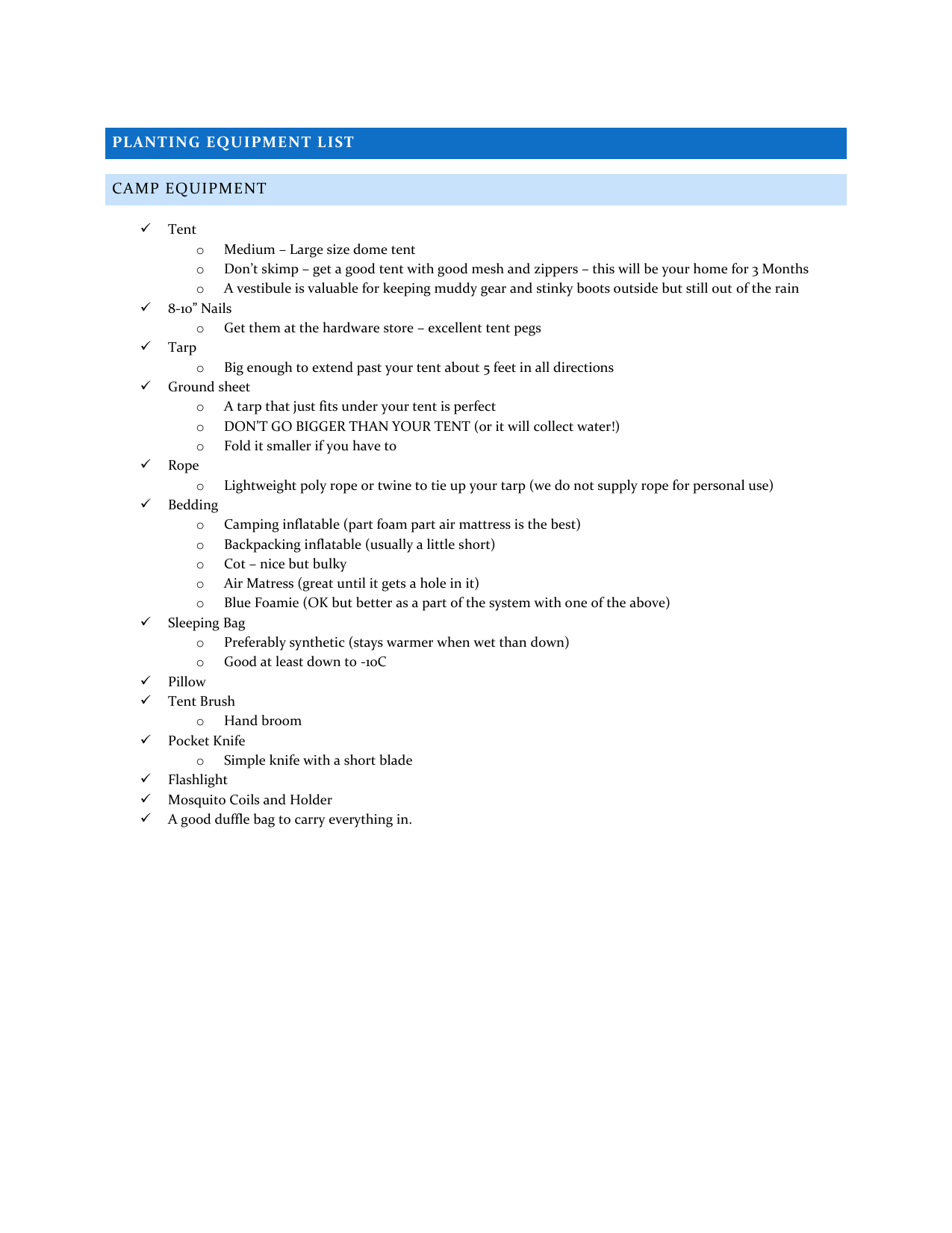 PLANTING EQUIPMENT LIST
CAMP EQUIPMENT













Tent
o Medium – Large size dome tent
o Don't skimp – get a good tent with good mesh and zippers – this will be your home for 3 Months
o A vestibule is valuable for keeping muddy gear and stinky boots outside but still out of the rain
8-10" Nails
o Get them at the hardware store – excellent tent pegs
Tarp
o Big enough to extend past your tent about 5 feet in all directions
Ground sheet
o A tarp that just fits under your tent is perfect
o DON'T GO BIGGER THAN YOUR TENT (or it will collect water!)
o Fold it smaller if you have to
Rope
o Lightweight poly rope or twine to tie up your tarp (we do not supply rope for personal use)
Bedding
o Camping inflatable (part foam part air mattress is the best)
o Backpacking inflatable (usually a little short)
o Cot – nice but bulky
o Air Matress (great until it gets a hole in it)
o Blue Foamie (OK but better as a part of the system with one of the above)
Sleeping Bag
o Preferably synthetic (stays warmer when wet than down)
o Good at least down to -10C
Pillow
Tent Brush
o Hand broom
Pocket Knife
o Simple knife with a short blade
Flashlight
Mosquito Coils and Holder
A good duffle bag to carry everything in.
PLANTING GEAR
The following gear can be purchased at good rates directly from us in the field. We buy in bulk and have good rates.
However if you want to get gear ahead of time talk with your foreman about options.





Planting Bags
o 3 pouch with padded waist belt and shoulder straps
Shovel
o D-Handle or staff shovel – blade type is specific to planting
Silvicool liners
o Reflective liners for planting bags required for proper tree care
Plot Cord
o 3.99m long plot-cord
Whistle
o Loud – emergency signal device
The remainder of your field gear you will have to have before you get to the bush.













A watch
o You have to have a watch on the block so you can time your bagups!
Water jugs
o One small (apx 1L)
o One large (apx 6-10L)
Boots (2 types)
o DON'T skimp on boots – you will be walking in them for 8-10 hours a day!
o 1 pair of Good hiking boots
o 1 pair of Rubber Caulk boots (you will not always where these boots but you will be glad you have
them on wet rainy days)
Warm Jacket
o A thick fleece jacket
Toque
Rain Gear
o Heavy duty
o Bib pants and jacket
Hat
o Wide brim for rainy days, and for sunny days to keep the sun off your face
Work Shirts
o Be prepared to wreck these
o Some cotton for hot days
o Some polypro for cold and wet days
o Don't be afraid to go super cheap and get these at the salvation army
Work Pants
o Be prepared to wreck these
o Don't be afraid to go super cheap and get these at the salvation army
o Loose and breathable
Long underwear
Shorts
Bama Socks (2 pair)
Work Socks
o You will usually wear two pair at a time one thinner cotton sock and a wool sock over top
o LOTS – two – four pair per day, for as many as twenty days



Gloves
o Planting hand – gripper gloves (or rubber dish gloves)
o Shovel hand – leather, gripper or Bicycle gloves, padded on palm
Zip lock bags
o Heavy duty for Toilet paper, and writing paper etc.
Gaiters
o Excellent for keeping dirt out of your boots.
OTHER GEAR

























Duct Tape – Several big rolls – get the good stuff
Insect Repellant
o DEET is gross but it sure works the higher % DEET the better it works
Sunscreen
Permanent Marker
Some Cash
Gear Repair Kit
o Freesole (or shoegoo)
o Bicycle repair kit (for your rubber boots and air mattress)
o Sewing kit (safety pins, needles, thread)
o More duct tape
o Extra boot laces
Bandanas
Toiletries
o Toothbrush, toothpaste, soap etc.
A good travel mug – something you can take with you in the trucks that will not spill
A thermos – great for hot drinks on cold days
Personal first aid kit
o Tweezers, mole skin, small scissors, band-aids, tiger-balm
o Epi pen + anti-histamines

If you know you have allergies this is a must

If you have never been stung before this is highly recommended
o Wrist and knee braces – get good braces that fit well. We have some but it is much better to get a
good brace that fits you well before coming out.
Lip balm
Skin cream
Stationary
o Paper, pens, envelopes, stamps
Camera (something you won't mind if it gets wet or broken)
Towel
Swim suit
Books
Chair (folding chairs are really nice after a long day)
Tupperware
Insulated lunch box (it's nice to have your sandwiches in uncrushed format sometimes)
Alarm clock
Camp shoes
Day off clothes
Large Clear plastic garbage bags
o Just in case you have to transport your gear in an open pick-up
o Don't use black or your gear may get sent with the garbage truck by mistake!

* Your assessment is very important for improving the work of artificial intelligence, which forms the content of this project