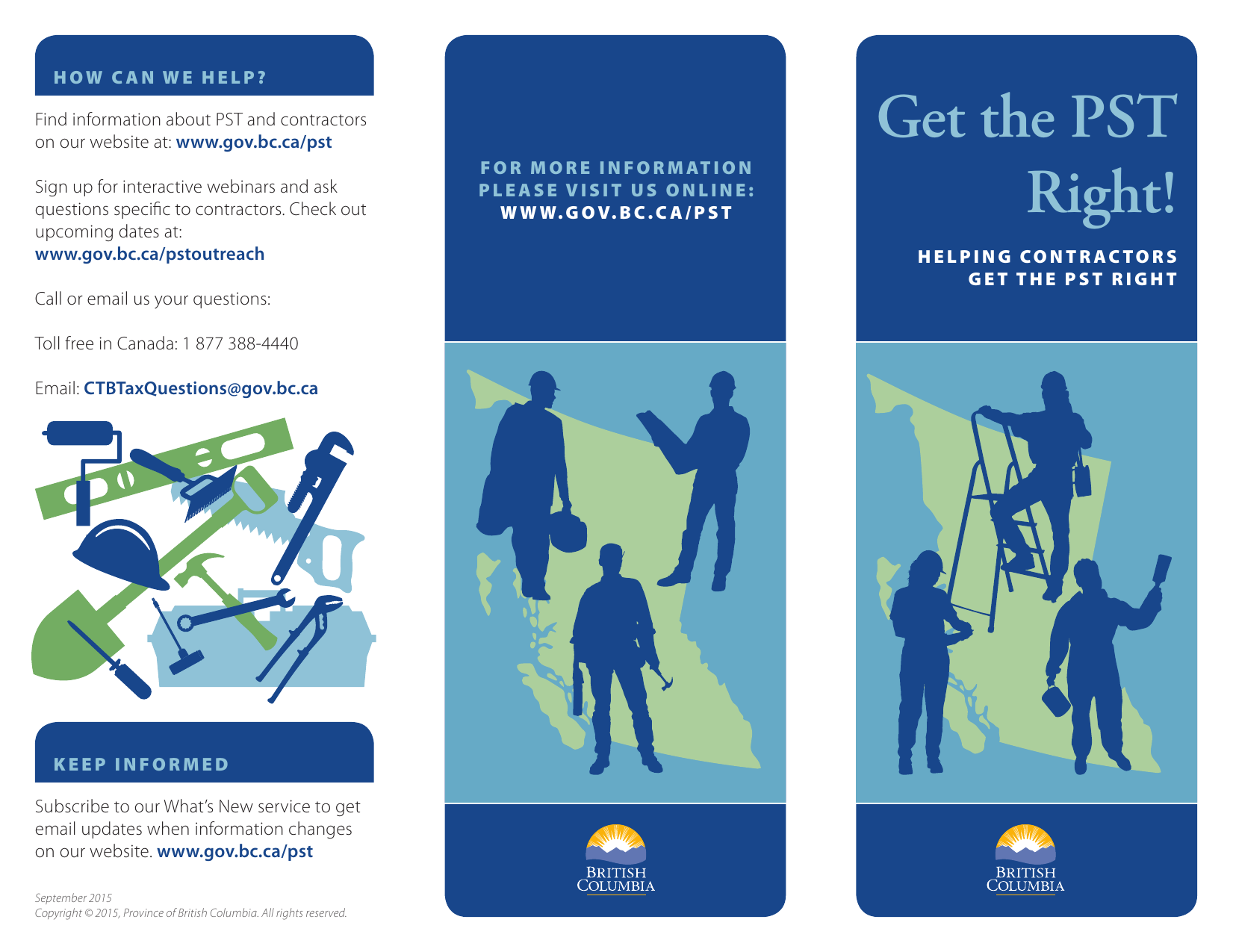 HOW CAN WE HELP?
Find information about PST and contractors
on our website at: www.gov.bc.ca/pst
Sign up for interactive webinars and ask
questions specific to contractors. Check out
upcoming dates at:
www.gov.bc.ca/pstoutreach
Call or email us your questions:
Toll free in Canada: 1 877 388-4440
Email: CTBTaxQuestions@gov.bc.ca
KEEP INFORMED
Subscribe to our What's New service to get
email updates when information changes
on our website. www.gov.bc.ca/pst
September 2015
Copyright © 2015, Province of British Columbia. All rights reserved.
F O R M O R E I N F O R M AT I O N
PLEASE VISIT US ONLINE:
W W W. G O V. B C . C A / P S T
Get the PST
Right!
HELPING CONTR AC TORS
GET THE PST RIGHT
If you're
a contractor, there
A R E YO U A C O N T R A C T O R ?
Are you a carpenter, electrician, landscaper,
builder, plumber, painter or other contractor?
are PST rules you
W H O PAY S T H E P S T ?
You pay the PST when the work you do
or the goods you install become part of
buildings or land.
If your customer agrees, you may be able to
transfer the PST liability to them. Contact us
for more information.
need to know.
KNOW HOW PST WORKS
» When to pay PST on your goods
and supplies.
» How PST applies to goods for resale
vs. those you install.
Does your business make retail sales of goods
and also install goods into buildings or land?
Your customer pays the PST when you sell
them goods and you don't do the installation.
» How PST applies to goods used to
fulfill a contract outside B.C.
» When you need to be registered to
collect PST.
» When to charge your customers PST.
» How PST applies to goods bought
outside B.C.
D O YO U N E E D T O R E G I S T E R ?
» When you may be eligible for a PST
refund and how to apply.
If you answered Yes to either of these
questions, we consider you a contractor.
Registering to collect PST depends on the
type of work you do and if you need to
collect PST from your customers.
Contact us if you have questions.
We're here to help!
Make sure you know what the PST rules
are and how they might apply to you.
Learn about registering at www.gov.bc.ca/pst
or call us toll free at 1 877 388-4440.

* Your assessment is very important for improving the work of artificial intelligence, which forms the content of this project