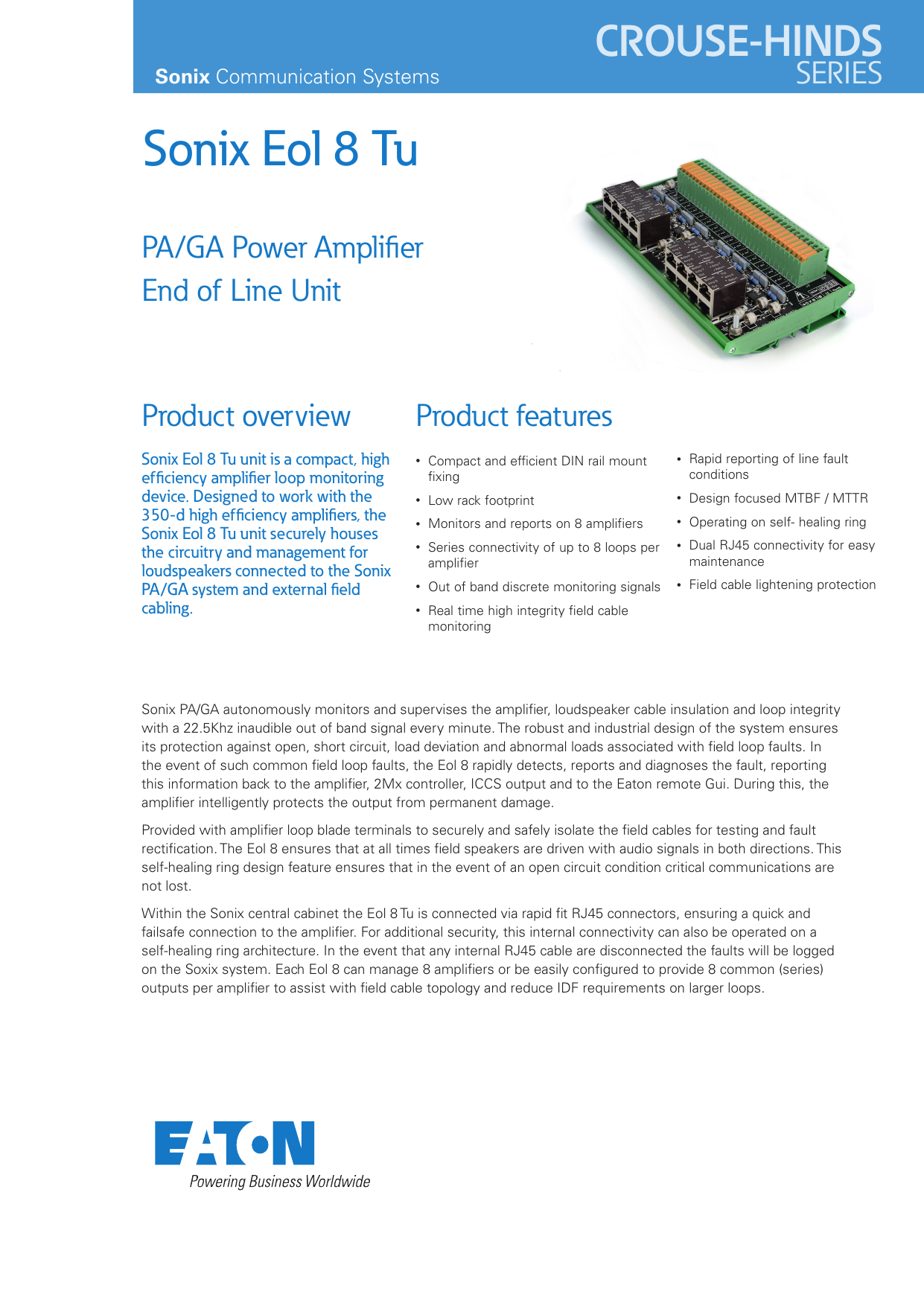 Sonix Communication Systems
CROUSE-HINDS
SERIES
Sonix Eol 8 Tu
PA/GA Power Amplifier
End of Line Unit
Product overview
Sonix Eol 8 Tu unit is a compact, high
efficiency amplifier loop monitoring
device. Designed to work with the
350-d high efficiency amplifiers, the
Sonix Eol 8 Tu unit securely houses
the circuitry and management for
loudspeakers connected to the Sonix
PA/GA system and external field
cabling.
Product features
•
Compact and efficient DIN rail mount
fixing
•
Rapid reporting of line fault
conditions
•
Low rack footprint
•
Design focused MTBF / MTTR
•
Monitors and reports on 8 amplifiers
•
Operating on self- healing ring
•
Series connectivity of up to 8 loops per
amplifier
•
Dual RJ45 connectivity for easy
maintenance
•
Out of band discrete monitoring signals
•
Field cable lightening protection
•
Real time high integrity field cable
monitoring
Sonix PA/GA autonomously monitors and supervises the amplifier, loudspeaker cable insulation and loop integrity
with a 22.5Khz inaudible out of band signal every minute. The robust and industrial design of the system ensures
its protection against open, short circuit, load deviation and abnormal loads associated with field loop faults. In
the event of such common field loop faults, the Eol 8 rapidly detects, reports and diagnoses the fault, reporting
this information back to the amplifier, 2Mx controller, ICCS output and to the Eaton remote Gui. During this, the
amplifier intelligently protects the output from permanent damage.
Provided with amplifier loop blade terminals to securely and safely isolate the field cables for testing and fault
rectification. The Eol 8 ensures that at all times field speakers are driven with audio signals in both directions. This
self-healing ring design feature ensures that in the event of an open circuit condition critical communications are
not lost.
Within the Sonix central cabinet the Eol 8 Tu is connected via rapid fit RJ45 connectors, ensuring a quick and
failsafe connection to the amplifier. For additional security, this internal connectivity can also be operated on a
self-healing ring architecture. In the event that any internal RJ45 cable are disconnected the faults will be logged
on the Soxix system. Each Eol 8 can manage 8 amplifiers or be easily configured to provide 8 common (series)
outputs per amplifier to assist with field cable topology and reduce IDF requirements on larger loops.
Specifications
Mechanical / Environmental
Fixing
DIN rail security fixing
Weight
0.5 Kg
Dimensions (H x W x D mm)
205 x 118 x 54.7
Material
Flame retardant PA UL94V0
Operating Temp
-20°C to +70°C
Operating Relative Humidity
20 to 95% Non-condensing
Service Location
Safe internal location
Connectors
Eol Bus: Rapid Fit RJ45 Modular Jacks
Amp loops : Polybutylene blade terminals 2.5mm sq
Ingress Protection Rating
IP30
Electrical
Voltage
100 V audio from 350-d amplifier
Power Supply
Passive Device
Consumption
N/A
Heat
N/A
Amplifier loop protection
Open loop, Short loop, Earth, Intermittent and Line Deviation
Via 22.5 Khz
General
Fault Contact
Via amplifier and 2Mx local and remote reporting
Status Indicator
High visibility LED display for monitoring
Certification
CE, Environmental and EMC (IEC60945)
Connectivity (all internal connectivity
can be radial or self-healing loops as standard)
Eol bus
2 x 8 RJ45, providing 8 amplifier inputs either radial or self-healing loop (see 350-700-d datasheets)
Speaker Loops
2 x 16 blade terminal blocks. Providing 8 amplifier loops termination for up to 2.5 mm.sq cables
General Arrangement Drawing
Ordering Requirements
The following code is designed to help in selection of the correct unit. Build up the reference number by inserting the code for each
component into the appropriate box
Model
Sonix-Eol-8-Tu
Eaton
Unit B, Sutton Parkway
Oddicroft Lane
Sutton in Ashfield
United Kingdom
NG17 5FB
T: + 44 (0) 1623 444 400
www.crouse-hinds.com/hac
MEDCSales@Eaton.com
© 2015 Eaton
All Rights Reserved
Printed in UK
Publication No. DSSO0040
August 2015
Eaton is a registered trademark.
All other trademarks are property
of their respective owners.
All specifications, dimensions, weights and tolerances are nominal (typical) and Eaton reserve the right to vary all data without prior notice.
No liability is accepted for any consequence of use.

* Your assessment is very important for improving the work of artificial intelligence, which forms the content of this project