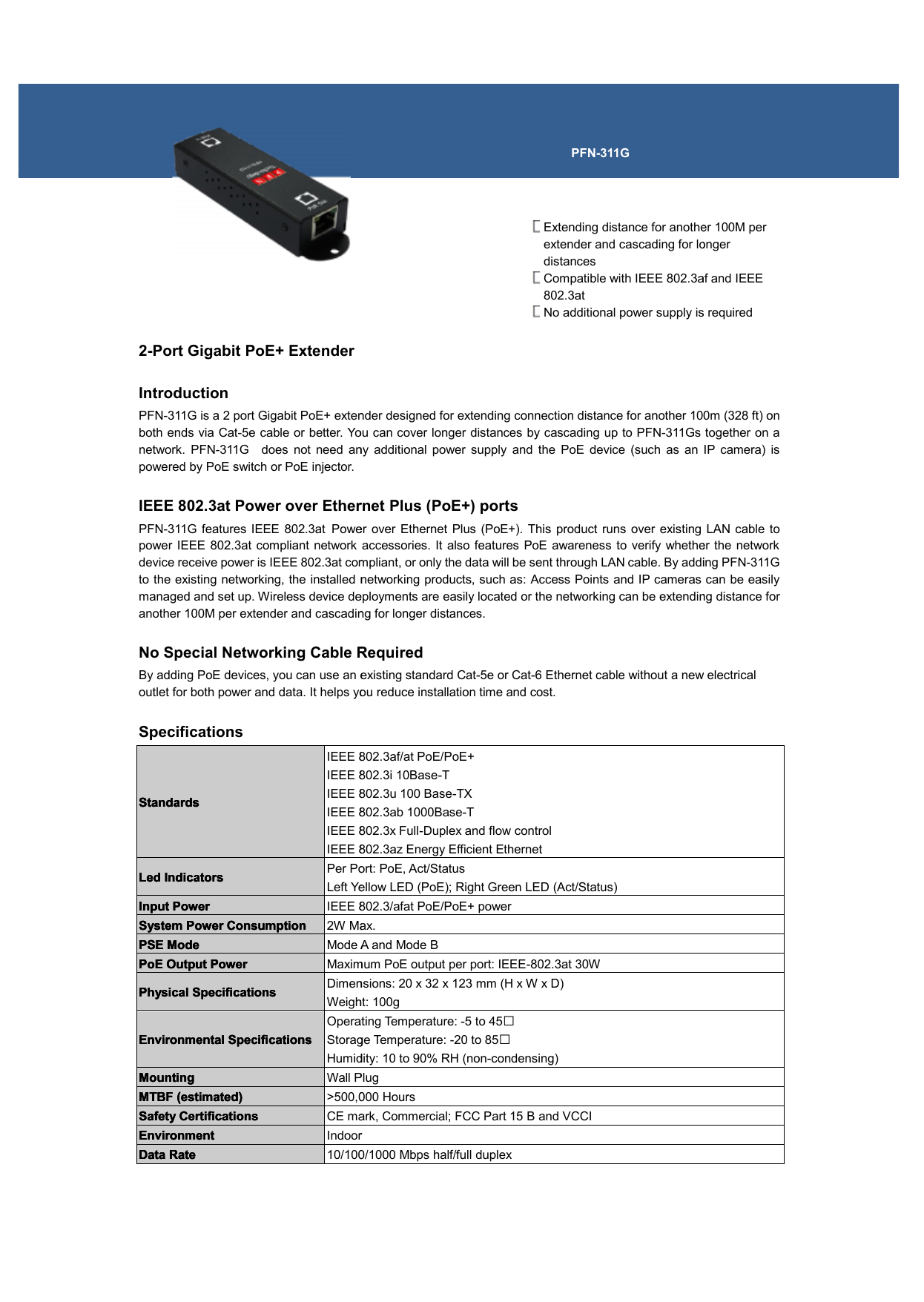 PFN-311G
Extending distance for another 100M per
extender and cascading for longer
distances
Compatible with IEEE 802.3af and IEEE
802.3at
No additional power supply is required
2-Port Gigabit PoE+ Extender
Introduction
PFN-311G is a 2 port Gigabit PoE+ extender designed for extending connection distance for another 100m (328 ft) on
both ends via Cat-5e cable or better. You can cover longer distances by cascading up to PFN-311Gs together on a
network. PFN-311G does not need any additional power supply and the PoE device (such as an IP camera) is
powered by PoE switch or PoE injector.
IEEE 802.3at Power over Ethernet Plus (PoE+) ports
PFN-311G features IEEE 802.3at Power over Ethernet Plus (PoE+). This product runs over existing LAN cable to
power IEEE 802.3at compliant network accessories. It also features PoE awareness to verify whether the network
device receive power is IEEE 802.3at compliant, or only the data will be sent through LAN cable. By adding PFN-311G
to the existing networking, the installed networking products, such as: Access Points and IP cameras can be easily
managed and set up. Wireless device deployments are easily located or the networking can be extending distance for
another 100M per extender and cascading for longer distances.
No Special Networking Cable Required
By adding PoE devices, you can use an existing standard Cat-5e or Cat-6 Ethernet cable without a new electrical
outlet for both power and data. It helps you reduce installation time and cost.
Specifications
Standards
IEEE 802.3af/at PoE/PoE+
IEEE 802.3i 10Base-T
IEEE 802.3u 100 Base-TX
IEEE 802.3ab 1000Base-T
IEEE 802.3x Full-Duplex and flow control
IEEE 802.3az Energy Efficient Ethernet
Led Indicators
Per Port: PoE, Act/Status
Left Yellow LED (PoE); Right Green LED (Act/Status)
Input Power
IEEE 802.3/afat PoE/PoE+ power
System Power Consumption
2W Max.
PSE Mode
Mode A and Mode B
PoE Output Power
Maximum PoE output per port: IEEE-802.3at 30W
Physical Specifications
Dimensions: 20 x 32 x 123 mm (H x W x D)
Weight: 100g
Environmental Specifications
Operating Temperature: -5 to 45℃
Storage Temperature: -20 to 85℃
Humidity: 10 to 90% RH (non-condensing)
Mounting
Wall Plug
MTBF (estimated)
>500,000 Hours
Safety Certifications
CE mark, Commercial; FCC Part 15 B and VCCI
Environment
Indoor
Data Rate
10/100/1000 Mbps half/full duplex
Application Diagram:
System Consumption:
PoE Source
Number of PSD-311G
Distance (m)
PD voltage (V)
PD Max power (W)
1
200
42.4
24.592
2
300
38
20.14
802.3at PoE switch
3
400
33.7
16.176
4
500
31.4
12.56
5
600
30.8
8.62
*All the values listed here are the MAX. value from tests based on a PoE switch with 56V output performed in a
ideal lab environment. The actual value may be different due to network environments and the quality of your
cable.

* Your assessment is very important for improving the work of artificial intelligence, which forms the content of this project