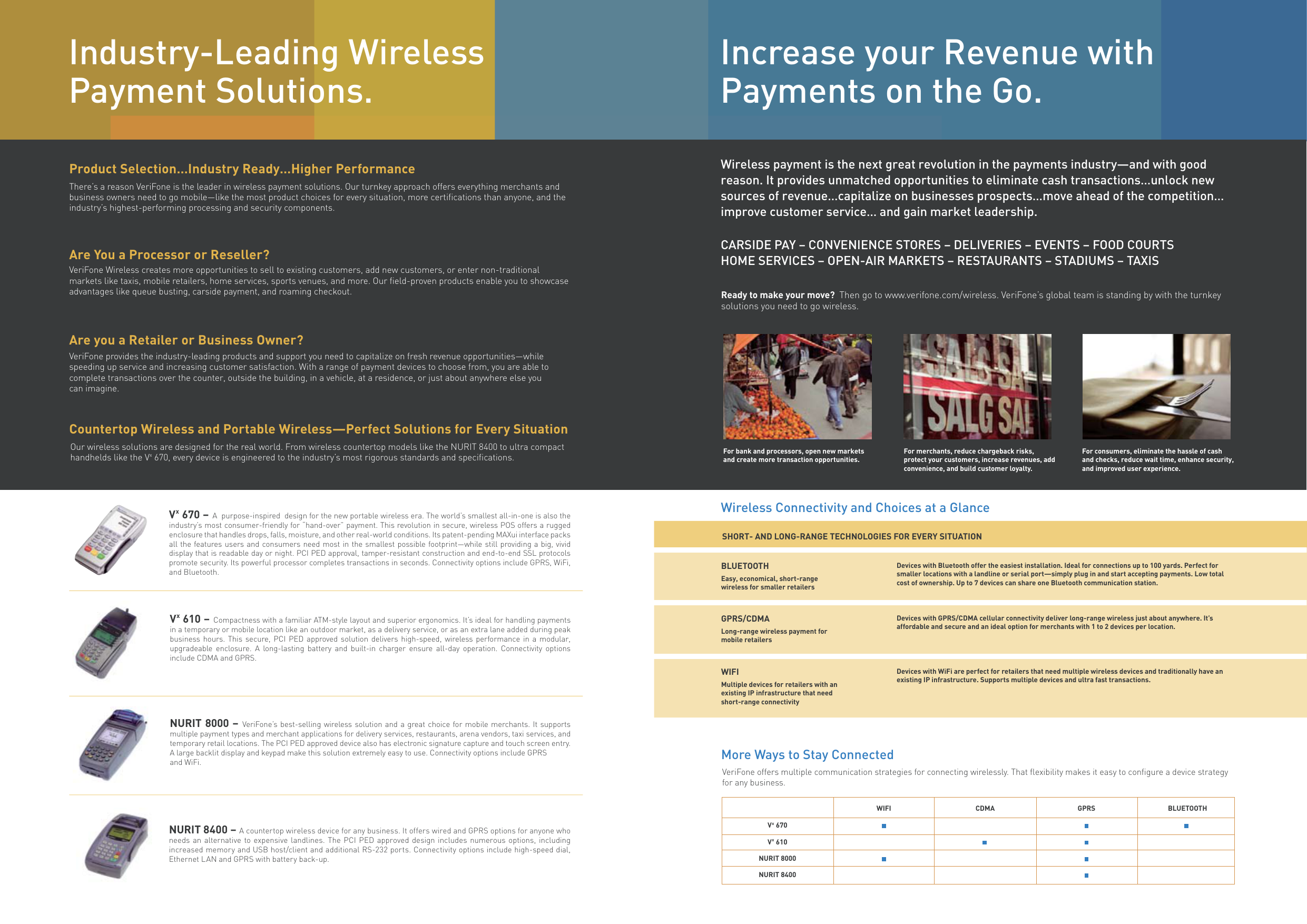 Industry-Leading Wireless
Payment Solutions.
Increase your Revenue with
Payments on the Go.
Product Selection…Industry Ready…Higher Performance
Wireless payment is the next great revolution in the payments industry—and with good
reason. It provides unmatched opportunities to eliminate cash transactions…unlock new
sources of revenue…capitalize on businesses prospects…move ahead of the competition…
improve customer service… and gain market leadership.
There's a reason VeriFone is the leader in wireless payment solutions. Our turnkey approach offers everything merchants and
business owners need to go mobile—like the most product choices for every situation, more certifications than anyone, and the
industry's highest-performing processing and security components.
Are You a Processor or Reseller?
VeriFone Wireless creates more opportunities to sell to existing customers, add new customers, or enter non-traditional
markets like taxis, mobile retailers, home services, sports venues, and more. Our field-proven products enable you to showcase
advantages like queue busting, carside payment, and roaming checkout.
Carside Pay – Convenience Stores – Deliveries – Events – Food Courts
Home Services – Open-Air Markets – Restaurants – Stadiums – Taxis
Ready to make your move? Then go to www.verifone.com/wireless. VeriFone's global team is standing by with the turnkey
solutions you need to go wireless.
Are you a Retailer or Business Owner?
VeriFone provides the industry-leading products and support you need to capitalize on fresh revenue opportunities—while
speeding up service and increasing customer satisfaction. With a range of payment devices to choose from, you are able to
complete transactions over the counter, outside the building, in a vehicle, at a residence, or just about anywhere else you
can imagine.
Countertop Wireless and Portable Wireless—Perfect Solutions for Every Situation
Our wireless solutions are designed for the real world. From wireless countertop models like the NURIT 8400 to ultra compact
handhelds like the Vx 670, every device is engineered to the industry's most rigorous standards and specifications.
Vx 670 –
A purpose-inspired design for the new portable wireless era. The world's smallest all-in-one is also the
industry's most consumer-friendly for "hand-over" payment. This revolution in secure, wireless POS offers a rugged
enclosure that handles drops, falls, moisture, and other real-world conditions. Its patent-pending MAXui interface packs
all the features users and consumers need most in the smallest possible footprint—while still providing a big, vivid
display that is readable day or night. PCI PED approval, tamper-resistant construction and end-to-end SSL protocols
promote security. Its powerful processor completes transactions in seconds. Connectivity options include GPRS, WiFi,
and Bluetooth.
Vx 610 –
Compactness with a familiar ATM-style layout and superior ergonomics. It's ideal for handling payments
in a temporary or mobile location like an outdoor market, as a delivery service, or as an extra lane added during peak
business hours. This secure, PCI PED approved solution delivers high-speed, wireless performance in a modular,
upgradeable enclosure. A long-lasting battery and built-in charger ensure all-day operation. Connectivity options
include CDMA and GPRS.
For bank and processors, open new markets
and create more transaction opportunities.
For merchants, reduce chargeback risks,
protect your customers, increase revenues, add
convenience, and build customer loyalty.
Wireless Connectivity and Choices at a Glance
Short- and Long-Range Technologies for Every Situation
BLUETOOTH
Devices with Bluetooth offer the easiest installation. Ideal for connections up to 100 yards. Perfect for
smaller locations with a landline or serial port—simply plug in and start accepting payments. Low total
cost of ownership. Up to 7 devices can share one Bluetooth communication station.
Easy, economical, short-range
wireless for smaller retailers
GPRS/CDMA
Devices with GPRS/CDMA cellular connectivity deliver long-range wireless just about anywhere. It's
affordable and secure and an ideal option for merchants with 1 to 2 devices per location.
Long-range wireless payment for
mobile retailers
WIFI
Devices with WiFi are perfect for retailers that need multiple wireless devices and traditionally have an
existing IP infrastructure. Supports multiple devices and ultra fast transactions.
Multiple devices for retailers with an
existing IP infrastructure that need
short-range connectivity
NURIT 8000 – VeriFone's best-selling wireless solution and a great choice for mobile merchants. It supports
multiple payment types and merchant applications for delivery services, restaurants, arena vendors, taxi services, and
temporary retail locations. The PCI PED approved device also has electronic signature capture and touch screen entry.
A large backlit display and keypad make this solution extremely easy to use. Connectivity options include GPRS
and WiFi.
More Ways to Stay Connected
VeriFone offers multiple communication strategies for connecting wirelessly. That flexibility makes it easy to configure a device strategy
for any business.
WIFI
NURIT 8400 – A countertop wireless device for any business. It offers wired and GPRS options for anyone who
needs an alternative to expensive landlines. The PCI PED approved design includes numerous options, including
increased memory and USB host/client and additional RS-232 ports. Connectivity options include high-speed dial,
Ethernet LAN and GPRS with battery back-up.
For consumers, eliminate the hassle of cash
and checks, reduce wait time, enhance security,
and improved user experience.
Vx 670
V x 610
NURIT 8000
NURIT 8400
CDMA
GPRS
BLUETOOTH
SOLUTIONS
VeriFone Connect
1
2
Device with Wireless
Account Set-up, Monthly
Service and Activation
Device Deployment
3
4
Help Desk Support and
Device Management
Acquirer Billing and
Administrative Support
Wireless Connectivity Made Easy
Not sure how to connect? VeriFone Connect is a turnkey service for broadband and
wireless POS connectivity. It makes it easy to select and deploy a total payment solution—
regardless of device or carriers.
VeriFone Connect includes set-up, activation, monthly data service, device deployment
and management, help desk support, billing, and advanced merchant-level web-based
reporting and management tools. Services can be customized to meet the needs of
merchants in different geographic locations. To learn more, visit
www.verifone.com/wireless.
About VeriFone
VeriFone is the global leader in secure electronic payment technologies. We provide
solutions, services, and expertise that enable electronic payment transactions and
value-added services at the point of sale.
Our devices and systems process a broad spectrum of payment and transaction
types including signature- and PIN-based debit cards, credit cards, contactless, smart
cards, value-added applications, and signature captures. Our solutions incorporate
existing and emerging technologies, comply with global security standards, and take
advantage of the latest connectivity options from GPRS, CDMA and WiFi to IP- and
Bluetooth-enabled devices.
VeriFone operates through a network of more than 40 sales and marketing offices and
over 30 development centers. Through our offices, partner network and field personnel,
we reach virtually every market in the world.
www.verifone.com/wireless
© 2009 VeriFone. All rights reserved. VeriFone, the VeriFone logo, VX, NURIT and VeriFone Connect are either trademarks or registered
trademarks of VeriFone in the United States and/or other countries. All features and specifications are subject to change without notice.
07/09 45583 Rev B 0/FS
Wireless Payment Solutions
New Opportunities. Proven Performance.
From the Global Leader in Payments Technology.