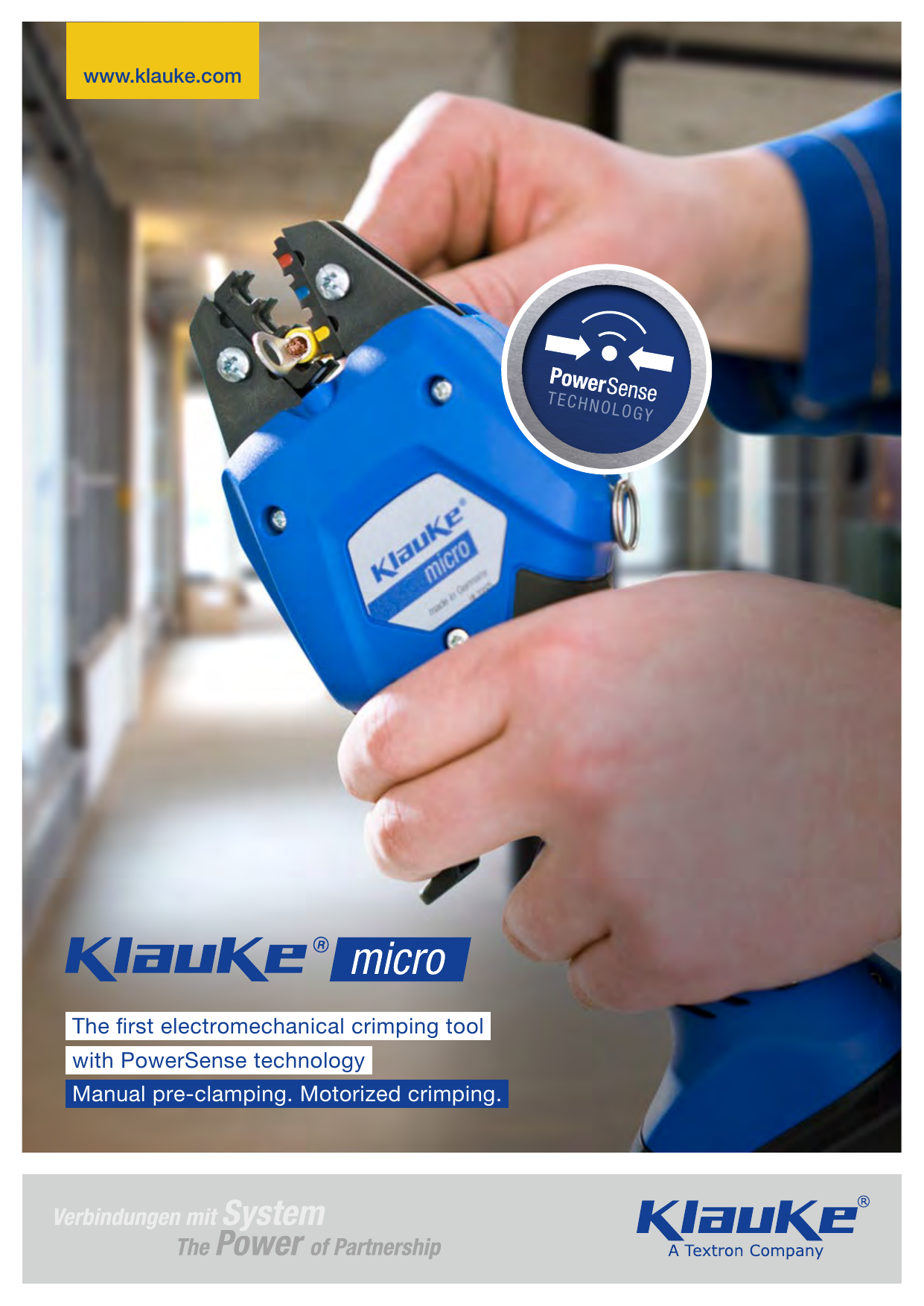 www.klauke.com
Techn
The first electromechanical crimping tool
with PowerSense technology
Manual pre-clamping. Motorized crimping.
ology
Fast, light, efficient – the way you crimp today.
Whether you want high speed, low weight or efficient drive technology, the Klauke micro
combines the benefits of manual crimping tools with the convenience of battery-powered
hydraulic tools in just one device. Thanks to its compact design it is ideal for jobs where
connecting material has to be crimped quickly and in a high volume on the one hand and
also wherever a handy, mobile tool is required, e.g. for switch cabinet construction and
numerous other installation applications in trade and industry. The Klauke micro is the ideal
solution for those who want both – maximum efficiency and optimum ease of use.
Very easy handling
thanks to PowerSense technology
Automatic retraction
when operation is complete
Interchangeable Klauke 50-series
crimping dies
for all common applications up to 50 mm²
Electronic control
with blocking function and motor stall protection
High speed
Crimping time < 1.5 sec.
Ergonomic two-component housing
in Klauke "In-line Design"
Very low weight
tool incl. battery < 1 kg
LED light to illuminate
working area
10.8 V lithium-ion battery
with charge level indicator
Long service life
with service intervals of 35,000 cycles
THE CRIMPING INNOVATION FROM KLAUKE
The revolutionary PowerSense technology
What makes the Klauke micro so unique is its innovative operating concept with PowerSense
function. The pre-clamping is done manually - with the accustomed precision and speed of
a mechanical crimping tool. The crimping process as such is fully automatic using the power
of the integrated motor. A real crimping innovation in the cross-sectional range up to 50 mm².
PowerSense
Technology
1. Manual pre-clamping
clamp
Operating the lever closes the crimping jaws without any
exertion on the part of the user and fixes the connecting
material. In this "pre-clamped" state it is still possible to
adjust the position and the alignment.
2. Motorized crimping
crimp
Further actuation or "pulling back" the lever starts
the crimping process fully automatically using the
power of the integrated motor.
… and done
The retraction to the starting position is also fully
automatic. During the entire crimping cycle the
process can be interrupted by actuating the lever
in the opposite direction.
Easy on the nerves – in the truest sense
Frequent manual crimping:
eventually leads to an overstraining in the wrist and under arm region.
U p to
20
kg
force/
manual ing
crimp
Motorised crimping with innovative PowerSense function:
ensures optimised efficiency with less straining and minimum risk to health.
an
L es s t h
2
kg
force/
manual ing
crimp
THE CRIMPING INNOVATION FROM KLAUKE
"An investment that pays off"
The enormous relief to nerves and muscles
thanks to the PowerSense function pays
off, especially when you consider the
potential costs of employee absence e.g.
due to carpal tunnel syndrome.
• Less overload phenomena
• Fewer absences and schedule delays
• Greater planning reliability for all
Sick leave is expensive.
Investing in the right tool quickly pays off.
€
5
e
3Y
ars
M
an
anty
ded
arr
en
W
Ex
t
Klauke micro purchase costs
ufacture
r
Working days
10
Ø Costs for the absence of an employee
Even more planning reliability for you
Benefit of extended warranty
at tool registration:
http://werkzeugregistrierung.klauke.com/en/login-tool-registration/
Micro compact and convenient
Versatile
for comfortable crimping of cable
connections, cable end-sleeves and
cable lugs
Balanced and drop-proof
thanks to key ring for use with balancer
or for securing in field work
LED light
to illuminate working area
Smart and powerful
with multi-function LED for maintenance
control and data transfer as well as
a powerful lithium-ion battery with
charge level indicator
Innovative
single-lever control
for all tool functions
THE CRIMPING INNOVATION FROM KLAUKE
Technical data
Article
Crimping force
15 kN (max.)
Electromechanical crimping tool 0.14 - 50 mm²
Crimping range
0.14 - 50 mm²
Scope of supply
Crimping time
< 1.5 sec. (depending on connecting material)
Battery 10.8 V / 1.5 Ah, Li-Ion (16.2 Wh)
RAML1
Number of crimps
per battery charge
approx. 300 at 10 mm² Cu DIN 46234
Charger for 10.8 V Li-Ion batteries, 230 V
LGML1
Battery voltage
10.8 V
Crimping die for insulated connectors 0.5 - 6 mm²
IS5071
Battery capacity
1.5 Ah, Li-Ion
Charging time
approx. 40 min.
Weight incl. battery
0.96 kg
Environmental temperature
-10 °C up to +40 °C
Suitable for
Accessories
USB adapter
PGA1
Variants
Electromechanical crimping tool 0.14 - 50 mm²
with RAM L1 battery, excl. charger, crimping die, plastic case
EK50ML-L
L-BOXX with electromechanical crimping tool EK 50 ML
0.14 - 50 mm² and extensive additional equipment
LBOXXEK50ML
Connecting material
Crimping range
Tubular cable lugs and connectors – Cu, standard design
0.75 - 25 mm²
Solderless terminals (DIN 46234) and pin terminals (DIN 46230),
solderless connectors (DIN 46341)
0.5 - 10 mm²
Cable end-sleeves
0.14 - 50 mm²
Insulated cable connections
0.1 - 16 mm²
Non-insulated receptacles
0.25 - 6 mm²
You will find more available dies in our catalogue or at www.klauke.com
EK50ML
Crimping profile
And so do requirements.
Strong brands for your success:
Gustav Klauke GmbH
Auf dem Knapp 46
D-42855 Remscheid
Germany
Phone +49 (0) 2191 / 907 - 0
Fax
+49 (0) 2191 / 907 - 141
Emailinfo@klauke.textron.com
Website www.klauke.com
© 2015 Gustav Klauke GmbH. Subject to technical changes without notice. BRMICRO15GB 5.000 04/2015 I
Times change.

* Your assessment is very important for improving the work of artificial intelligence, which forms the content of this project